JAMES GORDON STILL (1926-2015)
ALICE HARRIET CATHERINE "JEAN" McKENZIE (1925-2012)
(Last Updated: December 09, 2015)
James Gordon STILL was born Feb 20, 1926 (at home) in Arrow River, Manitoba, the eldest (first) child of Bessie CONROD & Thomas James STILL (1894-1980). ** MORE ABOUT JIM STILL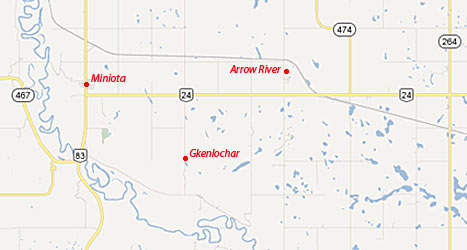 The Great Depression, the Dirty Thirties
1929-1939
Throughout the years of 1929 to 1939, there was a world wide Depression and Canada was one of the worst affected countries. Financially and economically the country began to collapse regardless of what was done by political power. Gordon's father (Jim) could not afford to buy a farm for himself and his family while they were in the Assiniboia Valley. Instead he was a sharecropper (a tenant farmer who was given a share of the crops he raised (by the landowner) in lieu of rent).
By 1933 Gordon had four siblings, all born in the Miniota area:  George Everet (1927); Ernest Wilburt (1928); Charles William (1929) and Myrna (1932). Myrna would be the only girl in the family. A fifth sibling, Denis (1933) was the first child born in a hospital.
The STILL Family Selkirk – Old England
1936
In 1936, when Gordon was 10 years old,  the family moved in with their CONROD grandparents in Old England (near Selkirk) until his father was able to clear enough brush to build a house on Sunnyside Road near the Manitoba Rolling Mills (MRM).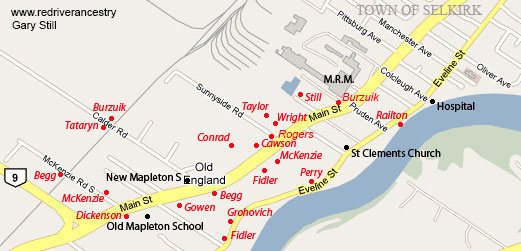 Locations of the Old and the new Mapleton School and some families of note during the mid-1900's
Gordon's siblings, John and Gary, were born in Selkirk in 1938 and 1939 respectively.
THE WAR YEARS
1939-1945
World War II: On Sep 10, 1939, a special session of Parliament approved Prime Minister Mackenzie KING's request that Canada join the war in Europe. The decision, seen by most Canadians as inevitable, came exactly one week after England and France declared war on Nazi Germany. It was the first time that Canadians made their own declaration of war as a sovereign nation.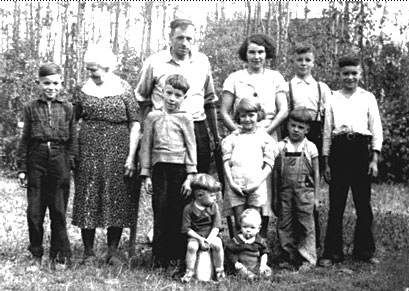 The Still Family in 1940
L-R, Back: Everet, Granny Conrad, Jim, Bessie, Gordon, Ernie
Middle Row: Billy, Myrna, Denis.
Front: John, Gary (Ken yet to be born).
Until about 1942 Gordon attended Mapleton School (to Grade 8). ** MORE ABOUT MAPLETON SCHOOL
1942 was the year that his youngest sibling, Kenneth, was born.
On Nov 24, 1943, Gordon's father (Jim STILL) re-enlisted with the Veteran Guards of Canada (VGC) at Fort Osborne Barracks in Winnipeg.
I think it was around 1944 that Gordon enlisted in the Royal Canadian Air Force (RCAF).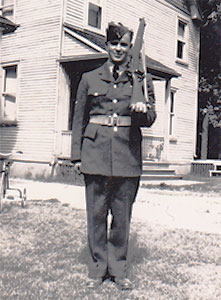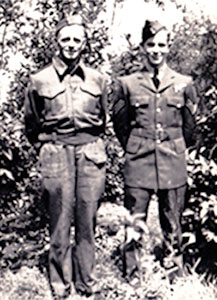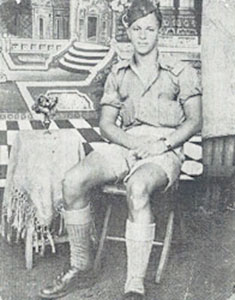 Left: Gordon; Centre: Soldier Father and Son (Jim and Gordon Still)
Right: Gordon in India
Trained as a "Tail Gunner", Gordon got as far as India, but the war ended before he could enter the fray.
Germany surrendered unconditionally on May 7, 1945, after a final attack across the Rhine. The War was over.
After the War ended Gordon's father (Jim STILL) was transferred to Lethbridge, Alberta, as a prison guard, escorting German prisoners to the beet fields in Barnwell. For about a year Gordons became the 'man of the house' for the STILL family of Mapleton.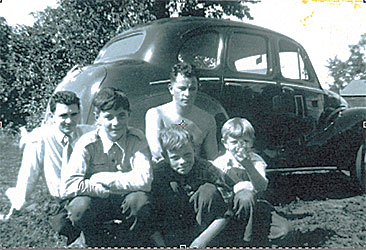 Back L-R: Ernie and Gordon (Mid 1940's)
Front: John, Gary and Kenny
Marriage to Jean McKENZIE
1946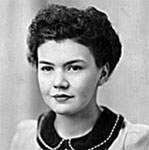 Jean McKenzie
On Nov 2, 1946 Gordon married Jean McKENZIE, daughter of Charlotte LYONS & Douglas McKENZIE (1882-1970). ** MORE ABOUT DOUGLAS McKENZIE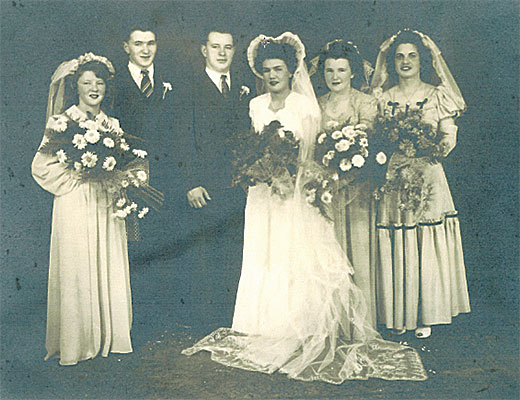 In the late 1940's Gordon and his brothers Everet and Ernie worked in Ontario mines at Long Lake and Sudbury. It was in the spring of 1949 that his brother Ernie was critically injured in a mine disaster at the Starratt-Olson Mine in Ontario; he was not expected to live. He was flown to Toronto, and for the next three years he would have to endure a series of major surgeries. His legs were permanently paralyzed down to the toes. For a long time he was bound to a wheel-chair, then crutches and then for the rest of his life he would have to have braces on his legs and wear a urinary catheter (a plastic bag strapped to the leg).
Daerwood Decorating
1950
In the early 1950's Gordon's brother-in-law, Jens MAGNUSSON (1912-2011) established Daerwood Decorating. Jens was married to Jean's sister, Ruth McKENZIE (1920-1989). Gordon began his lifelong career as a Painter with Jens MAGNUSSON.
In the spring of 1953 their first child (Barry) was born, then came Douglas in 1955, Cathy in 1959 and finally Susan in 1966.
Painting Instructor at the Stony Mountain Penitentiary
Myrna's notes: Gordon last worked as a Paining Instructor at the Stony Mountain Penitentiary. 
Jean was a retired Nurses Aide -worked at Betel Home in Selkirk.
In 1974 eldest son Barry married Karen MEGER in Selkirk, the daughter of Phyllis WALTERS and Walter Albert MEGER (b-1931).
In 1977 eldest daughter Catherine married Ernest MONKMAN, son of Josephine THADDIUS and Oliver MONKMAN (b-1938). ** MORE ABOUT OLIVER MONKMAN
In 1986 youngest daughter Susan married Allen CADGER, son of Lois RICHARDSON and Michael CADGER (1927-1988).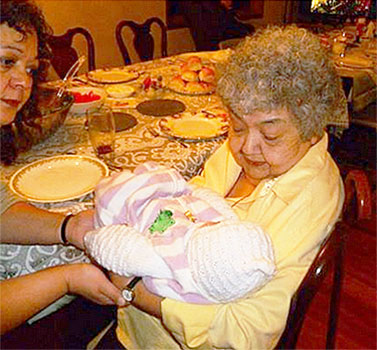 Jean with daughter Cathy and baby granddaughter Michelle in 2011
On Feb 7, 2012, Jean (nee McKENZIE) STILL died.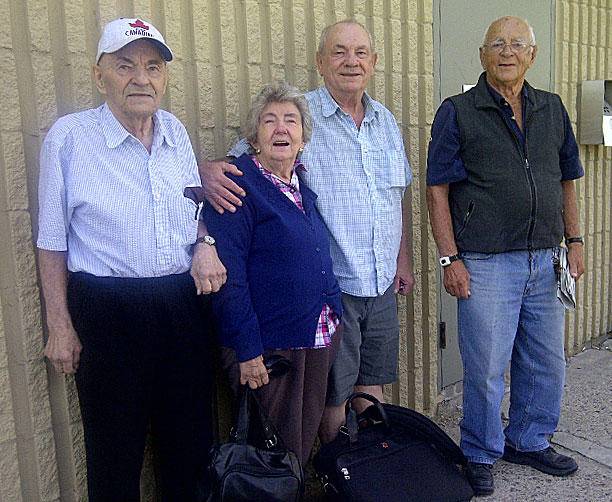 Four surviving Still siblings in August of 2012
L-R: Everet, Myrna, Gary & Gordon
On Dec 9, 2015 Gordon STILL died in the Selkirk General Hospital at the age of 89.
Comments and queries at this link: FORUM DISCUSSING the GORDON STILL FAMILY
============================= Family Details =============================
Children:
1. May 17, 1953 GORDON BARRY STILL (m. Karen Lee MEGER)
2. Mar 13, 1955 DOUGLAS ALLAN STILL [m. Mary Elizabeth (ROCIBORSKY) ROSKY]
3. Nov 6, 1959 CATHERINE JEAN STILL (m. Ernest Clifford MONKMAN)
4. Nov 29, 1966 SUSAN ALICE STILL (m. Allan Crawford CADGER)