JOHN PARISIEN (1852-1923)
SARAH PRINCE (1853-1918)

(Last Updated: July 27, 2017)
John PARISIEN was born 1852 in the St Peters Indian Reserve, the son of Marguerite DUTEMP and Jean Baptiste PARISIEN (1811-1895).
Thompson: The PARISIEN family married into the PEGUIS Clan soon after the Chief's old friend, Baptiste PARISIEN (John's father), made a fine chair for PEGUIS, now aging and quite deaf.  It was whittled with a pen-knife from a strong piece of oak driftwood. (Chief PEGUIS died in 1864. It was the old chief's grandsons who married into the PARISIEN family).
Canadian Confederation
The Riel Rebellion
Manitoba becomes a Province
Treaty Number One is signed by William's Father
1867-1871
On July 1, 1867 the British colonies in North America were united under the British North American Act to become the Dominion of Canada.  Sir John A MACDONALD (1815-1891) was appointed as Canada's first Prime Minister. William McDOUGALL (1822-1905) became the Minister of Public Works, and he began negotiations to acquire Rupert's Land from the HBC, sending out surveyors to prepare the way for an expected influx of settlers.
On Oct 11, 1869, Louis RIEL (1844-1885) placed his foot on the surveyors' chain to tell them their work was finished! This marked the beginning of another Red River Métis Rebellion.
In 1870 the Rebellion ended and Manitoba became a Province.
In 1871 Treaty Number One was signed by Chief Henry PRINCE (1819-1902).
** MORE ABOUT CHIEF HENRY PRINCE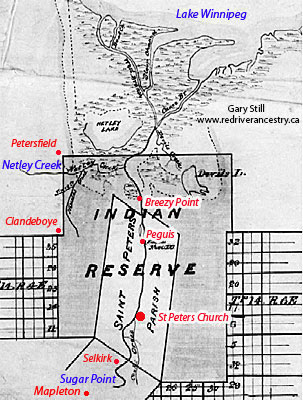 Marriage to Sarah PRINCE
1874
On Sep 17, 1874 John married Sarah PRINCE, the daughter of Mary SINCLAIR and William PRINCE (1830-1912). Sarah was a descendant of Chief PEGUIS (1774-1864).
Census of 1881 in St Andrews Parish: John PARISIEN, age 27; wife Sarah, age 24. Children: Mary (age 7), William (5) and Jessie (age 1).
In 1894 daughter Mary Jane married William MORRISSEAU in St Clements, the son of Mary Jane LAUVAGE and Joseph MORRISSEAU (1824-1906).
In 1896 daughter Jessie married John KIPLING in St Clements, the son of Maria BEAR and George KIPLING (1838-1906+).
Census of 1906 in St Peters:  John PARISIEN, age 53; wife Sarah, age 49. Children: Clara (age 19), Victoria (9) and Colin (age 7).
In 1906 daughter Clara married Richard Alexander FAVEL in St Peters, the son of Mary ANDERSON and James FAVEL (1849-1926). **MORE ABOUT JAMES FAVEL
In 1907a Treaty was conducted by which the St Peters Band of Indians "surrendered" their rights to the St Peters Reserve. Many of the Indians sold their lands and moved to the New Peguis Reserve on Lake Winnipeg (Fisher River). 
Census of 1911 in the St Peters Reserve:  John PARISIAN, age 61; wife Sarah, age 58. Children: Victoria (age 16) and Colin (age 12).
In 1911 the St Peters Reserve Act was validated and the St Peters Reserve (as such) was gone forever.
In 1915 son William married Christie KIPLING in St Clements, the daughter of Eliza BEAR and William KIPLING(1863-1943). ** MORE ABOUT WILLIAM KIPLING
On Nov 1, 1918 Sarah (nee PRINCE) PARISIEN died in St Andrews, age 64.
In 1923 daughter Clara (widowed) re-married to Percy SQUIRREL in St Peters, the son of Sophia MUSWAGUN and John "Glasseye" SQUIRREL aka WILLIAMS (1820-1902). ** MORE ABOUT PERCY SQUIRREL
On Aug 26, 1923 John PARISIEN died in St Andrews, age 71
Comments and queries at this link: FORUM FOR DISCUSSING THE FAMILY OF JOHN PARISIEN
========================== Family Details ==========================
Children:
1. 1873 MARY JANE PARISIEN (m. William MORRISSEAU)
2. 1875 JESSIE PARISIEN (m. John KIPLING)
3. Feb 19, 1882 WILLIAM ALFRED PARISIEN (m. Christie KIPLING)
4. 1887 CLARA PARISIEN (m1. Richard Alexander FAVEL, m2. Percy SQUIRREL)
5. 1891 CAMPBELL PARISIEN
6. 1895 VICTORIA PARISIEN
7. 1899 COLIN PARISIEN