DONALD GEORGE HARDISTY (1911-1972)
AGNES SINCLAIR (1903-1968)
(Last Updated: October 15, 2017)
Donald George HARDISTY was born around 1911 in the Hollow Water Indian Reserve (Wanipigow), the youngest son of Christie and John HARDISTY (1866-1929).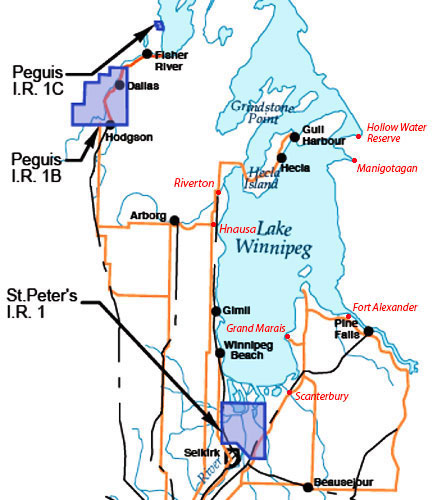 In the census records for 1916 and 1921 George (age 5, 9, respectively) was recorded with his parents in the Hollow Water Reserve.
Marriage to Agnes SINCLAIR
1930
On Oct 1, 1930 Donald married Agnes SINCLAIR in the Hollow Water Reserve, daughter of Caroline PRINCE and John George SINCLAIR (1875-1925), a native of the St Peters Parish. ** MORE ABOUT JOHN GEORGE SINCLAIR
In 1930, at the time of her marriage to Donald HARDISTY, Agnes SINCLAIR had a daughter Mina (age 7) who was born out of wedlock to her and William McIVOR.
In 1932 son Donald HARDISTY Jr. was born.
This HARDISTY family lived in Bissett (east of Manigotagan) and Hole River before buying a small house in Selkirk, MB.
In 1934 daughter Myrtle was born at the Dynevor Hospital in St Peters.
Around 1940 step-daughter Mina married Ronald FAVEL, son of Clara PARISIEN and Alexander FAVEL (1883-1914).
** MORE ABOUT ALEXANDER FAVEL
In 1955 daughter Shirley married Colin Gordon Gerald FIDLER, son of Christina RAE and Cecil FIDLER (1903-1984).
In the 1960's I (Gary Still) was well acquainted with 'Teema' (Christina) HARDISTY who was a waitress in restaurants in Selkirk at that time.
On Feb 8, 1968 Agnes HARDESTY died at the Winnipeg General Hospital at the age of 65, wife of Donald HARDISTY of 319 Morris Avenue in Selkirk. She was buried in the Old St Peters Cemetery. Her obituary indicated that she was Besides her husband (Donald) she was survived by six daughters, Mrs. Ronald FAVEL (Mina) of Red Rock (Ontario); Mrs. Archie CHAMBERS (Myrtle) of Selkirk; Mrs. Gerald FIDLER (Shirley) of Winnipeg; Mrs. Harold SANDBERG (Ruby) of Gillam (MB); daughters Dorothy and Christine of Selkirk; two sons, Donald and Cyril in Alberta; two sisters, Mrs. Amy CLEMONS and Mrs. Mary ANDERSON, both of Selkirk, and three brothers, Jack and Norman SINCLAIR of Selkirk and Kenny SINCLAIR in Alberta.
On Sep 9, 1972 Donald George HARDISTY died at the Princess Elizabeth Hospital in Winnipeg at the age of 61, late of Selkirk.
Comments and queries at this link: FORUM DISCUSSING THE DONALD HARDISY FAMILY
========================= Family Details =========================
Child of Agnes SINCLAIR and William McIVOR
1. Mar 3, 1923 MINA (born McIVOR) SINCLAIR - HARDISTY (m. Ronald FAVEL)
Children of Agnes SINCLAIR and Donald HARDISTY:
1. 1932 DONALD GEORGE HARDISTY (m. Joyce)
2. 1934 MYRTLE LORETTA "DOTS" HARDISTY (m. CHAMBERS)
3. 1936 CYRIL DONALD "CY" HARDISTY (m. UNKNOWN)
4. Jun 16, 1937 SHIRLEY THELMA HARDISTY (m1. Colin Gordon Gerald FIDLER, m2. Tommy DONE)
5. c1940 RUBY HARDISTY (m. Harold SANDBERG)
6. Jan 8, 1943 DOROTHY LOUISE HARDISTY (m. Irvine THORPE)
7. 1946 AGNES CHRISTINA "TEENA" HARDISTY (m. DUECK)