JOHN GEORGE SINCLAIR (1878-1929)
CAROLINE PRINCE (1882-1956)
(Last Updated: June 30, 2015)
** Note: At this point we are unable to properly substantiate of the origins of the John George SINCLAIR who married Caroline PRINCE. If anyone has more information, please let us know on the Forum.
Based upon information in the census records, John George SINCLAIR was born around 1878 in the St Peters Indian Reserve.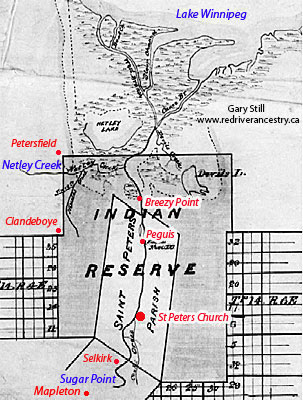 Marriage to Caroline PRINCE
1895
On July 18, 1895 John George married Caroline PRINCE, daughter of John PRINCE (1863-1938). She was a great-great granddaughter of Chief PEGUIS (1774-1864) but we don't really know who her mother or grandparents were. Again, if anyone can answer these questions, please let us know on the Forum. ** MORE ABOUT CHIEF PEGUIS
Much of what we do know about this family is based on the recollections of daughter Amy (SINCLAIR) CLEMONS.
On Sep 27, 1896 their first child was Nancy Jane was born. This child died four months later.
Census of 1906 in the St Peters Indian Reserve:John SINCLAIR, age 28; wife Caroline, age 24. Children: Mary (age 9), Agnes (7) and Martha (age 2). On Oct 4, 1906 daughter Amy was born in St Peters.
Surrender of the St Peters Reserve
1907
On October 14, 1907, the surrender of the St Peters Indian Reserve was accepted by Order in Council, according to an agreement signed by Chief William PRINCE, four councilors and ex-chief William ASHAM. The same month, the Band and representatives of the department selected the site of the new reserve, near Fisher River, Manitoba.
Census of 1911 in the St Peters Indian Reserve: John George SINCLAIR, Cree, age 33; wife Carrie, age 28. Children: Mary (age 14), Agnes (11), Martha (9), Amy (6), John George Jr (3) and a son (Kenneth), age 1.
Amy recollected "As we all grew up, we were made to go to school and work as well. We attended school about two and a half miles north of where we lived. The school was a log building. We attended this school for about a year and then our father transferred across to the Peguis School. Peguis School was situated directly across from where we lived. It was a better school."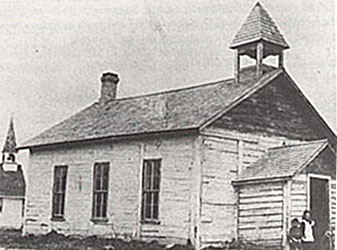 First Peguis School on McIvor property, St Peters
Opened on Nov 15, 1907 (Date of photo unknown)
** I think this is the building that was known as "Gum Rubber Hall" in my day (Gary Still)
St Peters Indian Reserve (as such) is Gone Forever
1911
In 1911 a Manitoba Royal Commission investigating land titles to to the river lots and the surrendered land of the St Peters Reserve, were to vindicate those who had opposed the surrender's validity. In the meantime, however, a significant proportion of the Band had relocated to Fisher River, patented lots had been sold, a sale of the remaining surrendered reserve land had taken place, and proceeds had been distributed to band members. The dominion government was unwilling to turn back the clock and reopen the St Peter's land question. It was perhaps inevitable that the surrender would ultimately be validated by special legislation: the St. Peter's Reserve Act.Under its provisions, purchasers would be required to pay an extra $1 per acre (to be added to the St Peter's Band fund) to obtain a secure title to their land. The legislation had the effect of increasing the balance in the Band's trust account by $40,000, but the St Peter's Reserve was gone forever.
Most of the native members of the Band by this time had moved to the new reserves at Fisher River.

** MORE ABOUT CHIEF WILLIAM ASHAM and the ST PETERS RESERVE SURRENDERR
World War I
1914-1918
On Aug 4, 1914 Great Britain (Canada on Aug 5) declared war on Germany and Austria-Hungary to uphold treaties with France and Belgium which were under German attack. This marked the beginning of World War I.
In January of 1916 daughter Mary Elizabeth married Joseph Thomas ANDERSON a soldier who, when he enlisted a few months earlier, indicated his next of kin as his mother, Mrs. John B CAPLETTE of the Peguis Reserve.
Census of 1916 in the St Peters Parish:Cree family of John George SINCLAIR, age 40; wife Caroline, age 35. Children: Agnes (age 16), Martha (12), Emma (Amy, 10), John (8), Kenneth (6), Myrtle (3) and Norman (age 1).
November 11, 1918, Armistice Day (Remembrance Day) marked the end of the First World War.
Amy stayed with a Mr. TINNEY who asked her to stay with his family to "keep his wife company". He was a vice-principal at the McKay Boarding School at The Pas and he asked Amy if she would like to attend school there; she said yes. Then, the McKAY School burnt down. They built a new school at Elkhorn. Amy completed her Grade 11 education at the Elkhorn Residential School.
In 1922 daughter Martha married Alexander George SINCLAIR, son of Jemima FAVEL and George SINCLAIR (b-1875).
Around 1923 daughter Agnes gave birth to a child (Mina) out of wedlock in Selkirk. The father was William McIVOR of uncertain origins.
John George SINCLAIR Found Dead
1929
Winnipeg Free Press March 27, 1929: March 26 – John George SINCLAIR of St Peters was found dead in the bush near his home between midnight Monday and 1a.m. today by his son Kenneth who headed a search party organized when his father failed to return home the night before. The body showed several deep wounds in the head, and it has been surmised that he was the victim of a runaway accident, as his team, hitched to his wood sleigh, was found a short distance off, the relus caught over a stump.
Dr. D.G. ROSS, who examined the body, said the wounds in the head were sufficient to cause death.
The Provincial Police, notified, decided an inquest unneccessary.
Sinclair was a native of the little village of St Peters, and is survived by his widow ans six children.
After her father died, Amy returned home to help her mother. She started working at the Dynevor Hospital, near her home. She worked there for about 10 years, then it was changed into a T.B. Sanitarium.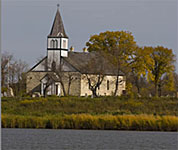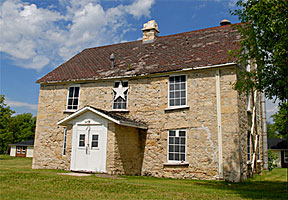 St Peters Church and Dynevor Anglican Church Rectory
In 1930 daughter Agnes married Donald George HARDISTY, the youngest son of Christie and John HARDISTY (1866-1929).
Also in 1930 daughter Myrtle married Andrew MACKLIN in Fisher Branch.
In 1932 son John George marred Evelyn CLEMONS in Selkirk, daughter of Mary Elizabeth SINCLAIR and Ralph CLEMONS (1874-1938). ** MORE ABOUT RALPH CLEMONS
World War II
1939-1945
The Second World War began in the fall of 1939 with the German invasion of Poland. Britain and France declared war on the Nazi Third Reich on Sep 3, 1939; on Sep 10, 1939 Canada, under Prime Minister Mackenzie KING, officially made its declaration of war against Nazi Germany.
In 1939 Amy was offered work as a Mission Helper at the Lady Newham Hospital and Bishop Horden Residential School at Moose Factory, Ontario. Amy worked at Albany for three years then returned home for the holidays in 1942. At this time she married her brother-in-law Leonard CLEMONS who was in the service of the Second World War. He was the son of Mary Elizabeth SINCLAIR and Ralph CLEMONS (1874-1938). Bill grew up on Lot 55 in St Peters, just south of the Dynevor Hospital. ** MORE ABOUT RALPH CLEMONS

In 1945 the Second World War ended.
On Nov 21, 1956 Caroline (nee PRINCE) SINCLAIR died in the St Boniface Hospital at the age of 78. She was buried in the old St Peters Church Cemetery.
Comments and queries at this link: FORUM DISCUSSING THE JOHN GEORGE SINCLAIR FAMILY
======================= Family Details =======================
Children:
1. Sep 27, 1896 NANCY JANE SINCLAIR (Died in infancy)
2. Jun 28, 1898 MARY ELIZABETH SINCLAIR (m. Joseph Thomas ANDERSON)
3. Dec 7, 1899 AGNES CHRISTIE SINCLAIR (m1. William McIVOR; m2. Donald George HARDISTY)
** MORE ABOUT DONALD GEORGE HARDISTY
4. Oct 14, 1904 MARTHA SINCLAIR (m. Alexander George SINCLAIR)
5. Oct 4, 1906 AMY LOUISE SINCLAIR (m. Leonard William "Bill" CLEMONS)
6. May 9, 1909 JOHN GEORGE "JACK" SINCLAIR JR (m. Evelyn CLEMONS)
7 1910 KENNETH SINCLAIR
8. 1913 MYRTLE SINCLAIR (m. Andrew MACKLIN)
9. 1915 NORMAN SINCLAIR