JAMES HAMILTON "JIM" SHAND (1890-1956)
RACHEL HARRIET THOMAS (1885-1922)
ELEANOR FLORENCE MAYO (1897-1965)
(Last Updated: November 30, 2013)
James Hamilton "Jim" SHAND was born Apr 17, 1890 in Jamaica Plain (near Boston), Massachusetts, USA, the eldest son of Agnes KAYE & Thomas SHAND (1868-1915).  Jim's father, a Carpenter, was born and raised in Hebbville, Nova Scotia (south of Bridgewater); had met and married his mother in the Boston area where Jim and his brother Tom were born and where they lived until 1894 when the young family moved to Nova Scotia, the home province of his father.
MORE ABOUT THOMAS SHAND

In 1894 Jim's family returned to Nova Scotia where his father continued to worked itinerantly as a carpenter and where two more brothers were born; Wally and Joe in Lunenburg and Halifax respectively.
Jim was 10 years old in 1900 when the family settled in Glace Bay on Cape Breton Island where they remained for the next 10 years as Jim grew into manhood.
In the Census of 1911 at Glace Bay, Jim was recorded as age 21, a shift-man working in a Coal Mine with his brothers Tom & Walter.
Brothers & Parents Part Ways
Jim & Joe move to Winnipeg
1912
Around 1912 it seems Jim's parents decided to go their separate ways. His mother (Agnes) returned to the Boston area (Keene, New Hampshire) where she probably had relatives, taking brothers Tom & Wally with her. They would remain there the rest of their lives.
Jim and his 16 year old brother Joe chose to remain with their father (Tom Sr.) who decided to move to Winnipeg, Manitoba. The three of them found work there as carpenters, probably a family enterprise.
The Outbreak of World War I
1914
On Aug 14, 1914 Great Britain declared war on Germany and Austria-Hungary to uphold treaties with France and Belgium which were under German attack. We don't know exactly when or where Jim's father (Tom Sr.) enlisted, but when he did, it would be the last time Jim would see his father. What we do know is that he died as a soldier at sea in 1915.
Jim & Rachel (nee THOMAS) SQUIRREL
Around 1914 Jim would have been about 23 years old when he met and began a connubial relationship with 28 year old  Rachel (nee THOMAS) SQUIRREL in Winnipeg. Rachel was a Treaty Indian, estranged from her former husband, Percy SQUIRREL aka WILLIAMS, also a Treaty Indian who was living in St Peters Parish, north of Selkirk.
Rachel THOMAS was born around 1885, daughter of Mary Ann STEVENS & William THOMAS (1846-1931) of St Peters Parish. ** MORE ABOUT WILLIAM THOMAS
In 1901, as a 16 year old she had become the wife of Percy SQUIRREL in what was then still the St Peters Indian Reserve. After having two children with SQUIRREL (both died in infancy), she left him and moved to Winnipeg, perhaps around 1905. This of course all occurred while the St Peters Indian Band was still intact; it wasn't until about 1908 that the band was relocated to the Fisher River area. SQUIRREL would later (1923) re-marry to Clara FAVEL.
In 1907-08 many Indian families of the former St Peters Reserve were displaced by greedy white land speculators during the relocation of band to Fisher River in 1907-08. Many of those displaced, but who for various reasons could not, or who simply didn't want to move to Fisher River, chose instead to move to what would become Winnipeg's notorious 'north-end slums'.
Fairford, Manitoba
1915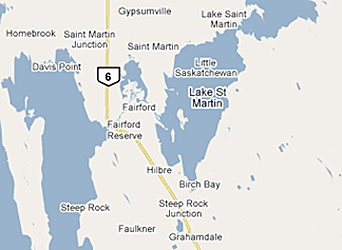 Location of Jim Shand's farmstead
It is said that in March of 1915, Jim applied for a homestead on SE-6-31-9-W1 at Fairford, MB.  I have searched the Western Land Grants, but found no record of such a grant. I can only guess that it was not a homestead grant it may have been simply a purchase. His first child with Rachel was Raymond, born on Aug 15, 1915, and they appear to have been on the land at Fairford by November 15 that year, eager to establish a home for themselves there.
In 1915 news of their soldier father's death at sea reached Jim & Joe, and on Oct 16 that year Joe enlisted in the Canadian Over-seas Expeditionary Force at Winnipeg. He would be gone until the war ended in 1918.
In May of 1916 a fire destroyed Jim's Fairford home, and the family went back to Winnipeg, where Jim worked as a Carpenter so he could raise money, determined that he would start again.  Returning in November, he rebuilt his house and attempted to resume clearing and fencing the land. This meant the expenditures of a lot of money that he just didn't have. He would need a job; so in late 1917 he returned to Winnipeg to work again at carpenter jobs. Then came an ankle fractured that would cause some delay in his farming efforts. 
In 1918 their 2nd child, Winnie, was born (at Ericksdale, on the way back to Fairford). In 1919-20 Jim served as a School Trustee at Fairford with Alex MOAR and Thomas IRWIB (he was voted off).
In the 1921 Census at Fairford the family was recorded as follows: James SHAND, farmer, age 30 (born 1891 in USA; immigrated 1900); wife Rachel, age 31. Children: Raymond (age 5) and Winnie (age 3). The farm was located on Section 31-30-9-Wpm.
Rachel Dies at Fairford
      1922
Rachel died in May of 1922 at the young age of 37 (in childbirth), leaving Jim a widower with two very young children. What to do? Raymond was seven years old now. It was time to get him started in school.  Winnie, a four year old motherless toddler, would need care and attention that Jim would certainly be unable to provide. His father had died; his mother (54 year old Widow Agnes) and his brother Walter (age 27) were far away in Keene, NH, USA.  I don't know where his other two brothers were at this time (Tom & Joe), but as far as we know they were still single men then (ages 29 and 26). The closest person that Jim could turn to, who could be considered 'family', was deceased Rachel's adoptive sister, Agnes (nee KENNEDY) MAYO who was living in Selkirk at the time.
Agnes KENNEDY was born 1896, daughter of Juliet THOMAS (Rachel's sister) & John George KENNEDY. Something happened to her parents in 1906 that resulted in her being adopted by her grandparents, Mary Ann & William THOMAS (making her an adoptive sister to Rachel) at which time her name changed to Agnes THOMAS (by adoption).
Raymond and Winnie were taken to Selkirk where Rachel's adoptive sister, Agnes (nee KENNEDY-THOMAS) MAYO agreed to care for them.
Jim marries Eleanor MAYO
1923
In Selkirk Jim SHAND soon became attached to Wallace MAYO's 24 yr old sister Eleanor, daughter of Caroline SUTHERLAND & Charles Edwin MAYO (1834-1917). ** MORE ABOUT CHARLES EDWIN MAYO
In July of 1923 they were married. Their first child, Caroline, was born in 1924. It seems that for the next couple of years Jim and his second family were living part of the time in Fairford where he was attempting to develop his farm, and part of the time in Selkirk and Winnipeg where he did carpentry work. Winnie and Raymond remained with the MAYO family in Selkirk so they could begin their schooling. We know that Raymond began his schooling in there in 1925. Son George was born in 1926.
The Selkirk School records indicated that Raymond was in Grade 2 (age 10) during the school year 1926-27. Winnie began school there in 1927 at the age of nine. She is also recorded there during the school term of 1828-29, but not Raymond.

In 1928 a third child (James SHAND Jr.) was added to Jim's second family. It was probably that year that Raymond was placed in the Fort Alexander Residential School in the Fort Alexander Indian Reserve. Jim was unable to complete his homesteading commitments at Fairford, so the homestead was cancelled in November that year. 
Jim & Eleanor Move to Point du Bois
1930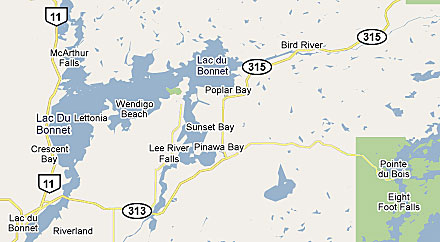 It has been said that Jim was living on Boyle Street (near the Louise Bridge) in Winnipeg when he applied for a parcel of land at Point du Bois, MB. In 1930 he moved there, without Winnie who was presumably left in Selkirk with the MAYO family.

In February of 1933 Winnie would have been yet 14 years old when she had an illicit affair in Selkirk with a 17 year old classmate/ neighbour named Howard OIG. On Oct 27, 1933 she gave birth to a baby daughter (Yvonne); about 3 months after her 15th birthday.  It is not surprising that Yvonne soon became a ward of the Children's Aid Society in Winnipeg. Obviously no grandparents rushed forward to rescue her. Soon after, she became a foster child of Mary Ann (nee FIDLER) & Frank REID (1879-1936) in Mapleton. Later still, she became a foster child of Florence GRAY & Roderick SPENCE (1886-1960). There are many chapters in the life of this little orphan girl, beginning with the man who fathered her. She wouldn't even know who he was until she was in her late 60's. ** MORE ABOUT RODERICK SPENCE

Jim SHAND died July 11, 1956 at Point du Bois. Eleanor died in 1965.

To join in the discussions about this family, please do so at the following Link:
** DUSCUSSIONS ABOUT THE FAMILY OF JIM SHAND

============================ Family Details ================================

Children of Jim & Rachel THOMAS:

1. Aug 15, 1915 RAYMOND SHAND (m. Private/ Living)

2. July 30, 1918 WINNIFRED GERTRUDE SHAND (m1. Howard OIG,  m2. George SOULSBY, m3. Russell TAYLOR)

Children of Jim and Eleanor MAYO:

Six children - Private