THOMAS D. SHAND (1868-1915)
AGNES M. KAYE (1868-1930)
(Last Updated: January 22, 2013)
Thomas D SHAND was born on Jan 10, 1868 in Hebbville, judt south of Bridgewater, Nova Scotia, the eldest child of Cassandra ARENBERT & Paul Fraser SHAND (1841-1916). More about PAUL SHAND
Marriage to Agnes KAYE
1890
By 1890, Tom was 22 yrs old and married to Agnes M KAYE (1868-1930) who was born in Ireland. Their son Jim was born that year in Jamaica Plain, Massachusetts, USA.  Son Tom was born there in 1893. Jamaica Plain (MA) is located near Boston.
In 1894 they returned to Nova Scotia. Son Walter was born Apr 15, 1895 in Lunenburg. Son Joseph was born Aug 4, 1896 in Halifax.
Glace Bay – Cape Breton
1900-1911
Around 1900 Agnes & Tom moved the family to Glace Bay (NS) on Cape Breton Island where they stayed for the next decade. They and their four children (James, Thomas Percy, Walter and Joseph) were recorded there in Censuses 1901 and 1911.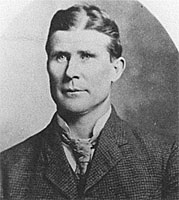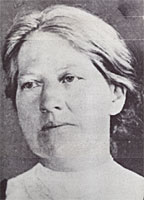 Thomas & Agnes SHAND
(Thanks to Sue Lloyd)
Tom & two Sons to Manitoba – Agnes and two Sons to USA
1912
Around 1912 Tom was about 43 years old when he left Glace Bay and moved west with eldest son Jim (age 21) and youngest son Joe (age 14). Tom Sr. continued his trade as a Carpenter in Winnipeg and Jim and Joe began their careers as carpenters with him.  Why was Agnes not with her husband on that move? Had they parted ways - mid-life crisis?
Apparently Agnes and their two other children (Tom Percy & Walter) went instead back to the USA (Keene, New Hampshire), where they remained the rest of their lives).  Keene is NW of Boston, where she and Tom first met/ married.
** Terrence Becht: Keene NH was the destination for Agnes and her sons mainly because her sister Sarah KAYE lived there --she married a Theodore DRISCOLL --they were close.
The Outbreak of World War I
Tom SHAND dies at Sea
1914-15
On Aug 14, 1914 Great Britain declared war on Germany and Austria-Hungary to uphold treaties with France and Belgium which were under German attack.
Tom died in 1915, during this war. He was only 47 yrs old according to an inscription on a picture. Sue Lloyd verifies this by saying that Tom died in 1915 (age 47), in WW I, at sea, Salawesi Tengah, Indonesia when freighter did not return. "I think he was in the Merchant Marines when he died." We know that son Joseph SHAND enlisted at Winnipeg on Oct 16, 1915 (Attestation Record), but I cannot find  military records of enlistment or for the death for Tom Sr,. When son Joe enlisted he stated his next of kin as his mother, Agnes SHAND of Keene, NH.
** Terrence Becht: Son Thomas (Percy) did not live in Keene, NH after the war. He headed west and ended up in Day County, SD by 1920. ** More about Thomas Percy in the Forum (link shown below)
More from Becht: Walter "Wally" SHAND did live in Keene NH --he married Margaret REID and had one daughter --Catherine SHAND --who married a Claude WEBSTER and they had one daughter --Tammy WEBSTER.
Death Certificate for Agnes SHAND: Died Aug 30, 1930 age 61. Place of death: Keene.  Residence:  State of New Hampshire, County of Cheshire, Town of Keene.  Cause of death:  Myocardial Degeneration.
Please post comments & queries at this link: FORUM DISCUSSING the THOMAS SHAND FAMILY
============================== Family Details ==================================
Children:
1. Apr 17, 1891 JAMES HAMILTON "JIM" SHAND (m1. Rachel THOMAS, m2. Eleanor MAYO)
** Maternal Grandparents of Yvonne STILL; parents of Winnie SHAND who married Joseph OIG **
2. Jan 12, 1893 THOMAS PERCY SHAND (m1. Lillian HOLSCHER; m2. Esther MATTHEWS)
3. Apr 15, 1895 WALTER GEORGE (JOHN) SHAND (m. Margaret REID)
4. Aug 10, 1896 JOSEPH B SHAND