PAUL FRASER SHAND (1841-1916)
CASSANDRA "CASSIE" ARENBERG (1845-1920)
(Last Updated: January 22, 2013)
Paul Fraser SHAND was born Oct 2, 1841 (or 1842) in Tyrie, Aberdeenshire, Scotland, the fourth child of Jane FORREST & Alexander SHAND (1810-1897).
In 1849 Paul immigrated with his parents (Alex & Jane) and five siblings (Jane, James, Paul, Margaret & Mary Ellen) to Liverpool, Queen's County (Halifax).
By 1860 Paul had seven more siblings (there were 12 children in the family), all born in Liverpool.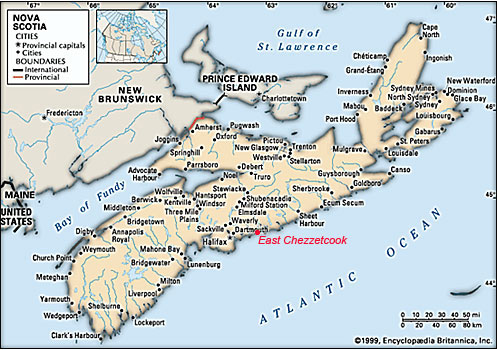 Paul marries Cassandra ARENBERG and settles in Hebbville
1866
On Feb 4,1866 Paul married in the Presbyterian Church, Bridgewater, NS to Cassandra "Cassie" ARENBURG, daughter of Elizabeth HEBB & Caspar ARENBERG (born 1819). They settled in Hebbville, just south of Bridgewater, NS.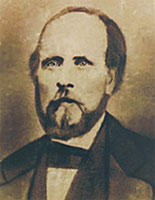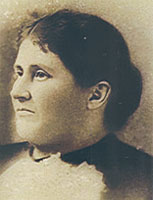 Paul & Cassie Shand (Thanks to Sue Lloyd)
(Sue was told that these were actually chalk drawings and not real photos)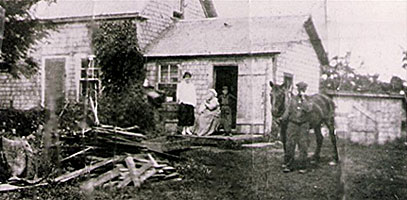 The home of Cassie & Paul Shand in the late 1880's
By 1890 eldest son Tom (age 22) was married to Agnes M KAYE (1868-1930) who was born in Ireland. They moved to Boston Massachussetts.
When the Census was taken in 1891 the family was complete. Paul SHAND was a 47 year old "House Joiner" and Cassie was 44. There were seven children still living at home: Bessie 21; Alexander 19; Nellie 17; John S 15; Frosty 13; Winifred 10; Stanley 5. Next-door in HH-39 is Cassie's father (Caspar) and his 2nd wife (Catharina)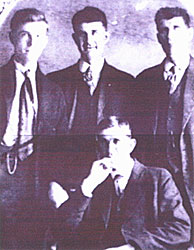 Sons of Cassie & Paul Shand
Standing L-R: Grandson Fraser - Sons Stanley and John
Seated: Alexander (Sandy)
Paul died on Mar 6, 1916 and Cassie died on Nov 2, 1920, both in Hebbville where they were buried.
Obit in 1920 Bridgewater Bulletin: Rootsweb, Lunen-Links, posted Mar 20, 2008 by Rosemary Rafuse: There passed away at Hebbville, on November 2, 1920, Cassandra, widow of the late Paul SHAND at the age of 75, following a paraletic stroke. Deceased was born in 1845 and was highly esteemed by all with whom she became associated, always kind to the unfortunate and no wanting person was ever turned from her door. She leaves to mourn their loss four daughters, Mrs.Scott HEBB, Bridgewater; Mrs. Frank ALDRICH of Boston; Mrs. J, BLAK of Havrel; Mrs. JAMIESON of U.S.A.; and four sons living; John of Amherst; Stanley of New Aberdeen; Alexander of Carolina; and Frazer, at home; and Thomas, who was killed in the Great War. Funeral was held on November 4 and was largely attended, interment in Hebbville Cemetery, Rev. A. MacDonald officiating.
Please post comments & queries at this link: FORUM DISCUSSING the PAUL SHAND FAMILY
============================== Family Details ==================================
Children:
1. Jan 10, 1866 THOMAS D SHAND (m. Agnes KAYE)
** Maternal Great-Grandparents of Yvonne, Grandparents of Winnie SHAND **
2. Jan 14, 1870 ELIZABETH J "BESSIE" SHAND (m. Scott William HEBB)
3. Aug 15, 1872 PAUL ALEXANDER "SANDY" SHAND
4. 1873 MARY SHAND
5. Feb 19, 1876 JOHN STEADMAN SHAND (m. Gertrude CONRAD)
6. Mar 17, 1878 FLORENCE L "FROSTY" SHAND (m1. Junia C BLAKE, m2. Joseph STURTEVANT,
m3. Edmond JAMESON)
7. May 1876 MARY ELLEN "NELLIE" SHAND (m. Edmond JAMESON/JAMIESON)
8. Nov 22, 1881 WINNIFRED LEPAGE SHAND (m. Frank John ALDRED)
9. Mar 4, 1886 STANLEY GEORGE SHAND (m. Margaret Hazel GRANT)