WILLIAM THOMAS (1846-1931)
MARY ANN STEVENS aka STEVENSON  (1849-?)
(Last Updated: November 29, 2013)
My own research on this family began many years ago as quest to find the ancestors of my sister-in-law (Yvonne) who whose mother was Winnie SHAND, daughter of Rachel Harriet THOMAS (1885-1922) and James Hamilton SHAND (1890-1956). ** MORE ABOUT JAMES SHAND
Here is a quote from a SHAND cousin who seems to have done their homework very well: "Rachel's parents were William THOMAS and Mary Ann STEVENSON of St. Peter's Indian Band, Selkirk, MB. William THOMAS was born in 1844 on the banks of Cook's Creek. His father and mother, Thomas THOMAS and Fanny HOPE were married at St. Andrews in 1835 by William COCHRAN before the stone church was built. This is the same church where in 1836 Henry BUDD and Betsy WORK were married. William signed Treaty 1 and was present at the hearings regarding the 1908 surrender of the band's land in Selkirk. At the time of the surrender he had several river lots on the east side of the Red by Colville Landing. In exchange he received at least 40 acres of patented land in East Selkirk. He and his family lived in Clandeboye after the surrender. Rachel married Percy WILLIAMS and had at least two children which did not live past age two. She had two children with James SHAND but died a pauper and is buried in an unmarked grave at Fairford. Their two children were left with others to be raised when James remarried in 1923."
After reading the above quote I did some follow-up research of my own to identify the various names mentioned there and to establish a timeline of events in the life of Mary Ann and William THOMAS.
First, I checked The Genealogy of the first Métis Nation by Sprague & Frye (denoted as S&F). ID-4894 identifies William THOMAS as a Métis, born 1844 in Red River and states his spouse as Mary Ann STEVENS, an Indian born 1849 in Red River.
The above quote indicates that William was a son of Fanny HOPE & Thomas THOMAS (1819-1859).
** MORE ABOUT THOMAS THOMAS (1819-1859)
S&F ID-4681 identifies Thomas THOMAS born 1819 in the North West Territories; his wife as Fanny HOPE, an Indian born in 1822. Fanny may have been the sister of Rev James HOPE (b-c1818) and of Thomas HOPE (b-1820) who married a Sarah SPENCE.
According to Dick Garneau, On March 12, 1859, Thomas THOMAS (William's father) died in St Paul, Red River. He was only 40 yrs old, and Widow Fanny about 37 yrs old when he died.  He was buried in St Paul's Cemetery (Middlechurch). Son William would have been in his mid-teens then.In 1862 William's mother (Fanny nee HOPE) re-married to William STEVENSON (b-1807)
William marries Mary Ann STEVENS aka STEVENSON
1866
According to Garneau: On Dec 1, 1866 William married Mary Ann STEVENSON at St Peters; witnessed by Joseph THOMAS (born in 1851; his brother).
Mary Ann STEVENS aka STEVENSON was an Indian born around 1849. Problems are encountered when attempting to determine Mary Ann's parents/ origins. If anyone has more information or clues, please let us know on the Forum (Link provided below).
Canadian Confederation
Manitoba becomes a Province
1867-1870
On July 1, 1867 the British colonies in North America were united under the British North American Act to become the Dominion of Canada.  Sir John A MACDONALD (1815-1891) was appointed as Canada's first Prime Minister.
On Oct 11, 1869, Louis RIEL (1844-1885) placed his foot on the surveyors' chain to tell them their work was finished! This marked the beginning of a Red River Métis Rebellion. Most of the conflict related to the rebellion occurred in the southern parts of the Red River region and involved French speaking Métis who were supported by the North West Company (NWC) in opposition to the Hudson's Bay Company (HBC). The half-breed population north of Kildonan was mostly English speaking people who supported the HBC.
The Rebellion ended when RIEL's Provisional Government accepted the terms of the Manitoba Act and on July 15,1870Manitoba became the fifth province of Canada, the Canadian Government having acquired the territory previously governed by the HBC.
In 1870 (according to S&F ID-4894) William's family was on Lot 20-21 in Kildonan Parish. One child is listed, John, age 3 (born c1868).
Indian Treaties One and Two
In 1871, Wemyss SIMPSON (1824-1894) was appointed as Canada's Commissioner and General Indian Agent for the Northwest, to negotiate treaties with the Indians of the region. By the end of August SIMPSON's negotiations culminated with the signing of Indian Treaties One and Two, the first such treaties concluded by the new Dominion of Canada.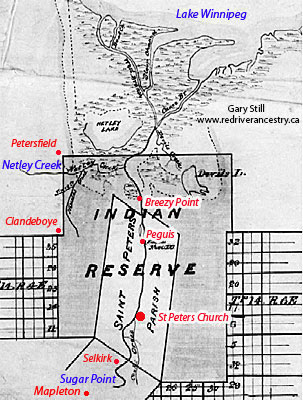 Plan showing St Peters Reserve No.1
In an 1871 list of St Peters Indian Band Members includes a William THOMAS and a Joseph THOMAS (our William and his brother).
Census 1881: St Clements/ Lisgar: William THOMAS (age 30, Indigenous); Mary Ann (age 25). Children: Juliet (age 7) and Flora Bella (age 2).
Town of Selkirk is Incorporated
1882
The Town of Selkirk legally incorporated in 1882, the Town of East Selkirk in 1883. It was anticipated that the CPR main line to the west would pass through Selkirk (it never did), making it a major industrial centre. That created a rush of land speculators into the area. The St Peters Reserve would soon be surrounded by corporate authority, business and industry. William Henry PRINCE (1830-1912) became Chief of the St Peters Band, succeeding his father, Henry (Red Eagle).Disputes about land ownership on the Reserve would last for well beyond the next century.
In 1885 daughter Rachel Harriet was born. In 1888 daughter Agnes Matilda was born.
In 1891 daughter Juliet married John George KENNEDY in St Clements, son of Margaret DENNETT & Alexander KENNEDY (1852-1935), a Treaty Indian.
On March 30, 1892, son John Richard was born.
On Sep 7, 1901, daughter Rachel married Percy SQUIRREL aka WILLIAMS at St Peters. Percy was a son of Sophia MUSWAGUN & John "Glasseye" SQUIRREL (1815-1902), an Indian who lived in the Grand Marais area.
Census 1906: Selkirk #8 (St Peters): William THOMAS, age 60; wife Mary, age 50; daughters Agnes, (age 18) and also another Agnes (age 10). The younger Agnes would be adopted granddaughter Agnes (daughter of Juliet & John George KENNEDY).
Surrender of the St Peters Reserve
Shand Cousin Quote: "William signed Treaty 1 and was present at the hearings regarding the 1908 surrender of the band's land in Selkirk. At the time of the surrender he had several river lots on the east side of the Red by Colville Landing. In exchange he received at least 40 acres of patented land in East Selkirk. He and his family lived in Clandeboye after the surrender."
Census 1911: St Peters Reserve: William THOMAS, age 60, Cree labourer; wife Mary Ann, age 52; daughter Agnes Matilda, age 15 (this would actually be granddaughter).
Apparently Rachel and Percy SQUIRREL parted ways before 1914, when Rachel conceived a child with Jim SHAND. They were living Common-law in Winnipeg at the time. The child (Raymond SHAND) was born Aug 15, 1915 in Winnipeg (or en-route to Fairford). By November of that year they were living on their new homestead at Fairford, MB.Daughter Winnie SHAND was born Jul 30, 1918 at Fairford, MB. Percy SQUIRREL would later remarry to Clara FAVEL.
On May 30, 1917 daughter Agnes Matilda married Wallace MAYO in Selkirk, son of Caroline SUTHERLAND & Charles Edwin MAYO (1840-1917).
William THOMAS may have died on Feb 28, 1931 in Selkirk; buried St Peters (from Mormons). So far I have no date for Mary Ann's death.
Please post comments and queries at the following link: DISCUSSIONS about THE FAMILY of WILLIAM THOMAS
========================== Family Details ==========================
Children:
1. 1867 JOHN THOMAS
2. 1874 JULIET THOMAS (m. John George KENNEDY)
** MORE ABOUT JOHN GEORGE KENNEDY
3. 1879 FLORA BELLA THOMAS
4. Sep 1, 1885 RACHEL HARRIET THOMAS [m1. Percy SQUIRREL, m2. JAMES SHAND (Common-law)]
5. 1888 AGNES MATILDA (KENNEDY) THOMAS (m. Wallace MAYO)
6.  RODERICK THOMAS (m. UNKNOWN)
7. Mar 30, 1892 JOHN RICHARD THOMAS (?m. Emily Grace THOMAS)