THOMAS THOMAS (1819-1859)
FANNY HOPE (1822-1892)
(Last Updated: July 10, 2014)
Thomas THOMAS was born around 1819 according to Sprague & Frye (denoted as S&F in this narrative), S&F ID-4681: The same source indicates a spouse named Fanny HOPE, an Indian born around 1822. S&F gives us no indication of his race or where he was born, but the fact that Fanny's parents Cree parents were from the York Factory district suggests that Thomas might have been born in that area as well.
Several researchers suggest his father was also named Thomas THOMAS, an HBC Surgeon born in England. There is no documented evidence to support this but it seems to make sense. There are at least two potential men by that name who date-wise could have been our Thomas' father.
One was HBC Governor Thomas THOMAS (c1765-1828) from England who started his career as a Surgeon at York Factory, married a Cree woman named Sarah and in 1815 retired to Red River where he died in 1828. The HBCA indicates that Governor TT did have a child named Thomas who was included in his father's Will, but no information is provided to indicate when or where he was born. In my opinion this would be the most likely candidate for being our Thomas THOMAS. ** MORE ABOUT GOVERNOR THOMAS THOMAS
Another potential father for our Thomas was a Thomas THOMAS 2nd born around 1770 in England, also an HBC Surgeon. He is referred to in the above DCBO about the other TT. This TT is much harder to trace with any accuracy. There is very little concrete documented information about him but many un-sourced versions of his genealogy.
From the book 'East of the Red River' (Felix KEUHN):  The first Indian living at Brokenhead to give up the old ways was a woman by the name of Mrs THOMAS.  She and her two sons, John THOMAS and Thomas THOMAS, and her daughter Christiana THOMAS, were baptised at St Peters by the praying master called Rev COCHRANE.  This would be Reverend William COCKRAN (1798-1865) who arrived at Red River in 1825. Perhaps Thomas THOMAS was that Mrs THOMAS' husband or son?  Upon baptism, many Indians were given European names, and were often named after clergymen, etc, as was the case with the HOPE-CREE family. This TT essentially would have been born an Indian and was either the TT mentioned above or acquired the THOMAS surname by association to Mrs THOMAS.
Two Noteworthy Records in the 1827 Red River Census:
1. Thomas THOMAS on Lot 755: Age 62 (b-c1765), Protestant, England; married man and woman with one adult son (over 16), two adult daughters and two young daughters (under 15). He has a house, barn and stable; a cart, plough and harrow and two canoes. He has eight acres under cultivation and he also has a horse, seven cows, eight oxen, seven calves and three swine. This was undoubtedly Governor Thomas THOMAS.
2. Thomas THOMAS: A single man aged 32 (b-c1795), Protestant, Wales. He has a house and stable and one cow. He has one acre under cultivation.
I have been pulling my hair out for the last 20 years trying to sort them out; perhaps that's why I'm going bald!! At this point I'm not inclined to waste much more time agonizing over OUR Thomas' origins, but rather concentrate on his wife and family, of whom we have a little more documented evidence to work with.
The HOPE-CREE FAMILY
Boon: On Jun 8, 1823 Reverend John WEST (1778-1845), on his last Sunday at Red River baptized three Indian boys. These were John HOPE, 2nd son of WITHEWACAPO of York Factory; James HARBRIDGE and Charles PRATT who both came from the Qu'Appelle district. WEST then departed from Red River for good. His replacement was Reverend David JONES (1796-1844). ** MORE ABOUT REVEREND JOHN WEST

The following were probably all children of WITHEWACAPO:
1. c1818 Reverend James (ASKENOOTOW) HOPE (m. Judith DESJARLAIS)
James HOPE was one of the Indian children who were chosen by Rev WEST to be educated and converted to the
Anglican faith.  James became one of the first Native clergymen in western Canada, along with Henry BUDD, James
SETTEE, and Charles PRATT.
2. c1820 Thomas HOPE (m. Sarah SPENCE)
Identified in S&F ID-2163 as an Indian married to Sarah SPENCE b-1822
3. c1820 Flora HOPE (m. William SAUNDERS)
Identified in S&F ID-4310 as an Indian married to William SAUNDERS b-1799
4. 1822 Fanny HOPE (m1. Thomas THOMAS, m2. William STEVENSON)
5. c1823 John HOPE (m. Archange DESJARLAIS)
Baptized June 8, 1823 by Rev. WEST. Identified in Scrip records of his children. Archange's sister Judith married Rev
James HOPE (above)
Thomas THOMAS & Fanny HOPE
1843
Uncorroborated SHAND family information indicates that Thomas THOMASand Fanny HOPE were married at St Andrews by Reverend William COCKRAN (1798-1865) before the stone church was built. As indicated above, I believe that Fanny was a child of WITHEWACAPO who came to Red River from York Factory.
On Dec 30, 1843, daughter Fanny was baptized at St Peters (re Garneau).
Thomas THOMAS died on Mar 12, 1859 in St Paul. He was buried in St Paul's Cemetery (Middlechurch). He would have been only about 40 years old. This information is from historian Dick Garneau.
In 1859 my information indicates that Widow Fanny would have been left with about seven children, namely: Fanny, William, Jennie, Sarah, Catherine, Joseph and Caroline.  
On March 13, 1860, daughter Sarah married John HIGGINS in St. Andrews, a Winnipeg merchant born in Ireland.
On Dec 27, 1860 daughter Fanny married Duncan TRAVERS.
Widow Fanny & William STEVENSON
1862
In 1862, Widow Fanny (age 40), living in the St Peters Indian Settlement) re-married to 55 yr old William STEVENSON b-1807. This is verified by S&F ID-4868 which indicates William STEVENSON, Indian born 1810 in Red River and spouse Fanny HOPE, Indian born 1822 in Red River, father's ID-7535. This appears to have been a common-law union because in later records Fanny is still referred to with the surname THOMAS. ** MORE ABOUT WILLIAM STEVENSON
In 1864 daughter Jennie married 1864; to Charles, QUINNS, GLADU or BATEAU at Rocky Mountain House (AB). This is verified in Scrip records.
In 1866 son William THOMAS married Mary Ann STEVENS (1846-1933) at St Peters.
Canadian Confederation
Manitoba becomes a Province
1867-1870
On July 1, 1867 the British colonies in North America were united under the British North American Act to become the Dominion of Canada. Sir John A MACDONALD (1815-1891) was appointed as Canada's first Prime Minister.

On Oct 11, 1869, LouisRIEL (1844-1885) placed his foot on the surveyors' chain to tell them their work was finished! This marked the beginning of a Red River Métis Rebellion. Most of the conflict related to the rebellion occurred in the southern parts of the Red River region and involved French speaking Métis who were supported by the North West Company (NWC) in opposition to the Hudson's Bay Company (HBC). The half-breed population north of Kildonan was mostly English speaking people who supported the HBC.
The Rebellion ended when RIEL's Provisional Government accepted the terms of the Manitoba Act and on July 15, 1870 Manitoba became the fifth province of Canada, the Canadian Government having acquired the territory previously governed by the HBC.
Treaty Number One
1871
In 1871, Wemyss SIMPSON (1824-1894) was appointed as Canada's Commissioner and General Indian Agent for the Northwest, to negotiate treaties with the Indians of the region. By the end of August SIMPSON's negotiations culminated with the signing of Indian Treaties One and Two, the first such treaties concluded by the new Dominion of Canada.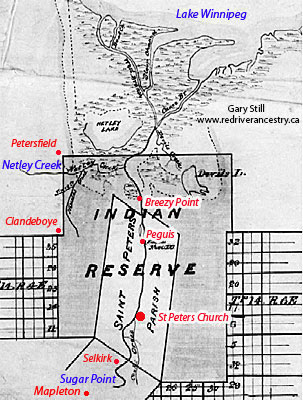 Plan showing St Peters Reserve No.1
In the 1881 Census, Widow Fanny THOMAS (age 55) was enumerated in the household of her daughter Catherine then married to Cornelius JOHNSTONE.
Fanny THOMAS died Jul 20, 1892 in St Clements, age 85 (This from Vital Stats). This record indicates that Fanny died as a THOMAS, suggesting that her marriage to STEVENSON was common-law.
Link to discussions about this family: DISCUSSIONS about FAMILY OF THOMAS THOMAS 1819
========================== Family Details ==========================
Children:
1. c1843 FANNY (HANNAH) THOMAS [m. Duncan TRAVERS)
2. Apr, 1845 WILLIAM THOMAS (m. Mary Ann STEVENS)
** MORE ABOUT WILLIAM THOMAS
3.  1845 JENNIE EUGENIE THOMAS (m. CHARLES, QUINNS, GLADU, or BATEAU)
4. 1848 SARAH THOMAS (m. John HIGGINS)
5. bapt.1850 CATHERINE THOMAS (m. Cornelius JOHNSTON)
6. Mar 5, 1851 JOSEPH THOMAS (m. Sophia BEAR)
7. bapt.1856 CAROLINE THOMAS (m. John McDONALD)