GOVERNOR THOMAS THOMAS (1766-1828)
SARAH CREE (1776-1846)
(Last Updated: June 24, 2015)
Thomas THOMAS wasborn around 1765-66. In the Archives he is described as "from the parish of St Andrew, Holborn (London)," but later as coming from Carmarthen, Wales, no doubt his birthplace.
** MORE ABOUT THOMAS THOMAS in HBCA
** MORE ABOUT THOMAS THOMAS in DCBO
Because his story is fairly well described in the literature, I have the luxury of focussing primarily on genealogical aspects of his life in this narrative.
York Factory
1789-1795
On Mar 25, 1789 Thomas (about 23 years old) was hired as a Surgeon by the Hudson's Bay Company (HBC) and that summer he sailed to Hudson Bay on King George, landing at York Factory.
Joseph COLEN (1751-1818) was the Chief Factor at York when Thomas arrived in 1789. Thomas served his apprenticeship in the company of James Curtis BIRD (1773-1856), a 16 year old Writer who had arrived a year earlier. Many years later two of Thomas' daughters (Elizabeth & Jane) would marry James' sons (Joseph BIRD and Levi BIRD, respectively).
In 1795 Thomas returned to England on furlough.
Fort Severn
A Cree Wife named Sarah
1796-1810
On Sep 16, 1796, having taken his furlough in England, Thomas arrived back at Fort Severn as a Master Trader. It is unclear just when Thomas began a connubial relationship with a Cree woman named Sarah. Their first child was daughter Frances, whose birth date is unclear, probably after 1800.
Their next three children were born at Severn, William, Elizabethand Catherine.
Creation of the Northern and Southern Departments
THOMAS Appointed Superintendent, then Governor of Southern Factories
Arrival of the First Selkirk Settlers
THOMAS at Fort Albany
1810-1814
By 1810 Thomas DOUGLAS (1771-1820), better known as LORD SELKIRK, and his brother-in-law, Andrew COLVILLE aka WEDDERBURN (b-1779) held a controlling interest in the Hudson's Bay Company.
** MORE ABOUT LORD SELKIRK in Wikipedia
** MORE ABOUT LORD SELKIRK in DCBO
SELKIRK's plan for the management of the trade, known as the "retrenching system," called for the elimination of extravagance, a profit-sharing scheme for company officers, and the division of trading posts into Northern and Southern departments. The posts around James Bay, namely Fort Albany (Ont.), Moose Factory (Ont.), and Eastmain Factory (Eastmain, Que.), with their outposts, formed the Southern Department; Thomas THOMAS was appointed Superintendent with a salary of £150 a year and the guarantee of at least £250 as his "Share of Profits."
DCBO: In June of 1811 agreements were signed by SELKIRK and the HBC under which, in return for founding an agricultural settlement and some other considerations, he was to have some 116,000 square miles – an area five times the size of Scotland and much of it magnificent land – for 10 shillings. Lady SELKIRK would later call it, with playful bitterness, his Kingdom of Red River. Miles MacDONELL (1767-1828) was appointed by the HBC as Governor of the District of Assiniboia. He was to be SELKIRK's agent and superintendant, the Settlers being his main responsibility. William HILLIER was chosen to be responsible for the fur trade, and for competing with NWC traders.
On Sep 24, 1811 the first group of settlers arrived at York Factory. It was too late for them to move inland, so MacDONELL and HILLIER made two wintering camps near York Factory.
In November 1811 he was appointed a Justice of the Peace for the Indian Territory and held this office until 1816.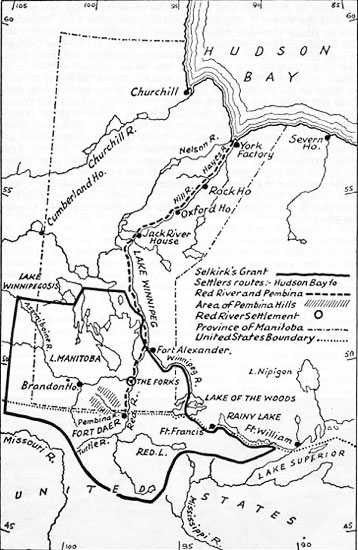 On Aug 26, 1812 a second party of settlers arrived at York Factory led by Owen KEVENY. They were greeted by William AULD. The first party had already departed and on Aug 30 they arrived at Red River to prepare the way for the rest of the settlers who arrived on Oct 27.
In 1813, THOMAS' official designation was changed from Superintendent to Governor of the Southern Department. William AULD (1770-1830) was appointed Superintendant of the Northern Department (Churchill, York Factory, Winnipeg and Saskatchewan Districts). That year a Third Party of Settlers led by Archibald MacDONALD (1790-1853).was forced to land (and spend the winter) at Fort Churchill.
In 1813 the Committee decried the mismanagement of Moose Factory under John THOMAS (1751-1822) and instructed Thomas THOMAS to dismiss him even though he had many years of service. ** MORE ABOUT JOHN THOMAS
The Pemmican War and a Red River Métis Rebellion
1814-1815
On Jan 8, 1814, anticipating the arrival of yet another large group of settlers (the SUTHERLAND Settlers) and seeking to solve the colony's food problems once and for all, Governor Miles MacDONELL issued his historic Pemmican Proclamation. The proclamation prohibited the export of provisions of any kind from within the limits of Assiniboia without a special license from the Governor (himself). For two winters the Métis had provisioned the colonists with bison meat, so this severe measure was considered an insult, not only to them but to the NWC.
On Apr 6, 1814, McDONALD led 41 of the settlers, most of them in their teens or early 20s, on snow-shoes 150 miles south along the shore of Hudson Bay to York Factory, a march of 13 days. They reached York Factory on April 13. From there, on May 27, this group continued on their way south. They then travelled by boat up the Hayes River to Lake Winnipeg, arriving at the Forks of the Red River on June 22; the rest of the third group arrived two months later.
Unfortunately, AULD was unable to adapt to the retrenching system and resigned in 1814. In April of 1814 the Company wrote to THOMAS informing him that he was to be AULD's replacement. Two points were emphasized to THOMAS as his successor: first, the "blind adherence to antiquated customs" which meant that "the quantity of work done by our people both labourers & tradesmen bears no proportion to the days work of a man in any part of Britain"; three-quarters of the staff were to be cut; second, "as you are opposed to a set of people who proceed upon a systematic plan of violence to prevent the Indians from trading with us, and to deter our people from protecting them when attempting, it is evident that no success can be expected until you are enabled to repel force by force." THOMAS wouldn't have received this letter until the arrival of the next ship.
Thomas THOMAS therefore succeeded AULD as Governor of the Northern Department, accepting the command for one year only. He took up residence at York Factory. On Sep 20, he wrote to Lord SELKIRK indicating that Miles MACDONELL was incapable of carrying on his position. THOMAS was not certain of the extent to which the opposition from the Canadians had contributed to the problem, but he indicated that MACDONELL had been emotionally disturbed for some time.
In July of 1814 the NWC held its annual meeting at Fort William where an indignant William McGILLIVRAY (1764-1825) declared regarding MacDONELL's Pemmican Proclamation "It is the first time the Nor'Westers have permitted themselves to be insulted".  From that day there would be civil war in the North-West.
On June 17, 1815, with the Red River Colony under threat of imminent attack, Miles MACDONALD surrendered himself to the representatives of the NWC (CAMERON and his cousin Alex) in return for a promise that the settlers would not be harmed. On June 27 the beleaguered settlers, made up of some 13 families; in all from 40 to 60 persons, who remained true to SELKIRK and the Colony; went forth (led by Archibald McDONALD) - - to Jack River (Norway House). The house of the Governor MACDONELL, the mill, and the buildings which the settlers had begun to build upon their lots were all set on fire and destroyed.
In August of 1815 a fourth group of settlers (about 100) landed at York Factory, led by Governor Robert SEMPLE (1777-1816), the newly appointed Governor of the HBC territories (to replace MACDONELL). On Aug 30 SEMPLE appointed Thomas THOMAS and Peter FIDLER (1769-1822 as Councillors of his new District of Assiniboia. They all set out for the Colony under the care and guidance of FIDLER.
Jack River House (Norway House)
1815-1816
On Oct 18, 1815, THOMAS, FIDLER and SEMPLE along with their entourage of settlers arrived at Norway House. THOMAS and his family remained behind to spend the winter there while SEMPLE and the rest of the group proceeded to the Forks.
SEMPLE killed in the Seven Oaks Massacre
1816
On June 19, 1816 a party of some 60 or 70 Métis under Cuthbert GRANT (1796-1854), bringing pemmican from the plains for the NWC brigade, reached the settlement. Although SEMPLE knew of their approach and might have expected an attack, he made no defensive plans. With some 25 settlers and HBC men, but apparently without any aggressive intent, he met the Métis along the Red River at an area known as Seven Oaks. Too late he realized the danger and sent back to the settlement for cannon. A verbal altercation between SEMPLE and one of the Métis led to a skirmish in which Governor SEMPLE and about 20 of his party were killed. ** MORE ABOUT CUTHBERT GRANT
In October of 1816, after learning that Lord SELKIRK had captured the NWC depot at Fort William and was on his way to Red River with soldiers, GRANT retreated to Fort Qu'Appelle. Thomas THOMAS was asked to serve as Governor-in-Chief locum tenens as a temporary replacement for the deceased Gov. SEMPLE, but he declined. In his stead, James Curtis BIRD (1773-1856) accepted the responsibilityas Acting Governor of Rupert's Land during 1817-18.
** MORE ABOUT JAMES CURTIS BIRD
The Rebellion Ends
1817-1821
On the night of Jan 10, 1817, Miles MACDONELL easily overtook the occupiers of Ft Douglas. On June 21, 1817, Lord SELKIRK arrived at Ft Douglas with soldiers and allowed for the colonists to return from Jack River. On July 18 SELKIRK signed a treaty with the Assiniboine and Cree natives (including Chief PEGUIS), to ensure their recognition of the colony's ownership of the land in the Red River area.
In August of 1817, after the re-establishment of the colony and the arrival of William B COLTMAN as Commissioner from Lower Canada, there to conduct an Inquiry into the conflict in the northwest, Cuthbert GRANT gave himself up.
In 1818 James BIRD was replaced as Governor by William WILLIAMS (1770-1837).
In 1818-19 James BIRD resumed his position as Chief of the Cumberland District and that winter he and his fellow ex-Governor Thomas THOMAS and their families spent the winter together at Cumberland House. And that was the winter that romance blossomed between three of James' sons and three of Thomas' daughters as follows: George BIRD and Nancy THOMAS; Joseph BIRD and Elizabeth THOMAS; and Levi BIRD and Jane THOMAS.
A Christian Wedding for Sarah & Thomas
The North West Company is absorbed by the HBC
1821
On March 30, 1821 at St John's Anglican Church, Thomas THOMAS was church-wed to Sarah, the mother of his children. The marriage was performed by Reverend John WEST (1778-1845).
** MORE ABOUT REVEREND JOHN WEST
The next day, Mar 31, 1821, daughter Elizabeth married Joseph BIRD (1800-1879), son of Thomas contemporary, James Curtis BIRD (1773-1856).
At Norway House on Aug 11, 1821 Nicholas GARRY (1782-1856) presided over the first Council of the Northern Department. Also attending was the illustrious George SIMPSON (1786-1860), new Acting Governor of Rupert's Land and Simon McGILLIVRAY (1792-1840), formerly of the NWC. It was at this meeting that everyone received the first news of the official NWC-HBC Union and of impending austerity policies that would mean the loss of jobs and forced early retirements for employees at all levels, including voyageurs, laborers and senior officers as well.
1822
On May 20, 1822, SIMPSON reported to the board of governors of the HBC that he had established a fort at the junction of the Red and Assiniboine Rivers.  He named it Fort Garry.  Around this fort was to grow the city of Winnipeg.
On 24 Dec 24. 1822 Andrew H. BULGER (1789-1858), Governor locum tenens of Assiniboia, again appointed THOMAS a member of the Council of Assiniboia. Later, George SIMPSON described the council as ineffective, and characterized THOMAS as "timid and weak as a child." ROBERTSON's appraisal of THOMAS was that his knowledge of the fur trade was limited to what occurred on the Bay, that he was a "rigid economist," and that, "like the tanner's blind horse," he was afraid of stepping out of his circular path. Nevertheless, the London committee seemed to consider him one of the best men available to direct their affairs in Rupert's Land.
On June 10, 1823 Reverend John WEST departed Red River and was replaced by Reverend David JONES. (1796-1844). In 1825 JONES was joined by Reverend William COCKRAN (1798-1865)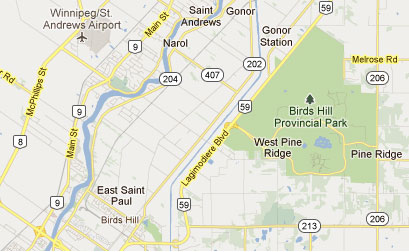 Current Google Map to showing the St Paul - Birds Hill area where Thomas settled
(Birds Hill was named in honor of the elder James Curtis Bird)
Around 1827 daughter Frances married Henry BUXTON (1792-1870) from England.
The Red River Census of 1827 recorded Thomas THOMAS on Lot 755 (St Paul-Birds Hill area); age 62 with his wife, two adult sons (William & Thomas Jr.) , two adult daughters (Catherine & Anne) and two young daughters (Jane & Sophia). He appeared to have been fairly well off. He had a house, barn and stable with a horse, seven cows, eight oxen, seven calves and three swine. He had a cart, plow and harrow, two canoes and he had eight acres of land under cultivation.
The same 1827 census recorded his close neighbours as the families of James Curtis BIRD on Lot 754 (father of his son-in-law, Joseph BIRD) and Thomas BUNN on Lot 758. The three families would soon become closely entwined by their children's marriages.
Thomas THOMAS Dies
1828
Thomas THOMAS died on Nov 24, 1828 in Red River.
After Thomas died, youngest daughter Sophia (age 6) was taken in by Reverend David JONES, and later Reverend William COCKRAN, in order that she could receive an education at the Red River Academy.

In 1829 there were two THOMAS-BUNN marriages; William THOMAS married Eleanor BUNN and Catherine THOMAS married John BUNN. These were half-siblings, both children of Thomas BUNN (1765-1853) from England.
The Will of Thomas THOMAS
DCBO: The Will of Thomas THOMAS provided an annuity of £25 for his wife Sarah. To each of his two sons he left £3,850, and to each of his six daughters £1,000 in three per cent Bank of England consols.
In 1832 daughter Jane married Levi BIRD at St John, son of OO-MENAHOMISK and James Curtis BIRD (1773-1856).
** MORE ABOUT JAMES CURTIS BIRD
In 1839 the HBC invited four Methodist missionaries, James EVANS, William MASON, Robert T. RUNDLE and George BARNLEY, to educate the heathen in Rupert's Land.  In 1843, daughter Sophia married the Reverend William MASON (1818-1870) who was from England.
In 1842 son Thomas Jr. married Harriet STEWART at St Johns, daughter of Harriet VINCENT and David Ramsay STEWART (born 1786 in Aberdeen, Scotland) who retired in 1823 as the Superintendent of Saw Mills for the HBC at Moose Factory.
A sad Note: Letitia Hargrave [Mactavish] would later described Widow Sarah as "the most notorious drunkard at Red River." According to Garneau, Sarah died Nov 12, 1846at St Johns.
A marble tablet in memory of Thomas THOMAS was erected on the west wall of St John's Cathedral (MRC).
Comments and queries at this link:

FORUM DISCUSSING the DESCENDANTS of GOVERNOR THOMAS THOMAS
========================== Family Details ==========================
Children:
1. c1800 FRANCES THOMAS (m. Henry BUXTON)
2. c1800 ANNE (NANCY) THOMAS (m. George BIRD)
3. Jan 27, 1805 ELIZABETH "BETSY" THOMAS (m. Joseph BIRD)
4. June 17, 1806 WILLIAM THOMAS SR (m. Eleanor BUNN)
5. 1810 CATHERINE THOMAS (m. John BUNN)
6. 1816 JANE THOMAS (m. Levi BIRD)
7. 1820 THOMAS THOMAS (m. Harriet STEWART)
** MORE ABOUT HARRIET STEWART and THOMAS THOMAS
8. Nov 15, 1822 SOPHIA THOMAS (m. Reverend William MASON)
** MORE ABOUT REVEREND WILLIAM MASON