REVEREND WILLIAM MASON (1818-1893)
(Last Updated: June 29, 2017)
PRELUDE
William CASE (1780-1855) was the eldest son of George CASE, a farmer of English descent, whose family had immigrated to Massachusetts in the 17th century. ** MORE ABOUT REVEREND WILLIAM CASE in DCBO
DCBO: In 1828 the independent Methodist Episcopal Church in Canada was established with the consent of the church in the United States. William CASE was elected general superintendent pro tempore and superintendent of the conference's Indian missions. He was also named to a committee with George RYERSON (1791-1882) and James RICHARDSON (1791-1875) created to foster friendly relations with the British Wesleyans.
** MORE ABOUT REVEREND JOHN RYERSON in DCBO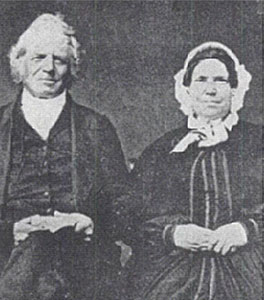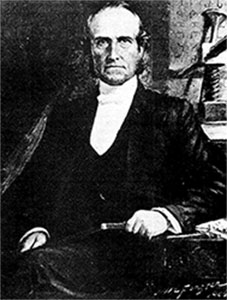 Left: Reverend William Case and his wife, Elizabeth Barnes Case
Right: Reverend James EVANS
(From Wikipedia)
On May 18, 1839 Reverend James EVANS (1801-1846) met Governor George SIMPSON (1786-1860) and evidently satisfied him that Methodist missionaries would not disrupt company activities in the northwest. SIMPSON consequently assured him that the HBC territory was open to the Methodists. Upon returning to Upper Canada that summer, EVANS was appointed minister at Guelph. ** MORE ABOUT REVEREND JAMES EVANS in DCBO
REVEREND WILLIAM MASON (1818-1893)
SOPHIA THOMAS (1822-1861)
LUCY ALICE HASSARD SHORT (1847-?)

William MASON was born around 1818 in England. ** Very little information can be found regarding his early life.
Lac La Pluie - Rainy River
1840-1842
DCBO: In January 1840 Governor SIMPSON, who wished to restrict the activity of Anglican and Roman Catholic missionaries to the Red River country (Manitoba), announced an agreement whereby three missionaries named by the Wesleyan Methodist Missionary Society (WMS) in Britain were to be placed at strategic points in the northwest. Probably at the insistence of the British Wesleyans, a superintendent's position was later added and on April 7 EVANS learned of his appointment. The party increased from four to eight as a result of the inclusion of EVANS's wife and daughter and native assistants Peter JACOBS [PAHTAHSEGA] and Henry Bird STEINHAUER. EVANS arrived at Norway House (Man.) in August and by October all of the other missionaries were in place and working: George BARNLEY at Moose Factory (Ont.), William MASON at Rainy Lake, and Robert Terrill RUNDLE at Fort Edmonton (Alberta).
In 1840 MASON was initially sent to Fort Frances on Lac La Pluie (Rainy Lake) where Henry Bird STEINHAUER (1818-1834) assisted him as his guide and interpreter. That same year, Reverend James EVANS founded the Rossville Mission near Norway House.at the north end of Lake Winnipeg.
Rossville, Norway House
1842
By 1842 William MASON was at Rossville – Norway House where he would work as an Assistant to Reverend EVANS. They were joined by native preachers Peter JACOBS (1809-1890) and Henry Bird STEINHAUER (11818-1884). Donald ROSS (1798-1852) was the long-time HBC Chief Factor; Rossville was named after him.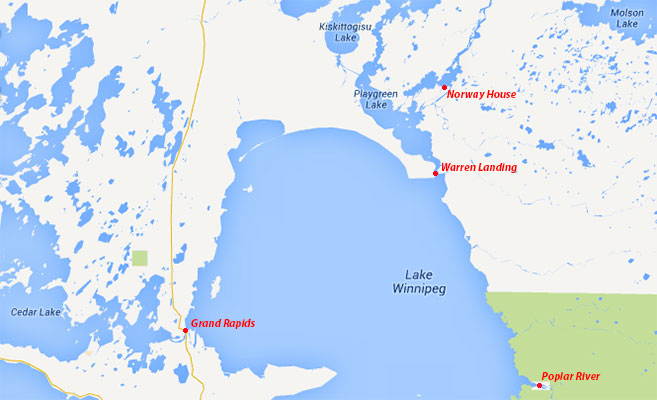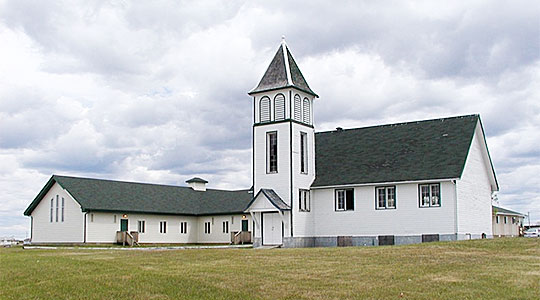 Rossville Mission – Norway House
MASON assisted EVANS in developing the Cree Syllabics and dictionaries of native languages. I (Gary Still) was first introduced to the Cree Syllabics at Winisk where I worked for the HBC as a Clerk. I was given the name OO-KE-MASIS (Little Boss) and an Indian friend gave me the syllabics for my name which I treasure.
** MORE ABOUT CANADIAN ABORIGINAL SYLLABICS in WIKIPEDIA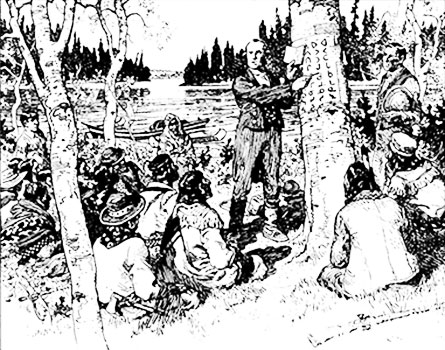 "Birch bark talking." A pen and ink drawing by Toronto artist C.W. Jeffreys (1869-1951) of
Evans teaching Indians his syllabics by inscribing them on a tree trunk
William marries Sophia THOMAS
1843
On Aug 10, 1843 William MASON married Sophia THOMAS in Red River (probably St John's). She was the youngest daughter of a Cree woman names Sarah and HBC Governor Thomas THOMAS (1766-1828), then deceased. A few months later Sophia's Cree mother (Widow Sarah THOMAS) died at St John's.
** MORE ABOUT GOVERNOR THOMAS THOMAS
** MORE ABOUT SOPHIA THOMAS-MASON in DCBO

Sophia THOMAS had been offered the position of Governess of the lady's section of the school there; instead she married William MASON. Then Ann ARMSTRONG was brought out from England to fill the position. She became the wife of John Peter PRUDEN (1778-1868). This school later became Miss Davis School located in St Andrews Parish.
The Rossville Scandal
1846
The final problems between EVANS and the HBC began in January, 1846, when EVANS came under suspicion for impropriety with an Indian from Rossville, Maggie MUMINAWATUM, and some girls from the missionary school (formal charges were laid against EVANS by Indians of the Rossville community).
** MORE ABOUT MAGGIE MUMINAWATUM

The officious and , perhaps, jealous Rev. William MASON took upon himself, as the next senior white male member of the Rossville community, to act as an investigator and judge. - - in the 'trial', many, both Indians and white people, spoke out for EVANS, including John OIG, who was able to give EVANS a thoroughly convincing alibi for the purported of goose-hunting camp incident.
EVANS was found not guilty, but SIMPSON requested his removal and in June he was invited to England and examined by the Society's secretaries. It was suggested that he return eventually to St Clair Mission, and not to Norway House (In November of 1846 EVANS died in England).
From 'Travels in the Shining Island' by Roger Burford Mason: The officious and, perhaps, jealous William MASON took it upon himself, as the next senior white male member of the Rossville community, to act as investigator and judge. With surprising lack of generosity towards his Superintendent, and with what some writers have characterized as unseemly zeal, MASON set about collecting 'evidence' in the case. He also acted as judge and jury in the hearing, which took place on Feb 5, 1846 in the school, where reluctant Henry STEINHAUER acted as the clerk.
On Nov 23, 1846 Reverend James EVANS died suddenly of a heart attack following a missionary rally in Lincolnshire, England. After his departure from the northwest, the Wesleyan missions there declined and for some time no effort was made to revive them. By 1848, of the four previously mentioned missionaries only MASON remained. The Wesleyan Mission was abandoned.
York Factory
1854
In 1854 Reverend MASON defected to the Church Missionary Society (CMS), at which time the family moved to York Factory.
Payne: In 1856 Reverend William MASON visited Churchill. He married James DUNNING (b-1815), William OMAN (1802-1868), and William GIBEAULT (1800-1875), and baptized their wives and over twenty of their children at the same time.
England
1858
DCBO: In 1858 the MASON family sailed to England to superintend the printing of the New Testament in Cree syllabics. Shortly after her arrival in England, Sophia suffered a severe attack of pleurisy, and she continued to have pulmonary afflictions. Her translating was frequently interrupted by seizures of pain. In July 1861 she gave birth to her ninth child.
England Census of 1861: Kensington Discrict, Middlesex County, England: William MASON, age 44 (born c1817 in Newcastle Under Tyne, Northumberland, England, a Missionary of CMS, York Factory); wife Sophia, age 39 (born 1822 in North America). Children: Sarah J (age 16, a Scholar) and Francis J (age 2), a son born in NA. Servant: Mary WELSH, age 22 (born 1839 in Ireland).
On Oct 10, 1861 Sophia (THOMAS) MASON died of tuberculosis in London England.
In 1864 daughter Sarah Jane married Joseph FORTESCUE at York Factory, son of Margaret Eleanor LE GEYT and Matthew FORTESCUE (b-1805) from England
In 1867 eldest daughter Mary married Samuel Kent PARSON at York Factory, an HBC Clerk born in England.
Marriage to Lucy SHORT
1871
Around 1872 William MASON married Lucy Alice Hassard SHORT in England, daughter of Lucy Marten BUTT and Henry Hassard SHORT (1812-1885). William would have been about 53 years old at that time.
William and his new family can be found in the UK Census records for 1881 and 1891. Their place of residence was the Longhrsely Vicarage (north of Newcastle, UK).
It is said that Reverend William MASON died in 1893.
============================ // ============================
The genealogy for William MASON remains incomplete in many aspects. Very little is told about his children and personal family relationship in North America, except for a few tidbits of information imbedded in the historical aspects of his life, which is the main focus of most of the numerous published documents in which he is mentioned. Several sources indicate that he had nine children in Rupert's Land, but I can only account for four or five.
A quote from the book 'Social Antagonisms of the Fur Trade Society, 1840-1846' by Fritz Pannekoek: It is more difficult to determine the cause of the EVANS-MASON animosity. MASON's illegitimate son was hardly the source. While Dame Rumour, Letitia HARGRAVE, was somewhat aghast "that when MASON had a son, Mr. EVANS merely reprimanded him, [but] when Mr. MASON married Miss THOMAS he sent the mother a present of a dashing scarlet gown,"
Comments and queries at this link: FORUM for DISCUSSING the REVEREND WILLIAM MASON FAMILES
========================== Family Details ==========================
An illegitimate son:
?
Children (of 9) with Sophia THOMAS:
1. Jun 3, 1846 MARY ROSS MASON (m. Samuel Kent PARSON)
2. c1845 SARAH JANE MASON (m. Joseph FORTESCUE)
3. c1848 CHARLES EDWIN MASON
4. JANET MASON
5. 1859 FRANCIS J MASON
6. 1861 CAROLINE ANNE MAUDE MASON
Children with Lucy SHORT in England:
1. 1873 RUPERT BAYLEY MASON
2. 1877 HENRY MARTIN MASON
3. 1878 REGINALD HEBER MASON
4. 1880 GEORGE HERBERT MASON
5. 1885 CHARLES MASON
6. 1887 VICTORIA MASON