DONALD ROSS (1798-1852)
MARY "MOLLY" McBEATH (1803-1884)
(Last Updated: October 15, 2015)
Donald ROSS was born around 1798 in Stornoway on the Isle of Lewis, Scotland.
In 1816 Donald began his career with the Hudson's Bay Company (HBC), first as a writer (accountant) at York Factory. In 1817 he was transferred to Cumberland House.
Marriage to Mary McBEATH
1820
Around 1820 Donald married Mary "Molly" McBEATH. the daughter of Christiana GUNN and Alexander McBEATH (1760-1848) from Scotland who were among the first of Lord Selkirk's Settlers in Red River.
** MORE ABOUT ALEXANDER McBEATH
Union of the North West Company with the Hudson's Bay Company
1821
In 1821 the union of the North West Company (NWC) and the Hudson's Bay Company (HBC) occurred, ending years of bitter rivalry for dominance of the fur trade in Western Canada. At the time of the union, (Sir) George SIMPSON (1786-1860) became the Governor of Rupert's Land. On May 20, 1822, SIMPSON reported to the board of governors of the HBC that he had established a fort at the junction of the Red and Assiniboine Rivers. He named it Fort GARRY (the Upper Fort). Around this fort was to grow the city of Winnipeg.
In 1824 Donald returned to York Factory. In 1826 George SIMPSON was appointed to the dual Governorship of both Northern and Southern Departments of Rupert's Land, and he established his headquarters in Lachine (Montreal). At that time he appointed Donald ROSS as his confidential secretary. In that capacity in 1828-29 Donald accompanied the Governor SIMPSON on his trip to the Columbia District where they overwintered at Fort Vancouver.
** MORE ABOUT GOVERNOR GEORGE SIMPSON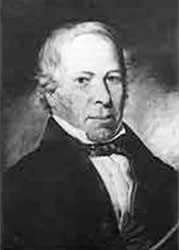 Donald Ross (HBC Archives)
Chief Trader at Norway House
1830
On his return from the Columbian Donald was promoted to a Chief Trader, and after a year's furlough in Scotland he was placed in charge of the post at Norway House in 1830. The neighboring Village of Rossville was named after him.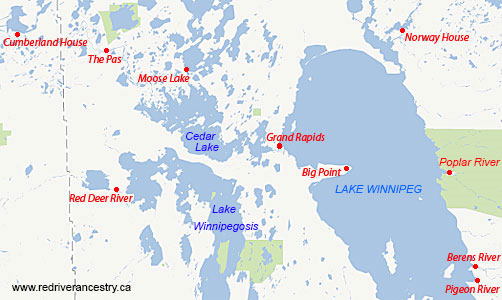 Hudson's Bay Company buildings at Norway House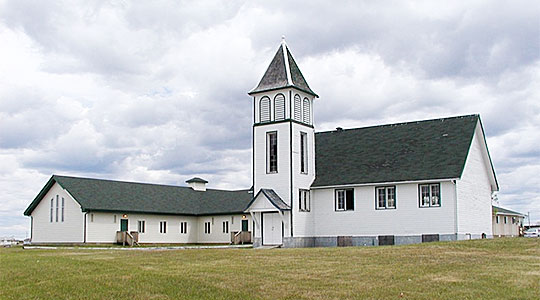 Rossville Mission – Norway House
In August of 1840 Reverend James EVANS (1801-1846) arrived at Norway House.
** MORE ABOUT JAMES EVANS in DCBO
By 1842 Reverend William MASON (1818-1893) was at Rossville – Norway House where he would work as an Assistant to Reverend EVANS. They were joined by native preachers Peter JACOBS (1809-1890) and Henry Bird STEINHAUER (1818-1884). ** MORE ABOUT REVEREND WILLIAM MASON
By 1843 there were nine children in the ROSS family: Jean (age 21), Jessie (18), Annabelle (11), Roderick (9), John (6), Donald (4), Christina (age 3) Frances (2) and Mary (a baby). Several of these children were sent to the Red River Boarding School. ** Birth dates under review.
In 1846 Donald was involved in the James EVANS Trial and the Rossville Scandal


On July 10, 1848, eldest daughter Jean married at Norway House to Reverend James HUNTER, a widower (his first wife, Ann, died in 1847). ** MORE ABOUT REVEREND JAMES HUNTER in DCBO

Also in 1848 daughter Jessie married Robert CLOUSTON (1821-1858) from the Orkneys, then an HBC clerk at York Factory.
Donald dies at Lower Fort Garry
1852
In 1851 Donald was granted a furlough to Lower Fort Garry due to ill health (probably TB). It was extended, and on Nov 19, 1852 he died there.
In 1857 daughter Annabella married Charles Edward McDERMOT, son of Sarah Mary McNAB and Andrew McDERMOT (1791-1881). ** MORE ABOUT ANDREW McDERMOT in DCBO
In 1860 daughter Christina married Bernard Rogan ROSS from Scotland who settled around 1815 in Red River, son of Elizabeth ROGAN and James ROSS of uncertain origins.
** MORE ABOUT BERNARD ROGAN ROSS in DCBO
Around 1862 daughter Frances married Curtis James BIRD, son of Mary Kelly LOWMAN and Curtis James BIRD SR (1773-1856). ** MORE ABOUT JAMES CURTIS BIRD SR

In 1867 daughter Frances BIRD died, and her widowed sister Annabella then became the wife of her widowed brother-in-law (JC BIRD). Annabella's first husband, C.E. McDERMOT had died in 1864.
In 1865 son Roderick married Victoria HARRIOTT at St Johns, daughter of Nancy ROWAND and John Edward HARRIOTT (1797-1866). ** MORE ABOUT JOHN EDWARD HARRIOTT
Canadian Confederation
A Red River Rebellion
Manitoba becomes a Province
1867-1870
On July 1, 1867 the British colonies in North America were united under the British North American Act to become the Dominion of Canada.  Sir John A MACDONALD (1815-1891) was appointed as Canada's first Prime Minister. William McDOUGALL (1822-1905) became the Minister of Public Works, and he began negotiations to acquire Rupert's Land from the HBC; surveyors were sent to Red River to prepare the way for an expected influx of settlers.
Around 1868 son Donald Jr. was married to Annie McKENZIE, daughter of Sarah or Ann SPENCER & SAMUEL McKENZIE (1813-1879). Their son William Roderick was born around 1869.
Annie was a granddaughter of Angelique MALLOTTE and Roderick McKENZIE (1772-1859).
** MORE ABOUT RODERICK McKENZIE
On Oct 11, 1869, Louis RIEL (1844-1885) placed his foot on the surveyors' chain to tell them their work was finished! This marked the beginning of the historic Red River Métis Rebellion.
On July 15, 1870 the Rebellion ended when RIEL's Provisional Government accepted the terms of the Manitoba Act and Manitoba became the fifth province of Canada.
In the 1870 Red River Census Widow Mary ROSS (age 65) was recorded in Kildonan Parish.
From the 1881 Census of St Andrews Parish: Mary ROSS, age 78. Daughter Mary VILLIERS, age 37 and her children: Mary Maria ROWAND, (age 13) and Annabella VILLIERS (age 9). These are daughter Mary's children by William ROWAND and Frank VILLIERS.
On Sep 9, 1884 Mary (nee McBEATH) ROSS died in St Andrews.
Comments and queries at this link: FORUM DISCUSSING the DONALD ROSS FAMILY
========================= Family Details =========================
Children:
1. 1822 JANE (JEAN) ROSS (m. Archdeacon James HUNTER)
2. Mar 30, 1825 JESSIE ROSS (m. Robert CLOUSTON)
3. 1832 ANNABELLE ROSS (m1. Charles Edward McDERMOT, m2. Curtis James BIRD)
4. Feb 21, 1834 RODERICK ROSS (m. Victoria Ellen HARRIOTT)
5. 1837 JOHN ROSS
6. 1839 DONALD ROSS (m. Annie McKENZIE)
7. Dec 25, 1840 CHRISTINA ROSS (m. Bernard Rogan ROSS)
8. 1841 FRANCES ROSS (m. Curtis James BIRD)
9. Jan 23, 1843 MARY ROSS (m1. William ROWAND; m2. Frank VILLIERS)
10. 1849 CLEMENTINE ROSS