DONALD ROSS (1839-1878)
ANNIE McKENZIE (1841-before 1878)
(Last Updated: October 17, 2015)
Donald ROSS was born about 1839, at Norway House, son of Mary McBEATH and Donald ROSS SR (1798-1852).
** MORE ABOUT DONALD ROSS SR
In August of 1840 Reverend James EVANS (1801-1846) arrived at Norway House, and on Sep 13, 1840 Donald ROSS JR. was baptized.** MORE ABOUT JAMES EVANS in DCBO
In 1852 Donald's father (Donald Sr.) died while on a furlough at Lower Fort Garry.
Employed by the Hudson's Bay Company
1854
In 1854 Donald Jr began service with the Hudson's Bay Company (HBC) at Norway House as an Apprentice Clerk. He remained there until 1866 when he was sent to the English River District. Details about Donald's HBC service can be seen at this link: ** BIO FOR DONALD ROSS JR in HBC ARCHIVES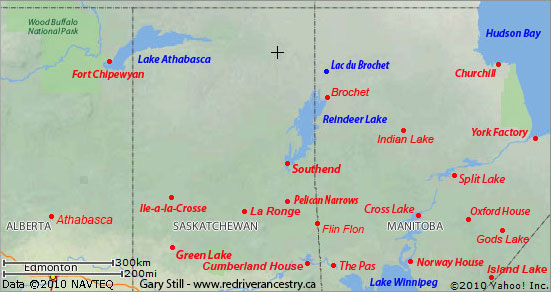 Canadian Confederation
A Red River Rebellion
Manitoba becomes a Province
Donald marries Annie McKENZIE
1867-1870
On July 1, 1867 the British colonies in North America were united under the British North American Act to become the Dominion of Canada.  Sir John A MACDONALD (1815-1891) was appointed as Canada's first Prime Minister. William McDOUGALL (1822-1905) became the Minister of Public Works, and he began negotiations to acquire Rupert's Land from the HBC; surveyors were sent to Red River to prepare the way for an expected influx of settlers.
In 1867 Donald was a Clerk in the Athabasca District, and around 1868 he married Annie McKENZIE, daughter of Sarah or Ann SPENCER & SAMUEL McKENZIE (1813-1879), Chief Trader at Ile a la Crosse. Annie was a granddaughter of Angelique MALLOTTE and Roderick McKENZIE (1772-1859). ** MORE ABOUT RODERICK McKENZIE
In 1869 son William Roderick was born at Fort Chipewyan, apparently an only child.
On Oct 11, 1869, Louis RIEL (1844-1885) placed his foot on the surveyors' chain to tell them their work was finished! This marked the beginning of the historic Red River Métis Rebellion.
On July 15, 1870 the Rebellion ended when RIEL's Provisional Government accepted the terms of the Manitoba Act and Manitoba became the fifth province of Canada.
In 1873 Donald became a Junior Chief Trader in the Athabasca District, and Chief Trader in 1875.

On Jan 17, 1878 Donald ROSS died at Fort Vermilion, AB. He was buried in Kildonan, Red River.
Donald was predeceased by his wife Ann, so when he died, son William Roderick, was only about nine years old. The HBC Bio indicates that Donald "Lord Strathcona" SMITH (1820-1914) and his Uncle Roderick ROSS (1834-1909) were named as administrator and guardian in the Letter of Administration. ** MORE ABOUT UNCLE RODERICK ROSS
In 1892 son William Roderick married Leila YOUNG in Winnipeg.
Comments and queries at this link: FORUM DISCUSSING THE FAMILY OF DONALD ROSS JR
========================== Family Details ==========================
Child:
1. Mar 29, 1869 WILLIAM RODERICK ROSS (m. Leila YOUNG)
** MORE ABOUT WILLIAM RODERICK ROSS