WILLIAM RODERICK ROSS (1869-1928)
LEILA EVELYN YOUNG (1869-1915)
(Last Updated: October 22, 2015)
Inspiration to develop this Family Page comes from Sally CLARK, a great granddaughter of William Roderick ROSS. Sally has made a donation and will be cooperating with me (Gary Still) in its development by way of the associated Forum Topic indicated below. Watch for our comments there as the stories unfold.
William Roderick ROSS was born on March 29, 1869 at Fort Chipewyan in the Athabasca District, son of Ann McKENZIE and Donald ROSS (1839-1878). ** MORE ABOUT DONALD ROSS
To avoid confusion, in this narrative we will refer to him as William, the name most commonly used in references.
In 1878 William was only nine years old when his widowed father, Donald ROSS, died at Fort Vermilion, AB. The HBC Bio for his father indicates that Donald "Lord Strathcona" SMITH (1820-1914) and his Uncle Roderick ROSS (1834-1909) were named as administrator and guardian for young William in a Letter of Administration.
** MORE ABOUT UNCLE RODERICK ROSS
Of course it was Donald "Lord Strathcona" SMITH who drove the historic'Last Spike" at Craigellachie, (BC) on Nov 7, 1885. ** MORE ABOUT DONALD "LORD STRATHCONA" SMITH in DCBO
St Johns College in Winnipeg
William was eventually sent to St Johns College in Winnipeg for an education. In 1890 he graduated with degrees of B.A. and M.A., and he was called to the Manitoba Bar.
Census of 1891 in Winnipeg: William R ROSS, Law Student, age 22. He's with his Aunt, 50 year old Widow Christina ROSS. This is the widow of Bernard Rogan ROSS (1827-1874).
Marriage to Leila YOUNG
1892
On Oct 5, 1892 William married Leila Evelyn YOUNG in Winnipeg, daughter of Anna Maria CAMERON, the third wife of James YOUNG (1816-1872) from Scotland.
There are several Scrip records in Archives Canada for 1894 where half-breed William Roderick ROSS claimed Scrip as the sole heir of his mother, Ann McKENZIE, daughter of Samuel McKENZIE. In 1895 he also claimed Scrip as sole heir of his deceased father, Donald ROSS.
William moves to British Columbia
1896
William practiced law in Winnipeg until 1896, when he moved to British Columbia. Thereafter he established a practice in Fort Steele (NE of Cranbrook), Rossland and Fernie.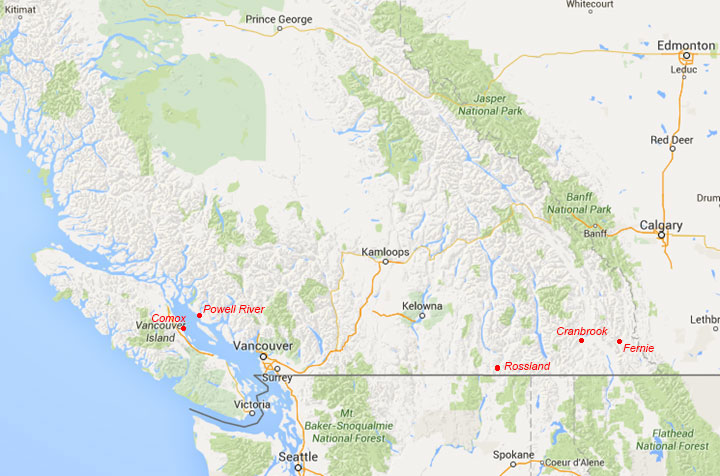 Census of 1901 in the East Kootenay:William R ROSS, age 32; wife Leila, age 31. Children: William E (age 7), Herbert M (4) and Eva H (age 2).
A Conservative, Mr. ROSS was elected Fernie's representative in the Legislature of 1903 and the same constituency re-elected him in 1907, 1909, 1910 and 1912.  (In 1906 he was made a King's Councilor and in 1909 he was appointed Government Agent at Fernie.)
Minister of Lands
On Oct 10, 1910, William was appointed as Minister of Lands in the government of Premier Richard McBRIDE, He served in that capacity from 1910 to 1913 and from 1915 to 1916.
** MORE ABOUT WILLIAM RODERICK ROSS in WIKIPEDIA

** MORE ABOUT PREMIER RICHARD McBRIDE in DCBO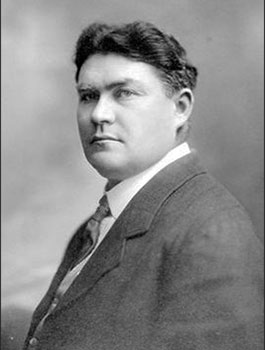 Honorable William Roderick Ross (From BC Archives)
Census of 1911 at 1385 Fairfield in Victoria: Hon. William Roderick ROSS; wife Leila, age 39. Children: Beatrice Vivian (age 23), William Cameron (age 17), Herbert Mackenzie (15), Eva Helen (13) and Geraldine Winnifred (age 1). Grandmother: Maria ?-?, age 70 (born Aug, 1841 in ON). ** Cannot read last name.
World War I
1914-1918
On Aug 4, 1914 Great Britain (Canada on Aug 5) declared war on Germany and Austria-Hungary to uphold treaties with France and Belgium which were under German attack. This marked the beginning of World War I.
On Nov 27, 1915 Leila (nee YOUNG) ROSS died in Victoria, BC.
On Dec 6, 1915 son Herbert Mackenzie enlisted in Victoria (Canadian Overseas Expeditionary Force; 103rd Battalion).
On Dec 28, 1915 son William Cameron enlisted in Vancouver (72nd Battalion, Canadian Infantry).
In the 1916 election Mr. ROSS was returned for Prince George. Four years later he was defeated by the Prince George electors.
On Apr 22, 1918 son Herbert married Mabel Emily WOODBRIDGE in England (his war bride), daughter of Happie Caroline COKER and James Arthur WOODBRIDGE (1874-1934).
November 11,1918, Armistice Day (Remembrance Day) marked the end of the First World War.
In 1927 son William married Lorna Doone FRASER in Vancouver, daughter of Annie WASLIE and George Valentine FRASER (1856-1930).
On Feb 4, 1928 William Roderick ROSS died in Cranbrook, BC.
Comments and queries at this link: FORUM DISCUSSING THE FAMILY OF WILLIAM RODERICK ROSS
========================== Family Details ==========================
Children:
1. Feb 3, 1894 WILLIAM CAMERON ROSS (m. Lorna Doone FRASER)
2. Nov 30, 1895 HERBERT MACKENZIE ROSS (m. Mabel Emily WOODBRIDGE
** MORE ABOUT HERBERT MACKENZIE ROSS
3. Aug 10, 1897 EVA HELEN ROSS
4. 1908 BEATRICE VIVIAN ROSS
5. Nov, 1909 GERALDINE WINNIFRED ROSS