RODERICK ROSS (1834-1909)
VICTORIA HARRIOTT (1843-1912)
(Last Updated: October 18, 2015)
Rodereick ROSS was born Feb 21, 1834 at Norway House, son of Mary McBEATH & Donald ROSS (1798-1852).
** MORE ABOUT DONALD ROSS
On July 24, 1835 William was baptized, probably at St Johns in Red River by Reverend David JONES (1796-1844). ** It wasn't until 1840 that Reverend Robert RUNDLE (1811-1896) arrived at Norway House to establish a mission there.
Roderick received his education at the MacCallum Academy and St Johns College, Red River. He also attended one or two sessions at Cambridge, England.
In 1850 Bishop David ANDERSON (1814-1885) set up a scholarship scheme at the Academy, covering tuition, £10 a year in cash, and meals at the master's table, in order to encourage the boys to do better work. In 1851 a Roderick ROSS was awarded this scholarship, and in 1852 an R. ROSS went on to Peterhouse, Cambridge. More about that at this at this link:
** BISHOP DAVID ANDERSON AND THE INSTITUTE OF RUPERT'S LAND

In the Service of the Hudson's Bay Company
1857
In 1857 Roderick was hired by the Hudson's Bay Company (HBC). He began his career at Fort Chipewyan in the Athabasca District. Details of his HBC service can be seen at this link: HBC ARCHIVES BIO FOR RODERICK ROSS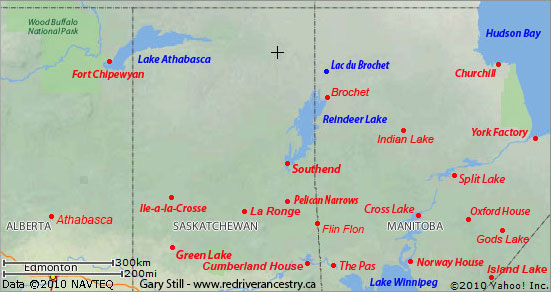 In 1860 Roderick was moved over to Fond du Lac at the east end of Lake Athatbasca, then back to the west end (Fort Chip) until 1862.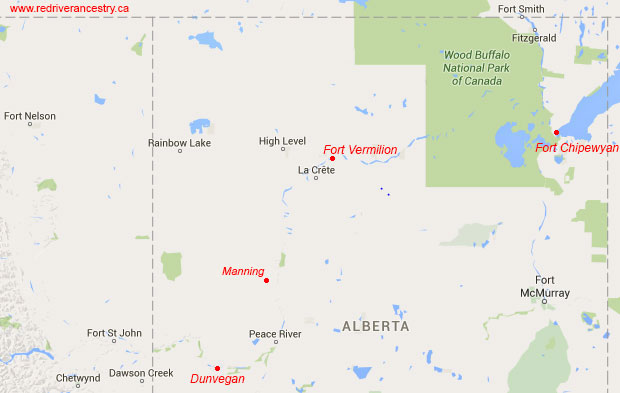 In 1862-63 Roderick was in the Red River Settlement. He was promoted to Clerk in Charge at Fort Vermilion in 1863-64 and at Fort St John (BC) in 1864-65.
Marriage to Victoria HARRIOTT
1865
On Apr 30, 1865 Roderick married Victoria HARRIOTTat St Johns in Red River, daughter of Nancy ROWAND and John Edward HARRIOTT (1797-1866). ** MORE ABOUT JOHN EDWARD HARRIOTT
From 1865 to 1868 Roderick returned to clerking at Fort Chipewyan and Dunvegan in the Athabasca District.
Canadian Confederation
A Red River Rebellion
Manitoba becomes a Province
1867-1870
On July 1, 1867 the British colonies in North America were united under the British North American Act to become the Dominion of Canada.  Sir John A MACDONALD (1815-1891) was appointed as Canada's first Prime Minister. William McDOUGALL (1822-1905) became the Minister of Public Works, and he began negotiations to acquire Rupert's Land from the HBC; surveyors were sent to Red River to prepare the way for an expected influx of settlers.
Although Roderick was "allowed to retire" in 1868-69, he was back in service in 1869 as a clerk at Norway House, where on March 24, 1869, son Roderick Jr. was born.
Confusion arises when we find that Nephew William Roderick was born on March 29, 1869 at Fort Chipewyan to Ann McKENZIE and Rod Sr.'s brother, Donald ROSS (1839-1878).
** MORE ABOUT RODERICK's BROTHER, DONALD ROSS
On Oct 11, 1869, Louis RIEL (1844-1885) placed his foot on the surveyors' chain to tell them their work was finished! This marked the beginning of the historic Red River Métis Rebellion.
On July 15, 1870 the Rebellion ended when RIEL's Provisional Government accepted the terms of the Manitoba Act and Manitoba became the fifth province of Canada.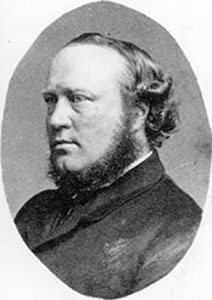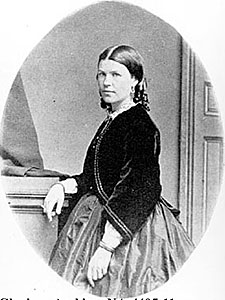 Roderick and Victoria Ross (Glenbow Archives)
Chief Trader at Norway House
1872-1884
In 1872 Roderick was promoted to Chief Trader in charge of the Norway House District. He would remain there as such for the next twelve years.
In 1878 Roderick's widowed brother, Donald ROSS JR (1839-1878) died at Fort Vermilion (AB) leaving a young son, William Roderick ROSS, orphaned at the age of nine. ** MORE ABOUT DONALD ROSS JR
According to the HBC Archives, Donald A. SMITH and the boy's Uncle, Roderick ROSS, were named as administrator and guardian in Letters of Administration.
Census of 1881 at Norway House:  Roderick ROSS, age 46; wife Victoria, age 37. Children: John Edward (age 17); Donald (16), Mary (15), Roderick (12) and Victoria Anne (age 3).
Back to the Athabasca District
1884-1887
In 1884 Roderick was the Factor in charge of the Ile a la Crosse District (English River), and in 1885-87 in charge at Fort Chipewyan in the Athabasca District. He was essentially back to the region where he had begun his career more than 30 years ago.
Retirement to Selkirk, Manitoba
1887
In 1887-88 Roderick was listed as "disposable" at Lower Fort Garry in Red River.
In 1888 eldest son John married Victoria Ellen HARRIOTT (his niece?) in St Andrews, daughter of Harriet THOMAS & John Edward HARRIOTT JR (1842-1924). ** MORE ABOUT JOHN EDWARD HARROITT 
In 1889 Roderick retired from HBC service.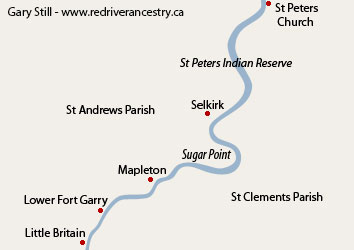 In 1891 eldest daughter Mary Alberta married in Vancouver (BC) to Alexander George MALCOLM (1867-1955) from Scotland.
In 1891 son Donald married Eliza DUCHARME, daughter of Marguerite SANDERSON and Francois DUCHARME (1827-1895). ** MORE ABOUT FRANCOIS DUCHARME
In 1895 son Roderick Jr. married Arabella HIGGINS in York, Ontario.
Census of 1901 in the Town of Selkirk: Roderick ROSS, age 67; wife Victoria, age 57. Children: Roderick (age 31) and Victoria Ann (age 23).
An article in the Free Press Feb 5, 1903: The Oldest Native Liberal – in chatting with a Free Press reporter he said: "I am a retired factor (not a chief factor) of the Hudson's Bay Company and I am 69 years of age, 40 years of which time I spent in the service of the Hon. Hudson's Bay Company" - - .
Census of 1906 in the Town of Selkirk: Roderick ROSS (age 72) recorded at the Manitoba Asylum. In the same census, his wife, Victoria ROSS (age 61) and daughter Annie (age 24) were recorded separately.
On Aug 31, 1909 William Roderick ROSS died in Selkirk at the age of 75.
Census of 1911 in Selkirk (Morrison Av): Widow Victoria ROSS, age 67; daughter Victoria, age 33.
On June 12, 1912 Victoria (nee HARRIOTT) ROSS died in Selkirk.
Comments and queries at this link: FORUM DISCUSSING THE RODERICK ROSS FAMILY
================================ Family Details ================================
Children:
1. Dec 6, 1864 JOHN EDWARD ROSS (m. Victoria Ellen HARRIOT)
2. Jun 11, 1866 DONALD ROSS (m. Eliza DUCHARME)
3. Jul 13, 1866 MARY ALBERTA ROSS (m. Alexander George MALCOLM)
4. Apr 24, 1869 RODERICK ROSS JR (m. Arabella HIGGINS)
5. Jan 6, 1878 VICTORIA ANN ROSS
6. Jan 19, 1883 ALEXANDER HUNTER ROSS (Died in infancy)
============================
Nephew:
Apr 29, 1869 WILLIAM RODERICK ROSS (m. Leila YOUNG)
** MORE ABOUT WILLIAM RODERICK ROSS