FRANCOIS OLIVIER (FRANCIS) DUCHARME (1827-c1895)
MARGUERITE SANDERSON (1833-c1915)
(Last Updated: October 13, 2015)
Francois DUCHARME was born around 1827 at Partridge Crop (now Fairford, Manitoba), son of Josephte RICHARD and Antoine DUCHARME (1775-1855) from Berthier, Quebec. 
Marriage to Marguerite SANDERSON
1849
Around 1849 Francis married Margaret SANDERSON at Fairford, daughter of Nancy (nee WHITFORD-LITTLEBOW, the third wife of James SANDERSON (1780-1873). Margaret's mother (Nancy) died in 1842 and her father (James) remarried to Mary FAVEL ** MORE ABOUT JAMES SANDERSON
In 1850 Francis' father (Antoine DUCHARME) died in St Francois Xavier, MB (south of Lake Manitoba). His mother also died there in 1853.
In 1851, daughter Mary was born in St Andrews Parish, Red River. 
Manitoba House
1852
In 1852 son Francois Jr. was born at Manitoba House (later named Kinosota) where Francois Sr. essentially made his home for the rest of his life.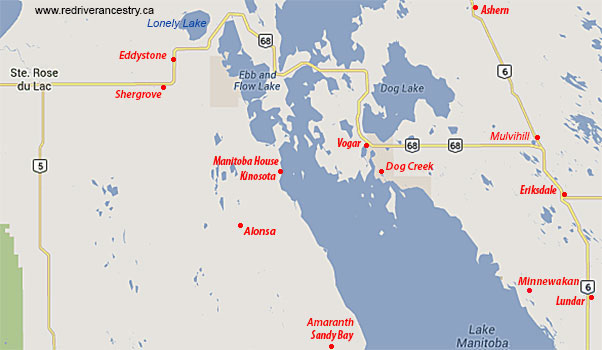 Lake Manitoba Narrows
Canadian Confederation
The Riel Rebellion
Manitoba becomes a Province
1867-1870
On July 1, 1867 the British colonies in North America were united under the British North American Act to become the Dominion of Canada.
In 1869 the historic Red River Rebellion began; led by Louis RIEL (1844-1885).
On July 15, 1870 Manitoba became the fifth province of Canada, the Canadian Government having acquired the territory previously governed by the HBC. The Rebellion was essentially over.
On Aug 21, 1871 Treaty Number 2 was signed at Manitoba House (previously negotiated at Lower Fort Garry).
In 1871 eldest daughter Mary married Angus McLEOD (1846-1917) from the Isle of Lewis, Scotland.
In 1873 Margaret's father, James SANDERSON died.
In 1874 son Francis Jr. married Eliza ANDERSON, daughter of Letitia McKAY and Peter ANDERSON (1827-1879).
In 1876 son James married Marguerite BRASS, daughter of Margaret BEARDY & John BRASS (1823-1925).
In the 1881 census the family was recorded as follows: Francis DUCHARME (age 56), wife Margaret (age 30?). Children at home: Robert (age 18), John (14), Louison (14), Charles (11), Eliza (9), Isabella (7) and Elizabeth (age 7). ** Note: there appears to be errors in the ages stated for some of the family members.
In 1886 son Robert married Catherine ASHAM, daughter of Caroline CORRIGAL and James ASHAM (1842-1903).
In 1887 Francois DUCHARME claimed his Half-breed Scrip. In his Affidavit he stated "I have always lived about Lake Manitoba and was living at Manitoba House on July 15, 1870 where I lived ever since as a Hunter and Fisherman."
In 1887 daughter Eliza became the wife of Donald ROSS, son of Victoria HARRIOTT & Roderick ROSS (1834-1909).
Manitoba House becomes Kinosota
1889
The settlement adjacent to the Manitoba House Trading Post was referred to simply as the Manitoba House Settlement until 1889 when the name Kinosota was suggested by Manitoba's first Premier, John NORQUAY (1841-1889) for the local post office.
In 1890 son Charles married his sister-in-law Mary Eliza ASHAM, daughter of Caroline CORRIGAL and James ASHAM (1842-1903).
In 1891 son Louis married Sarah FLETT of so far unknown origins. Also in 1891 daughter Elizabeth married Samuel SANDERSON, son of Elizabeth SABISTON and Robert SANDERSON (b-1834).
In 1891 daughter Eliiza married Donald ROSS, son of Victoria HARRIOTT and Roderick ROSS (1834-1909).
In 1895 daughter Annabella married Henry George HENDERSON, son of Eleanor Ellen WHITFORD and Peter HENDERSON (1824-1906).
It seems that Francois DUCHARME SR must have died at some time after the census of 1891 and before the census of 1901.
In the census records for 1901, 1906 and 1911 Widow Margaret DUCHARME was living with her daughter and son-in-law, Eliza and Donald ROSS in the Ebb and Flow area. In 1911 her age was stated as 69.
It was probably around 1915 that Widow Margaret DUCHARME died.
Please post comments and queries at this link: FORUM DISCUSSING the FRANCOIS DUCHARME FAMILY
================================ Family Details ================================
Children:
1. 1851 MARY DUCHARME (m. Angus McLEOD)
2. Oct 10, 1852 FRANCIS (FRANCOIS) DUCHARME JR (m. Eliza ANDERSON)
3. 1855 JAMES DUCHARME (m. Marguerite BRASS)
4. Jun 22, 1860 MARGUERITE DUCHARME (m. Charles MARSDEN)
5. 1862 ALEXANDER DUCHARME (m. Mary MARSDEN)
6. 1863 ROBERT J DUCHARME (m. Catherine Alice ASHAM)
7. 1865 LOUISON DUCHARME (?m. Sarah FLETT)
8. 1865 JOHN DUCHARME
9. Oct 15, 1869 CHARLES DUCHARME (m1. Elizabeth "Eliza" ASHAM)
10. Jun 7, 1871 ELIZA DUCHARME (m. Donald ROSS)
11. Sep 30, 1873 ELIZABETH DUCHARME (m. Samuel SANDERSON)
12. 1874 ANNABELLA (ISABELLA) DUCHARME (m. Henry George HENDERSON)