JAMES THOMAS SANDERSON aka SANDISON (c1780-1873)
SARAH SALLY CREE (1787-1827)
MARGARET LOUIS (1806-1831)
NANCY ANN (nee WHITFORD) LITTLEBOW (1801-1842)
MARY FAVEL (1824-?)
(Last Updated: August 08, 2015)
James Thomas SANDERSON was born around 1780, probably at York Factory, and probably the son of a Cree woman named Elizabeth Nancy "Nellie" and James SANDERSON SR (1757-1819), an HBC canoe builder, voyageur and fur trader from Scotland. James had at least one younger brother, Robert SANDERSON (1794-1847).
Carlton House
1795
Archives of Manitoba: James SANDERSON [SANDISON] established the Hudson's Bay Company post of Carlton House in 1795. The post, named after the residence of the Prince of Wales in London, was originally situated just below the junction of the North and South Saskatchewan Rivers. The North West Company established a competing post nearby in 1798, "La Montee," which appears to have operated until the union of the Hudson's Bay Company and the North West Company in 1821. In its first fifteen years of existence, Carlton House was moved three times: to Upper Nipawin in 1801, to the South Branch House on the Saskatchewan in 1805, and finally, to the south bank of the North Saskatchewan near the "Crossing Place" in 1810.
Sarah Sally Cree
1814-1821
 In 1814-15 at Carlton House James was rated as "Honest and obedient"..  Around 1814, perhaps earlier, James' HBC rating at Carlton for 1815-16 was "Obstinate and disobedient".
Around 1814 James' wife was a Cree woman named Sarah (Sally). Around 1815 son George was born at Carlton House, followed by son James Jr. about 1816 and daughter Frances around 1819.
An HBC Voyageur Inland from Fort Albany
1820-1824
This is probably the James SANDERSON who is described in the HBC Archives as born c1785, and indicated as a Steersman and Middleman inland from Albany Factory from 1820 to 1824.
Union of the North West Company with the Hudson's Bay Company
1821
In 1821 the union of the North West Company (NWC) and the Hudson's Bay Company (HBC) occurred, ending years of bitter rivalry for dominance of the fur trade in Western Canada. After the merger, almost 1,300 employees lost their jobs since the single HBC organization that emerged had no need for most of the voyageurs and retired fur traders.
On Oct 13, 1823 James and Sally CREE were church-wed at St Johns Anglican Church in Red River.
In 1826 James was contracted to HBC as a Middleman (voyageur) in Red River.
The Red River Census of 1827 recorded James SANDISON with a wife and one adult son; two younger sons and two young daughters. He had a house and stable; three cows, two oxen and one swine. He had a cart and a plow and two acres were under cultivation.
On May 18, 1827, wife Sally died in St Johns.
Second Wife - Margaret LEWIS
1827-1831
On Nov 20, 1827, widowed, James married his second wife, 21 year old Margaret LOUIS.  Margaret was the daughter of an Indian woman & Joseph LOUIS alias Levy JOHNSON, an African (Mullatto). 
** MORE ABOUT JOSEPH LOUIS aka LEVY JOHNSON
In 1829 James retired from his HBC three-year contract as a Middleman.
Margaret assumed the care of James' four young children. Margaret had one child, Elizabeth, but both Elizabeth, and her mother Margaret, died in 1831. 
Third Wife - Nancy Ann (nee WHITFORD) LITTLEBOW
1832-1842
Again widowed, on Feb 9, 1832 James married a third time to Ann WHITFORD, the 31 year- old daughter of Sarah INDIAN & James Peter WHITFORD (1766-1818), from England.  ** MORE ABOUT JAMES PETER WHITFORD
When she married James, Ann had an 11 year old son, David LITTLEBOW b-1821 with her, her child by Attiah-piss LITTLEBOW.  Ann added to the family, with the birth of Marguerite around 1833; Robert in 1834; (8 yr old son James died in 1835) and William in 1837. 
In 1835 son George married Jane HENDERSON, daughter of Charlotte YORKSTONE, and Indian, and Peter HENDERSON (1795-1863) from Scotland.
In 1838 son James Jr. married Elizabeth ANDERSON, daughter of Mary Anne DESMARAIS and John ANDERSON (1804-1884). ** MORE ABOUT JOHN ANDERSON
In 1842 James' wife Nancy Ann died. That same year step-son David (LITTLBOW aka SANDERSON) married Nancy ANDERSON in St Andrews, daughter of Mary DESMARAIS and John ANDERSON (1804-1892).
Fourth Wife - Mary FAVEL
1843-1873
On Nov 23, 1843 James (three times a widower and well into his 50's) married yet again to 19 year old Mary FAVEL at St Andrews, daughter of Sarah TROUT and Thomas FAVEL (1781-1848). ** MORE ABOUT THOMAS FAVEL
Around 1852 daughter Sarah married George WHITFORD, son of Catherine JOKE and George WHITFORD SR (1798-?).
In 1849 daughter Margaret married Francois Olivier DUCHARME at Fairford (MB), son of Josephte RICHARD and Antoine DUCHARME (1775-1855). 
In 1857 son Robert married Elizabeth SABISTON at Fairford, daughter of Mary ROBERTSON and William SABISTON (1810-?).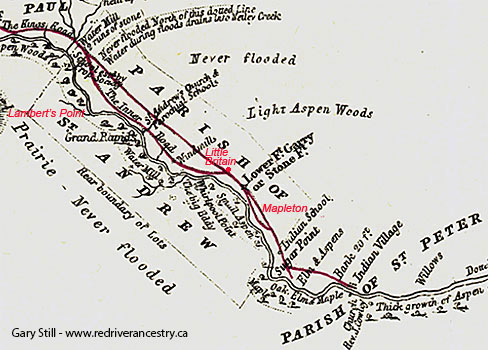 St Andrews Parish from Henry Hind's Map of 1857
Canadian Confederation
The Riel Rebellion
Manitoba becomes a Province
1867-1870
On July 1, 1867 the British colonies in North America were united under the British North American Act to become the Dominion of Canada.
In 1869 the historic Red River Rebellion began; led by Louis RIEL (1844-1885).
On July 15, 1870 Manitoba became the fifth province of Canada, the Canadian Government having acquired the territory previously governed by the HBC. The Rebellion was essentially over.
In 1870 James and his family were residents of St Andrews Parish.
James SANDERSON Dies
1873
On Nov 26, 1873, James SANDERSON died, about 80 years old.  His widow Mary would have been about 49 years old.
In 1875 Mary SANDERSON of St Andrews Parish claimed Scrip for the heirs of her deceased husband, James SANDERSON. Included as heirs were herself (as Jame's widow) as well as: 1) George, 2) Sarah, (wife of Samuel SPENCE), 3) Robert, 4) Margaret (wife of Francis DUCHARME). It appears that 2) Sarah who married Samuel SPENCE may have actually been a granddaughter.
In the 1901 census, Widow Mary SANDERSON (age 89) was recorded in the Long Plain Indian Reserve with her daughter-in-law Elizabeth, age 69 (who was married to her step-son Robert SANDERSON).
Please post comments and queries at this link: FORUM DISCUSSING the JAMES SANDERSON FAMILY
======================= Family Details =======================
Children by Sally CREE:
1. c1815 GEORGE SANDERSON (m. Jane HENDERSON)
** MORE ABOUT GEORGE SANDERSON
2. 1816 JAMES SANDERSON (m. Elizabeth ANDERSON)
** MORE ABOUT JAMES SANDERSON JR
3. c1820 SARAH "SALLY" SANDERSON (m. George WHITFORD)
4. c1824 FRANCES SANDERSON
Child by Margaret LOUIS:
1. 1829 ELIZABETH SANDISON (Died in infancy Oct 4, 1831)
Children by Nancy WHITFORD:
1. Jun 7, 1833 MARGUERITE "MARGARET" SANDERSON (m. Francois Olivier DUCHARME)
** MORE ABOUT FRANCOIS DUCHARME
2. Dec 14. 1834 ROBERT SANDERSON (m. Elizabeth SABISTON)
3. Apr 24, 1837 WILLIAM SANDERSON
Step-son (Child of Nancy WHITFORD & David LITTLBOW SR):
1. 1821 DAVID LITTLEBOW-SANDERSON (m. Nancy ANDERSON)