GEORGE SANDERSON (c1815-1885)
JANE HENDERSON (1820-1903)
(Last Updated: July 16, 2015)
George SANDERSON was probably born around 1810-15 at Fort Carlton, son of a Cree woman named Sarah or Sally, and halfbreed James SANDERSON (1780-1873). ** MORE ABOUT JAMES SANDERSON
George's mother (Sarah) died on May 18, 1827 in St Johns (Winnipeg) when George was about 17 years old. His father re-married to Margaret LOUIS, daughter of an Indian woman and the African (Mullatto) voyageur Joseph LEWIS aka Levy JOHNSON (1773-1820).
George's father (James SANDERSON) would have two more wives, including Nancy WHITFORD, and finally Mary FAVEL.
Marriage to Jane HENDERSON
1835
In 1835 George married Jane HENDERSON, daughter of Charlotte YORKSTONE, and Indian, and Peter HENDERSON (1795-1863) from Scotland who was among the first group of Selkirk Settlers who arrived at York Factory in 1811. In 1812, rather than proceeding to Red River along with the other settlers,  HENDERSON chose instead to become an HBC employee for the next 13 years, first at Fort Albany. At the time his daughter Jane married George SANDERSON, her father was retired from the HBC and the HENDERSON family had settled in St Andrews Parish.
In 1837 George's first child, daughter Charlotte was born, obviously named after her mother and probably born somewhere in the Lower Red River district (St Andrews or St Peters).
For the next 20+ years as George's family grew, we really don't have much information about his whereabouts. It seems he was probably in the Red River district until in the early 1850's he seems to have moved to Northern Saskatchewan.
In 1859 son William married at the Stanley Mission to Janet ATKINSON, daughter of Nancy KIPLING and George ATKINSON JR (1815-1846). Stanley Mission is located to the north of Lac La Ronge in Northern Saskatchewan.
** MORE ABOUT GEORGE ATKINSON JR
By 1864, when he was hired by the HBC in the English River District, George would have been almost 50 years old with a large family.

Note: The English River was another name for the Churchill River. English River District HBC posts in northwest Saskatchewan included Ile a la Crosse, Green Lake, Rapid River, Portage La Loche, Cold Lake and Deer Lake.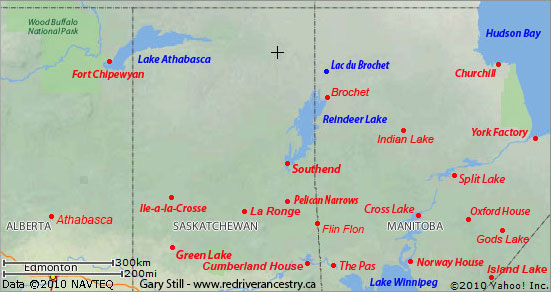 George recruited by the Hudson's Bay Company
English River District
1864-1870
On June 1, 1864 George began service with the Hudson's Bay Company (HBC) as a Carpenter in the English River District. ** MORE ABOUT GEORGE SANDERSON in the HBC ARCHIVES
Canadian Confederation
The Riel Rebellion
Manitoba becomes a Province
1867-1870
On July 1, 1867 the British colonies in North America were united under the British North American Act to become the Dominion of Canada.
It was round 1868 that eldest daughter Charlotte married William COOK, a Treaty Indian from the St Peters Reserve, son of Mary Anne BEARDY and William COOK SR (1815-1885).
In 1869 the historic Red River Rebellion began; led by Louis RIEL (1844-1885).
On July 15, 1870 Manitoba became the fifth province of Canada, the Canadian Government having acquired the territory previously governed by the HBC. The Rebellion was essentially over.
St Peters
1870-1873
In 1870 George left the service of the HBC to reside in St Peters (Red River) for three years. That year his children at home were recorded as Alexander (age 20), Jane (18), Harriet (16), Grace (14) and Catherine (age 12).
Indian Treaty Number One
1871
Shortly after the entry of Manitoba into Confederation, the Dominion Government made plans to extinguish the Indian title in anticipation of the expected influx of agricultural settlers into the province.
In 1871 Wemyss SIMPSON (1824-1894) was appointed as Canada's Commissioner and General Indian Agent for the Northwest, to negotiate treaties with the Indians of the region. SIMPSON arrived in the province on July 16, 1871, and he immediately issued proclamations to the Indian leaders of the territory to come to Lower Fort Garry to negotiate the terms of a Treaty. The first to arrive was Chief Henry PRINCE(1819-1902) of the Peguis Band. By the end of August, SIMPSON's negotiations culminated with the signing of Indian Treaties One (the Peguis Band) and Two, the first such treaties concluded by the new Dominion of Canada. ** MORE ABOUT CHIEF HENRY PRINCE and THE ST PETERS RESERVE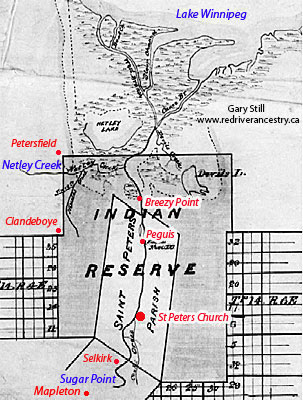 Plan showing St Peters Reserve No.1
In 1871 son Alexander married Maria HENDERSON, daughter of Eleanor WHITFORD and Peter HENDERSON (1824-1906).
In 1872 daughter Harriet married Andrew LAMBERT, son of Hannah ASHAM-PRINCE and John LAMBERT (1827-1902). ** MORE ABOUT JOHN LAMBERT
Mackenzie River District
1874-1884
From 1874 to 1884 George re-hired by the HBC again as a Carpenter and posted to the Mackenzie River District.
In 1878 youngest daughter Grace Agnes was in a relationship with Adolphus CAMERON.
In 1884 George was a 'Freeman' (no longer employed by the HBC).
On June 11, 1885 George SANDERSON died in St Clements Parish at the age of 75.
In 1890 daughter Grace Agnes married John Robert MOORE (1862-1937), and in 1910 they adopted my own mother-in-law Irene (born DICKINSON) MOORE.
Census 1891: Lisgar (#6), SD-C (East Selkirk), pg 10, HH-43: Widow Jane SANDERSON, age 70.
On Sep 27, 1903 Widow Jane SANDERSON died in St Andrews at the age of 83.
Please post comments and queries at this link: FORUM DISCUSSING the GEORGE SANDERSON FAMILY
========================== Family Details ==========================
Children:
1. Apr 26, 1837 CHARLOTTE SANDERSON (m. William COOK)
2. c1839 CORNELIUS SANDERSON
3. c1841 GEORGE SANDERSON (?m. Fanny)
4. c1844 WILLIAM SANDERSON (m. Janet (Jane) ATKINSON)
5. Jun 9, 1846 ALEXANDER SANDERSON (m. Maria HENDERSON)
6. 1848 MARGARET SANDERSON
7. 1852 JANE SANDERSON
8. Dec 24, 1853 HARRIET SANDERSON (m. Andrew LAMBERT)
9. 1858 CATHERINE SANDERSON
10. Oct, 1861 GRACE SANDERSON (m1. Adolphus CAMERON, m2. SUTHERLAND, m3. John Robert MOORE)
** MORE ABOUT GRACE and JOHN ROBERT MOORE
11. 1871 CHARLES SANDISON