JOHN EDWARD HARRIOTT (1842-1924)
HARRIET MARIE THOMAS (1846-1871)
JANE TAYLOR (1852-1943)
(Last Updated: October 13, 2015)
John Edward HARRIOTT was born June 29, 1842 at Fort Carlton, the son of Nancy ROWAND and Chief Factor John Edward HARRIOTT SR (1797-1866). ** MORE ABOUT JOHN EDWARD HARRIOTT SR
In 1850 his mother (Nancy) died at Fort Edmonton when John was only about eight years old, and by 1853 this HARRIOTT family had moved to Red River where his father (John Edward Sr) re-married to Frances BUNN, daughter of Phoebe SINCLAIR & Thomas BUNN (1765-1853). ** MORE ABOUT THOMAS BUNN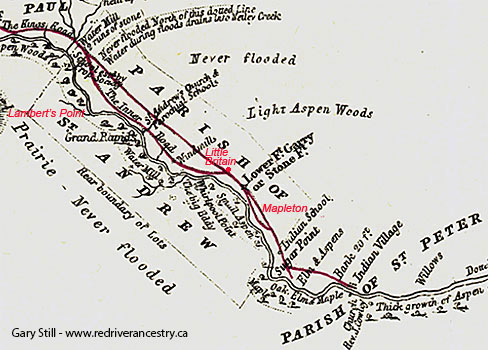 St Andrews Parish from Hind's map of 1857
It is uncertain where the HARRIOTT family's first residence was in Red River, but it is said that young John completed his education at St John's College, suggesting the may have lived in St John's Parish at first.
In 1858 John's father built the original Hawthorne Lodge at Little Britain. (More details in his father's Family Page)
Apprenticeship with the Hudson's Bay Company
1858-1863
From 1858 to 1863 John served a five year contract with the Hudson's Bay Company (HBC) as an Apprentice Post Master. During this period he served in the Arctic and the Mackenzie River districts. When his contract expired in 1863 he returned to Red River and settled in St Clements Parish (Mapleton).
Marriage to Harriet THOMAS
1865
On July 13, 1865 John Edward married Harriet Marie THOMAS; daughter of Eleanor BUNN & William THOMAS SR (1806-1875).
Canadian Confederation
A Red River Metis Rebellion
Manitoba becomes a Province
1867-1870
On July 1, 1867 the British colonies in North America were united under the British North American Act to become the Dominion of Canada. Sir John A MACDONALD (1815-1891) was appointed as Canada's first Prime Minister. William McDOUGALL (1822-1905) became the Minister of Public Works, and he began negotiations to acquire Rupert's Land from the HBC, sending out surveyors to prepare the way for an expected influx of settlers.
The Red River Rebellion began in 1869 and ended in 1870 when Manitoba became a Province.
In 1870 John was recorded on Lot 18 in St Clements with children: Ann (age 4) and Victoria (age 3). Lot 18 was located to the south of Lambert's Point as shown on the above map (north of the boundary with St Paul's Parish.
On Oct 1, 1871 Harriet (nee THOMAS) HARRIOTT died.
Marriage to Jane TAYLOR
1875
On May 17, 1875 John Edward re-married to Jane TAYLOR at St Paul, daughter of Nancy McKAY & Samuel TAYLOR (1812-1894), the stonemason from the Orkneys who build St Clements Church at Mapleton.
Move to Cloverdale
1881
In 1881 John and his wife decided to live in the young district of Cloverdale, so they sold their property in Mapleton to William LYONS (1856-1939), (who later sold some to the Manitoba Rolling Mills), and settled on property in Cloverdale bought from Sheriff Colin INKSTER (1843-1934) of Seven Oaks. In the 1881 census the family was recorded as follows: John Edward HARRIOTT, age 37; wife Jane, age 28. Children: Ann Maria (age 14<), Victoria Ellen (12), Jane Elizabeth (7), John Edward (5), Harriet Louisa (3) and Frances M P (age 1). Farm servant: Robert LABLANC, age 14 (b-c1867).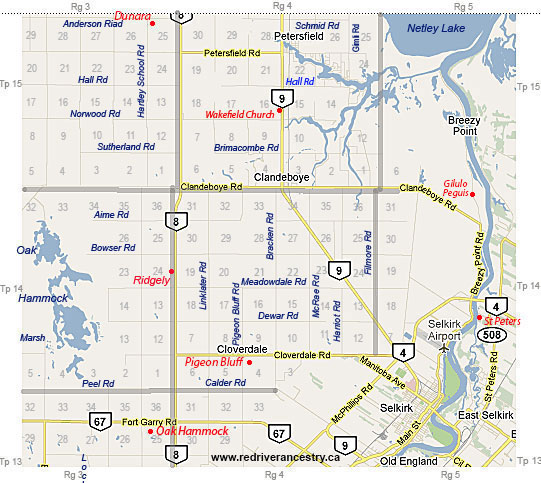 John then became the Postmaster in the new district (Pigeon Bluff PO). He was also, the first Secretary of the St Andrews School Board, having donated the land on which the school was built.
In 1888 J.E. HARRIOTT is listed renting a pew at St Clements Church in Mapleton. That year two of his daughter were married there. Daughter Anna married Malcolm CAMPBELL, son of Jessie McDONALD and Roderick CAMPBELL (1842-1873), an HBC employee from the Orkneys. Daughter Victoria married John ROSS, son of Victoria HARRIOTT and Roderick ROSS (1834-1909). ** MORE ABOUT RODERICK ROSS
In 1890 daughter Jane Elizabeth became the second wife of James MASSEY, son of Sarah SMITH & ROBERT MASSEY (1823-1897). ** MORE ABOUT ROBERT MASSEY
J.E. HARRIOTT was the first Councillor to represent Ward 3 of the Rural Municipality of St Andrews, serving two terms, 1893-94 and 1898-1900.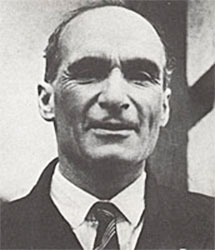 John Edward Harriott
(From Beyond the Gates of Lower Fort Garry)
In 1896 son John Edward Jr. married Ellen Annie McKENZIE, daughter of Harriet FIDLER and Reverend Benjamin McKENZIE (1837-1928). ** MORE ABOUT REVEREND BENJAMIN McKENZIE
In the 1901 Census the family was recorded as follows: John E HARRIOTT, age 58; wife Jane, age 48. Children at home: Hattie (age 23), Edith (19), Adelaide (17), Alexander (16), Grace (14), Ann (12), Lillian (10), Thomas (8) and Alice (age 3). Also with them was Grandson Horace CAMPBELL (age 4). This was daughter Anna Maria's child with Malcolm CAMPBELL. Anna Maria died in 1896 after giving birth to Horace. Anna Maria's other children, Mabel CAMPBELL and Laura CAMPBELL were also raised by their HARRIOTT grandparents.
In 1905 daughter Adelaide married William McDONALD of uncertain origins.
In 1906 daughter Harriet married Cuthbert Allen SINCLAIR, son of Harriet Marie TRUTHWAITE and Thomas SINCLAIR (1841-1888).
In 1909 son Alexander married Grace MACDOUGALL, daughter of Sarah Ann TRUTHWAITE and John MACDOUGALL (1846-1929) from Scotland. In 1911 daughter Lillian married her brother-in-law, John Andrew MACDOUGALL.
In 1911 widowed son John Edward Jr. re-married to Alice TAYLOR, daughter of Jane BRASS & William Lincoln TAYLOR (1865-1921). His previous wife, Nellie McKENZIE died in 1905.
World War I
1914-1919
On Aug 4, 1914 Great Britain (Canada on Aug 5) declared war on Germany and Austria-Hungary to uphold treaties with France and Belgium which were under German attack. This marked the beginning of World War I. November 11,1919, Armistice Day (Remembrance Day) marked the end of the First World War.
In 1914 daughter Annie married Alfred TRUTHWAITE, son of Hannah McDONALD and Andrew TRUTHWAITE (1849-1936). ** MORE ABOUT ANDREW TRUTHWAITE
WW I Attestation: Dated Nov 22, 1916 at Kingston, Ontario: Canadian Expeditionary Force: Grace Irene HARRIOTT, Professional Nurse; born Oct 11, 1888 in Selkirk. Next of kin: her father, John Edward HARRIOTT of Selkirk.
Beth Balsillie: While she serving as an Over-Seas nurse during the First World War, Grace met and married Gordon TICKELL in Derbyshire, England.
In 1919 daughter Edith married Frank Arthur BANNISTER, son of Julia Ann RICHARDS and James BANNISTER (1855-1891).
On May 31, 1924 John Edward HARRIOTT died at Cloverdale, age 82. Soon after, Widow Jane and daughter Alice moved to Selkirk.
From Winnipeg Free Press: On Aug 28, 1942 Widow Jane HARRIOTT celebrated her 90th birthday in Selkirk where she was living with her daughter Alice and her only sister (Louisa nee TAYLOR) Mrs. W.A. BURMAN. Mentioned are her two sons, John and Alex, both of Cloverdale; seven daughters, Mrs C.A. SINCLAIR of Lockport; Mrs F.A. BANNISTER and Mrs William McDONALD of Selkirk; Mrs Gordon TICKELL of Vancouver; Mrs. J.A. MACDOUGALL of Edmonton; Mrs John ROSS of Hodgson and Alice. Six grandchildren are mentioned who were serving in the Armed Forces: F.C. HAWES, W.T. HARRIOTT, T.A.D. HARRIOTT and J.E. HARRIOT, all in the RCAF; and Sergeant M.J. HAWES and Sergeant T.H. SINCLAIR, who were with the Winnipeg Grenadiers at Hong Kong.
On Mar 21, 1943 Jane HARRIOTT died in Selkirk at the age 89.
Comments and queries at this link: FORUM DISCUSSING the FAMILY of JOHN EDWARD HARRIOTT JR
======================== Family Details ========================
Children by Harriet THOMAS:
1. 1866 ANNA MARIA HARRIOTT (m. Malcolm CAMPBELL)
2. 1867 VICTORIA ELLEN HARRIOTT (m. John ROSS)
Children by Jane TAYLOR:
1. c1874 JANE ELIZABETH HARRIOTT (m. James MASSEY)
2. Dec 24, 1875 JOHN EDWARD HARRIOTT JR (m1. Ellen "Nellie" McKENZIE, m2. Alice TAYLOR)
3. 1877 HARRIET LOUISA "HATTY" HARRIOTT (m. Cuthbert Allan SINCLAIR)
4. 1880 FRANCES MARY PHOEBE HARRIOTT (Died age 14)
5. May 13, 1881 EDITH EMILY HARRIOTT (m. Frank Arthur BANNISTER)
6. Jun, 1883 ADELAIDE MARGARET HARRIOTT (m. William McDONALD)
7. Nov 26, 1884 ALEXANDER ARTHUR HARRIOTT (m. Grace McDOUGALL)
8. Oct 11, 1886 GRACE IRENE HARRIOTT (m. Gordon TICKELL)
9. Mar 4, 1889 MATILDA ANN HARRIOTT (m. Alfred TRUTHWAITE)
10. Mar 10, 1891 LILLIAN HARRIOTT (m. John Andrew McDOUGALL)
11. Feb 13, 1893 THOMAS SAMUEL HARRIOTT (Died age 20)
12. Apr 26, 1897 MARLENE ALICE JEMIMA HARRIOTT (m. Bill WATSON)