REVEREND BENJAMIN McKENZIE (1837-1928)
HARRIET FIDLER (1839-1924)
(Last Updated: July 02, 2016)
On Sept 15, 1837, Benjamin McKENZIE Junior was born at Fort Vancouver. His father, Benjamin McKENZIE Senior (1807-1837), was of mixed-blood origin (Scotch and Ojibwe), a Clerk-Accountant of the Hudson's Bay Company (HBC) in its Columbia District. His mother, Catherine, was the daughter of Elizabeth McGILLIVRAY (a Half-breed) & Colin CAMPBELL (1787-1862), of Scottish-Dutch origins.
Ben never knew his father (Ben Sr.), who died off the Hawaiian Islands only a few days before he was born. More about Benjamin's father: BENJAMIN McKENZIE SR
Soon after Ben was born at Fort Vancouver, his 22 year old widowed mother (Catherine) was obliged to return to her relatives on the other side of the Rocky Mountains. Her father, Colin CAMPBELL, was a Chief Trader, living at Dunvegan in the Peace River country with a large young family of his own to contend with. However, father-in-law Roderick McKENZIE and his wife (Angelique) did not hesitate to welcome Catherine and his grandchildren into his home at Ile a la Crosse. Old Roddy was also a Chief Trader with the HBC. He was 65 years old, but still very active.
More about old Roddy: RODERICK McKENZIE
Fort Vancouver to Ile a la Crosse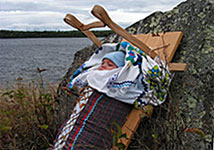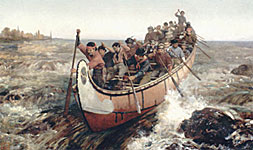 Baby in Tikinagan and Voyageurs
This is how baby Benjamin probably travelled from Fort Vancouver to Ile a la Crosse,
along the same route as his famous distant relative, Sir Alexander Mackenzie
To get to Ile a la Crosse, Catherine had to again make the arduous trip with her youngsters across the mountains that brought her to Vancouver five years earlier. This was the route first discovered by Sir Alexander MacKENZIE some 45 years earlier (1792). Upstream from Bella Coola they would have had to cross the Rockies; navigate the turbulent Fraser River and Canyon; up to the Peace River;  on to Dunvegan where her father (Colin CAMPBELL) was; and then down to Ile a la Crosse where her father-in-law (Grandpa Roddy McKENZIE) was. Quite an ordeal for a young lady burdened with a new-born child (Ben) as well as two toddlers (Angelique and Colin).
Until he reached school age, young Benjamin, his mother and his siblings lived with his elderly grandparents at Ile a la Crosse. Around 1842, limping and nearly blind, old Roddy stayed on with the HBC (despite the widespread opinion hat he should retire), worrying about his finances and about finding a place where he could settle with his wife and family. He doted over his grandchildren, and it was around this time that he brought them and their mother to Red River.
Ben's widowed mother (Catherine) remarries to William CLOUSTON
1842
Around 1842, not long after they arrived in Red River, Ben's mother (Catherine) became the wife of William CLOUSTON (1820-1877) from the Orkneys, an HBC contract-labourer. Catherine was about 27 years old then, William about 24. On Oct 6, 1843, Catherine gave birth to their first child (Alexander CLOUSTON). So Ben was six years old when his mother began to raise her second (CLOUSTON) family in the St James-Headingly area. His brother Colin was almost eight and his sister Angelique was 11 .** MORE ABOUT WILLIAM CLOUSTON
Benjamin's School years at the Red River Academy
1844-1857
By 1844 both Benjamin and his siblings, Colin and Angelique were in residence at the Red River Academy (later re-named St John's College) in Kildonan Parish, all their expenses paid by Grandpa Roddy.
Rev John McCALLUM (1806-1849) was the owner and the Headmaster of the Academy. During his tenure courses were offered in Greek, Latin, geography, Bible study, history, algebra, writing, and elocution. In 1840 he happily assured HARGRAVE that "the schools are well supported, & supply us with as much work as we can all execute." Two years later he noted that his students' "progress is pleasing, their deportment correct, and their docility, attention, & application highly commendable."
In 1846 Ben's aunt, Jane McKENZIE, became the last lady teacher of the Academy under McCALLUM.
Letitia HARGRAVE (1813-1854) observed critically that if Indian or mixed-blood mothers were not formally married McCALLUM refused to allow them to visit their children, a policy she viewed as "fearfully cruel for the poor unfortunate mothers did not know that there was any distinction." McCALLUM, however, was unaffected by criticism and HBC executives did not seem much concerned.
By 1849 Ben's mother and his step-father (William CLOUSTON) were living nearby in St John's Parish and Ben had four step-siblings (Alexander, Annie, Catherine and James CLOUSTON), the eldest (Alex) was only six years old.
In his memoirs Ben said that McCALLUM was a "conscientious and faithful worker, but a very severe pedagogue".  Regarding his own time under him being "as bitter as Egyptian slavery," he adds "He over-estimated the value of the use of the rod, as it is in the schools of today [circa 1920]. Others said that he applied a double standard against native women.  His attitude was carried to cruel lengths; in his zeal for social propriety, he forbade his pupils from having any contact with their mothers if they had been guilty of "living in sin" with their fathers. In this, McCALLUM was only a man of his generation, though it must be remembered that from 1847 he was fighting the malady which caused his death in 1849.
Benjamin also recalled that McCALLUM "prepared a goodly number of postmasters, clerks and future chief traders and chief factors" for the HBC."
In 1849 John McCALLUM died at the age of 43. The Academy was then purchased by the Bishop of Rupert's Land Bishop David ANDERSON (1814-1885) who renamed it as the St John's Collegiate.  In 1866 the school's name was changed again to St John's College School.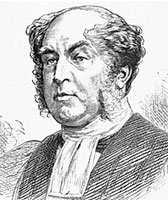 Red River Academy in 1852 – Bishop David Anderson
Provincial Archives of Manitoba
By the 1840's most clerks and administrators of the HBC began to send their children away for an education, because the Red River Academy was thought inadequate. Some went to England and Scotland, and others to Montreal. The mixed-blood heritage did not seem to be a problem. Two major problems faced the fathers. Because of the size of their families, they often had to select one, or a few, for education, leaving the others illiterate. In this regard, Ben's brother, Colin, was the one selected to go, probably simply because he was the eldest son. By 1849 (age 13), Colin was settled at St Peter's College in Cambridge, England.
The future Premier of Manitoba, John NORQUAY (1841-1887), also a protégé of ANDERSON.  He was four years younger than Ben.
In the summer of 1852, after two successive years of furlough at Fort Alexander, Old Grandpa Roddy finally retired to the Red River. He was 80 yeas old now, and Caberleigh Cottage in Little Britain would be his final residence, just south of Lower Fort Garry.
Around 1854, Ben's sister, Angelique, married Alexander GUNN (1829-1902), son of the Honourable Donald GUNN (1797-1878). 
Ben becomes a Teacher
1857
In 1857, a 20 year old Benjamin McKENZIE left the Academy to follow a teaching profession in St James, at a school that was built on land donated by Alban FIDLER (1809-1879), a Magistrate there. It was here that Ben met the Magistrate's 20 year old daughter, Harriet FIDLER.
In 1858 John NORQUAY, Ben's teenage ex-classmate from the Academy became the master at the St James School, and Ben went to teach at the St John's Parochial Day-School.
On Jan 2, 1859, Grandpa Roderick McKENZIE died; and Granny Angelique on Nov 17, the same year.They were buried in the Little Britain Cemetery.
Ben marries Harriet FIDLER and moves to Portage la Prairie
1859-1864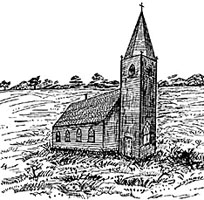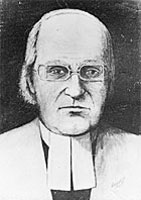 St Mary's Church, constructed 1855-57 – Archdeacon William Cockran
By 1859 Archdeacon William COCKRAN (1798-1865) and his son, Rev Thomas COCKRAN (c1830-1864), had established a mission (St Mary's Church) at Portage la Prairie. Almost all of the good river lots along the Red and Assiniboine rivers had been taken up, and many sons and daughters of the early settlers had moved to there with their families (many from the Middlechurch and St Andrews areas).
That summer Ben McKENZIE moved there as a Teacher, replacing Henry LARONDE, also a former student at St John's.
On July 27, 1859, Ben returned to St James to marry Harriet FIDLER. The wedding was conducted by the Archdeacon's son, Rev Thomas COCKRAN and witnesses were his 14 year old step-sister Ann CLOUSTON, and former classmates John NORQUAY and Gilbert COOK (1840-1929).
Interestingly, Ben's Uncle John GARRIOCH (1813-1891) and Aunt Elizabeth (nee CAMPELL; his mother's sister) had been living at Portage since 1853, and had established a little store and trading post. GARRIOCH frequently acted as an Interpreter for Archdeacon COCKRAN. His son, Ben's cousin, Alfred Campbell GARRIOCH (1848-1934) was about 11 years old when Ben arrived. Like his cousin, Alfred would later become a clergyman and would remain at Portage the rest of his life.
In November of 1859 Ben's Grandmother, Angelique died.  Both of his grandparents were buried at the United Church Cemetery at Little Britain.
On Oct 1, 1860, Ben's first child, Eliza, was born at Portage.
During the winter of 1860-61, in addition to the day school work, Ben assisted Rev Thomas COCKRAN with a night school for men. According to Cousin Alfred GARRIOCH, Ben's "love of neatness, which was noticeable on himself, was no less so on a little farm he operated in person."
In 1862 daughter Harriet was born at Portage.
In 1863 Reverend George McDOUGALL(1821-1876) was the Chairman of the Methodist Church at the Rossville Mission (Norway House). That year he established a new mission, Victoria Mission, at a location along the North Saskatchewan River near present day Pakan, Alberta. He moved his family there that summer and they had to spend the winter in a buffalo-skin tent.
Victoria Settlement, Alberta
1864-1874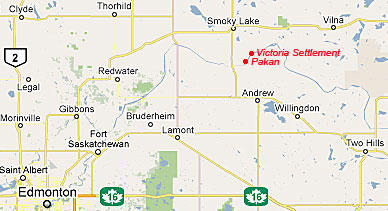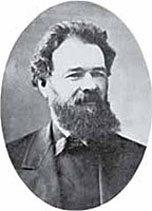 Victoria Settlement and Reverend George McDougall
In the spring of 1864, Reverend McDOUGALL began to build a small cabin followed by a large eight-room house. The cabin was subsequently converted into a schoolhouse. Surveys were soon under way to create lots for a new Victoria Settlement. The HBC began construction of a new post named Fort Victoria with George FLETT (1817-1897) as the Clerk in Charge. An invitation was sent down to Benjamin McKENZIE at Portage, inviting him to come there as a teacher and to tell his neighbors about the new homesteading opportunities. He accepted.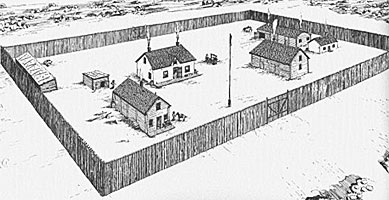 Artist's Rendition Fort Victoria
In 1864 Archdeacon COCKRAN, his wife and son Tom left for Toronto, expecting never to return. He did, however return, only to die in 1865. Years later, Benjamin McKENZIE was asked by his cousin Alfred for a few lines giving his impressions of the Archdeacon (to put in a book he was writing). Ben replied "I hold that of all the missionaries who ever came to Rupert's Land, he was the greatest benefactor of the Red River Settlement, for he not only taught the settlers how to work in the Church; but he also taught them by his example in field and garden, how one could maintain his family and encourage his neighbours - - The Archdeacon's preaching was plain, always earnest and truly evangelical. In his manner of conducting service there was no room for foolish fuss, empty ceremony or worldly conceit in vestments and such like, all which are so very unbecoming in a place of worship, where we all appear as poor, miserable, suppliant sinners alike."
On June 18, 1864, daughter Catherine was born at Portage. As soon as Harriet recovered from the delivery, the family was on their way to the Victoria Settlement, joined by an exodus of a large portion of the population of Portage la Prairie who had decided to take up homesteads there as well.
When Ben arrived, McDOUGALL's cabin was converted into a schoolhouse. The nine students who first attended the school included the McDOUGALL and Henry Bird STEINHAUER (1818-1884) children. This was one of the first protestant schools west of Manitoba, and Ben may have been the first university-trained teacher in what was yet to become Alberta.
In 1866, son Collin was born at Victoria Mission. 
Canadian Confederation
1867
On July 1, 1867 the British colonies in North America were united under the British North American Act to become the Dominion of Canada.  Sir John A MacDONALD (1815-1891) was appointed as Canada's first Prime Minister.
In 1868, daughter Eva was born at the Victoria Settlement. 
In 1869-70, a smallpox epidemic swept the Prairies; people died by the thousands. The McDOUGALL family lost several children to the dread disease.  Whole Indian villages were wiped out before it ran its course. At Victoria Settlement, people were told to scatter and leave their homes so that the disease would not spread.  Miraculously, the McKENZIE family survived intact. 
On July 15,1870 Manitoba became the fifth province of Canada, the Canadian Government having acquired the territory previously governed by the HBC. Ben's ex-schoolmate, John NORQUAY, was elected to the first Manitoba Parliament for High Bluff, and in December of 1871 he was appointed Minister of Public Works and Agriculture.
Son Rod Alex was born in 1871 at the Victoria Settlement.
In 1871 Rev McDOUGALL moved to Edmonton. He was replaced at Victoria, first by his son, John McDOUGALL (1842-1917); then in 1872 by Reverend Peter CAMPBELL
Daughter Nellie was born in 1873
It was said that Ben was highly respected in the Victoria Settlement, being often called upon by his neighbours to straighten out their misunderstandings.
Back to Manitoba
College and Ordination
1874-1876
After nine years at Victoria Mission, Ben was asked to move back to St James, MB where he could complete his theological studies at St John's College. Harriet was happy to be back with her 60 year old mother (Widow Elizabeth FIDLER); the children with their grandmother, some meeting her for the first time. Granny FIDLER was living in St James with her son (Harriet's brother), John Cornelius FIDLER (b-1852).
On July 5, 1875, Ben was in St James when he claimed his Half-breed Scrip. He was then described as a Missionary Candidate.
Son Benjamin Jr. was born on Mar 3, 1876 in St James.
Ben had now become an accomplished scholar and could teach Hebrew, Greek, Latin, and French. He was ordained as an Anglican Minister (I don't have any details of his ordination. According to Railton it was about 1876, when he was 39 years old.
Cumberland House
1876-1880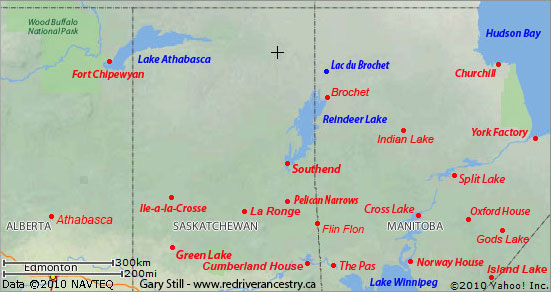 Some time after his ordination as an Anglican Minister, Benjamin was selected to be a missionary to the Indians at the Cumberland House Reserve, west of The Pas. Harriet's second-cousin from Mapleton, William FIDLER (1858-1959), guided Ben and his family by York boat to their new posting. 
On Sep 5, 1876, an Adhesion to Treaty Five was signed by the Cumberland House Cree. There were 248 people (including adults & children) on the Treaty Annuity Pay List at the time. Concurrently, they were promised a school. However, at the time of Ben's arrival, the Anglican Church served also as their only school; it would be many years before a separate one was built.
In 1877, Roman Catholic Bishop Alexandre-Antonin TACHE (1823-1894) of St Boniface established an RC Mission at Cumberland. Ben remembered TACHE as a youngster, back in 1846-47, when Grandpa Roddy helped TACHE to establish the first RC mission at Ile a la Crosse. Ben was only about 9-10 years old at that time. Now they had to compete for converts.
Son Samuel was born there in 1878. 
On Aug 16, 1879, Benjamin himself performed the marriage of his 19 yr old daughter Eliza to Angus McLEOD (1847-1922) at Cumberland House. McLEOD was an HBC fisherman based at their Rapid River Post on Lac la Ronge.
On June 10, 1880, daughter Eliza gave birth to Colin Campbell McLEOD, Ben's first grandson.
On Jul 22, 1880, son Ferdinand was born at Cumberland
In 1880, about half the membership of the Cumberland House Band petitioned the Canadian Government requesting that they be given a new reserve near Fort a la Corne (later the John Smith Band). This request was supported by the Indian agent, who commented that the land at Cumberland was not fit for farming, and the hunting and fishing grounds were failing. The land at Fort a la Corne was considered more suitable for farming and raising livestock (Agent McKAY to James A, GRAHAM, Indian Superintendent for Manitoba, Sept, 21, 1880).
St Peters Reserve
1880-1890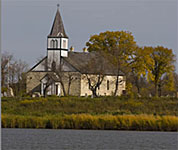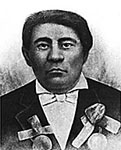 St Peters Church - Chief Henry Prince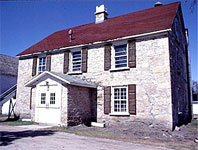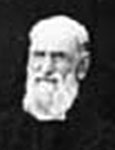 St Peters-Dynevor Anglican Church Rectory - Archdeacon Abraham Cowley
In 1880 Ben was transferred to the St Peters Reserve, north of Selkirk, to replace Rev Gilbert COOK (1840-1929) who was moved to Saskatchewan that year. Daughter Eliza and son-in-law Angus McLEOD, and their baby (Colin) came with them to St Peters (after another child, the McLEOD family returned to Lac la Ronge). Ben's address was stated as Dynevor P.O. when he filed a claim for a Halfbreed Grant that year. His old schoolmate, John NORQUAY, was now the Premier of Manitoba and Henry (Red Eagle) PRINCE (1819-1902) was the Chief of the St Peters Band.
For the next seven years Ben would work under Archdeacon Abraham COWLEY (1816-1887). Although his home base was in St Peters, Ben's missionary work involved a lot of travel outside of that jurisdiction; particularly to small settlements around the south end of Lake Winnipeg; the Black River Reserve; and even to Lake Manitoba and beyond. On July 2, 1882, son Herbert Douglas was born, apparently at Gilbert Plains, MB. Gilbert Plains is west of Dauphin.
In 1881 Alexander MUCKLE (1884-1908), living at Muckle Creek (Clandeboye) became the Indian Agent for the St Peters Band.
On June 15, 1882 the Town of Selkirk was incorporated with James COLCLEUGH (1841-1918) as the first Mayor. At that time it was still believed that the new CPR mainline from the east would pass through Selkirk. There were already branch lines on both sides of the river, from Winnipeg to Selkirk and East Selkirk, with Selkirk at the crossroads. In that belief, the town was booming (a veritable land rush) and COLCLEUGH was at the forefront of the land speculators. He circulated a petition which called on the Federal Government to put the St. Peter's reserve up for sale, as it was a "drawback to our growth and prosperity." Such feelings were shared by other land-grabbers, touching off an Indian Land Claim Dispute that would last to this very day (2011). It should be noted that very soon afterwards the Government chose Winnipeg for the main east-west rail route, and Selkirk was no longer a boom-town..
That year William PRINCE (b-1830) replaced his father (Henry PRINCE) as Chief of the St Peters Band. Band Councillors were John "Long Jake" PRINCE (1858-1910), MATWAKAKETCOT, John FLETT Jr and Thomas SMITH.
William PRINCE, feeling the power and prestige of his new chieftainship, soon developed a strong dislike of Agent MUCKLE whose influence in Band affairs seemed outweigh his own. He became so incensed with MUCKLE that he tried to have him removed from his position by writing derogatory letters and a long list of complaints and demands to his superiors, including Sir John A MACDONALD himself.
In his own defence, MUCKLE elicited support from numerous people, including Benjamin McKENZIE and Archdeacon COWLEY who both responded with letters of support to all concerned.
On Apr 18, 1885, son Archibald Findlay was born in St Peters, the 12th and last (youngest) child in the family. Ben was 48 years old (Harriet 46) when Archie was born.
East Mapleton – Lower Fort Garry
1890-1901
In 1890, Ben's brother, Colin McKENZIE, was elected to the BC Provincial Legislature as the member from Nanaimo. This was the year that Ben and his family settled in St Clements Parish, on the east side of the river, across from the St Clements Church (Mapleton) and Lower Fort Garry. They made their home not far south of the Historic Bunn House built in 1864 by stonemason Sam TAYLOR for Thomas BUNN (1830-1875). BUNN's 50 year old widow, Rachel was still in residence there at that time.
When the 1891 Census was taken, the children at home in East Mapleton were: Eva (age 22); Rod Alec (20); Nellie (16); Ben Jr. (15), Sam (12); Ferd (10); Doug (8) and Archie (age 5).
They were now a close neighbour of the family of Harriet's second-cousin, William FIDLER (who had guided Ben and his family to Cumberland House in 1876). There were many more FIDLER cousins just across the river, all children and grandchildren of Harriet's deceased Uncle, Thomas Jonathan FIDLER (1795-1875).
Right next-door lived the family of Clara (nee SABISTON) & Peter SPENCE (1827-1902). Nineteen year old daughter Harriet McKENZIE would soon begin a romance with their son, Robert SPENCE.
Other close neighbours east of the river were families of Thomas CALDER (1844-1924) and his son, John Thomas CALDER (1865-1946); and the family of John Kenneth McIVOR (1853-1916).
During the summer, a ferry across the Red River transported parishioners to the St Clements Church and children to the Mapleton School. This ferry crossed the river just below Bunn House to the foot of Pruden Avenue on the west side. This meant walking the frozen river in winter during the cold and blizzards, ferrying or boating across during the summer months and no crossings at all during the spring break-up or winter freeze-over.
It is very likely that Ben's youngest children attended Mapleton School during their residence across the river, as their father (Ben) was away from home doing missionary work much of the time at various places  on Lake Manitoba, and particularly villages on both sides of Lake Winnipeg, as far as Black River on the east side.
In 1894, daughter Catherine married Thomas Francis FITZGERALD in Selkirk.
Netley Mission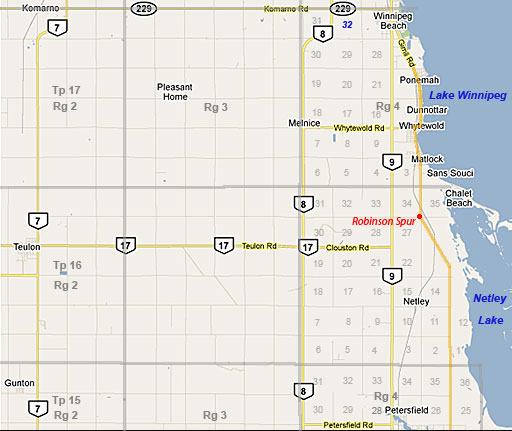 On the enlarged map above you should be able to discern the gray straight lines that form little squares. These are the section lines, and each square represents one square mile. The Old Gimli Trail was a dirt road that ran along the west side of Netley Lake from Netley Creek up to Matlock  and from there, on up the west side of the lake  all the way to the town of Gimli.
Before the railroad, many families had already settled around the mouth of the river. In addition to halfbreed and Indian families, there were many Icelandic and Ukrainian setters in the area, particularly from Matlock north.There were no motor cars, tractors or airplanes and very few horses. Most of the people used oxen and dog teams (oxen were the order of the day), with which they hauled their cordwood and fish, and did their farm work.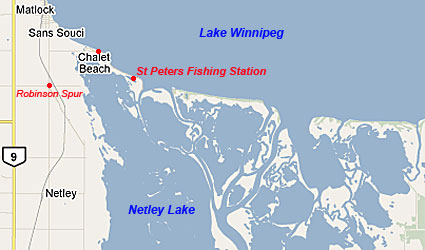 These early settlers built a church and school called the Netley Mission Near the spot indicated on the above map as Robinson Spur (so-named later, after the railroad reached the area). It is very difficult to determine exactly when the first Netley Mission was built, but we do know that Benjamin McKENZIE served as the first rector, frequently travelling there from his home in Mapleton. The congregation was composed of about 26 families.
About the only reference of repute that I have been able to find is that of Frank WALTERS (1898-1995) in his book 'Pieces of the Past', published in 1993 (I have a copy). Frank was born in England; immigrated in 1904 with his father (a Baptist Minister; later a Doctor); and spent his younger years getting an education in Stonewall and later Winnipeg.
Fortunately for us, Frank was an avid historian who paid particular attention to details and facts. Much of his work is based on oral history (conversations with elders of his community), particularly with his mother and father-in-law (Margaret KIRNESS & Frederick FOORD (1879-1961) who were the first permanent residents of Petersfield. Some of his most precious 'pieces of the past' came from Minnie's maternal grandmother, Maggie (nee PHILLIPS) KIRKNESS ("Granny KIRKNESS"). Granny and her young daughter Margaret were living on Wavey Creek (Petersfield) around the time the Netley Mission was built. They were part of its congregation, and they remembered Reverend McKENZIE very well. Many genealogists and historians refer to his book, particularly when they speak of the Mustard Seed Chapel and the cemetery at Robinson spur.
A quote from Walters' book, pg 13: "At one spot along the Gimli Trail, the people of the district built an Anglican Church, just like the one they had attended in St Andrews before moving to Netley. - - They were proud of this particular one because they had built it themselves. The fir trees they planted around the yard are big now, standing yet, a reminder of the love that went into this hallowed spot, where one could find peace while praying to God. The same settlers lay in the churchyard in their last sleep. The minister, under whose guidance they took communion, was a colourful gentleman of mixed-blood, who administered to his flock up and down the country, and northern posts as well. Reverend McKENZIE was devoted to his calling and gave his message of the Creator in his own unique way of saying, "now it's this way". He always opened his sermons by saying these words, but as one old timer said, "he meant well and that means a lot."
Certainly one of the families who would have attended the first Netley Mission was that of Narcisse CHASTELLAINE (1844-1919) and his wife Sarah (nee SPENCE). Narcisse had a trading post and store on the Salamoniac Channel (of the Red River), only a short distance from where it empties into Lake Winnipeg (near the St Peter's Fishing Station shown on the above map). Narcisse had a large family with several  school-age children who would have attended the first mission school. One of Ben's first students was undoubtedly Narcisse's son, JOHN DAVID CHASTELLAIN (click form more about John)
About a mile south of Matlock, a dirt road ran from the Gimli Trail east to what is now called Chalet Beach (see map above). There were numerous settlers along this road, including Humphrey FAVEL the Younger (1861-1945) whose wife was Flora Jane SINCLAIR. Their home was a popular stopping place for travellers along the old Gimli Trail for many years. Directly south of Chalet Beach is Cochrane Lake, undoubtedly named after Humphrey's maternal (COCHRANE) ancestors. Right next to Humphrey were his sister and brother-in-law, Sarah & John George LILLIE (1847-1924). Also an elderly Thomas THOMAS (1845-1926), his wife Margaret (nee MOORE), and their adopted son, Ventrice THOMAS. This is the Ventrice who became my father-in-law. He was born at Mapleton in 1893 to Caroline SAYER & James FIDLER. Ventrice remembered Benjamin McKENZIE well, for the THOMAS' were one of the first families to attend the little Mustard Seed Chapel when it was first opened for services. Benjamin was Ventrice's teacher for six years.
Wakefield Mission
Around 1895 there was a school located somewhere in the area of Netley, Wavey , Medicine and Muckle Creeks, about half way between Clandeboye and Petersfield, some eight to 10 miles south of the above named Netley Mission . The school was first referred to as the Wakefield Mission. Professors and students from St Johns College occasionally conducted church services there. There were numerous families living along the local creeks at that time, and they wanted to build a permanent a church. In 1895 they formed a committee to look into the matter.
Around 2001, my brother Ernie and I canoed up all of these creeks from his cottage located along Netley Creek near the Old Gimli Trail. It was relatively easy paddling then, as I'm sure it was in the old days; in less than an hour, in good weather, experienced paddlers could navigate easily from Petersfield to and from Wavey Creek,  and up adjoining creeks to the vicinities of the Wakefield Church and Clandeboye; even to the mouth of Netley Creek at the Red River.
On Feb 21, 1896, Ben's son Colin married Catherine Matilda BIRSTON in Selkirk; later that year, daughter Nellie married John Edward HARRIOTT, son of Jane TAYLOR and John Edward HARRIOT SR (1842-1924).
** MORE ABOUT JOHN EDWARD HARRIOTT SR
In 1898 the Wakefield Church Committee held a meeting at the home of Archie JOHNSTONE to consider the purchasing of a building site and the building of a church. At the meeting, one month later, a motion was made to purchase the present site for $25, and Wakefield Parish was formed.
On Apr 6, 1900, son Rod Alex married Mary Anne BIRSTON in Selkirk.
Walters: "It was a sad day when fire destroyed their place of worship (the Netley Mission). The church they had built with their own hands was gone, and with it went all the hand-made pews and the big book that had the names and ages or the children who were christened. Also in the book were the names of the elderly who had trouble getting pensions later on. In most instances this was the only record of birth dates because in those days mothers had their babies at home, alone or attended by an experienced mid-wife. The birth of a child was therefore not registered in many cases, which resulted in many settlers not knowing their exact ages in advanced years." Unfortunately we are left clueless, not only as to when the Netley Mission was built or for that matter when it burned down. Hopefully, someone in the know can provide us with some enlightenment.
Petition for a Burial Ground at Robinson Spur
(From a copy of the original document proved by Raymond Thomas, grandson of Ventrice Thomas)
Petition (Undated) of the resident Minister Benjamin McKENZIE and of several Churchwardens and Parishioners of the said Mission whose names hereunder subscribed for themselves and in the name of the members of the Church of England in Rupert's Land, residing in the surrounding District of Netley and members of the congregation of All Saints Church, Robinson Spur - - That a piece of land described as follows: that is to say all that comprises a full acre square at the extreme South East corner of the South East Quarter of 34-16-4 (Epm), bounded on the east side by Public Main Road and on the south side by Right of Way containing whereas measurement as aforesaid a full acre square, more or less has been secured by your Grace's petitioners as a place set aside for Christian burial.
That your Petitioners humbly pray that your Grace will be pleased by virtue of your Pastoral and Episcopical office, to separate the said ground from profane and common uses and to consecrate it as the burial ground or cemetery of the said congregation.
And your Petitioners will ever pray.
Signatures as follows: Benjamin McKenzie, Narcisse Chastellaine, Roderick Chastellaine, Peter Moore, Ventris Thomas, H. T. Park, William Harper, Harry Favel, J.A. McLENNAN, George TATE, J.T. Lillie and John Chastellaine.
** This location is obviously that pictured below (where the Mustard Seed Church is now located). In addition to Reverend McKENZIE, the other signatures I (Gary) recognize as follows:
Narcisse CHASTELLAINE (1844-1919) ** MORE ABOUT NARCISSE CHASTELLAINE
Roderick CHASTELLAINE (Narcisse's son; b-1891)
Peter Lawrence MOORE (1883-1930) ** MORE ABOUT PETER LAWRENCE MOORE
Ventrice THOMAS (1893-1985) ** MORE ABOUT VENTRICE THOMAS
H.T.  PARK
William Donald (WD) HARPER (1853-1921)
Harry FAVEL (1869-1944)
James Alfred McLENNAN (1876-1941) ** MORE ABOUT JAMES ALFRED McLENNAN
George TATE (1859-1929)
John Thomas LILLIE (b-1882)
John David CHASTELLAINE (1883-1951) ** MORE ABOUT JOHN DAVID CHASTELLAINE
Mustard Seed Church
1901
In the Manitoba Census taken in the month of April, 1901, Ben and his family were enumerated again in East Mapleton. Children at home were Eva (age 32); Ben Jr (26); Sam (22); Ferd (20); Doug (18) and Archie (age 15). Interestingly, daughter Harriet was not recorded anywhere in this census. She was 39 years old then and probably teaching at the Mapleton School. Her hubby-to-be (Robert SPENCE) was 42 years old now, still with his parents in East Mapleton.
As previously mentioned, we don't know when the Netley Mission burned to the ground, but obviously the community needed something to replace it. The people knew that a railroad and more settlers were fast approaching, and there was talk of building a new church in the Petersfield area.
In 1901 the historic little Mustard Seed Chapel was built on Section 35, Township 16, Range 4; East of the Prime Meridian (Chalet Beach).Because it was so tiny, perhaps it was only intended as a temporary building. Reverend Benjamin McKENZIE was its first rector. At that time, Ben still maintained a permanent home for his family at Mapleton, but he and his five sons (all adept at carpentry) undoubtedly came down to the lake to supervise and assist build the church along with other parishioners. Judging from its size, it was probably completely build in a week or so. Nevertheless it was a sturdy structure that would withstand the ravages of time; it has endured to this very day, 110 years later.
Advent of the Railroad
Robinson Spur
1902
In 1902 a CPR railway line from Winnipeg to Winnipeg Beach was completed. A train station and a dance pavilion were built at the 'Beach'. 

Walters pg 13: Around 1902 Captain William ROBINSON (1850-1936), who had a general store in West Selkirk and another store in Petersfield, bought timber rights down around the present district of Matlock. By 1903, the CPR ran a short line into his cord wood camp, which became known as "Robinson's Spur" (See map above). A lot of men of the district found work at his camp, cutting cord wood to earn much-needed cash. This camp was about a mile from Ben's place.
Tiny as it was, the little Mustard Seed Chapel began to serve as a school as well. Ben was 65 years old now and this was essentially the place he would call home for the rest of his life. He was kept busy with his teaching and preaching. With regular train service available, he could easily commute to Mapleton to visit his family and vice-versa.
Around 1902, Reverend Wilfred W THOMAS (1873-1953) became the Rector at St Clements Church in Mapleton. Ben was frequently called upon to assist him there, occasionally conducting the services in his absence.
On Mar 10, 1903, son Samuel Reginald died at Mapleton; he was only 24 years old. On July 28 that year, daughter Harriet married at St Clements Church to Robert SPENCE, son of Clara SABISTON and Peter SPENCE (1833-1917).
In 1903 the King Edward Hotel was built at Winnipeg Beach.
In 1904 Ben participated in meetings at Mapleton to decide whether or not St Clements Church should separate from sharing a parish with the church in Selkirk. Ultimately they chose to remain with Selkirk with the addition of a Curate (Rev THOMAS).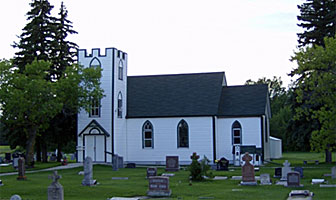 St George's Wakefield Church, built in 1904
In 1904 construction of St George's Wakefield Church was started (midway between the Villages of Clandeboye and Petersfield, under the direction of the McKENZIE brothers, Findlay, Ferdinand and Douglas.

Other construction workers recorded were Robert McKENZIE (no relative), Joseph KIRKNESS (1856-1922; husband of Granny (nee PHILLIPS) KIRKNESS), George Thomas SUTHERLAND (1862-1934), Alex JOHNSTONE (1868-1926), John Edward ROSS (1864-1932), Norman McLEOD, William PHILLIPS (1842-1922), Peter SINCLAIR, William LEASK and George SMITH.
On July 9, 1906, William McRAE was the Census taker at the mouth of the river. Benjamin McKENZIE Sr. was enumerated on Section 35-16-4-Epm; age 68, alone. The census taken at Mapleton that same year enumerated Benjamin McKENZIE Jr. as the Head of the Household on Lot 113, East Mapleton. With him was his 65 year old mother, Harriet (age 65), and his siblings: Evangeline, age 37; Ferdinand 25; Douglas 23; and Findlay, age 21. They have 3 milk cows and 7 other horses/ cattle.
On Dec 19, 1906, son Douglas married Charlotte Christina LYONS at St Clements Church, Mapleton.
In 1908, the Dominion Government arranged to close St. Peter's Parish as an Indian Reserve and to open the new Peguis Reserve which is north of Hodgson, Manitoba.
On Feb, 29, 1908, daughter Harriet's husband (Robert SPENCE) died in East Mapleton. He was 50 years old; there were no children. Soon after, Harriet moved in next to her parents at the mouth of the river. The census of 1911 indicates that she was next-door to her parents (Harriet & Ben), who had their own dwelling and were together alone.
World War I
1914
On Aug 14, 1914 Great Britain declared war on Germany and Austria-Hungary to uphold treaties with France and Belgium which were under German attack. Three of Ben's sons would serve their country during this war (Ben Jr., Doug and Archie)
In 1915 Ben's oldest daughter, Eliza, wife of Angus McLEOD, died in Shellbrook, SK.
On Sep 24, 1915, son Benjamin Jr. enlisted in the Canadian Expeditionary Forces at Edmonton. On Dec 2 that year, son Douglas also enlisted at Selkirk.
When the 1916 Census was taken at the mouth of the river, son Douglas McKENZIE, a soldier now, had moved his family to the mouth of the river. His father (Rev. Ben) was enumerated as 79 years old; Harriet was 77 years old. Daughter Eva (age 46) and son Findlay (age 31) had moved in with their father. Also with Ben were his granddaughters Annie (age 13) and Jennie (age 9) FITZGERALD; and Sylvia McLEOD (age 10). These young ladies are all cousins, and it appears they were simply having a summer vacation at Chalet Beach with their grandparents. Sylvia McLEOD's mother (Ben's daughter Eliza) had died the previous year at Shellbrook, SK. This appears to be the Sylvia who later married Gideon HALCROW at The Pas.
In 1917, daughter Harriet re-married to John LEASK, also a widowed, of Clandeboye, an Orkney man. 
On Jul 16, 1918, youngest son Archibald enlisted at Winnipeg.
All Saints Church, Whytewold
1922
In 1922, All Saints Church was built at Whytwold by local help and volunteer labour.  Some of the men who worked on the church were John David CHASTELLAINE, John and Henry LILLIE, Gilbert HARPER and Jack FAVELL  This church was also known as, "The Little Church at the Crossing". It was opened on Nov 26, 1922, and Benjamin McKENZIE was its first Rector. Evelyn and John BOBBY were the first to wed in this church.  I went to Manitoba Tech with Ivan BOBBY.
Death of Harriet & Benjamin McKENZIE
1924-1927
On Sep 21, 1924 Harriet McKENZIE died at Matlock at the age of 86.
In 1927 Ben was 90 years old; after 50 years in the Anglican Ministry, he became too feeble to conduct services any longer. On May 10, 1928 Reverend Benjamin McKENZIE died at Matlock at the age of 91. He was buried in the St Clements Churchyard; funeral services conducted by Dean MATHESON and Canon JEFFREY.
Re Jean STILL: "All of Ben's children grew up to be Carpenters, taught by their father.  They all had a chance to be well educated at St John's College.  But our grandfather wanted them to be Carpenters and be humble like our Lord.  Dad and his brothers built dredges, boats and numerous houses in the district.  They also built schools, in Hodgson, Black River and Fairford, MB, often only making a dollar a day."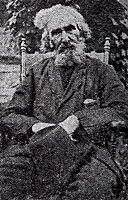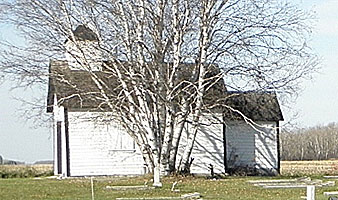 Reverend Benjamin McKenzie - Mustard Seed Chapel
Walters pg 14: On the spot (Robinson Spur) where the first church stood (the Netley Mission), there now stands another, a very small church that used to be at the end of the lake where a colony of fishermen lived. It stood empty for years at its first site and stands empty now, abandoned to the skunks and birds that live there. It was a school for fishermen's children before Henry LILLIE move it (in 1940) to its present location. In days when it was in use, it was known as the "Stolen Church". It is now known as the Mustard Seed Church or Spur Church. Reverend Benjamin McKENZIE preached in it for many years before other ministers periodically held services, but now it sits alone, a melancholy site that belongs to a forgotten era when wood was king and the settlers bread and butter.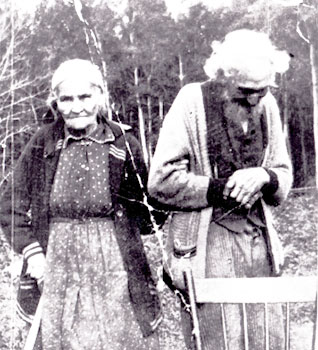 Harriet and Benjamin in their final years (Thanks Karen Still)
Please post comments and queries at this link:
FORUM DISCUSSING the FAMILY OF REVEREND BENJAMIN McKENZIE
========================== Family Details ==========================
Children:
1. Oct 1, 1860 ELIZA ANN McKENZIE (m. Angus McCLEOD) 
2. March 13, 1862 HARRIET McKENZIE (m1. Robert SPENCE, m2. John Richard LEASK)
** MORE ABOUT JOHN RICHARD LEASK
3. Jun 18, 1864 CATHERINE McKENZIE (m. Thomas F FITZGERALD)
4. July 21, 1866 COLIN CAMPBELL McKENZIE (m. Matilda Catherine BIRSTON)
** MORE ABOUT COLIN CAMPBELL McKENZIE
5. Nov 18, 1868 EVANGELINE "EVA" McKENZIE
6. Jan 14, 1871 RODERICK ALEXANDER McKENZIE (m. Mary Anne BIRSTON)
7. June 22, 1873 ELLEN ANNIE MARGARET "NELLIE" McKENZIE (m. John Edward HARRIOT)
8. March 3, 1876 BENJAMIN McKENZIE JR (Never married)
9. June 10, 1878 SAMUEL REGINALD McKENZIE (Never married)
10. July 22, 1880 FERDINAND "FERD" McKENZIE (m. Minota BEGG) 
11. July 2, 1882 HUBERT DOUGLAS McKENZIE (m. Charlotte Christina LYONS)
** MORE ABOUT DOUGLAS McKENZIE
12. Apr 18, 1885 ARCHIBALD FINDLAY McKENZIE (?m1. Elizabeth Ellen McCORRISTER, m2. Ruth McCABE)