WILLIAM CLOUSTON (1818-1877)
CATHERINE (nee CAMPBELL) McKENZIE (1805-1902)
(Last Updated: February 12, 2015)
William CLOUSTON was born around 1818 in Birsay (Orkney Islands), Scotland.
In 1838 William (of the Red River Colony) began contracting with the Hudson's Bay Company (HBC) as a Labourer.
William and Widow Catherine (nee CAMPBELL) McKENZIE
1842
It was around 1842 that William was united with Catherine (nee CAMPBELL) McKENZIE, daughter of Elizabeth McGILLIVRAY & Colin CAMPBELL (1787-1853). ** MORE ABOUT COLIN CAMPBELL
Catherine was the widow of Benjamin McKENZIE (1807-1837) by whom she had three youngsters; Angelique McKENZIE (age 10), Colin (age 6) and Benjamin McKENZIE (age 5).
** MORE ABOUT CATHERINE CAMPELL and BENJAMIN McKENZIE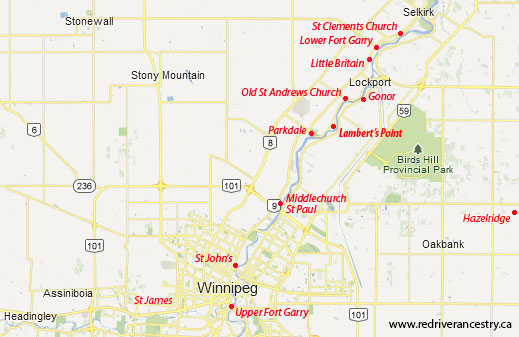 On Oct 6, 1843, son Alexander was born in St James - Headingly.In 1845 William retired from his last contract with the HBC, and settled with his family in St John's, Red River. Grandpa Roderick McKENZIE (1772-1859) spared no expense on his grandsons' education. It was around 1845 that he sent Catherine's children, Colin Campbell McKENZIE (age 9) and Benjamin McKENZIE JR. (age 7) to St John's Boarding School. 
** MORE ABOUT GRANDPA RODERICK McKENZIE
Around 1854, 24 year old step-daughter Angelique McKENZIE married Alexander GUNN in Little Britain, son of Margaret SWAIN and Donald GUNN (1797-1878) from Scotland. ** MORE ABOUT DONALD GUNN
In 1859 'Grandpa-Granny' Roddy & Angelique McKENZIE died in Little Britain. Step-son Colin Campbell McKENZIE had been sent to Cambridge University in England by this time. ** MORE ABOUT COLIN CAMPBELL McKENZIE
Step-son Benjamin McKENZIE JR. (later Reverend) had left the Red River Academy to begin teaching at Portage la Prairie, and he married Harriet FIDLER in St James, daughter of Elizabeth HALLETT and ALBAN FIDLER (1809-1879). ** MORE ABOUT REVEREND BENJAMIN McKENZIE
By 1860 all of William CLOUSTON's children had been born. These were Alexander (age 17), Annie (14), Catherine (13), James (11), John (9), Flora (8), twins Mary and Sarah (borh age 3) and baby Ellen Jane.
Around 1867 son John married Adelaide COMTOIS, daughter of Charlotte McKAY and Etienne COMTOIS (1819- 1897).
Canadian Confederation
A Red River Rebellion
Manitoba becomes a Province
1867-1870
On July 1, 1867 the British colonies in North America were united under the British North American Act to become the Dominion of Canada.  Sir John A MACDONALD (1815-1891) was appointed as Canada's first Prime Minister. William McDOUGALL (1822-1905) became the Minister of Public Works, and he began negotiations to acquire Rupert's Land from the HBC; surveyors were sent to Red River to prepare the way for an expected influx of settlers.
In 1868 eldest son Alexander CLOUSTON married Henrietta CUNNINGHAM in Kildonan, daughter of Sarah ROSS & James CUNNINGHAM (1819-1915).  They settled in the Somerset area, south of Portage la Prairie and Treherne, MB.
On Oct 11, 1869, Louis RIEL (1844-1885) placed his foot on the surveyors' chain to tell them their work was finished! This marked the beginning of the historic Red River Métis Rebellion.
On July 15, 1870 the Rebellion ended when RIEL's Provisional Government accepted the terms of the Manitoba Act and Manitoba became the fifth province of Canada.
In the 1870 census William and his family were recorded on Lot 60 in Headingly as follows: William CLOUSTON, age 53; wife Catherine, age 57. Children: Annie (age 24), James (21), Flora Elizabeth (18), Mary (14), Sarah (14) and Ellen Jane (age 12).
Sometime after 1870 daughter Annie is said to have married a Reverend James CAREY of uncertain origins.

In 1872 daughter Flora married George Dominique COOK, son of Ellen SPENCE and Jeremiah COOK (1804-1875).
** MORE ABOUT JEREMIAH COOK

In 1874 son James married Jane SYMESON at Poplar Point, daughter of Jane SPENCE and William SYMESON (b-1814) from the Orkneys.
In 1875 Catherine CLOUSTON of Headingly Parish applied for her Half-Breed Scrip.
On June 19, 1877 William CLOUSTON died in Headingly.
In 1878 youngest daughter Ellen married John McAllum TAIT in Headingly, son of Johanna GUNN & Honorable William Auld TAIT (1826-1899). Also In 1878 daughter Mary married Thomas STEVENSON, son of Elizabeth HOLMES & William STEVENSON (1810-1901).
In 1882 daughter Sarah married Robert George O'MALLEY of uncertain origins.
In the 1891 census Widow Catherine CLOUSTON was recorded with her daughter Mary STEVENSON, and in the 1901 census she was recorded with daughter Jane SYMSON.
On Mar 16, 1902 Catherine (nee CAMPBELL) CLOSTON) died at her home in Headingly, age 97.
Comments and queries at this link: FORUM DISCUSSING the WILLIAM CLOUSTON FAMILY
========================== Family Details ==========================
Children by Catherine CAMPBELL & Benjamin McKENZIE: 
1. Oct 6, 1832 ANGELIQUE McKENZIE (m. Alexander GUNN)
2. Mar 25, 1836 COLIN CAMPBELL McKENZIE (m. Mary Letitia ELFORD)
3. Sep 15, 1837 REV BENJAMIN McKENZIE JR (m. HARRIET FIDLER)
** MORE ABOUT REVEREND BENJAMIN McKENZIE
Children by Catherine CAMPBELL & WILLIAM CLOUSTON:
1. Oct 6, 1843 ALEXANDER CAMPBELL CLOUSTON (m. Henrietta Catherine CUNNINGHAM)
2. Oct 9, 1846 ANNIE CLOUSTON (m. Rev James CAREY)
3. 1847 CATHERINE CLOUSTON (m. Charles Raby THOMAS)
4. May 7, 1849 JAMES CLOUSTON (m. Jane SYMESON)
5. Jan 21, 1851 JOHN CLOUSTON (m. Adelaide COMTOIS)
6. July 16, 1852 FLORA ELIZABETH CLOUSTON (m. George Dominique COOK)
7. Feb 8, 1857 MARY (twin) CLOUSTON (m. Thomas STEVENSON)
8. Feb 8, 1857 SARAH (twin) CLOUSTON (m. Robert O'MALLEY)
9. Mar 12, 1860 ELLEN JANE CLOUSTON (m. John McCallum TAIT)