COLIN CAMPBELL McKENZIE (1836-1899)
MARY LETITIA ELFORD (1858-?)
(Last Updated: January 23, 2015)
This Family Page is being developed in cooperation with Joan Mason whose husband is a descendant of Mary Letitia ELFORD (his great-great aunt). See Joan's comments under the Forum Topic indicated below.
On March 25, 1836 Colin Campbell McKENZIE was born at Fort Vancouver to Catherine CAMPBELL and Benjamin McKENZIE (1807-1837). On Sep 16, 1837 his father died at sea, off the Hawaiian Islands when Colin was just a baby.
** MORE ABOUT BENJAMIN McKENZIE
Colin's  22 year old widowed mother (Catherine) was obliged to return to her relatives on the other side of the Rocky Mountains. Her father, Colin CAMPBELL, was a Chief Trader, living at Dunvegan in the Peace River country with a large young family of his own to contend with. However, father-in-law Roderick McKENZIE (1772-1859) and his wife (Angelique) did not hesitate to welcome Catherine and his grandchildren into his home at Ile a la Crosse. Old Roddy was also a Chief Trader with the HBC. He was 65 years old, but still very active. ** MORE ABOUT RODERICK McKENZIE
Fort Vancouver to Ile a la Crosse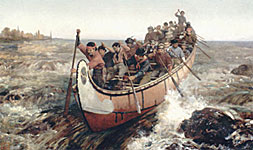 This is how young Colin probably travelled from Fort Vancouver to Ile a la Crosse,
along the same route as his famous distant relative, Sir Alexander Mackenzie
To get to Ile a la Crosse, Catherine had to again make the arduous trip with her youngsters across the mountains that brought her to Vancouver five years earlier. This was the route first discovered by Sir Alexander MacKENZIE some 45 years earlier (1792). Upstream from Bella Coola they would have had to cross the Rockies; navigate the turbulent Fraser River and Canyon; up to the Peace River;  on to Dunvegan where her father (Colin CAMPBELL) was; and then down to Ile a la Crosse where her father-in-law (Grandpa Roddy McKENZIE) was. Quite an ordeal for a young lady burdened with a new-born child (Ben) as well as two toddlers (Angelique and Colin Jr.).
Until he reached school age, young Colin, his mother and his siblings lived with his elderly grandparents at Ile a la Crosse. Around 1842, limping and nearly blind, old Roddy stayed on with the HBC (despite the widespread opinion hat he should retire), worrying about his finances and about finding a place where he could settle with his wife and family. He doted over his grandchildren, and it was around this time that he brought them and their mother to Red River.
Colin's widowed mother (Catherine) remarries to William CLOUSTON
1842
Around 1842, not long after they arrived in Red River, Ben's mother (Catherine) became the wife of William CLOUSTON (1818-1877) from the Orkneys, an HBC contract-labourer. Catherine was about 27 years old then, William about 24. On Oct 6, 1843, Catherine gave birth to their first child (Alexander CLOUSTON). So Ben was six years old when his mother began to raise her second (CLOUSTON) family in the St James-Headingly area. His brother Colin was almost eight and his sister Angelique was 11. ** MORE ABOUT WILLIAM CLOUSTON
Colin's School years at the Red River Academy
1844-1857
By 1844 both Colin and his siblings, Benjamin and Angelique were in residence at the Red River Academy (later re-named St John's College) in Kildonan Parish, all their expenses paid by Grandpa Roddy.
Rev John McCALLUM (1806-1849) was the owner and the Headmaster of the Academy. During his tenure courses were offered in Greek, Latin, geography, Bible study, history, algebra, writing, and elocution. In 1840 he happily assured HARGRAVE that "the schools are well supported, & supply us with as much work as we can all execute." Two years later he noted that his students' "progress is pleasing, their deportment correct, and their docility, attention, & application highly commendable."
In 1846 Colin's aunt, Jane McKENZIE, became the last lady teacher of the Academy under MACALLUM.
Letitia HARGRAVE (1813-1854) observed critically that if Indian or mixed-blood mothers were not formally married McCALLUM refused to allow them to visit their children, a policy she viewed as "fearfully cruel for the poor unfortunate mothers did not know that there was any distinction." MACALLUM, however, was unaffected by criticism and HBC executives did not seem much concerned.
By 1849 Colin's mother and his step-father (William CLOUSTON) were living nearby in St John's Parish and Colin had four step-siblings (Alexander, Annie, Catherine and James CLOUSTON), the eldest (Alex) was only six years old.
In his memoirs Colin's brother Ben said that McCALLUM was a "conscientious and faithful worker, but a very severe pedagogue".  Regarding his own time under him being "as bitter as Egyptian slavery," he adds "He over-estimated the value of the use of the rod, as it is in the schools of today [circa 1920]. Others said that he applied a double standard against native women.  His attitude was carried to cruel lengths; in his zeal for social propriety, he forbade his pupils from having any contact with their mothers if they had been guilty of "living in sin" with their fathers. In this, McCALLUM was only a man of his generation, though it must be remembered that from 1847 he was fighting the malady which caused his death in 1849. Ben also recalled that MACALLUM "prepared a goodly number of postmasters, clerks and future chief traders and chief factors" for the HBC."
In 1849 John MACALLUM died at the age of 43. The Academy was then purchased by the Bishop of Rupert's Land Bishop David ANDERSON (1814-1885) who renamed it as the St John's Collegiate.  In 1866 the school's name was changed again to St John's College School. ** MORE ABOUT BISHOP DAVID ANDERSON in DCBO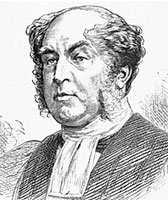 Red River Academy in 1852 – Bishop David Anderson
Provincial Archives of Manitoba
Colin is sent to St Peters College in Cambridge, England
1849
By the 1840's most clerks and administrators of the HBC began to send their children away for an education, because the Red River Academy was thought inadequate. Some went to England and Scotland, and others to Montreal. The mixed-blood heritage did not seem to be a problem. Two major problems faced the fathers. Because of the size of their families, they often had to select one, or a few, for education, leaving the others illiterate. Only Colin was selected to go to England, probably simply because he was the eldest son. By 1849 (age 13), Colin was settled at St Peter's College in Cambridge, England.
Colin McKENZIE and Roderick ROSS (1834-1909) were considered the first scholars of the Red River Boarding School as they both went on to Cambridge and later returned to the North West.
In 1850 Bishop David ANDERSON set up a scholarship scheme, covering tuition, £10 a year in cash, and meals at the master's table, in order to encourage the boys to do better work. Colin Campbell McKENZIE was one of the recipients.
In 1857 Colin took his BA from St Peters College in Cambridge, England.
Colin returns to Canada (British Columbia)
1859
In 1859 both Granny (Angelique) and Grandpa Roddy McKENZIE died in Little Britain, Red River. That same year Colin returned to Canada where he held various teaching posts on Vancouver Island. 
Victoria Boy's Public School
Marriage to Mary ELFORD
1872-1878
In 1872 Colin began teaching at the Victoria Boy's Public School.
In 1873 Colin obtained his MA from Cambridge.
On July 9, 1877 Colin married Mary Letitia ELFORD, the 19 year daughter of Hannah TAYLOR and Robert ELFORD (1819-1896).

Joan Mason: The couple were married at the home of Mary's parents, on Fort Street in Victoria by the Rev. A. RUSS, the minister of the Methodist Church of Canada in Victoria, with the bride's sister Caroline and future brother-in-law William Fulton ARCHIBALD as witnesses. 
Superintendent of Education for British Columbia
Victoria, BC
1878-1884
In 1878 Colin was appointed as the Superintendent of Education for British Columbia under the WALKEM Government, succeeding JESSOP.
COLIN INVOLVED in the SARAH HAYWORD CONTROVERSY of 1880 in DCBO
Census of 1881 in the Johnson Street Ward, Victoria, BC:  Colin C McKENZIE, Superintendent of Education (age 46); wife Mary L (age 23) and son Colin C (age 2).
In 1884 Colin was replaced as Superintendent when another party assumed office. 
Nanaimo
1884
In 1884 Colin settled in Nanaimo where he operated a real estate office and an accounting firm. 
In 1890 Colin was elected to the Provincial Legislature as a member from Nanaimo. 
Census of 1891 in Nanaimo: Colin McKENZIE, Real Estate Agent, age 55; wife Mary, age 33. Children: Colin (age 11), Benjamin (9) and Caroline (age 8).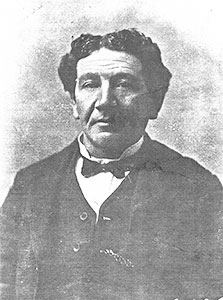 Colin Campbell McKenzie (Courtesy Joan Mason)
Representing Nanaimo in the Legislative Assembly of British Columbia
1890-1894
From 1890 to 1894 Colin represented Nanaimo in the Legislative Assembly of British Columbia.
On Aug 15, 1899 Colin Campbell McKENZIE died in Nanaimo.
Census of 1901 in the City of Victoria: Widow Mary McKENZIE, age 38. Children: Colin (age 21) and Carrie (age 18).
Widow Mary re-marries to Bedford SMITH
1902
On Aug 20, 1902 Widow Mary (nee ELFORD) McKENZIE re-married to widower Bedford Halks SMITH in Nanaimo. Bedford SMITH was born in New Brunswick, the son of Phoebe HARTT and Daniel Edward SMITH (1802-1861). He had been previously married to Annie BRETHOUR who died in 1900 in Nanaimo.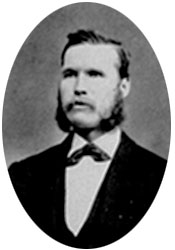 Bedford Smith (From Leitch Family Tree)

In 1904 son Benjamin married Alice BAKER in Nanaimo, daughter of Charlotte STONEHOUSE and William BAKER (1853-1933) from England.
Around 1907 eldest son Colin Campbell Jr. married Edith Margaret SMITH in Victoria, the daughter of his step-father, Bedford SMITH (1849-1915) from his first marriage to Annie BRETHOUR.
In 1910 only daughter Caroline married Robert Henry WARFIELD in Oregon (USA), son of Mary Chilton Standish ALDRICH and Edwin Augustus WARFIELD (1842-1902).
On Nov 1, 1915 Bedford SMITH died in Nanaimo.
In 1920 Mary (nee ELFORD) McKENZIE – SMITH died in Victoria, BC.
Comments and queries at this link: FORUM DISCUSSING the FAMILY OF COLIN CAMPBELL (1836-1899)
========================== Family Details ==========================
Children:
1. Aug 4, 1879 COLIN CAMBPELL McKENZIE (m. Edith Margaret SMITH)
2. Oct 11, 1881 BENJAMIN McKENZIE (m. Alice BAKER)
3. Feb 18, 1883 CAROLINE ANNA "CARRIE" McKENZIE (m. Robert Henry WARFIELD)
4. Mar 12, 1885 RODERICK ELFORD McKENZIE (Died in infancy)