BENJAMIN McKENZIE SR (1807-1837)
CATHERINE CAMPBELL (1815-1902)
(Last Updated: January 18, 2015)
Benjamin McKENZIE Sr was born around 1807 in the Nipigon area of Ontario, at the northwest corner of Lake Superior. He was the second child of Angelique MALLOTTE, said to be an Ojibwe Indian from the same area, and Roderick "Roddy" McKENZIE Sr. (1772-1859), a Scotchman who at the time of Ben's birth was a clerk for the North West Company (NWC). MORE ABOUT RODERICK McKENZIE SR
Ben was baptised in 1815 at Montreal, Quebec, where he began his schooling.
In 1821 the NWC was absorbed by the Hudson's Bay Company (HBC), and Ben's father became a Chief Trader for the renewed HBC in their Lake Superior Region.
On May 20, 1822, George SIMPSON (1786-1860) became the Governor of Rupert's Land (the Northern Department). William WILLIAMS (1770-1837) was appointed Governor of the Southern Department which included the Lake Superior district.
** MORE ABOUT GOVERNOR GEORGE SIMPSON
** MORE ABOUT WILLIAM WILLIAMS in DCBO
Ben was usually regarded as the cleverest one in the family, but his father claimed that only harsh discipline had saved him, and his brother Samuel as well. Both these young men began in the Company service in the Lake Superior District, unofficially at first, working under their father.
In September of 1825 Ben was recommended to become an apprentice by the aforementioned Governor WILLIAMS but it would be a couple of years before he and his brother were officially placed on the Company payroll.
In 1826 WILLIAMS retired, and SIMPSON became governor of both the Northern and Southern Districts. The long bitter NWC-HBC conflict that preceded the union had been a very costly; SIMPSON was busy reducing staff (retirements and lay-offs, etc) and there were numerous relocations of personnel. It became obvious that white Europeans were being assigned to higher positions in the Company; those of mixed-blood were more likely to be released.
It wasn't until 1827 that Ben (age 20) was appointed postmaster at Fort William; then at the outpost of Lac la Fleche in 1827-28 and 1828-29 respectively. It appears that these were winter (trading season) assignments and that he probably returned to Nipigon for the summer seasons.
Arthur: Both Roderick Jr. and Benjamin left brief journal records of their work at Nipigon where their Indian relatives came to trade; it is evident that their education had made them careful to identify themselves with their father's tradition and, of course, with the attitudes of their employers. Also, the knowledge that, in the view of most HBC officials, the Nipigon Indians were especially violent and unreliable put particular pressure on ambitious young men to dissociate themselves from their uncles and cross-cousins (that is children of Angelique's brothers). According to Ojibwa custom, such cousins would be regarded as non-kin in any case; close ties would normally have been maintained between the children of sisters, and it is not known whether Angelique had any sisters. At what cost the McKENZIE sons maintained this illusion of being European while they worked with Indians, yet were repeatedly confronted by European prejudices against themselves, can only be guessed.
From 1829 until 1831 Ben served as a postmaster at La Clothe in the Lake Huron District.
Ben and Catherine CAMPBELL at Fort Dunvegan
1831
It was around 1831 that Ben was moved to Fort Dunvegan as a Clerk under Chief Trader Colin CAMPBELL. Dunvegan is located along the Peace River in north-western Alberta. CAMPBELL was an experienced Accountant, and Ben began his apprenticeship in that capacity under him. The young man was immediately attracted to the 'boss's daughter', Catherine CAMPBELL; they soon began a connubial relationship.
Catherine CAMPBELL was born around 1815 at Fort Dunvegan, the daughter of Liza McGILLIVRAY & Colin CAMPBELL (1787-1853), another famous and successful old Nor'Wester who became an HBC employee after the 1821 NWC-HBC merger. Cathy's pre-teen years were spent at fur-trade posts in Peace River country in the far Northwest of Alberta, mainly Fort Dunvegan, Fort Vermillion and Fort Chipewyan.
Ben's father (Roddy) had only recently (1830) been moved from Nipigon to Ile a la Crosse (SK) where he was a Chief Trader as well. The CAMPELL and McKENZIE families were undoubtedly well acquainted by the time Ben arrived at Dunvegan.
Fort Vancouver
1832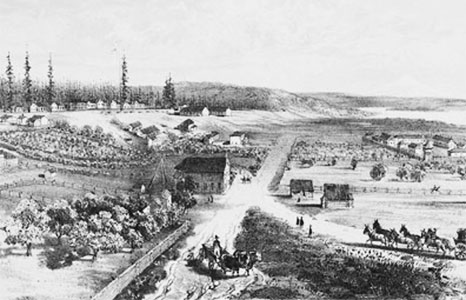 Fort Vancouver Washington c1854
When it became evident that Catherine was pregnant, her father and her father-in-law exercised their influence with SIMPSON to have Benjamin assigned, as a Clerk-Accountant, to the Columbia District, a significant achievement for a person of mixed-blood in those days. It was at Fort Vancouver, on Oct 6, 1832, that Cathy gave birth to their first child (Angelique, named after her grandmother); and on Mar 26, 1836, their first son, Colin.
Fort Vancouver had become a thriving HBC depot, the nerve center of the Company's network of posts throughout the Columbia District; Honolulu (Hawaii) was part of their jurisdiction. The Company had a factory there and was marketing products, with George PELLY as their agent.
Hawaiian Burial
1837
In 1837 Benjamin was afflicted with tuberculosis (TB) and became gravely ill, and Catherine was pregnant with their third child. For the sake of his family, it was important that their marriage be legitimized. On Feb 28, 1837, they were married at Fort Vancouver, and it was decided that Ben should go to Hawaii as a sort of geographical cure for his chest condition.
On Sep 16, 1837, the balmy shores of the Hawaiian Islands beckoned out to an approaching ship, too late for one of its passengers, a critically ill Ben McKENZIE. Ben did not live to enjoy the pleasures offered by this paradise. He died at sea; before the ship reached the port of Honolulu; only to be buried there. He was barely 30 years old!
Ben would never get to know his new son, Benjamin Junior; born at Fort Vancouver just a few days after he died. Widow Catherine was obliged to return to her relatives on the other side of the Rocky Mountains.
Jean Still: Widow Catherine was obliged to return to her relatives, on this side of the Rocky Mountains, a very trying undertaking for a woman with three children in those days (Colin, Angelique and Ben Jr).  However, they found a home with Roderick McKENZIE Sr (1772-1859), Chief Factor of the HBC at Ile-a-la-Crosse in northern Saskatchewan (Angelique's father-in-law, grandfather of her children).  ** MORE ABOUT RODERICK McKENZIE SR
Ben Sr's widow, Catherine, re-married to William CLOUSTON around 1842, when their first child was born.  CLOUSTON was born about 1818 in the Orkneys of Scotland.
** MORE ABOUT CATHERINE and WILLIAM CLOUSTON
Grampa Roderick spared no expense on his grandsons' education. Around 1845, Ben Jr, seven years old, was sent to St John's Boarding School where he later studied for the ministry. 
Around 1854 daughter Angelique was united with Alexnder GUNN from Lockport, the son half-breed Margaret SWAIN and the Honorable Donald GUNN (1797-1878) of Scotland, who sat for 5 years in the Upper House of the Manitoba Assembly.  ** MORE ABOUT DONALD GUNN
In 1877 son Colin married Mary Letitia ELFORD in Victoria, BC, daughter of Hannah TAYLOR & Robert ELFORD (1829-1905).
On March 16, 1902 Catherine (now CLOUSTON) died at her home in Headingly (MB), at the age of 87.
Comments and queries as this link: ** FORUM DISCUSSING the FAMILY of BENJAMIN McKENZIE (1807-1837)
============================ Family Details ============================
Children:
1. Oct 6, 1832 ANGELIQUE McKENZIE (m. Alexander GUNN)
2. March 25, 1836 COLIN CAMPBELL McKENZIE (m. Mary Letitia ELFORD )
** MORE ABOUT COLIN CAMPBELL McKENZIE
3. Sep 15, 1837 Reverend BENJAMIN McKENZIE JR (m. Harriet FIDLER)
** MORE ABOUT EVEREND BENJAMIN McKENZIE