DONALD GUNN (1797-1878)
MARGARET SWAIN (1802-1870)
(Last Updated: July 15, 2015)
Donald GUNN, patriarch of the Red River GUNN families, was born in September, 1797 Halkirk , Caithness-shire, Scotland, the youngest son of WILLIAM GUNN, a tenant farmer in strath of Braeholme, a descendant of the clan whose name he bore.
Donald begins Service with the Hudson's Bay Company
1813
In June of 1813, at the age of 16 Donald left Caithness, Scotland as an employee of the Hudson's Bay Company (HBC). He was probably with the HBC servants on the "Eddystone" which came around the same time as the "Prince of Wales" which carried some of the first Selkirk Settlers).  He was under a three year contract, with the promise of a free 50 acres of land at Red River when his contract expired. He spent 1813-16 in the York District, and at the Fort Severn as a Labourer.
Early HBC Forts
In 1816 he was promoted to the position of an Assistant Trader at the Trout Lake Post in the Northern Department (inland via the Severn River).
Donald marries Margaret SWAIN
1819
In 1819, he married Margaret SWAIN at York Factory, the eldest half-breed daughter of an Indian woman & Englishman James SWAIN (1775-1829), an HBC trader there. ** MORE ABOUT JAMES SWAIN
In 1820 their first child, William, was born at the Badger River Post (inland via the Winisk River). 
Union of the Hudson's Bay Company and the North West Company
Donald settles near The Rapids (Lockport/ Little Britain)
1821-23
In 1821 the North West Company (NWC) was absorbed by the Hudson's Bay Company (HBC) in a merger that ended many years of bitter and costly fur-trade rivalry that seriously affected their financial stability. As a result, many voyageurs and fur trade employees were either dismissed or retired, including Donald. These retirees were mostly of Scotch, English, Irish and French Canadian origin. Most of them (like Donald) had acquired Indian wives early in their careers and their children were referred to as Half-breeds or Métis.
In 1823, no longer an HBC employee, Donald and his family made their way south to Red River, spending that winter at Netley Creek.  On Jan 6, 1824 their second child, James was born and that summer he moved his family to The Rapids (Lockport) to start homesteading on the east side of the river near where the bridge is today. 
In October of 1825 Reverend William COCKRAN (1798-1865) and his wife arrived at Red River as assistants to Reverend David JONES (1796-1844).
On Aug 8, 1826, son John was born and when the Red River Census of 1827 was taken Donald (age 30) and Margret were recorded on Lot 865 with three sons. They had a house, barn and stable; three cows, two oxen, two calves and a hog. They had six acres under cultivation.
In 1832 construction of Lower Ft Garry was begun under the supervision of Alexander CHRISTIE (1792-1872). This new fort became an important trading center for supplying goods to northern fur trading posts and packing furs for shipment to York Factory. Encouraged by Governor George SIMPSON (1786-1860), Reverend JONES proposed a boarding-school or seminary at Upper Church "for the moral improvement, religious instruction, and general education of Boys; the sons of Gentlemen belonging to the Fur Trade." This establishment became known as the Red River Academy, the first English-speaking high school in the northwest.
By 1833 Donald's farm was prospering. With the assistance of his growing family he was enabled to take charge of the Parish School for the Church Missionary Society (CMS).
Soon more settlers arrived, mostly English or Scottish families, some were other retired HBC families. The area became known as "Little Britain", eventually encompassing the long narrow lots east and west of the Red between Lower Ft Garry and just south of the St Andrews Rapids where the locks are today.  It's note clear just when the GUNN family moved to the west side of the river, but on Apr 15, 1839, it is recorded that John McDONALD, another retired HBC employee, and Donald, were granted Lot 34 (Gunn's Creek), an additional 83 acres, 50 of which were gratis. The west side lot was situated about 500 metres further north of his east-side Lot 163, which he still also owned.
In 1841 eldest son William was married to Isabella ROSS, daughter of Sally HOW-HOW & Alexander ROSS (1783-1856)fromScotland. On Dec 19, 1841 their daughter Henrietta was born. William died on May 9, 1842 (only 22 yrs old) and was buried the next day (May 10) at St Johns. What caused William's death at such a young age remains a mystery to me.
In 1843 a son named Robert died in infancy, and in 1844 a daughter named Jane died at the age of nine.
Between 1845 and 1849 construction proceeded on a new stone church of St Andrews to serve a burgeoning Parish of St Andrews. It was designed by COCKRAN to serve the local community of retired HBC personnel and English mixed-bloods.  Much of the stonework was done by Duncan McRAE (1813-1898).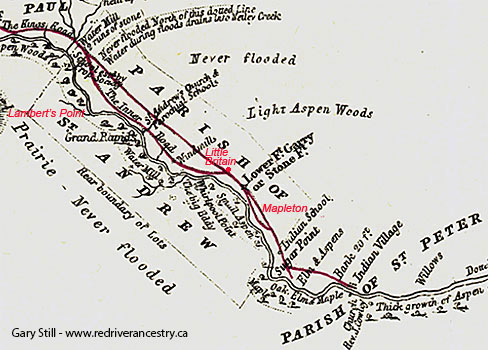 St Andrews Parish from Henry Hind's Map of 1857
In 1848 Margaret gave birth to Donald's last child (William). They now had nine surviving children: James (age 24), John (22), Alexander (19), Mathilda (17), George (15), Margaret (11), Donald Jr. (8), Janet (age 2) and baby William. Wife Margaret was 46 years old now; Donald was 51.
In 1849 Donald served as foreman of the jury at the historic trial of Pierre-Guillaume SAYER (1796-1853) and three other Métis from the Red River Colony, all charged with violating the HBC charter by trafficking in furs. 
In 1851 a new larger St Andrews School (School No.2; replacing the one built in 1831) constructed of logs and stone with hand hewn shingles was built on the present (1981) site (between the church and rectory) on approximately two acres of land.
The large home of the GUNN's was noted for it's hospitality, and many visitors to RRS stayed with them.  It was the focal point of the community and was also used as a library, school, and for church meetings (became known as "The Meeting House" pg 47).  One of the rooms held the Red River Library of which Donald was the custodian.  This was the only collection of books in RRS.  For a time he conducted a commercial school in his home to help prepare the sons of the HBC officers for their future service with the Company.

The GUNN's were staunch Presbyterians, as were many of the Scottish settlers. They attended St Johns Anglican Church, but met frequently at the GUNN home to study the catechism and keep the faith alive until a Presbyterian minister would come. Lord SELKIRK had promised a minister would be sent to them, but it wasn't until 1851, nearly 40 yrs later, that Reverend John BLACK (1818-1882) came to Kildonan.  In the spring of 1852, BLACK rode the 14 miles to Little Britain on horseback, and held the first service in the evening at the GUNN house.
In 1854 son Alexander married Angelique McKENZIE, daughter of Catherine CAMPBELL & Half-breed Benjamin McKENZIE (1807-1837), an HBC accountant. ** MORE ABOUT BENJAMIN McKENZIE
In 1855 son John (then a school-teacher) married Emma GARRIOCH, half-breed daughter of Nancy COOK & William GARRIOCH (1799-1844), an HBC Trader from the Orkneys. ** MORE ABOUT WILLIAM GARRIOCH
That year, Donald deeded over a portion of Lot 163 to John (he himself built a new place on the west bank). John owned Lot 165 and 167 and had built a water mill for grinding wheat at the junction of Gunn's Creek and the Red, just south of the present bridge.
On Feb 19, 1856 in Kildonan daughter Margaret married William TAYLOR, son of Mary INKSTER & James TAYLOR (1791-1878), an HBC voyageur from the Orkneys. ** MORE ABOUT JAMES TAYLOR
Around 1860 daughter Mathilda became the 2nd wife of John ATKINSON, half-breed son of Margaret and George ATKINSON (1770-1830), an HBC Sloop Master from England. ** MORE ABOUT GEORGE ATKINSON
Around 1862 son James married Widow Mary (nee DONALD), widow of Andrew McCORRISTER who died in 1854. Mary was a daughter of Nancy (Ann) BOLLEN and William DONALD (1795-1866).
Canadian Confederation
1867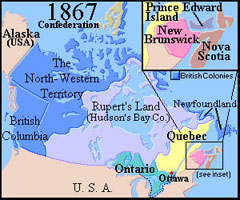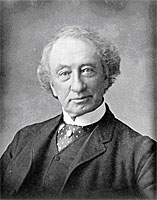 On July 1, 1867 the British colonies in North America were united under the British North American Act to become the Dominion of Canada. Sir John A MacDONALD (1815-1891) was appointed as Canada's first Prime Minister.William McDOUGALL (1822-1905) became the Minister of Public Works, and he began negotiations to acquire Rupert's Land from the HBC.
Around 1867 son Donald Jr. married Caroline BALLENDINE, daughter of Frances LEWIS & James BALLENDINE (1807-1864), an HBC voyageur.
In the summer of 1868, William McDOUGALL sent a crew of road builders to Red River country, led by surveyor John Allan SNOW (1824-1888) and Charles MAIR (1838-1927), paymaster of the project. They were instructed to initiate the construction of a road (previously known as the Dawson Trail) from Lake of the Woods to the Forks of the Red River.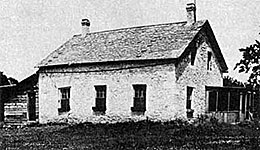 Little Britain Church stone manse built in 1869, circa 1938
From Little Britain History
Louis RIEL and the Red River Resistance
1869
In August of 1869, as the transfer of the region drew near, another surveying crew under Colonel John Stoughton DENNIS (1820-1885) was dispatched by McDOUGALL to survey the settlement in anticipation of an influx of settlers. DENNIS and the surveying crew of SNOW and MAIR soon became closely associated with Dr. John Christian SCHULTZ (1840-1896), a shrewd entrepreneur and businessman, several of them staying at his home. There followed what a later commentator described as an "orgy of land-grabbing," when several of this group began staking off land claims which they hoped would be recognized when the transfer took place. It was little wonder that the Métis in particular regarded SCHULTZ and his associates with fear and hatred as epitomizing all that was menacing about the takeover by Canada.
On Oct 11, 1869, Louis RIEL (1844-1885) placed his foot on the surveyors' chain to tell them their work was finished! He began to organize resistance to the transfer of the North-West to the Dominion of Canada without prearranged terms. This marked the beginning of another Red River Métis Rebellion.
In the beginning the resistance mainly involved French speaking Métis who had settled in St Boniface and areas to the south and west of Upper Fort Garry. They were determined to form a Provisional government to replace the Council of Assiniboia and to negotiate terms of union with Canada that would ensure their rights in the region they considered to be their own domain. English speaking half-breeds occupied most of the land to the north along the river. Although many of them supported RIEL in many of his proposals, they generally favoured a less aggressive approach. Donald GUNN was an advocate of the entry of the Northwest into Confederation.
On Nov 2, 1869 RIEL took possession of Upper Fort Garry with armed forces, taking prisoners in the process, including the then Governor William McTAVISH (1815-1870).
On Nov 6, 1869, RIEL, as Secretary of the council of French speaking population of Rupert's Land asked for 12 representatives from the English speaking parishes and Winnipeg to meet with them on Nov 16 in the Court House at Fort Garry. The convention that met included Donald GUNN, elected to represent St Andrews Parish as well as his son George GUNN who was a delegate from St Anne Parish; Thomas BUNN (1830-1875) represented St Clements Parish; and Chief Henry PRINCE (1819-1899) represented St Peters Parish. No agreement was reached on how to proceed on the first day and the convention adjourned.
Donald represents St Andrews in the Convention of Twenty Four
On Nov 16, 1869, as planned, the eleven elected English-speaking council members met with their French-Métis counterparts in the Court House at Fort Garry. Called the Convention of Twenty Four, representatives included Donald GUNN, Thomas BUNN and Chief Henry PRINCE.
On Nov 27, 1869 RIEL accepted compromise with the English-speaking delegates and they agreed to a Provisional Government.
On Dec 1 the Convention of Twenty four dissolved with RIEL shouting to the English members and those who opposed him: "Go and return peacefully to your farms. Stay in the arms of your wives. Give this example to your children. But watch us act! We are going ahead to work and obtain the guarantee of our rights and yours. You will come to share them in the end."
Support for RIEL began to waiver (even from some of his Métis brethren) when it became evident that radical measures were being planned.
Donald's friend, Dr. John SCHULTZ, was perhaps the most prominent among those who violently opposed RIEL. On Dec 3 RIEL posted armed guards around SCHULTZ's house in Fort Garry ('Fort Schultz'), and a few days later the occupants were captured and imprisoned. These included SCHULTZ and his wife, Charles MAIR and his wife and their cohort, Thomas SCOTT (1842-1870), a feisty young Irishman who openly expressed his hatred and disgust of RIEL. SCHULTZ & MAIR managed to escape. As outsiders they had misjudged the willingness of the country-born and Scottish settlers to oppose the Métis. SCHULTZ made his way downstream to drum up support for an armed force in the English-speaking parishes and among the Indians.
On Dec 27, RIEL became the official President of the Provisional Government.
Around 1869-70 son George GUNN married Eliza WINECHILD.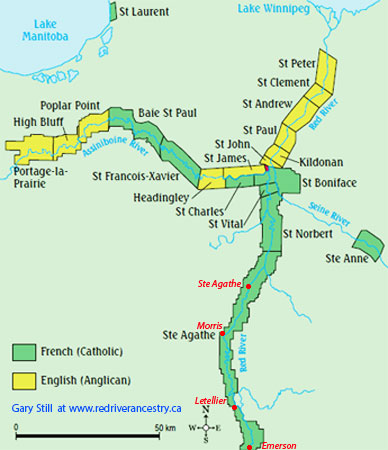 Red River Settlement Parishes around 1870
Provisional Government made official
Manitoba becomes a Province
1870
On Feb 10, 1870, the National Committee of the Métis officially became the Provisional Government, with BUNN as the Assistant Secretary of State.  BUNN then served on the committee arranging the elections to the Convention of Forty. He himself became one of the delegates to the Convention representing St. Clements. BUNN then served as Secretary of State in the Provisional Government.
On Feb 28, 1870, George GUNN (Donald's son) was chosen as a Councilor to the Convention of Forty.
In the month of February of 1870, members of the GUNN family were prominent among a large body of men from St Andrews who assembled to march to Kildonan where they demanded the release of the prisoners who were still confined in Upper Fort Garry. Messages were sent to RIEL and the prisoners were released.
Execution of Thomas SCOTT
On March 3, 1870, with the sanction of RIEL, members of an ad hoc Métis tribunal tried and convicted Thomas SCOTT of insubordination. The death penalty was invoked and he was executed by a firing squad the next day. From this point on, whatever support RIEL may have had from the people of the English speaking communities waned.
On May 2, 1870, far from the turmoil at Red River, Sir John A MACDONALD introduced the Manitoba Act. The Bill provided for the appointment of a Lieutenant Governor, a Legislative Council of seven members, and a Legislative Assembly of 24 members. The seat of government was to be at Fort Garry, or within a mile thereof.
On Aug 24, 1870, Colonel Garnet Joseph WOLSELY (1833-1913) and his soldiers arrived, forcing their way into Upper Fort Garry. A warrant is issued for the arrest of Louis RIEL, who, having learned that the soldiers were planning to lynch him, fled just a few hours before they arrived. He took refuge at St Joseph's Mission, about 10 miles south of the border in Dakota Territory.
Donald SMITH (1820-1914) was appointed Interim Lieutenant Governor of Manitoba.
On Dec 27, 1870 a Manitoba Legislature replaced the Provisional Government of RIEL and the first Provincial election was held. Donald GUNN competed in that election but was defeated by Alfred BOYD (1836-1908).
Donald becomes the Honourable Donald GUNN
1871-1876
In January of 1871 the first Legislature of Manitoba was formed.
On March 10, 1871 Donald GUNN was appointed to the Legislative Council of Manitoba and remained a member until its abolition, which he supported, in 1876.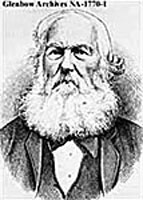 The Honorable Donald Gunn
In 1871, Wemyss McKenzie SIMPSON was selected by the Department of Indian Affairs (DIA) as General Indian Agent, to make Treaties with the Indian Tribes, and to represent the Govt in the Northwest; as Commissioner.

On Aug 3, 1871, the First Treaty in Western Canada was established between the Crown and seven chiefs at Lower Fort Garry, including Chief Henry PRINCE of the St Peters Band.
Although Alfred BOYD is sometimes regarded as Manitoba's first premier; he resigned on Dec 9, 1871. In January of 1873 he was replaced by John NORQUAY (1841-1889).
On May 23, 1873 the North-West Mounted Police (NWMP) was established as a force. On Oct 22, 1873 the first contingent arrived at Lower Fort Garry, replacing two Militia battalions, and on Nov 3 they were sworn in and commenced training.
In 1874 daughter Janet married Alexander Montgomery MUCKLE (1844-1908), son of Mary MONTGOMERY & John McClure MUCKLE (1805-1859), a prominent Quebec merchant from Ireland.

Around 1876 son William married Catherine MOWAT, daughter of Jane NORQUAY & Edward MOWAT (1833-1909).
In 1878 daughter-in-law Caroline (nee BALLENDINE) died (wife of son Donald Jr.).
On Nov 30, 1878 Donald GUNN died in St Andrews.
In 1881 son Donald Jr. re-married to Sarah FIDLER, daughter of Amelia BIRD and Peter FIDLER (1820-1881).
In 1882 daughter Matilda's husband, John ATKINSON, died, and in 1887 she remarried to William Albert PRUDEN, son of Nancy HENRY and William PRUDEN (1804-1844). ** MORE ABOUT WILLIAM PRUDEN
In 1883 son James married Widow Mary (nee DONALD) McCORRISTER, daughter of Nancy BOLLEN and William DONALD (1795-1866), both half-breeds.
Please post comments and queries at this link: FORUM DISCUSSING DONALD GUNN and his FAMILY
========================= Family Details =========================
Children:
1. 1820 WILLIAM GUNN (m. Isabella ROSS)
William died in 1842 (only 22 yrs old)
2. Jan 6, 1824 JAMES GUNN (m. Widow Mary (nee DONALD) McCORRISTER)
3. Aug 8, 1826 JOHN GUNN (m. Emma GARRIOCH)
4. Feb 10, 1829 ALEXANDER GUNN (m. Angelique McKENZIE)
** MORE ABOUT ALEXANDER GUNN
5. Nov 20, 1831 MATHILDA GUNN (m1. John ATKINSON, m2 William Albert PRUDEN)
** MORE ABOUT WILLIAM ALBERT PRUDEN
6. Dec 11, 1833 GEORGE GUNN (m. Julia (Eliza) WINECHILD or Lisa OTTERSKIN)
7. 1835 JANE GUNN (Died in 1844, only 9 yrs old)
8. 1837 MARGARET GUNN (m1. William TAYLOR, m2. Jack DRAIN)
9. May 27, 1840 DONALD GUNN (m1. Caroline BALLENDINE, m2. Sarah (nee FIDLER) BIRD)
10. 1842 ROBERT GUNN (Died in 1843)
11. Mar 9, 1846 JANET GUNN (m. Alexander Montgomery MUCKLE SR)
** MORE ABOUT ALEXANDER MUCKLE
12. Aug 17, 1848 WILLIAM GUNN (m. Catherine Ann MOWAT)