JAMES TAYLOR (1791-1878)
MARY INKSTER (1811-1894)
(Last Updated: September 25, 2014)
James TAYLOR was born Sep 19, 1791 at Morwick, Birsay, Orkney Islands, Scotland, said to be the son of Elspeth MERRIMAN and Alexander TAYLOR (born 1724 in Orkneys).
In the Service of the Hudson's Bay Company
1817
In 1816-17 James sailed to York Factory aboard the ship Emerald as an employee of the Hudson's Bay Company (HBC).
** MORE ABOUT JAMES TAYLOR in HBC ARCHIVES
The HBC Archive indicate that from 1817 to 1820 James worked as a labourer in the Cumberland House and Edmonton districts.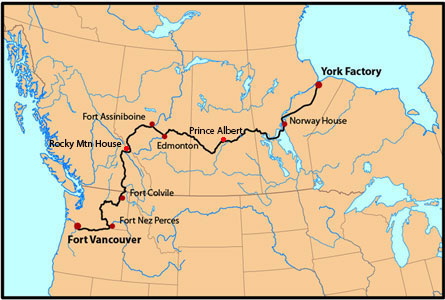 HBC Trading route from York Factory to the Pacific
Union of the HBC and the North West Company
1821
In 1821 the union of the North West Company (NWC) and the Hudson's Bay Company (HBC) occurred, ending the years of bitter rivalry for dominance of the fur trade in Western Canada. After the merger, almost 1,300 employees lost their jobs since the single HBC organization that emerged had no need for most of the voyageurs and fur traders. George SIMPSON (1786-1860) became the Governor of Rupert's Land. Reverend John WEST (1778-1845) arrived from England as the first Chaplain in the northwest.
After the HBC-NWC union James continued as a labourer and voyageur in the Edmonton, New Caledonia (Southwestern BC) and York Factory districts until about 1823-26.
A Colonist in Red River
Marriage to Mary INKSTER
1826-1828
By 1826 James was a colonist in the Red River Settlement.
On Oct 4, 1828 James married Mary INKSTER, the teenage daughter of Mary (Cree) and James INKSTER (1773-1854), an HBC cooper and boat builder from the Orkneys. ** MORE ABOUT JAMES INKSTER
By 1850 James' family consisted of 10 children as follows: James (age 21), William (19), John (16), Mary (15), Elizabeth (12), Peter (10), Alexander (7), David (4), Annie (age 2) and baby Herbert.
In 1856 son William married Margaret GUNN in Kildonan, daughter of Margaret SWAIN and Donald GUNN (1797-1878). ** MORE ABOUT DONALD GUNN

Also in 1856 son John married Flora CAMPBELL at Headingly, daughter of Elizabeth McGILLIVRAY and Colin CAMPBELL (1787-1853). ** MORE ABOUT COLIN CAMPBELL
Also in 1856 daughter Elizabeth married Thomas SLATER in St Pauls, son of Mary INDIAN and James SLATER (1777-1856) from the Orkneys.
In 1859 son James Jr. married Phoebe THOMAS in St Paul, daughter of Eleanor (nee BUNN) and William THOMAS (1806-1875).
In 1861 daughter Mary married George BANNERMAN in St Paul, son of Janet McKAY and Alexander BANNERMAN. (1800-1880) from Scotland.
In 1862 son Peter married Catherine McDONALD in St Andrews Church, daughter of Nancy FERGUSON & Donald McDONALD (1794-1876) from Scotland.
Canadian Confederation
A Red River Metis Rebellion
Manitoba becomes a Province
1867-1870
On July 1, 1867 the British colonies in North America were united under the British North American Act to become the Dominion of Canada.  Sir John A MacDONALD (1815-1891) was appointed as Canada's first Prime Minister; a month later he won the first federal election.William McDOUGALL (1822-1905) became the Minister of Public Works, and he began nnegotiations to acquire Rupert's Land from the HBC; surveyors were sent out to prepare the way for an expected influx of settlers
In 1868 son Alexander married his sister-in-law, Mary McDONALD, also a daughter of Nancy FERGUSON & Donald McDONALD (1794-1876) from Scotland.
In 1869 Louis RIEL (1844-1885) began to organize resistance to the transfer of the North-West to the Dominion of Canada without prearranged terms. This marked the beginning of the historic Red River Metis Rebellion.
** MORE ABOUT THE RED RIVER METIS REBELLION in WIKIPEDIA

On July 15, 1870 Manitoba became the fifth province of Canada, the Canadian Government having acquired the territory previously governed by the HBC. The Rebellion was essentially over.
Poplar Point
In 1870 James was recorded on Lot 60 in Poplar Point Parish; children at home were David (age 25), Annie (23) and Herbert (age 22).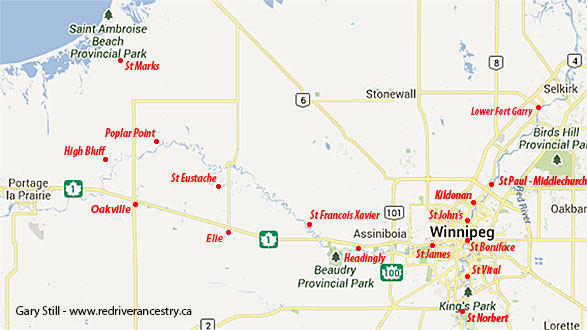 In 1871 son Herbert married Mary Ann McDONALD, daughter of Isabella TAIT and Duncan McDONALD  (1825-1895).
In 1874 son David married Elizabeth Ann SPENCE, daughter of Elizabeth INKSTER & Archibald SPENCE (1834-1892).
In 1875 James (of Poplar Point/ Marquette) claimed his Scrip as an original white settler from Scotland.
Around 1875 daughter Annie married Alexander Roderick CHISHOLM, son of Janet MACDONELL and Alexander CHISHOLM (1790-1854).
In 1878 John NORQUAY (1841-1889) became the Premier of Manitoba.  For many years the NORQUAY family also lived in the High Bluff – Poplar Point area. ** MORE ABOUT PREMIER JOHN NORQUAY
On Oct 4, 1878 James TAYLOR died at Poplar Point on the day of his 50th Wedding Anniversary. 
The Founding Families of Bresaylor, Saskatchewan
1881-1882
In the fall of 1881 son Peter TAYLOR and Charles BREMNER (1835-1818) went west to scout out an area to establish a settlement away from the turmoil associated with the RIEL uprising in Manitoba. Story has it that their original intention was to go to the Peace River region, but that they were so impressed with the plentiful grass and water in the area that is now Bresaylor district of Saskatchewan that they decided to stay. Their families, and others, were sent word to come out the following spring. The land at that time was not surveyed. They somehow got houses built for everyone by all working together and by facing each task as a group. And so it was that the settlement was named BRESAYLOR, using three letters from each of the founding families (BREMNER, SAYER & TAYLOR).
** MORE ABOUT BRESAYLOR and the ALEXANDER BREMNER FAMILY
Around 1881 youngest son Thomas is said to have married Florestine LADOUCEUR in Lac la Biche, son of Margureite FRASER and Pierre LADOUCEUR (1840-1910).
In 1891, Widow Mary TAYLOR was living with her son John, at Assiniboia (MB).
On Feb 1, 1894 Mary INKSTER-TAYLOR died in St Paul, age 82.
Comments and queries at this link: FORUM DISCUSSING the JAMES TAYLOR FAMILY
============================ Family Details ============================
Children:
1. July 29, 1829 JAMES TAYLOR JR (m. Phoebe THOMAS)              
2. 1831 WILLIAM TAYLOR (m. Margaret GUNN)
3.  Jan 24, 1834 JOHN TAYLOR (m1. Flora CAMPBELL, m2. Frances Jane BROWN)
4. 1835 MARY TAYLOR (m. George BANNERMAN)
5. May 20, 1838 ELIZABETH "BETSY" TAYLOR (m1. Thomas James SLATER)
6. July, 1840 PETER TAYLOR (m. Catherine McDONALD)
7. 1843 ALEXANDER "SANDY" TAYLOR (m. Mary Isabel McDONALD)
8. 1846 DAVID TAYLOR (m. Elizabeth Anne SPENCE)
9. Jan 27, 1848 ANNIE TAYLOR (m. Alexander Roderick CHISHOLM)
10. Apr 10, 1850 HERBERT CHAPMAN TAYLOR (m. Mary Ann McDONALD)
11. 1852 MARGARET TAYLOR (Died in infancy)
12. May 5, 1859 THOMAS TAYLOR (m. Florestine LADOUCEUR)