PETER TAYLOR (1840-1920)
CATHERINE McDONALD (1843-1929)
(Last Updated: March 25, 2014)
Peter TAYLOR was born on July 16, 1840 in Red River country, the son of Mary INKSTER and James TAYLOR (1791-1878) from the Orkneys of Scotland. ** MORE ABOUT JAMES TAYLOR
Marriage to Catherine McDONALD
1862
In 1862 Peter married Catherine McDONALD in St Andrews daughter of Nancy FERGUSON & Donald McDONALD (1797-1872).
Canadian Confederation
A Red River Metis Rebellion
Manitoba becomes a Province
1867-1870
On July 1, 1867 the British colonies in North America were united under the British North American Act to become the Dominion of Canada.  Sir John A MacDONALD (1815-1891) was appointed as Canada's first Prime Minister; a month later he won the first federal election.William McDOUGALL (1822-1905) became the Minister of Public Works, and he began nnegotiations to acquire Rupert's Land from the HBC; surveyors were sent out to prepare the way for an expected influx of settlers.
In 1869 Louis RIEL (1844-1885) began to organize resistance to the transfer of the North-West to the Dominion of Canada without prearranged terms. This marked the beginning of the historic Red River Metis Rebellion.
** MORE ABOUT THE RED RIVER METIS REBELLION in WIKIPEDIA

On July 15, 1870 Manitoba became the fifth province of Canada, the Canadian Government having acquired the territory previously governed by the HBC. The Rebellion was essentially over.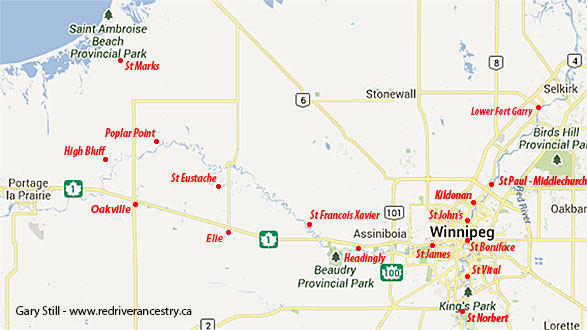 In 1870 and 1881 Peter and his family were in the Poplar Point district along the Assiniboine River. In 1881 the children were recorded as Eliza (age 17), Maurice (14), Flora (12), Albert (10), Victoria (8), Walter David (6), Cuthbert (4), Catherine Jemima (3) and Laughlin Alexander (age 1).
The Founding Families of Bresaylor, Saskatchewan
1881-82
In the fall of 1881 Peter TAYLOR and Charles BREMNER (1835-1919) went west to scout out an area to establish a settlement away from the turmoil associated with the RIEL uprising in Manitoba. Story has it that their original intention was to go to the Peace River region, but that they were so impressed with the plentiful grass and water in the area that is now Bresaylor district that they decided to stay. Their families, and others, were sent word to come out the following spring. In the spring of 1882 they were joined by the family of Henry SAYER (1841-1916). And so it was that the settlement was named BRESAYLOR, using three letters from each of the founding families (BREMNER, SAYER & TAYLOR).
Of course, long before Bresaylor was established, Gabriel DUMONT (1837-1906) and his Metis brethren had moved from Red River country to the Saskatchewan region. They were the buffalo hunters of old, and they were forced to move farther and farther west due to diminishing buffalo populations in their traditional hunting territory on the White Horse Plains of Manitoba. ** MORE ABOUT GABRIEL DUMONT in DCBO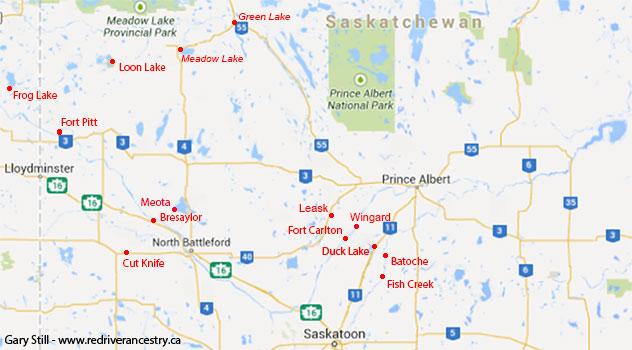 Northwest Rebellion Locations (By Gary Still)
Not far south of the new Bresaylor Settlement was the reserve of Chief PITIKWAHANAPIWIYIN(1842-1886), better known as POUNDMAKER. ** MORE ABOUT POUNDMAKER in DCBO
Peter became an Indian Farm Instructor for the Department of Indian Affairs (DIA) on the Strike-him-on-the-back Reserve (later the Sweetgrass Reserve), located west of Battleford about half-way to Cutknife. This was the reserve of Wah-wee-kah-oo-tah-mah-hote (Strike Him on the Back) who was the Chief there since he signed Treaty #6 signed as Fort Carlton in 1876.
In 1882 eldest daughter Elizabeth married Alexander SETTER from High Bluff (MB), son of Jessie CAMPBELL and George SETTER (1815-1899). ** MORE ABOUT GEORGE SETTER
By 1882 it was clear that the buffalo were gone for good. The response of the South Branch Métis was to concentrate their political activities on demands for a river-lot survey of their farms apart from the square survey system. They had many other grievances that they wanted the Government to address as well but they received very little attention from Ottawa.
Peter Resigns as Farm Instructor
Unrest on the POUNDMAKER Reserve
1883
In 1883 as part of a government economy drive many Indian Department employees were dismissed. From an article in the Manitoba Daily Free Press, April 4, 1883: Peter TAYLOR, instructor on Strike-Him-on-the-Back's Reserve (later the Sweetgrass Reserve), is also about to leave the service of the Indian Department, his resignation taking effect on April 1. He is going to settle on his claim between the rivers (Bresaylor). Sam BALLENDINE, at present on Poundmaker's Reserve, will assume charge of Strike-Him's, and an assistant under him will be placed on the former reserve. Note: This is Samuel BALLENDINE (1839-1903) from Red River.
Due to the Government austerity measures, rations to the Indians were reduced as well. Delays in delivering supplies caused rumors to spread that rations would be curtailed completely, and the Indians left to starve. Moreover, as complaints by the agents that the Indians were starving after the severe winter of 1883–84 went unheeded by officials in Ottawa, POUNDMAKER was unable to maintain peace among his followers, particularly the younger warriors.
1884
In the spring of 1884, frustrated by their own efforts to get the Government to address Metis concerns, Gabriel DUMONT and his associates made a trip to Montana where they convinced Louis RIEL (1844-1885) to return with them to Batoche. They believed he was the only one who could organize the kind of pressure that would be needed to stimulate government action. It did, but not in a friendly way.
From Wikipedia: In June of 1884, many Indians, including BIG BEAR and his followers, assembled at POUNDMAKER's reserve to discuss the situation. In spite of the efforts of the North-West Mounted Police to disperse them, more than 1,000 Crees put on a Thirst Dance, their major religious celebration, in which the participants reaffirmed their faith in the sun spirit. During the ceremonies an Indian was accused of assaulting John CRAIG, the farm instructor on an adjacent reserve.
Anticipating a possible outbreak of violence, the NWMP fortified the Battleford agency and sent a force of some 90 men to arrest the accused. However, POUNDMAKER and BIG BEAR refused to turn him over while the Thirst Dance was in progress, and POUNDMAKER offered himself as a hostage. Later, when the police threatened to arrest the wanted man forcibly, POUNDMAKER denounced their actions, angrily waving a four-bladed war club at them. But the fugitive was taken into custody and escorted to Battleford where he was sentenced to a week in jail.
The Northwest Rebellion
1885
By February of 1885, RIEL and DUMONT had both concluded that negotiations with Ottawa had failed irrevocably. DUMONT played a crucial role at this point. Without his strong and active support, RIEL would not have persuaded the Métis to take up arms. At the beginning of March, when RIEL proposed forming a provisional government, support from the English-speaking settlers and the church vanished. DUMONT then seized hostages near Batoche and a Provisional Government of Saskatchewan was formed. This marked the beginning of the historic Northwest Rebellion.
** MORE ABOUT THE NORTHWEST REBELLION in WIKIPEDIA

On Feb 7, 1885 son Ronald McDonald was born in Bresaylor.
By mid-March, DUMONT received word that the Northwest Mounted Police (NWMP) were sending a large number of men to Fort Carlton with the intention of arresting him and RIEL. The NWMP Commander was Lief CROZIER (1846-1901).
** MORE ABOUT LIEF CROZIER in DCBO

On March 23, 1885, when news of the rebellion reached Ottawa, soldiers under the command of Major-General Frederick Dobson MIDDLETON (1825-1898) were immediately dispatched by train. On March 27 they arrived at Winnipeg.
** MORE ABOUT MAJOR GENERAL MIDDLETON in DCBO

CROZIER Defeated in the Battle at Duck Lake
March 26, 1885
On March 26 the 150 to 200 Métis and Aboriginal warriors under the command of Gabriel DUMONT defeated a combined group of 90 Prince Albert Volunteers and North-West Mounted Police led by Superintendent CROZIER at Duck Lake, outside Batoche.
When news of the Métis success at Duck Lake reached POUNDMAKER at his reserve, he decided to utilize the unrest and fears of government agents at Battleford to negotiate necessary supplies.
Settlers seek Refuge at Battleford
On March 28, 1885, as news that several Indian bands were on their way to Battleford, settlers began moving into the nearby NWMP post at Fort Battleford (North Battleford) which was under the command of Colonel W.S. MORRIS and 25 Northwest Mounted Police. Over the next several days 500 civilians would take refuge within the palisades. Many crossed over an unstable ice bridge on the Battle River leaving most of their possessions behind in the Old Town (South Battleford).

Fort Battleford Historic Site (From Wikipedia)
During the night of March 29 nearby homesteads were raided their horses and cattle rounded up by the bands.
On March 30 when POUNDMAKER and his men arrived at South Battleford, they found the town deserted. Efforts to open negotiations with Indian Agent RAE failed. Hungry and frustrated, some of the Indians began looting the empty homes in the area, despite POUNDMAKER's attempts to stop them. The next day the combined Battleford bands moved west to the POUNDMAKER's Reserve and established a large camp east of Cutknife Creek.
On the morning of March 31, the Stonies of Eagle Hills took the warpath. They began their fiendish work by murdering their farming instructor, James PAYNE, and taking the line of settlers that lay between their reserve and the hostile camp first visited the house of FREMONT and DEWAN, and finding the former alone foully shot him from behind, and after ransacking his hose drove off all his horses and cattle. Later, they joined POUNDMAKER at his reserve south of Bresaylor.
Bresaylor Families made Prisoners
Before the hostilities of the Metis Rebellion began, the Bresaylor settlers had always been on friendly terms with POUNDMAKER and his people. But now he was no longer in full control of activities on his reserve which had become the gathering place for many warriors from other reserves in the area.
Upon learning of the Seige of Battleford, Bresaylor residents began loading all their valuables onto Red River carts and were planning to move to the protection of the NWMP's Fort Battleford. However, Indians arrived before they could leave. BREMNER's Store was ransacked and settlers were taken prisoner to the POUNDMAKER Reserve and held there until the rebellion was essentially over.
** MORE ABOUT JAMES BREMNER and the BRESAYLOR FAMILIES during the REBELLION
Frog Lake Massacre
April 2, 1885
On April 2, 1885 the Frog Lake Massacre occurred involving Chief BIG BEAR (1825-1888) and his Cree band. When news of Frog Lake spread, the name BIG BEAR became synonymous with "bloodthirsty killer," but in fact LITTLE BAD MAN and WANDERING SPIRIT were now the band leaders. ** MORE ABOUT MISTAHI MASKWA (BIG BEAR) in DCBO
On Apr 24 Colonel William OTTER (1843-1929) arrived, and on May 2 his troops attacked POUNDMAKER's camp at Cut Knife Creek but was forced to retreat to Battleford. POUNDMAKER prevented his warriors from attacking the retreating troops. ** MORE ABOUT COLONEL WILLIAM OTTER in DCBO
The Battle at Fish Creek: On the morning of April 25, MIDDLETON's column, on their way to Batoche, reached the area of Fish Creek where he battled with Gabriel DUMONT and his Metis soldiers. After taking a number of casualties, MIDDLETON ordered a retreat. DUMONT effectively delayed the Canadian advancement toward Batoche by two weeks.
The Battle at Batoche
May 8 – 12, 1885
The Battle of Batoche was the decisive battle of the North-West Rebellion. Fought from May 9 to May 12 1885 at the ad hoc Provisional Government of Saskatchewan capital of Batoche, the greater numbers and superior firepower of Middleton's force could not be successfully countered by the Métis (as had happened at Fish Creek), and the town was eventually captured. The defeat of the Métis led to the surrender of Louis RIEL on May 15 and the collapse of the Provisional Government. In the weeks that followed, POUNDMAKER would surrender and only the Cree under BIG BEAR would continue to engage Canadian authorities. ** MORE ABOUT THE BATTLE OF BATOCHE in WIKIPEDIA
Aftermath of the Northwest Rebellion
On May 26 POUNDMAKER and his followers came into Fort Battleford and surrendered, unconditionally. They were immediately imprisoned.
From the Manitoba Daily Free Press: Battleford, June 10, 1885 – Mr. TAYLOR came in today from the Bresaylor Settlement, 35 miles upriver, and reported that a band of Indians had crossed further up, taking a southerly direction. It is possible this band included BIG BEAR, who thus far has evaded capture. Major DAWSON, now in command here, at once dispatched six scouts in pursuit to ascertain the identity of the band. It is expected the scouts will return tomorrow night. My notes: Obviously these people weren't aware of BIG BEAR's Battle at Loon Lake on June 3.
** MORE ABOUT THE BATTLE OF LOON LAKE in WIKIPEDIA

On Nov 16, 1885 Louis RIEL was hung in Regina, less than eight months after the first shots were fired at Duck Lake.
============================== // ==============================
Around 1888 son Albert married Robina BREMNER, daughter of Letitia FIDLER and James BREMNER (1833-1910).
** MORE ABOUT JAMES BREMNER
From the Census of 1891 in the Battleford District: Peter TAYLOR, age 52; wife Katherine, age 44. Children: Edward (age 24); Flora Ann (22); Victoria (19); Walter David (17); Cuthbert (15); Catherine (13); Laughlin (11); Mary Maud (9); Ronald (6) and Frederick (age 4).
In 1899 son Maurice married Harriet McDONALD in St Andrews (MB), daughter of Nancy McDONALD and John McDONALD (1825-1912).
From the Census of 1901 in the Battleford District: Peter TAYLOR, age 61, a Blacksmith; wife Catherine, age 57. Children: Flora (age 32), Victoria (28), Walter (27), Kate (23), Maud (19), Ronald (16) and Fred (age 14).

Around 1901 daughter Catherine married John Archibald ROWLAND in Battleford, son of Caroline FRASER and Alexander ROWLAND (1855-1940).

Also around 1901 son Walter married Anna Martha CHRISTENSON of uncertain origins.
Not sure when daughter Victoria married Frederick HARRIS, son of Mary NEWMAN and Alfred HARRIS (1840-1919).
Also not sure when son Cuthbert married a lady named Annie of unknown origins.
Origina of the Village of Paynton
1905-1906
The Village of Paynton was named in 1905, in part after Constable Peter PAYNTER (1856-1934) of the NWMP (who arrived there about 1902), and in part after William THORNTON, a Barr colonist who came from England and settled in the area in 1903. Two other constables, John SHIELDS and James McCREEDY were also among the earliest settlers in that district. The Village of Paynton was on SW-6-47-20-W3. Peter PAYNTER was on 12-46-21-W3. Peter TAYLOR received a land grant for SW-30-47-20-W3, son Ronald TALOR for SW-30-47-20-W3.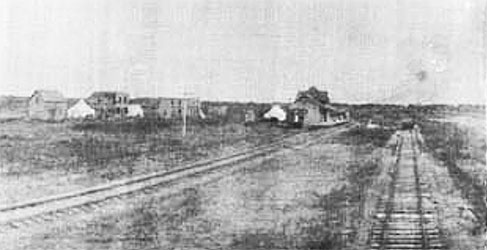 Psynyon in August, of 1905
In August of 1905 the Canadian Northern Railway came through Paynton. The Paynton Ferry was built around 1906-07 and the first ferrymen were Peter's sons, Walter TAYLOR with Cubby (Cuthbert) TAYLOR as his assistant.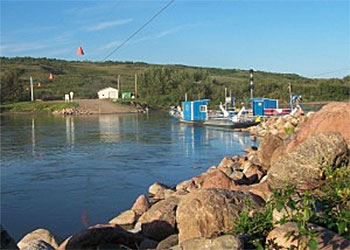 The Paynton Ferry Crossing
World War I
On Aug 4, 1914 Great Britain (Canada on Aug 5) declared war on Germany and Austria-Hungary to uphold treaties with France and Belgium which were under German attack. This marked the beginning of World War I.
Census of 1916 at Paynton: Peter TAYLOR, age 76; wife Katherine, age 70. Children: Cuthbert (age 41), Laughlin Alex (37), Maud (35), Ronald (31) and Fred (age 29).
On Nov 27, 1917 youngest son Frederick enlisted for War at North Battleford.
In 1919 daughter Maude married Frederick KISSACK in Paynton, son of Mary Agnes ASHBURNER and William KISSACK (1846-1930).
November 11,1919, Armistice Day (Remembrance Day) marked the end of the First World War.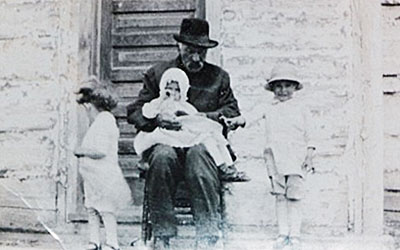 Peter Taylor, children unknown (From Jenna Kissack)
On Dec 10, 1920 Peter TAYLOR died in Bresaylor. In the 1921 census at Paynton, Widow Catherine TAYLOR was recorded as 73 years old. Children still at home were Laughlin (age 40), Ronald (36) and Frederick (age 33).
Not sure when youngest son Frederick married Hilda LARSON of unknown origins.
On Oct 1, 1929 Catherine (nee McDONALD) TAYLOR died at her farm home near the Paynton ferry. Her obituary indicated that she was survived by seven sons: Edward Scott, Ronald, Lachlan, Walter, Cuthbert and Frederick and four daughters: Mrs. Alex SETTER, Mrs. ROWLAND, Mrs. Fred HARRIS and Mrs. KISSACK. She was buried in the Bresaylor Cemetery. Pallbearers were M.J. Cal DOBIE, A. CHISHOLM, J.GOTH, John INKSTER, Patrick MURPHY and Dougall McDOUGALL. The service was conducted by Reverend W.H. ENGLISH.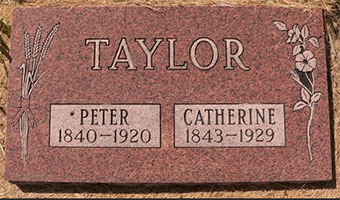 Comments and queries at this link: FOURUM DISCUSSING the PETER TAYLOR FAMILY
========================== Family Details ==========================
Children:
1. Oct 28, 1863 ELIZABETH TAYLOR (m. Alexander SETTER)
2. Jan 19, 1867 MAURICE EDWARD TAYLOR (m1. Harriet McDONALD, m2. Lily COOMBS)
3. Sep 17, 1868 FLORA ANN TAYLOR
4. May 7, 1870 ALBERT SCOTT TAYLOR (m. Robina BREMNER)
5. Aug 19, 1872 VICTORIA TAYLOR (m. Frederick HARRIS)
6. Mar 28, 1874 WALTER DAVID TAYLOR (m. Anna Martha CHRISTENSON)
7. 1876 CUTHERT FRANK "CUBBY" TAYLOR (m. Annie)
8. Oct 2, 1877 CATHERINE JEMIMA "KATE" TAYLOR (m. John Archibald ROWLAND)
9. Oct 23, 1879 LAUGHLIN ALEXANDER TAYLOR
10. Dec 17, 1881 MARY JANE MAUD TAYLOR (m. Frederick KISSACK)
11. Feb 1, 1884 JESSIE TAYLOR (Died in infancy)
12. Feb 7, 1885 RONALD McDONALD TAYLOR
13. Mar 2, 1887 FREDERICK MARIGOLD TAYLOR (m. Hilda LARSON)