ALEXANDER BREMNER (1791-1842)
ELIZABETH "BETSY" TWATT (1800-1885)
(Last Updated: April 08, 2017)
Alexander BREMNER was born around 1791 at Wick in Caithness, Scotland. Caithness is on the northern tip of Scotland just across the straits from the Orkney Islands.
Alex recruited by the Hudson's Bay Company
1812
On June 20, 1812 Alex joined the service of the Hudson's Bay Company (HBC) and on Sep 2 that year he sailed aboard the King George to York Factory. He was described in company records as being 5' 5", with red hair and a fair complexion.
Alex worked as a Labourer in the Winnipeg District until 1814, then at Cumberland in the Churchill District until 1815 when he was sent to Fort Hibernia on the Assiniboine River (later called Fort Pelly as shown on the map below).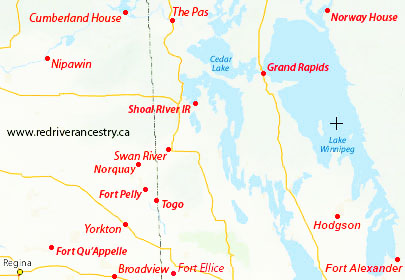 During the Outfit year 1814-15 Alex was based at Cumberland in the Churchill District. During this period he began a common-law relationship with Elizabeth "Betsy" TWATT, halfbreed daughter of an Indian woman and Magnus TWATT (1751-1801), an HBC Inland Trader from the Orkneys of Scotland.
From 1815 to 1818 Alex was at Fort Hibernia. Their first child, son John was born in 1815.
Swan River District
1818-1832
From 1818 to 1832 Alex was a voyageur (steersman, bowsman, and middleman) in the Swan River District.
Union of the North West Company with the Hudson's Bay Company
1821
In 1821 the union of the North West Company (NWC) and the Hudson's Bay Company (HBC) occurred, ending years of bitter rivalry for dominance of the fur trade in Western Canada. At the time of the union, (Sir) George SIMPSON (1786-1860) became the Governor of Rupert's Land.
After the merger, almost 1,300 employees lost their jobs since the single HBC organization that emerged had no need for most of the voyageurs and retired fur traders. The Nor'Westers (NWC retirees) and those retirees of French Canadian origin tended to settle in areas to the south and west of the Forks of the Red and Assiniboine Rivers. Orkney Scots and Englishmen settled mostly to the north of the Forks, where they established the Parishes of Kildonan, St Johns, St Paul (Middlechurch).
Alex settles and Dies on the White Horse Plains
1832-1842
In 1832 Alex left the HBC service and settled on the White Horse Plains, west of present-day Winnipeg. On Apr 14, 1833, seven of his children were baptized there by Reverend David JONES (1796-1844), Chaplain to the HBC (John, Sarah, William, Thomas, Betsy, Nancy and James). On May 1, 1833 his union of long duration with Betsy TWATT was solemnized.
On Jan 23, 1840 eldest daughter Sarah and Peter BROWN were married at the Upper Church (St John) by Reverend William COCKRAN (1798-1865). Peter BROWN was born around 1806 in the Orkneys of Scotland and had immigrated to Red River about five years previous.
Around 1842 son William married Marguerite ALLARY of uncertain origins.
On Aug 31, 1842 Alexander BREMNER died at White Horse Plains (age 51) and was buried in the St John's Anglican Cemetery in Winnipeg.
In 1844 son William (widowed) re-marred to Marie GARIEPY, daughter of Marguerite ABRAHAM & Jean Baptiste GARIEPY (1791-1865). 
Around 1845 daughter Elizabeth married Denis CAPLETTE, son of Angelique GUIBOCHE and Joseph CAPLETTE (1778-1862). ** MORE ABOUT JOSEPH CAPLETTE
In 1847 son Thomas married Louisa SUTHERLAND of unknown origins.
Around 1851 son William married for a third time to Marie HOGUE, daughter of Half-breed Marguerite TAYLOR & Amable HOGUE (1796-1858), a French Canadian. It is uncertain what had become of William's previous wife (Marie GARIEPY). ** MORE ABOUT AMABLE HOGUE
Around 1853 daughter Nancy married Edward FIDLER, son of Anne SAUNDERS & Charles FIDLER (1798-1886). 
In 1857 son James married his sister-in-law Letitia FIDLER.
Around 1858 son Thomas (widowed) re-marred to Marie Anne ALLARY, daughter of Angelique CAPLETTE & Antoine ALLARY (1799-1876).
In 1860 son Charles married Emily WELLS, daughter of Mary McKAY and John WELLS (1815-1890).
Around 1860 daughter Ellen married Thomas SWAIN, son of Marie Marguerite ALLARY and John Jacques SWAIN (1818-1855).
In 1861 daughter Mary married Henry Fleury SAYER, son of Josephte FROBISHER and Pierre Guillaume SAYER (1796-1853). ** MORE ABOUT PIERRE GUILLAUME SAYER
In 1863 son Alex Jr. married Victoria FIDLER, daughter of Elizabeth HALLETT and Alban FIDLER (1809-1879).
Canadian Confederation
Red River Métis Rebellion
Manitoba becomes a Province
1867-1870
On July 1, 1867 the British colonies in North America were united under the British North American Act to become the Dominion of Canada. Sir John A MACDONALD (1815-1891) was appointed as Canada's first Prime Minister.William McDOUGALL (1822-1905) became the Minister of Public Works, and he began negotiations to acquire Rupert's Land from the HBC. Surveyors were sent out to prepare the way for an expected influx of settlers.
On Oct 11, 1869, Louis RIEL (1844-1885) placed his foot on the surveyors' chain to tell them their work was finished. This marked the beginning of the historic Red River Métis Rebellion.
On July 15, 1870 Manitoba became the fifth province of Canada.The Rebellion was essentially over and Louis RIEL fled to Montana in fear of his life.
In 1870 son Peter married Marguerite TURCOTTE, daughter of Madeleine CAPLETTE and Vital TURCOTTE (1818-1882).
In 1874 additional legislation granted $160 Half-breed Scrip, redeemable in Dominion lands, to all Métis heads of families. However, as most students and scholars of Métis history are aware, very little of this land and Scrip remained in Métis hands by the late 1870s. Instead, the period from 1870 to 1890 saw the widespread dispersal of the Métis from Red River.
The Founding Families of Bresaylor, Saskatchewan
1881-1882
In the fall of 1881 son Charles BREMNER and Peter TAYLOR (1840-1920) went west to scout out an area to establish a settlement away from the turmoil associated with the RIEL uprising in Manitoba. Story has it that their original intention was to go to the Peace River region, but that they were so impressed with the plentiful grass and water in the area that is now Bresaylor district of Saskatchewan that they decided to stay. Their families, and others, were sent word to come out the following spring.
In 1881 daughter Mary died in child-birth. Her widowed husband, Henry Fleury SAYER would re-marry in 1882 to Elise BEAUCHAMP,daughter of Marie Anne GONNEVILLE & Jean Baptiste BEAUCHAMP (b-1829).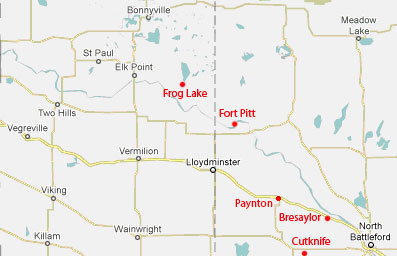 During the summer of 1882 Widow Elizabeth TWATT-BREMNER, along with her sons James and Charles BREMNER and their brother-in-law Henry Fleury SAYER travelled out to Bresaylor with their families. Burdened with their livestock and farm implements they had to travel very slowly. The trip took a total of nine weeks. Charles entered his homestead on what is now Section 9-46-19-W3. The land at that time was not surveyed. They somehow got houses built for everyone by all working together and by facing each task as a group. And so it was that the settlement was named BRESAYLOR, using three letters from each of the founding families (BREMNER, SAYER & TAYLOR).
RIEL returns to the Northwest
Another Rebellion – The Battle of Batoche
1884-1885
By the spring of 1884 Métis discontent in Saskatchewan reached the point that a delegation of men led by Gabriel DUMONT (1837-1906) travelled to Montana where they convinced Louis RIEL to come to Batoche to lead their negotiations with the Federal Government. What followed was the historic Battle at Batoche which ended on May 12, 1885 when Louis RIEL surrendered and Gabriel DUMONT fled to the USA.
On May 19, 1885, Chief POUNDMAKER was taken prisoner after the Battle at Cut Knife HILL.
On Jun 13, 1885, Widow Elizabeth BREMNER died while members of her family were in the camp of Chief POUNDMAKER. ** This according to Wayne Jones, a descendant of her son, Henry SAYER.
Wayne Jones: On August 25, 1885 Charles BREMNER, James BREMNER, Henry SAYER and others were arrested and charged with Treason Felony (along with POUNDMAKER). They were held in Regina until their case was discharged on September 8, 1885.
Please post comments and queries at this link: FORUM DISCUSSING the ALEXANDER BREMNER FAMILY
====================== Family Details ======================
Children:
1. 1815 JOHN BREMNER (m. Mary FRASER)
2. 1818 SARAH BREMNER (m. Peter BROWN)
3. Apr 24, 1824 WILLIAM BREMNER (m1. Marguerite ALLARY, m2. Marie GARIEPY, m3. Marie HOGUE)
4. 1825 THOMAS BREMNER (m1. Louisa SUTHERLAND, m2. Marie ALLARY))
5. 1827 ELIZABETH "BETSY" BREMNER (m. Denis CAPLETTE)
6. Apr 14, 1831 ELLEN "NELLIE" BREMNER (m. Thomas SWAIN)
7. Jul 27, 1832 NANCY ANNE BREMNER (m. Edward FIDLER)
8. Dec 30, 1833 JAMES BREMNER (m. Letitia "Lettie" FIDLER)
** MORE ABOUT JAMES BREMNER
9. 1835 CHARLES BREMNER (m. Emily WELLS)
9. 1837 ALEXANDER BREMNER JR (m. Victoria FIDLER)
10. 1840  MARY BREMNER (m1. Henry "Fleury" SAYER)
11. c1842 PETER BREMNER (m. (m. Marguerite TURCOTTE)