JOSEPH CAPLETTE (c1770-1862)
ANGELIQUE GUIBOCHE (1785-1862)

(Last Updated: April 08, 2017)
Joseph CAPLETTE was born around 1870 in Sorel, Quebec (NE of Montreal on the St Lawrence River).  He was the eldest son of Josephte (nee PRET-A-BOIRE) and Joseph CAPLETTE SR (Born 1743 in New France).
Connubial Relationship with Marie Angelique GUIBOCHE
1805
By about 1805 Joseph was in a connubial relationship with Angelique GUIBOCHE in St Boniface (Red River), daughter of Angelique and Louis GUIBOCHE (1755-1859).
The First Selkirk Settlers Arrive at the Forks of the Red River
The Seven Oaks Massacre
1812-1816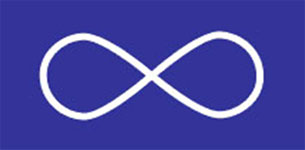 The Metis Flag
During the winter of 1811-12, Miles MacDONELL (1767-1828), the new Governor of Assiniboia, was at York Factory with the first group of Lord SELKIRK's settlers; too late in the season to proceed to Red River. William HILLIER was with them. ** MORE ABOUT MILES MACDONELL in DCBO
On June 1, 1816 Peter FIDLER(1769-1822) recorded the first sighting of the Metis Flag in his diary: "At half past noon about 48 Half-Breeds, Canadians, Freemen and Indians came riding on horseback with their flag flying, blue, about four feet square and a figure '8' horizontally in the middle". Cuthbert GRANT (1796-1854) then proceeded to Red River, and on June 19 The Battle of Seven Oaks occurred with Governor SEMPLE and twenty of his men killed on Frog Plain. The Metis then took Fort Douglas.
YOUTUBE VIDEO ABOUT THE BATTLE OF SEVEN OAKS

** MORE ABOUT THE BATTLE OF SEVEN OAKS in WIKIPEDIA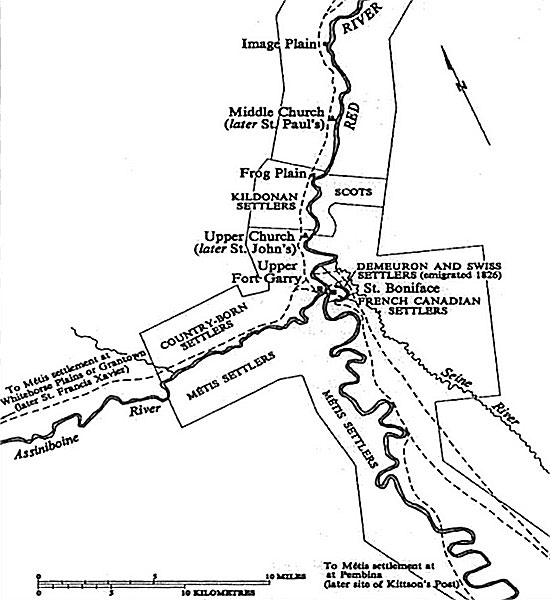 Red River Forks 1835
On Nov 1, 1818, Father Joseph-Norbert PROVENCHER (1787-1853) built a small log chapel which he dedicated to Saint Boniface, the English missionary monk and apostle, who spread the Catholic faith among the Germanic tribes in the 8th century.  Saint Boniface, the first permanent mission west of the Great Lakes, became the heart of Roman Catholic missionary activity extending to the Pacific and the Arcitc coasts, as well as serving the growing population of the Red River Settlement.
** MORE ABOUT FATHER JOSEPH-NORBERT PROVENCHER in DCBO

Around 1819 daughter Angelique was the wife of Antoine HENRY dit ALLARY, son of Francoise and Michel ALLARY (1765-1814).
Union of the North West Company with the Hudson's Bay Company
1821
In 1821 the union of the North West Company (NWC) and the Hudson's Bay Company (HBC) occurred, ending the years of bitter rivalry for dominance of the fur trade in Western Canada. After the merger, almost 1,300 employees lost their jobs since the single HBC organization that emerged had no need for most of the voyageurs and fur traders.
Joseph and Angelique are Church-Wed
1833
On Feb 28, 1833 Joseph (age 55) was 'church-wed' to Angelique, who had been baptized the previous day at the age of 48 (a pre-requisite to marriage).
In 1836 daughter Madeleine married Vital TURCOTTE (1818-1882) in St Boniface.
Around 1839 son Louis married Isabelle Josephte ROCHON of uncertain origins.
In 1843 son Joseph married Margaret BRACONNIER in St Boniface.
Perhaps around 1843 daughter Marie married George SAYER in St Boniface, son of an Ojibway woman and John Charles SAYER (1782-1838). ** MORE ABOUT JOHN CHARLES SAYER
Around 1845 Denis married Elizabeth BREMNER in St Johns, daughter of Betsy TWATT and Alexander BREMNER (1791-1842). ** MORE ABOUT ALEXANDER BREMNER
In 1847 son Jean Baptiste married Marie Anne WARD in SFX, daughter of Angelique BRUYERE and Jean Jacques 'John' WARD (b-1780).
On Feb 11, 1862 Joseph CAPLETTE died; buried next day in St Boniface.
By about 1862 daughter Charlotte was the wife of Louis VALLEE / LAVALLEE (1828-1888) of uncertain origins.
In 1863 daughter Marie-Louise had a child with Pierre DUCHARME of uncertain origins.
Comments and queries at this link: FORUM FOR DISCUSSING THE FAMILY OF JOSEPH CAPLETTE
========================== Family Details ==========================
Children:
1. 1805 ANGELIQUE JOSEPHTE "SUZETTE" CAPLETTE (m. Antoine HENRY dit ALLARY)
2. 1814 LOUIS CAPLETTE (m. Josephte Isabelle ROCHON)
3. 1817 MARIE CATHERINE CAPLETTE (m. GEORGE SAYER)
4. 1818 MADELEINE CAPLETTE (m. Vital TURCOTTE)
5. 1821 JEAN-BAPTISTE CAPLETTE SR (m1. Marie-Anne WARD, m2. Madeleine PARISIEN)
6. Dec 1, 1823 DENIS CAPLETTE (m. Elizabeth "Betsy" BREMNER)
7. 1827 JOSEPH CAPLETTE (m1. Margaret BRANCONNIER; m2. Genevieve DAIGNEAULT; m3. Marie Anne WARD)
8. 1831 CHARLOTTE CAPLETTE (m. Louis VALLEE)
9. 1837 MARIE-LOUISE CAPLETTE (m1. Pierre DUCHARME, m2. Pierre DESNOYERS)