GEORGE SAYER/ SAYERS (1812-1882)
CATHERINE CAPLETTE (1817-? )
(Last Updated: April 08, 2017)
George SAYER / SAYERS was born around 1812, most likely at Lac la Pluie (Ft Frances) or Fort William where his father, John Charles SAYER (1782-1838), was a clerk and interpreter for the North West Company (NWC). His mother (Marguerite) was an Ojibway woman. ** MORE ABOUT JOHN CHARLES SAYER
George was a direct descendant of Englishman John SAYER (1750-1818) who came to the Lake Superior region in 1776, married an Ojibwe woman named OBEMAU UNOQUA, and became a shareholding partner in the NWC.
By 1818 George's older brother, Pierre Guillaume SAYER (1796-1853), had begun the life of a voyageur with the North West Company (NWC), and was working out of Cumberland House in northern Saskatchewan.
Union of the Hudson's Bay Company and the NWC
1821
In 1821 the Union of the North West Company (NWC) and the Hudson's Bay Company (HBC) occurred, ending years of bitter rivalry for dominance of the fur trade in Western Canada. After the merger, almost 1,300 employees lost their jobs since the single HBC organization that emerged had no need for most of the voyageurs and retired fur traders. Unfortunately, the HBC began replacing Métis voyageurs with Orkney men. Racism was becoming entrenched in the HBC system by the time George was a young man and it would have been difficult for him to get a good position with the Company in spite of the experience he must have gained working with his Dad. HBC policy was not to employ 'Natural Canadians' in any supervisory position.
At the time of the union, (Sir) George SIMPSON (1786-1860) became the Governor of Rupert's Land. On May 20, 1822, SIMPSON reported to the board of governors of the HBC that he had established a fort at the junction of the Red and Assiniboine Rivers. He named it Fort GARRY (the Upper Fort). Around this fort was to grow the city of Winnipeg.
George, and his brother Pierre, grew up in the heartland of the fur trade. Their home was located in an area of particularly concentrated activity.  This was the gateway to the west and these were exciting times!  When he was a lad he watched canoe brigades paddling by, filled with singing voyageurs.  Some would be loaded with fur-bales inbound for Montreal, others laden with trade goods for the outposts.  No doubt when he travelled with his Dad he mingled with many of the famous explorers of the day, listening intently to their adventurous tales.  There is little doubt; George was destined to become a Voyageur just as soon as he was able to lift a paddle!
In the 1830 Census of Michigan Territory, George and his family were enumerated in Michilimackinac County (Sault Ste Marie - Makinaw area).
George becomes a Voyageur with the HBC
1831-1853
In 1831, according to the HBC Archives, George began his career with the HBC in the Lac la Pluie District as an Apprentice Labourer, later as a Voyageur (bowsman, middleman and steersman).
He was a young man in his early 20's then.  He eventually ended up in Manitoba.  His Dad (John Charles) was known have to have been at Oxford House in 1835 and it is very possible that George was there with him.  This is located along the Hayes River fur trade route, roughly mid-way, between York Factory on Hudson Bay and Norway House, the major staging point for the interior of the country.  This was the land of the Cree who had always been friendly with the Ojibwe.  Moose and caribou provided the most of the sustenance for the people of the area, supplemented by fishing and harvesting of wild fruits and rice.  In the winter of course, there was trapping, when families separated to go to their trapping areas.  In the spring and summer everyone would gather in the Jackson Bay area where marriages were arranged and economic ties were established, food was shared, feasts were had and stories were told.
In the early 1800's, a shallow wooden boat called a York boat had been developed. Most of the boats used between Oxford House and points west were constructed there by local carpenters up until about 1920. 
George was an experience voyageur and would have gained carpentry experience from his Dad.  It is very possible that he worked, at least from time to time for the HBC in those capacities, and would have travelled the Lake Winnipeg - Red River Settlement routes frequently.
In 1838 George's father, John Charles SAYER died at Lapointe (WI).
Pierre Guillaume SAYER, his brother, eventually became a free-trader who (illegally) trafficked in furs in the 1840's.  Pierre's arrest and trial in 1849 is well documented.  ** MORE ABOUT PIERRE GUILLAUME SAYER in DCBO

George had other relatives living in the Red River Métis settlements, mainly cousins who lived in the Saint Francois Xavier – Poplar Point areas along the Assiniboine River, west of Winnipeg.  Poplar Point is east of Portage la Prairie, as are Baie St Paul and St Eustache.  St Francois Xavier is just west of Winnipeg.  All of these areas were part of the Red River Settlement in 1870. Primarily French-Métis families lived in these areas. 
Marriage to Marie CAPLETTE
c1843-47
It was in the Red River district that George would have met and married Marie CAPLETTE from St Boniface, daughter of Angelique GUIBOCH (Métis) and Joseph CAPLETTE (1770-1862), a French Canadian farmer. Their first child was George Jr., born around 1844-45, probably in Headingly Parish, west of Winnipeg.
Birthdates are uncertain, but George and Marie probably lived somewhere in the Poplar Point area after they married.  They had 3 children by about 1850, George Jr. (Eldred's Great Grandfather), was born around 1844, John, and Marie Margaret, born 1850 at Baie St Paul.
The Métis "Battle of Grand Coteau" took place July 14, 1851,when George Sr was about 39 years old. Many of the Métis had Ojibwe parents or grandparents so, in a way, it was the last battle between the Sioux and the Ojibwe.  Grand Coteau (Big Hillock) was SW of Minot, ND. It is said that Isidore DUMONT and his son, Gabriel DUMONT (1837-1906), born RRS, hero of the Battle at Batoche (1885), returned to RRS in 1848 and took part in this battle as a teenager.
In 1853, George's last position with the HBC was indicated as that of a Guide working out of Lac la Pluie.
In 1854 daughter Caroline was born. Details' regarding George's other children; Isabelle, Edward, and Madeline are pretty fuzzy.
In 1861 son John married Mary FIDLER in St Boniface. Mary was the daughter of Charlotte SLATER and Clement FIDLER (1814-1870), she was a grand-daughter of Peter FIDLER of Bolsover (1769-1822).
Canadian Confederation
A Red River Rebellion
Manitoba becomes a Province
George at Poplar Point
1867-1870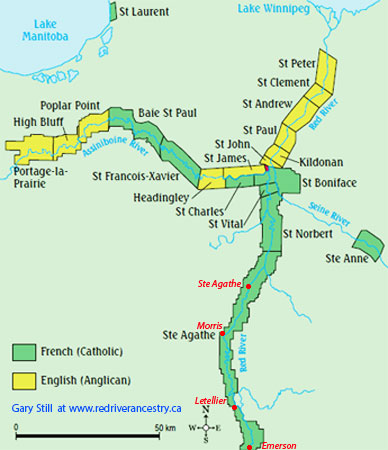 Red River Parishes in 1870
On July 1, 1867 the British colonies in North America were united under the British North American Act to become the Dominion of Canada.  Sir John A MACDONALD (1815-1891) was appointed as Canada's first Prime Minister; a month later he won the first federal election.William McDOUGALL (1822-1905) became the Minister of Public Works, and he began negotiations to acquire Rupert's Land from the HBC.
In 1867, at St Peters, daughter Marie married Richard FAVEL, son of Euphemia ANDERSON and Richard FAVEL SR (1812-1873).
In 1868 George's nephew, Edward SAYER, died at the hands of the Sioux at Fort Benton.
Around 1868 son George Jr., married Emma CAMPBELL, daughter of Nancy HENRY and Duncan CAMPELL (1810-1885). They became my wife (Eldred's) maternal great grandparents. ** MORE ABOUT DUNCAN CAMPBELL
On Oct 11, 1869, Louis RIEL (1844-1885) placed his foot on the surveyors' chain to tell them their work was finished! This marked the beginning of another Red River Métis Rebellion. When it was all over, RIEL's Provisional Government accepted the terms of the Manitoba Act and on July 15,1870 Manitoba became the fifth province of Canada, the Canadian Government having acquired the territory previously governed by the HBC. At this time George would have been about 58 years old.
Census 1870: George was listed at Poplar Point. With him were daughter Caroline (age 17) and son Edward (age 12). That yeardaughter Isabelle married in St Boniface, to Joseph VANDAL JR b-1851 St Andrews, son of Adelaide CHARBONNEAU and Joseph VANDAL SR (1798-1877).
 In 1874 daughter Caroline married 1874 in St Eustache, MB, to Alexander DESJARLAIS, son of Marie BOTTINEAU and Francois DESJARLAIS b-c1795.
George\s Scrip Affidavit: Aug 20, 1875 at Poplar Point Parish, County Marquette, co-signed by Andrew SPENCE and James TAYLOR, for George SAYER of Poplar Point. George stated that he was born 1825 (has to be an error), son of Marie INDIAN and John SAYER. He stated that he, and his wife and children were residents in the Parish of Poplar Point on July 15, 1870.  Scrip was issued Oct 2, 1876.  He signed with an X and spoke Ojibway.
Around 1880 son Edward married Nancy ASHAM, daughter of Marie FOURNIER & William ASHAM (c1827-c1890).
On Sep 22, 1882 George SAYER died, about 70 years old. He was buried in St Boniface.
Please post comments and queries at this link: FORUM DISCUSSING GEORGE SAYER & FAMILY
============================ Family Details ============================
Children:
1. 1844 GEORGE SAYER JR (m. EMMA CAMPBELL)
** MORE ABOUT GEORGE SAYER JR
2. 1847 JOHN SAYER (m1. Emma CAMPBELL; m2. Marie FIDLER)
3. 1850 MARIE MARGUERITE SAYER (m. Richard FAVEL Jr)
4. c1853 ISABELLE SAYER (m1. Joseph VANDAL Jr, m2. Joseph LAGIMODIERE)
5. 1854 CAROLINE SAYER (m. Alexandre DESJARLAIS)
6. 1858 EDWARD SAYER (m. Nancy ASHAM)
7. 1862 ALEX SAYER
8. Nov 9, 1864 MARY (MARGARET) SAYER
9. Jan 22, 1866 ALICE MADELINE SAYER