Thanks Wayne!
Up front, I must acknowledge the gentleman who helped me get started with my own SAYER Family research back in the 80's. That was Wayne Jones, himself a descendant of John SAYER. On his website, Keeping Up with the Joneses, Wayne presents the results of his extensive research on the life and genealogy of John SAYER. For anyone interested in details and references, a visit to 'Wayne's Place' is a definite must. ** See links at bottom **
My own family's ancestral link to John SAYER begins with my wife's grandmother, Caroline SAYER (1872-1948) and James FIDLER (1870-1929), parents of my father-in-law, Ventrice (FIDLER) THOMAS (1893-1985).
JOHN SAYER (1750-1818)
NANCY (OBEMAU-UNOQUA) (1786-?)
ELIZABETH McPHERSON (1795-?)
(Last Updated: January 25, 2013)
JOHN SAYER was born about 1750 in Yorkshire, England. So far I have found nothing, not even a hint, regarding John's origins or his family in England.  
The following events occurred as SAYER grew into manhood, news of which obviously inspired him to become a free-trader.
John would have been about 10 years old in 1760 when French General MONTCALM was defeated by British General WOLFE on the famous Quebec Battle on the Plains of Abraham. The French era of fur trade in North America was effectively over. It transferred control of the country into English hands and launched a new period of colonization that would make minorities of the French Canadians, known as 'Canadiens', who until that time had dominated the fur trade in the Great Lakes region.
Montréal remained the organizational hub of the fur trade. However, 'Canadien' merchants were no longer granted transportation contracts for the West or the financing they required for large expeditions. French Forts on the northern lakes were given up to the British. 
The French may have been defeated, but the Ojibwe tribes around the Great Lakes remained on friendly terms with their allies at first, while retaining contempt for the English invaders. One such French ally was John SAYER's future father-in-law, Ojibwe War Chief Big Foot MAMONGAZIDA, who had fought on the side of MONTCALM during the British conquest. In fact he received a medal and a flag from the French for his bravery in the battle. He was also hardened veteran of many battles against the fierce Dakota Sioux.
** More about MAMONGAZIDA (Use the Back < Button to return here)
In 1763 Sir William JOHNSON (1715-1774) was the Superintendant of Indian Affairs in New York, and he had the power to grant licences to American traders into the Great Lakes region. That year he had granted a licence to Alexander HENRY the ELDER (1739-1824). HENRY was one of the first English traders to try to take an early advantage of the new economic opportunities in the newly acquired British territory.
** More about Alexander HENRY the ELDER (Use the Back < Button to return here)
Interestingly, around this time Sir JOHNSON had a young Scottish clerk by the name of Simon McTAVISH (1750-1804) serving under him, learning the business of fur-trading and gaining exposure to life on the frontier. McTAVISH would become one of the founding fathers of the North West Company.
It would take a while for English traders to gain acceptance by the Ojibway who had been staunch allies of the French. This is certainly born out by the welcome received by HENRY when he first arrived in the Sault Ste Marie area. He encountered hostile resistance from them, barely escaping with his life. Fortunately for HENRY, he had French partners, but he actually tried to disguise the fact that he was English.
In 1765 Joseph HOWARD (c1730-1797) formed a trading partnership with Edward CHINN (1732-1802) and Henry BOSTWICK. HOWARD was one of the first British traders at Michilimackinac and Grand Portage.  John SAYER would later begin his fur-trade career in association with this group.
Because of incidents such as those experienced by HENRY, British traders dared not extend operations into the more remote villages of the Ojibway, fearing their hostilities. However, after a few years the Ojibway began to feel the pinch. They had become accustomed to easy access to trade goods, and the commodities made available by the early French traders, who were now being sanctioned in their activity. The most prominent and influential chief on Lake Superior at that time just happened to be the aforementioned Big Foot MAMONGAZIDA, residing at Lapointe.
In 1768 BIG FOOT was asked by his people to go to New York to deliver a message to Sir William JOHNSON requesting that a trader be sent to reside among them. BIG FOOT was known for his hatred of the British. He had fought against them at Quebec only eight years previous. So it was with some trepidation and reluctance that he undertook this quest. He was therefore surprised at the warm welcome he received from JOHNSON. He was presented with a broad wampum belt of peace, setting a foundation of lasting good-will and the commencement of active communication between the British and Ojibways of Lake Superior. Thereafter, through the attentions he received from JOHNSON, BIG FOOT became a friend to the English as well. He returned to the Chequamegon area where he and his son (WAUBOJEEG) resumed their wars against the Sioux, and the English traders soon came.
In 1774 Sir William JOHNSON died at Johnstown, NY.  The JOHNSON family were, to all intents and purposes, the ruling family of the Valley of the Mohawk, living as aristocratic nobles, surrounded by a sort of feudal system borrowed from the old world. It is said that they had an estate of 200, 000 acres, the largest in the world at the time. Heir to Sir William was his son, Sir John JOHNSON (1741-1830).
John SAYER Arrives on the Canadian Scene at the time of the
American Revolutionary War or the War of Independence
1776
In 1776 the American Revolutionary War or the War of Independence was formally declared. That spring, Sir John JOHNSON travelled to Montreal, commissioned to recruit the first battalion of the King's Royal Regiment of New York. The "Royal Yorkers", as they became known.
Meanwhile, Sir John's brother-in-laws, Daniel CLAUS and Guy JOHNSON (1748-1788), a nephew of Sir William JOHNSON, strove in vain to keep the Mohawk valley loyal. They, along with many other settlers of the Mohawk Valley, fled with their families to Quebec (near Montreal).
I believe it was more than a simple coincidence that our John SAYER appeared on the Canadian scene around the time of the American Revolution. Perhaps he was among the settlers who fled the Mohawk Valley for Quebec around that time. It is also interesting to note that the primary distributor of maps used during the Revolution was one Robert SAYER (1725-1794) from England (in partnership with John BENNETT). However, I have been unable to establish a link from our John to this family.
Around this time, John SAYER first appeared in the Canadian/American fur trade scene at the age of 26. He was first active in the Fond du Lac district as a free trader.  It is unlikely that he would have started out on his own. It is said that he initially had he had an association with previously mentioned Joseph HOWARD & James Dyer WHITE.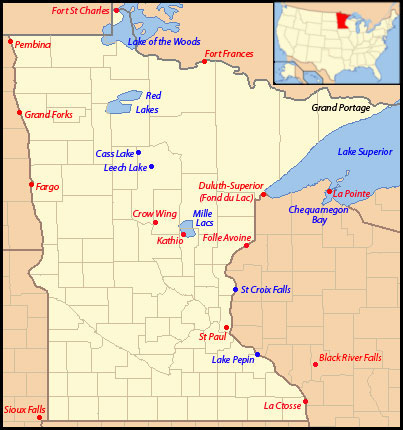 Minnesota
Merchants in Montreal, Detroit, Michilimackinac, and other posts hired voyageurs and engages to take canoes to the interior to trade with the Indians and return with furs, often leaving one of their men to winter with the Indians to sell the remainder of the goods. A number of the winterers stayed with the Indians, adopted their ways, and married Indian women.
It was a custom with SAYER to load up his canoes with trade-goods in Montreal or Michilimackinac in the fall; engage in trading in the Fond du Lac area during the winter, and return with his furs to his home base for the summer. He was apparently one of the earliest traders to winter at Leech Lake, MN. Fond du Lac is located SW of present day Duluth; Leech Lake is further to the west (See Map above).
In 1779, having aided an American prisoner (Thomas BENTLEY) to escape from Montreal, Joseph HOWARD was arrested for going to trade in the Upper Country without a license. In 1780 SAYER became HOWARD's Agent. In March of that year HOWARD was fined £50 for an unlicensed trip to Michilimackinac, and in May, SAYER was allowed to "collect his effects" from the post but not to trade.
In July 1781 HOWARD received a pass, too late for it to be of use. After missing three trading seasons he faced bankruptcy. He complained to the authorities that his interests suffered from his not being allowed to visit Mackinac, whereupon he received a permit to adjust his affairs the following year.
Beginning in 1781, outbreaks of smallpox would kill thousands of Ojibway around Lake Superior.  Upon returning to Leech Lake for the winter that year, SAYER found that most of the Ojibway with whom he had traded had died from the epidemic. During the same year he joined with other Michilimackinac merchants in protesting the interference of government officials in the fur trade. 
JOHN SAYER Marries NANCY (OBEMAU-UNOQUA)
c1781
Around 1781, Nancy OBEMAU UNOQUA became the wife of John SAYER. Nancy, as before mentioned, was the daughter of Chief Big Foot MOMANGAZIDA. True to her name, which means "Chief Woman", her father and grandfather were chiefs, and her brother WAUBOJEEG was also a chief. Marrying into such an influential family provided many advantages for a trader, increasing his stature among the Ojibway of the region. Their first child was probably John Charles SAYER, born around 1782.
Formation of the North West Company
1783
In 1783, the North West Company (NWC) was officially created, with its corporate offices on Vaudreuil Street in Montreal. It was led by businessmen Benjamin FROBISHER, his brother Joseph, and Simon McTAVISH, along with investor-partners who included Robert GRANT, Nicholas MONTOUR, Patrick SMALL, William HOLMES and George McBEATH. The new company would re-invent itself at least twice in its first four years.
Around 1784 son Henry SAYER was born in the Fond du Lac district.
SAYER and the General Company of Lake Superior and the South
1785-1787
In 1785, perhaps in response to the recent emergence of the North West Company, SAYER entered an agreement organizing the General Company of Lake Superior and the South (also known as the General Society).John (Jean Charles) CHABOILLEZ (1736-1808) and Etienne CAMPION (1737-1795) were among the partners of this Company. Because of his previous experience, SAYER was appointed the company's Director of Operations for the region south and west of the lake.  The American Revolution ended, and the number of traders around Michilimackinac had grown so alarmingly that SAYER and other merchants formed a committee to try to regulate the market.  SAYER was becoming an ambitious business man.
Around 1786 daughter Julia SAYER was born.
Around 1787 the short-lived General Company dissolved itself.
SAYER and the Sandy Lake Company
1788-1790
In 1788, John SAYER formed the Sandy Lake Company (a two-year partnership), together with Jean Baptiste CADOTTE Jr. (1761-1818), CAZELET, Joseph REAUME (1739-1796), Alex REAUME, Gabriel ATTINA dit LAVIOLETTE and Jean Baptiste PERRAULT (1761-1844).  He built a post on the St Louis River (Fort St Louis or Fond du Lac, now Superior, WI).
During the winter of 1789-90 SAYER was on Upper Red Lake, as part of a trade expedition with Joseph REAUME, CADOTTE and LAVIOLETTE.
During the winter of 1790-91 PERRAULT & LAVIOLETTE were at Leech Lake; SAYER at Fond du Lac; CASELET & Alex REAUME at Pine River; Joseph REAUME at Wild Rive Lake (west of Leech Lake) (White Oak Society)
John SAYER & Company
1791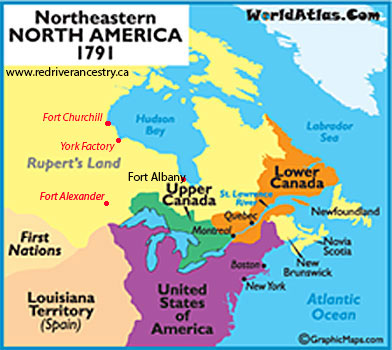 Upper and Lower Canada were created in 1791
In 1791, John formed his own John Sayer & Company and became a free trader again.
From Johannes' notes: John JOHNSON (1762-1828), who later married MAMONGAZIDA's granddaughter(Susan  OZHAGUSCODAYWAYQUAY, daughter of Chief WAUBOJEEG) says that in the fall of 1791 the old man (MAMONGAZIDA) arrived in a pitiful condition with his two wives and a married daughter (Nancy?) who had been rejected by her Whiteman husband (John SAYER?). During this period John SAYER was very busy. He set up a warehouse for his new company in Sault Ste. Marie. He then went further west to Leech Lake etc. to collect furs. However, while he was gone the CRANEs burned his warehouse and it was a total loss. This put an early end to his company and he joined the North West Company in order to get started again. It may be that he left his wife with her father during this time.

Around 1791-92, Nancy's father, Big Foot MAMONGAZIDA died at Chequamegon.
Family Problems
If John was indeed having marital problems around this time, especially with the loss of his influential father-in-law, it would have definitely had an effect on his trading relationships with the Ojibwe of the region. Certainly hereafter it becomes more and more difficult and problematic to determine the parentage of the SAYER children that followed. At some point John began a relationship with Elizabeth McPHERSON and Nancy with an Indian named WAYZOWAGEQUANG. There are numerous records referring to children with the surname SAYER born hereafter in the Lake Superior region that are hard to explain, and very few, if any, SAYER's of the vintage of  our John and Nancy SAYER to link them to. I have included a few at the end of this narrative that might stimulate some interesting discussion and debate. I look forward to further input from other descendants on the Forum of this website..
SAYER Becomes an Agent for the North West Company
1793-1797
In the fall of 1793 SAYER had his own company (John Sayer & Co) and he was, perhaps, a little over-ambitious when he also joined the NWC as an Agent. He hired his old friend Jean Baptiste PERRAULT to build a fort (Ft St Louis) at the head of Lake Superior. His only intention was to block the Coureurs du Bois from their favourite Fond Du Lac route to the Northwest. This attempt to control the Coureurs de Bois is confirmed it 1794.  Forsyth, Richardson & Co and Alexander HENRY & Co. all concluded that this attempt to control the Coureurs de Bois would never pay for itself. SAYER and LeTANG were reported as working together that season.
In 1794 there was discontent among the winterers of the NWC, due to small shares and poor trade goods.  They increased their shares to the winterers and made clerks eligible for partnership.  Jay's Treaty gave reciprocal trading rights to British and American traders, each were allowed to trade on the other's territory.  The treaty also opened New York for direct shipment of furs from Detroit and Michilimackinac. John Jacob ASTOR became involved in the fur trade.
These were trying times for SAYER. Competition amongst the various fur trade companies was intense. He was required to travel widely in the region under his command and he was not getting any younger. Over the next few years he wintered at Lac de la Sangsue (Leech Lake), White Oak Point (near Deer River, MN), Upper Cedar Lake (Cass Lake, MN) and on the two tributaries of the St Croix River (the Yellow River (WI) and the Snake River (MN). Vincent ROY Sr began to trade at the Thief River and Upper Red River (of the North) Posts for Sayer & Co. At Portage la Prairie, MB, were Joseph REAUME and DeJADON (a clerk of LaVIOLETTE's), opposed to William McKAY of the NWC and John LINKLATER of the HBC. 
Over the next few years, SAYER traveled widely in the region under his command, wintering at Lac de la Sangsue, White Oak Point, Upper Red Cedar Lake, Snake River, Folle Avoine and Pembina, ND (He, and Joseph REAUME, had been at Pembina before Alexander HENRY the YOUNGER).
John SAYER Becomes a Shareholding Partner in the North West Company
1797
In 1797, John SAYER dissolved his own company and, having served more than two years as a 'winterer', he became a shareholding partner in the North West Company, a true Nor'Wester. Vincent ROY Sr established a post on the Upper Red River (of the North) in October that year, continuing his association with SAYER.
In the spring of 1798, David THOMPSON (1770-1857) described JOHN SAYER SR as "poor in flesh" from his winter's subsistence on wild rice and maple sugar at Upper Red Cedar Lake. That fall, SAYER arrived at the head of Lake Superior with his family. He hired his old friend Jean Baptiste PERRAULT to build a fort there (Fort St Louis was near present-day Duluth-Superior, Wisconsin).  This fort would play an important part in the history of the region for many years to come. It served not only as the central distribution point, but also the NWC headquarters for the whole of the Fond du Lac Department. It was the economic center of the then American Northwest. Each summer, traders from all directions met there (from the upper St Louis, the Nemadji, the Crow Wing, Pine River, Sandy Lake, Cass Lake, Leech Lake, Red Lake, and points even as far away as Red River (Pembina).
A 1799 list of employees at Fond du Lac included: John SAYER (proprietor), JB CADOTTE, Charles BOUSQUET, Jean COTON, Ignace CHENIER, Joseph REAUME, Eustache ROUSSIN, Vincent ROY.
The NWC around this time was in competition, not only with the HBC, but also with Alexander MacKENZIE's new splinter group called The XY Company.  The NWC was the dominant entity, controlling approx 75% of the fur trade in British North America.
1800-1804
In 1800 Alexander HENRY the YOUNGER established a post at Park River (Pembina).SAYER's summers were customarily divided between the annual rendezvous, held until 1802 at Grand Portage (near Grand Portage, MN) and subsequently at Kaministiquia (Thunder Bay, ON), and business at his district headquarters. 
Around 1802 it is said that John's eldest son, John Charles SAYER, was moved to Folle Avoine Dept. to "curb the Generosity of Joseph REAUME & Joseph LaPRAIRIE"  His Dad (John Sr.) would only be about 12 miles away, building a post at Snake River (1804-05 re his SR Journal), so he could keep an eye on things.  By 1803, John Charles had an Ojibwayan wife named Marie or Marguerite, and his first child, Pierre Guillaume SAYER was born around that time.
Journal of Francois Victor MALHIOT 1804-05:  July 19, 1804 entry:  - obliged to put in at Petite Peche, at the entrance of the Fond du Lac River, because it was blowing too hard.  At 4 o'clock I went to Mr SAYER's Fort.  I found him still in bed and had the honor of breakfasting with him.  He did me the favour of giving me a keg of sugar for a keg of rum.  At 9 o'clock, I took a leave of him and rejoined my men at the entrance of the river.  By the time MALHIOT met him, John had become a "wintering partner" in the NWC, and had signed an agreement with the XY Co, by attorney. - Aug 2 entry:  - arrived at Ft Du Flambeau - found GAUTHIER quite disconcerted, trembling, and not knowing what to say.  I read him a letter fro William McGILLIVRAY which frightened him still more and made him shed tears.  I gave him all the messages from McGILLIVRAY and Mr SAYER, remonstrated with him in every way, after which he admitted his errors.
In November of 1804, Simon McTAVISH died, the NWC and XY Co merged, and William McGILLIVRAY, a nephew of Simon McTAVISH, took command.  This seems to have been the beginning of SAYER's demise.  He apparently failed to gain favour of the new men in charge. 
TenderTies pg 80: At Fond du Lac in 1804 when the wife of bourgeois John SAYER decided to go on a sugar-making expedition, four men went with her to carry her baggage and provisions and later returned to fetch home her things.  Some voyageurs were observed helping their wives in ways which would have been beneath a man's dignity in Indian society. (This makes me wonder if John may have actually began a relationship around this time with Elizabeth McPHERSON)
John SAYER's Snake River Journal
1804-1805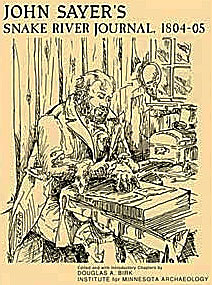 I have this book
By the winter of 1804-05 SAYER was building a post at Snake River where he wrote "John Sayer's Snake River Journal Sept 1804 to Apr 1805", a document frequently referred to by historians.  One such reference states  "SAYER's stay on the Snake River was at the height and conclusion of the competition between the NW Co and the XY Co." , "Left unmentioned was his own love of the bottle"
John SAYER & Elizabeth McPHERSON
1805
In 1805 the old NW Co merged with the New Northwest Co and SAYER signed a document expanding it from 92 to 100 shares.  He took his allotted "rotation"(furlough) to Lower Canada where he apparently had, or would, become attached to an ELIZABETH McPHERSON.  He begins to trade at Lac des Chats Post on the Ottawa River (west of Ottawa). It would seem natural that this union would not have met with much approval by his Métis children.  He had abandoned OBIMAU-UNOQUA and their children, just as her brother WAUB-O-JEEG had feared!  Their marriage had obviously been one of convenience. 
In Documents relating to NWC:  The Proprietors having met on July 11, 1807, Mr Duncan McGILLIVRAY, on the part of the Agents, brought a charge of irregularity against Mr SAYER for absenting himself from his post on two different occasions, contrary to the opinion of the said Agent, and unmindful of the interest of the Concern - - made the following proposition. Should he decline the same, he must come up to this place next yr to resume his former situation as a Wintering Partner - - 1st - Mr SAYER to retire from the NWC as an Active Partner - - 2nd - In consideration of such retiring & relinquishment as above said - the NWC to assign to SAYERS and his Heirs all their right and title to the farm at the Chats in the Grand River.  Mr Alexander McKAY proposed that should SAYER decline the above - he himself should have preference of accepting it, which was unanimously agreed to.
John SAYER Retires to Montreal
1808-1818
In 1808 John SAYER bought a 1,000 acre farm in Onslow Township on Lac des Chats in exchange for his company shares. Then, in 1809, almost 60 years old, he sold his estate to Duncan CAMERON and became a resident of St Anne-de-Bellevue on the Island of Montreal, Quebec. He sold his Second NW Co shares to McTAVISH, McGILLIVRAYs and Co. in 1810.  Subsequently, he was elected to the prestigious Beaver Club the same year, but doesn't seem to have attended any meetings.
In 1812 the "wintering partners" of the NWC numbered 38.  Include among these were listed Alexander MacKENZIE, Alexander HENRY, and John SAYER. This was the year that Thomas DOUGLAS, (Lord SELKIRK), established an agricultural colony at the junction of the Red and Assiniboine Rivers (now Winnipeg).
Death of John SAYER
1818
John SAYER, wife of ELIZABETH McPHERSON, died at the age of 68, and was laid to rest on Nov 2, 1818 at St-Anne-de-Bellevue, in Lower Canada, on the Island of Montreal. 
In his Will, John's "immediate family" was listed as Elizabeth McPHERSON (his Wife); his "natural children" (?) as Margaret, Henry, James; and his "dearly beloved niece"Louisa NASH WALKER. 
Please post comments & queries at this link: FORUM DISCUSSING the JOHN SAYER FAMILY
============================ Family Details ============================
Children by  OBEMAU-UNOQUA:
1. c1782 JOHN CHARLES SAYER [m. Marie Marguerite (Saulteaux Indian)]
** MORE ABOUT JOHN CHARLES SAYER
2. c1784 HENRY ROBERT SAYER (m. Mary RC CAMERON)
3. c1786 JULIA SAYER (m1. White Crane WAUBOJEEG, m2. Adolphus NOLIN)
Problematic SAYER Children:
1-2. JAMES & MARGARET SAYER
3. 1791 FRANCOIS SAYIS aka SAYER SR [Marguerite (Chippewa Native)]
4. c1802 MARY (MARGARET, SHAGONAUSHEQUAY) SAYER (m. John H FAIRBANKS)
Children of OBEMAU-UNOQUA and WAYZOWAGEQUANG:
At least seven children can be found in the references, all with fuzzy birth dates, etc. and with Indian names with
numerous spelling variations that only Ojibwe people would be able to interpret and discuss with much accuracy or
credibility.
============================ Notes, Links & References ============================
Link to Wayne Jones' Home Page: Wayne's Place

Go directly to Wayne's info about John SAYER

Some Other References:
John Sayer: Dictionary of Canadaian Biography Online