ALEXANDER HENRY THE ELDER (1739-1824)
A NATIVE WIFE
JULIA (nee CALCUTT) KITTSON (1756-1834)
(Last Updated: January 25, 2014)
Alexander HENRY the ELDER was born in August, 1739 in New Brunswick, New Jersey, USA.
Alexander HENRY the ELDER was a Great-great-great Grandfather of my (Gary Still's) late wife Eldred. Fortunately, his life story is well documented by numerous authors and historians (Links provided below) and I can concentrate on my own primary interests; his family relationships and his activities with regard to the early history of Red River.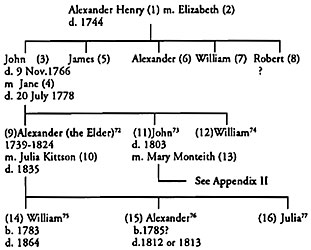 Early Genealogy of Alexander Henry the Elder from
The "Veil" Surrounding Alexander Henry, the
Elder's Mixed-Blood Sons (by Anatol L. Scott)
** MORE ABOUT ALEXANDER HENRY the ELDER in DCBO
** MORE ABOUT ALEXANDER HENRY the ELDER in WIKIPEDIA
** MORE ABOUT ALEXANDER HENRY the ELDER in ROOTSWEB
** MORE ABOUT THE ELDER'S MIXED-BLOOD SONS (By Anatol L Scott)
An excellent analysis and discussion of the early HENRY Family genealogy
Early in 1765 HENRY secured a license from Joseph HOWARD (c1830-1797) to trade in the Lake Superior area and in July he formed a partnership with Jean Baptiste CADOTTE (1723-1803). From my perspective it is interesting to note that Eldred's ancestor, John SAYER (1750-1818), started his fur trade career in the Lake Superior region in association with the same Joseph HOWARD. ** MORE ABOUT JOHN SAYER
Voyage to the Northwest
1775-1776
In 1775 Alex made his firstventure into the territory northwest of Lake Superior (he took four large and 12 small canoes). There he, CADOTTE, and other pedlars, including Peter POND and the FROBISHER brothers (Joseph and Thomas) challenged the Hudson's Bay Company (HBC). On 14 Oct. 1775 the group stopped at Cumberland House (SK), where Matthew COCKING (1743-1799) recorded their arrival.
In January of 1776, after setting up a trading post on Beaver Lake (Amisk Lake), HENRY set off to Fort des Prairies (Fort-à-la-Corne) on the Saskatchewan River in order to see the plains. Having satisfied his curiosity and secured some furs from the Assiniboines, he returned to Beaver Lake. In the early spring he went to the Churchill River, where he purchased 12,000 additional beaver skins from Chipewyans probably on their way to trade at Hudson Bay, and then returned to Beaver Lake and rounded up his furs. Some of the last packs were forcibly acquired from Robert LONGMOOR, an HBC employee who traded nearby. HENRY set off in July for Montreal, laden with prime furs.
In Montreal, he gave the governor, Sir Guy CARLETON, a large map of the western region through which he had travelled. That autumn, he sailed to England to present the HBC a proposal that he recruit Canadian canoeists to work for the Company.
Union with Widow Julia CALCUTT-KITTSON
1780
Around 1780 Alex (age 41) was in a connubial relationship with Widow Julia (nee CALCUTT) KITTSON from Newton-Limavady, Ireland. She was the widow of John KITTSON (born c1747) who came to Canada from England in 1759. She had two children with her previous husband (Mary & George KITTSON). Alex's eldest child with Julia (also named Julia) was born in October of 1780.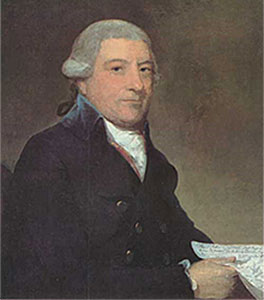 Alexander Henry the Elder (1739-1824)
(From Wikipedia)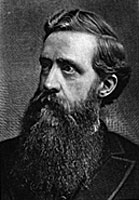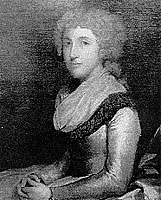 Alexander Henry the Elder and Julia Calcutt-Kittson
(From Wikipedia and Minnesota Historical Society)
Formation of the North West Company
1783
In 1783, the North West Company (NWC) was officially created, with its corporate offices on Vaudreuil Street in Montreal. It was led by businessmen Benjamin FROBISHER (1742-1787), his brother Joseph (b-1740), and Simon McTAVISH(1750-1804), along with investor-partners who included Robert GRANT (1752-1801), Nicholas MONTOUR (1756-1808), Patrick SMALL, William HOLMES (?-1792) and George McBEATH. The new company would re-invent itself at least twice in its first four years.
The group of Montreal traders associated with the ELDER became the Northwest Company (NWC) in 1784, led by Simon McTAVISH. In response, JOHN SAYER entered an agreement organizing the General Company of Lake Superior and the Compagne Generale (the General Society). SAYER was appointed Director of Operations for the region south and west of the lake. 
On March 4, 1784, son William HENRY (Eldred's ancestor) was born in Montreal. His mother was presumed to have been an Indian Woman.
Formal marriage to Julia CALCUTT-KITTSON
Partnership with Alex HENRY the YOUNGER
1785
On June 11, 1785, by now a prominent merchant in Montreal Alex (age 46) formally married his 29 year old Julia (nee CALCUTT) KITTSON.
It was around 1785 that the ELDER began a partnership with his 20 year-old nephew Alexander HENRY the YOUNGER (1765-1814) to send furs to China. 
In 1790 the ELDER met multi-millionaire John Jacob ASTOR (1763-148) in Montreal due to their common interest in the fur business.  He was a business partner and friend of ASTOR. 
1792
On 14 Sept. 1792 HENRY the ELDER and his nephew Alexander HENRY the YOUNGER together obtained one share in the NWC for six years.
Amour: During the latter years of his life, Alexander HENRY continued to trade and in 1812 was appointed vendue master and auctioneer for the district of Montreal. He worked in partnership with his nephew Norman BETHUNE, who lived with him at 14 Rue Saint-Urbain.
Alex must have spent his fortune before his death, as there is evidence that he was comparatively poor in his later years.
On Apr 24, 1824 Alexander HENRY the Elder died in Montreal. Julia died there in 1834.
======================== Family Details ========================
Step-children (Children of Julia & John KITTSON):
1. MARY KITTSON (m. John CATES)
2. 1779 GEORGE KITTSON (m. Anne TUCKER)
Children of Alexander HENRY and his Native Wife:
1. Oct 22, 1780 JULIA HENRY (Never married)
2. Mar 4, 1784 WILLIAM HENRY (m1. Agatha LETENDRE, m2. Charlotte FELTON)
3. after 1785 ALEXANDER HENRY
4. 1785 ROBERT HENRY
5. Sep 11, 1786 JOHN HENRY (Died in infancy)