WILLIAM DONALD (1795-1866)
NANCY (ANN) BOLLEN (1798-1884)
(Last Updated: November 03, 2016)
William DONALD, a half-breed of uncertain origins, was born around 1795.
Marriage to Nancy BOLLEN
1813
By 1813 William was married to Nancy (Ann) BOLLAND, daughter of Elizabeth PENACHEQUAY and William BOLLEN (1757-1804). Son William Jr. was born that year at Moose Factory. ** MORE ABOUT WILLIAM BOLLAND
In 1816 son George was born in Winnipeg.
In 1825, according to son George's Scrip, the family left Manitoba and moved to Fort Pitt (SK).
In 1835 William was recorded as the owner of Lot 95 in St Andrews Parish (Little Britain). There were seven persons in his household (five children). He had two farm implements and a cart, and he had nine acres of land under cultivation.
In 1835 eldest daughter Mary married Andrew McCORRISTER at St Johns (Red River), son of Catherine JONES and Alexander McCORRISTER (1784-1845). ** MORE ABOUT ALEXANDER McCORRISTER
Around 1838 eldest son William Jr. married Elizabeth LAVIOLETTE of uncertain origins who died in 1849 after which William remarried to Mary HARPER, daughter of Anne TAYLOR & William HARPER (1806-1834).
In 1850 daughter Ann (Nancy) married her brother-in-law John McCORRISTER in St Andrews, son of the aforementioned Catherine JONES and Alexander McCORRISTER (1784-1845).
In 1852 son George married Elizabeth BRASS at Fort Pelly (SK), daughter of Susanne ROI or COMTOIS & Peter BRASS (1794-1871), a retired HBC voyageur.
Around1855 son Charles married Jane INGHAM, son of Sarah SMITH and James INGHAM, an Englishman.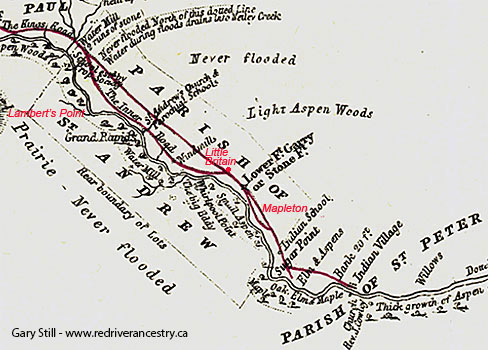 St Andrews Parish from Henry Hind's Map of 1857
In 1859 son John married Ann (Nancy) FIRTH, daughter of Eliza BOUCHER and Thomas FIRTH (1794-1875), a retired HBC voyageur from Scotland.
Around 1862 widowed daughter Mary (nee DONALD) McCORRISTER re-married to James GUNN in St Andrews, son of Margaret SWAIN and Donald GUNN (1797-1878). ** MORE ABOUT HONOURABLE DONALD GUNN
On July 18, 1866 William DONALD died.
Canadian Confederation
1867
On July 1, 1867 the British colonies in North America were united under the British North American Act (BNA) to become the Dominion of Canada. Sir John A MacDONALD (1815-1891) was appointed as Canada's first Prime Minister.
Census of 1870 in St Andrews: Widow Ann DONALD (age 70) and her daughters, Elizabeth (age 46) and Isabel (age 33).
Census 1881 in St Andrews: Widow Ann DONALD (age 80), daughter Isabella (age 40) and great granddaughter Sarah Ann DONALD (age 15; daughter of Jane FIRTH and grandson William DONALD).
On Nov 26, 1884 Ann (nee BOLLEN) DONALD died in St Andrews at the age of 86.
Comments and queries at this link: FORUM DISCUSSING THE WILLIAM DONALD FAMILY
=========================== Family Details ===========================
Children:
1. 1813 WILLIAM DONALD (m1. Elizabeth LAVIOLETTE, m2. Mary HARPER)
2. 1816 GEORGE DONALD (m. Elizabeth "Betsy" BRASS)
3. Jan 12, 1818 MARY DONALD (m.1 Andrew McCORRISTER, m2. James GUNN)
** MORE ABOUT ANDREW McCORRISTER and JAMES GUNN
4. July 8, 1820 CHARLES DONALD (m. Jane INGHAM)
5. 1827 ANN (NANCY) DONALD (m. John McCORRISTER)
6. Mar 27, 1830 JOHN DONALD (m. Ann (Nancy) FIRTH)
7. Mar 24, 1834 ISABELLA DONALD