WILLIAM BOLLAND (1757-1804)
ELIZABETH PENACHEQUAY (?-1810+)

(Last Updated: November 03, 2016)
William BOLLAND was born about 1757. The HBC Archives indicates he was from Leeds. Yorkshire (England).
Surname spelling variations: BOLLAND, BOLAND, BOLLEN
In the Service of the Hudson's Bay Company
Moose Factory District
1779
On June 2, 1779 William was hired by the Hudson's Bay Company (HBC) as a 'Writer". His first posting was at Moose Factory on James Bay.  ** MORE ABOUT WILLIAM BOLLAND in HBC ARCHIVES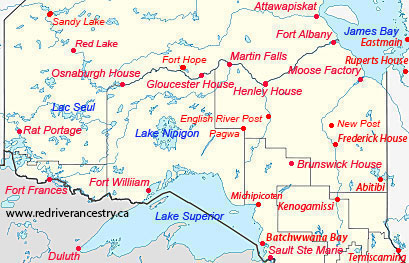 Frederick House - Brunswick House
An Indian wife named Elizabeth PENACHEQUAY
1787-1794
From 1787 to 1794 William was the Writer in charge at Frederick House and Brunswick House (on map above).
Around 1781-82 William had an Indian wife named Elizabeth PENACHEQUAY.
Eastmain
1794-1804
In 1794 William was promoted to Chief Trader at Eastmain.

From Strangers in Blood by Jennifer Brown, Pg 67: William BOLLAND of Eastmain Factory, in his Will of July 12, 1804, left annuities for his seven  children and their mother, "my Helpmate PENACHEQUAY," to be administered  by the Hudson's Bay Company secretary in London, and to be used "yearly to find them clothes and necessaries"
On Aug 8, 1804 William BOLLAND died at Eastmain.
Around 1806-07 daughter Elizabeth married Englishman Hamlet Henry HAWTHORN (1782-1834), an HBC trader at Eastmain, , son of Sarah HALLSAY and Ralph HAWTHORN (b-1760).
From Strangers in Blood by Jennifer Brown, Pg 159: The Moose Factory Register records, for example, the deaths of five of the seven children of William BOLLAND (d. 1804) and PENACHEQUAY between July 1808 and April 1810 - -
On July 8, 1810 William's Indian wife Elizabeth (PENACHEQUAY) was baptized, presumably at Eastmain. ** This from the HBC Archives. However I find this rather dubious – unable to find any clergymen recorded in the region at that early date. If anyone has more info, please let us know on the Forum (at link provided below).
Around 1813 daughter Nancy (Ann) married William DONALD (1795-1866). ** MORE ABOUT WILLIAM DONALD
It is said that daughter Mary married Robert SANDERSON (no other details). ** This would most likely be the Robert SANDERSON (b-1804) who was a voyageur with the HBC in the Albany and Rupert River Districts between 1820 and 1829.
In 1837 daughter Jane married Philip TURNER, son of Emma and Joseph TURNER (1785-1865).
** MORE ABOUT JOSEPH TURNER
Comments and queries at this link: FORUM for DISCUSSING THE FAMILY OF WILLIAM BOLLAND
========================== Family Details ==========================
Children:
1. 1782 ELIZABETH BOLLAND (m. Hamlet Henry HAWTHORN)
2. JOHN BOLLAND
3. THEOPHILUS BOLLAND
4. 1798 ANN (NANCY) BOLLAND (m. William DONALD)
5. 1804 SARAH BOLLAND (m. RICHARDS)
6. 1805 MARY BOLLAND (m. Robert SANDERSON)
7. 1815 JANE CHISHOLM BOLLAND (m. Philip TURNER)