GEORGE DONALD (1816-1895)
ELIZABETH BRASS (1836-1901+)
(Last Updated: September 19, 2017)
George DONALD was born about 1816 in Winnipeg, son of Ann (Nancy) BOLLEN and William DONALD (1795-1886).
In 1825 George (age 9) moved to Fort Pitt, Saskatchewan with his parents.
Fort Pelly, Saskatchewan
1834
In 1834 George moved to Fort Pelly.
Employed by the Hudson's Bay Company
1850
In 1850 George began his employment with the Hudson's Bay Company (HBC) as a blacksmith and carpenter at Fort Pelly in the Swan River District.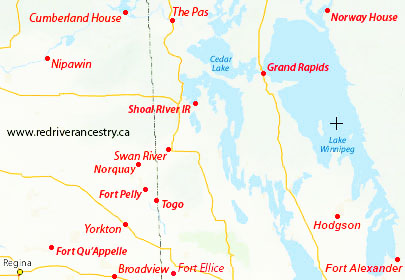 Marriage to Betsy BRASS
1853
In 1853 George married Elizabeth "Betsey" BRASS at Fort Pelly, the daughter of Susanne ROI or COMTOIS and Peter BRASS (1794-1871), a retired HBC voyageur.
From 1855 to 1869 George continued as a carpenter and blacksmith in the Red River district (Lower Fort Garry and one season at Norway House).
Canadian Confederation
1867
On July 1, 1867 the British colonies in North America were united under the British North American Act to become the Dominion of Canada.  Sir John A MACDONALD (1815-1891) was appointed as Canada's first Prime Minister.
In 1869 George was transferred to Fort Pitt again. It was there that his eldest daughter Isabella married Henri LEBLANC, son of Lisa Catherine GREEN and Joseph Henry BLANC (1823-1902) from France.
In 1872 daughter Margaret became the second wife of Benjamin PATENAUDE at Fort Pitt, son of Catherine MOIGNON and Louis PATENAUDE, both half-breeds.
 George remained at Fort Pitt until he retired in 1875.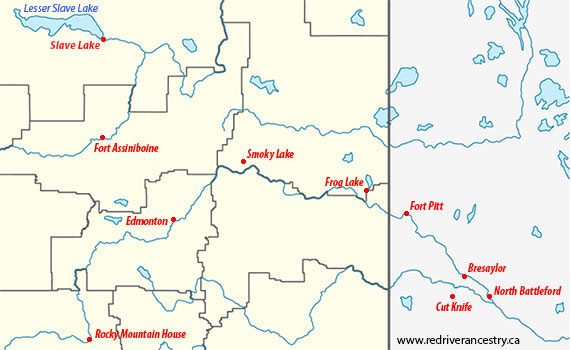 Donald Retires to Edmonton
1875
In 1875 Donald retired from the HBC and settled in the Edmonton (now Alberta).
In 1877 daughter Annie married Louis CALLIHOO in St Albert (AB), son of Marie SAVARD and Michel CALLIHOO (1824-1911).
Census of 1881 in Edmonton: George DONALD, age 67; wife Elizabeth, age 50. Children: Sarah (age 22), Peter (20), Mary (16), Joseph (14), Robert George (12), Elizabeth (10), William James (8) and Henry John (age 5).
In 1883 daughter Mary married Michel CALLIHOO in St Albert, son of Marie SAVARD and Chief Michel CALLIHOO (1823-1911).
In 1884 son Peter married a lady named Cecile of uncertain origins in Edmonton.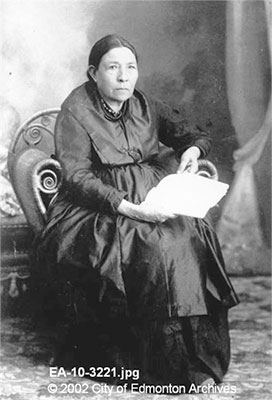 Betsy BRASS
Northwest Rebellion
1885
In 1885 the North West Rebellion, led by Louis RIEL, broke out between Metis and First Nations groups and the Canadian government. The rebellion stretched over what is now Saskatchewan and Alberta. After the Cree war party attacked a white settlement at Frog Lake, Saskatchewan (now in Alberta), Canadian militia from Ontario were sent to the District of Alberta via the CPR and fought against the rebels. The rebels were defeated at Batoche, Saskatchewan and Riel was later taken prisoner.
** It should be noted that it wasn't until Sep 1, 1905 that Alberta and Saskatchewan became provinces. Prior to that the region west of Manitoba was referred to simply as the Northwest Territories.
In 1886 daughter Sarah married Cuthbert DAIGNEAULT in Edmonton, son of Julie LARANCE and Isaac DAIGNEAULT (1807-1873).
In 1891 son Joseph married Emerence "Mary" CHERLAND of uncertain origins.
Census of 1891 in Edmonton: George DONALD, age 75; wife Elizabeth, age 57. Children: Joseph (age 24) and his wife Morousse (Emereence) (age 24); Robert (age 21), Betsy (18), William (16), and Henry (age 13) and a baby Robert (age 2 months).
In 1892 daughter Elizabeth married her brother-in-law Francois DAIGNEAULT in Edmonton, daughter of the aforementioned Julia LARANCE and Isaac DAIGNEAULT.
In 1893 son William married Sarah BIRD in Edmonton, daughter of Emilie BOUCHER and James BIRD (1845-1891).
On Aug 13, 1895 George DONALD died in Cooking Lake, Strathcona County, AB.
Census 1901 in Strathcona County (East of Edmonton): Widow Elizabeth DONALD (age 69) and her son Robert (age 35).
Around 1902 youngest son Henry married Caroline BIRD, daughter of Fanny SHIRT and William Robert BIRD b-1826).
Comments and queries at this link: FORUM DISCUSSING the GEORGE DONALD FAMILY
========================== Family Details ==========================
Children:
1. 1853 ISABELLA DONALD (m. Henri LEBLANC)
2. 1854 ANN DONALD (m. Louis CALLIHOO)
3. Jul 7, 1854 MARGARET DONALD (m. Benjamin PATENAUDE)
4. 1856 SARAH DONALD (m. Cuthbert DAIGNEAULT)
5. 1862 PETER DONALD (m. Cecile)
6. 1865 MARY JANE DONALD (m. Michel CALLIHOO)
7. 1867 JOSEPH DONALD (m. Emerence Mary CHERLAND)
8. Apr 6, 1870 ELIZABETH DONALD (m. Francois DAIGNEAULT)
9. Apr 3, 1873 WILLIAM JAMES DONALD (m. Sarah BIRD)
10. Aug 1, 1876 HENRY JOHN DONALD (m. Caroline BIRD)