ALEXANDER GUNN (1829-1905)
ANGELIQUE McKENZIE (1832-1909)
(Last Updated: April 13, 2014)
Alexander GUNN was born Feb 10, 1829 in St Andrews (Lockport/ Little Britain), son of half-breed Margaret SWAIN & Donald GUNN (1797-1878) from Scotland. ** MORE ABOUT DONALD GUNN
Between 1845and 1849 construction proceeded on a new stone church of St Andrews to serve a burgeoning Parish of St Andrews. It was designed by COCKRAN to serve the local community of retired HBC personnel and English mixed-bloods.  Much of the stonework was done by Duncan McRAE (1813-1898).
Marriage to Angelique McKENZIE
1854
On Mar 8, 1854 Alex married Angelique McKENZIE, daughter of Catherine CAMPBELL & Half-breed Benjamin McKENZIE (1807-1837), an HBC accountant. ** MORE ABOUT BENJAMIN McKENZIE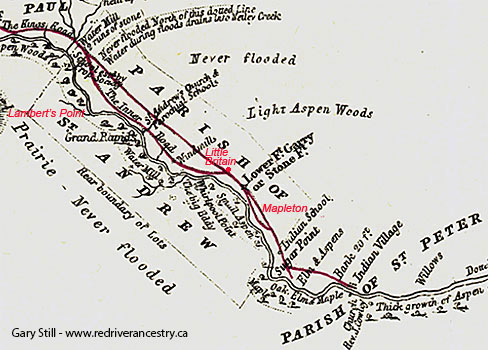 St Andrews Parish from Henry Hind's Map of 1857
Angelique and her younger brother Benjamin McKENZIE (1837-1928) were raised by their Uncle Roddy McKENZIE (1772-1859), their father (Benjamin Sr.) having died in 1837. When Uncle Roddy died in 1859 his home was in Little Britain, just south of Lower Fort Garry and was known as Caberleigh Cottage. It seems that this is probably the same place where Angelique and her husband Alex GUNN lived after they married. By that time it had become Lot 127 (it was un-surveyed during Uncle Roddy's time).
On Dec 11, 1854, Angelique gave birth to Alex's first child, Benjamin.
Canadian Confederation
Louis RIEL and the Red River Resistance
1867-1870
On July 1, 1867 the British colonies in North America were united under the British North American Act to become the Dominion of Canada. Sir John A MacDONALD (1815-1891) was appointed as Canada's first Prime Minister.The Métis resistance led by RIEL occurred mainly during 1869-70. **For more about the GUNN family's involvement during this period, go to the DONALD GUNN page at the link provided above.
In the month of February of 1870, members of the GUNN family (including Alex) were prominent among a large body of men from St Andrews who assembled to march to Kildonan where they demanded the release of the prisoners who were still confined in Upper Fort Garry. Messages were sent to RIEL and the prisoners were released.
Manitoba becomes a Province
1870
On July 15,1870 Manitoba officially became the fifth province of Canada, the Canadian Government having acquired the territory previously governed by the HBC. The Manitoba Act provided substantial land grants to the Métis (Half-breeds) at Red River. Section 31 set aside 1.4 million acres of land for distribution among the children of Métis heads of families residing in the province.
In December of 1870 a Census of Red River was completed. The results recorded 5, 757 French-speaking Métis; 4, 803 white settlers and 558 Indians in the census region. This information would be later used to determine who would be eligible for Land Grants and Scrip. Alex was recorded on Lot 127 in St Andrews Parish with children as Benjamin (age 15), Elise (age 12) and Donald (age 3).
Two more children were born, in 1871 daughter Annabella and in 1873 son Alexander William.
On July 29, 1875 Alex's father (Donald) filed an affidavit claiming Half-breed Scrip for the children of his deceased wife Margaret which of course included Alex. The next day Alex made a similar application for his own children (Benjamin, Eliza and Donald). Daughter Eliza was very sick at the time; she died the following month, only 18 years old. It is somewhat puzzling that son Alex William was not included.
Around 1878 son Benjamin married his cousin, Elizabeth TAYLOR, daughter of his Aunt Margaret GUNN (his father's sister) & William TAYLOR (1831-1868). In the 1881 census son Ben, his wife Elizabeth and their three children were staying with Alex and his family.
Census 1891: Enumerator Isaac COWIE, May 8: Lisgar (#6), SD-M (St Andrews), pg 66, HH-303: Alexander GUNN, age 62; wife Angelique, age 58. Children: Donald 22; Alexander 18.
In 1898 son Donald also married his cousin, Letitia MUCKLE, daughter of Janet GUNN (his father's sister) and Alexander Montgomery MUCKLE (1844-1908), the retired Indian Agent from Clandeboye. In the 1901 census son Donald, his wife Joan and their son were staying with Alex and his family.
On Aug 26, 1902 Alexander GUNN died in St Andrews.
On Jan 24, 1909 Angelique GUNN died in St Andrews, age 76.
Please post comments & queries at this link: FORUM DISCUSSING ALEX GUNN and his FAMILY
============================== Family Details ==============================
Children:
1. Dec 11, 1854 BENJAMIN McKENZIE "BENNY" GUNN (m. Elizabeth Mary TAYLOR)
2. Apr 14, 1857 ELIZA MARGARET GUNN (Died age 18)
?3. 1863 COLIN RICHARD GUNN
4. Aug 31, 1867 DONALD GUNN (m. Letitia Margaret "Leta" MUCKLE)
5. 1871 ANNABELLA H GUNN
6. July 8, 1873 ALEXANDER WILLIAM GUNN (m. Johanne "Joan" Maria JOHNSTON)