COLIN CAMPBELL McKENZIE (1866-1951)
MATILDA CATHERINE BIRSTON (1878-1915)
(Last Updated: October 07, 2013)
Colin Campbell McKENZIE was born on July 21, 1866 in the Victoria Settlement in Alberta, son of Harriet FIDLER and Reverend Benjamin McKENZIE (1837-1928). ** MORE ABOUT REVEREND BENJAMIN McKENZIE
Colin spent his formative years in the Victoria Settlement and in 1874 the McKENZIE family moved back to Manitoba (St James) where his father completed his theological studies at St John's College and was ordained as an Anglican Minister in 1876. After the Ordination, he was selected to be a missionary to the Indians at Cumberland House (SK).
In 1880 Reverend Ben was transferred to the St Peters Indian Reserve north of Selkirk (MB). Colin was 14 years old then.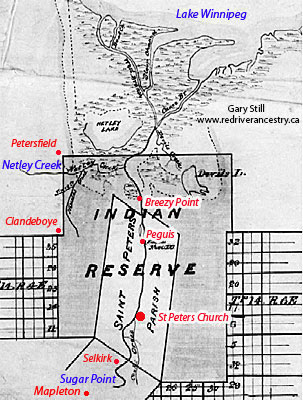 On June 15, 1882 the Town of Selkirk was incorporated with James COLCLEUGH (1841-1918) as the first Mayor.
In 1885 his father (Benjamin) claimed Half-breed Scrip for Colin and his four siblings born before 1870.
East Mapleton – Lower Fort Garry
1890-1901
In 1890 the Benjamin McKENZIE family settled in St Clements Parish, on the east side of the river, across from the St Clements Church (Mapleton). They made their home not far south of the Historic Bunn House built in 1864 by stonemason Sam TAYLOR for Thomas BUNN (1830-1875). ** MORE ABOUT THOMAS BUNN
My (Gary's) sister-in-law (also Colin's sister-in-law), Jean (nee McKENZIE) STILL said that her father (Douglas) and his brothers "all grew up to be Carpenters, taught by their father. They all had a chance to be well educated at St John's College. But our grandfather (Benjamin) wanted them to be Carpenters, and be humble, like our Lord. Dad and his brothers built dredges, boats and numerous houses in the district. They also built schools in Hodgson, Black River and Fairford, MB, often only making a dollar a day."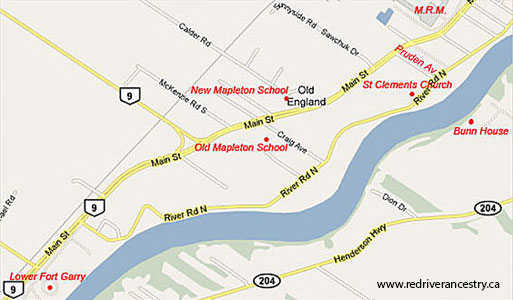 On Feb 21, 1896 Colin married Matilda Catherine BIRSTON in Selkirk. Matilda was the daughter of Nancy FOLSTER and Henry George BIRSTON (1849-1918) of Mapleton (Old England). ** MORE ABOUT HENRY GEORGE BIRSTON
On July 13, 1897 Matilda gave birth to Colin's first child, Lillian who died two months later. Their second child was Colin Jr. born about a year later.
The 1901 Census in Mapleton recorded Colin (age 34), his wife Catherine (age 22) and their son Colin Jr. (age 2). On the census list they were recorded right after Catherine's parents (Nancy & Henry BIRSTON) whose house was right next to the old Mapleton School (River Lot 7). If my memory serves me rightly, I (Gary STILL) seem to recall a small house directly across the highway from the old Mapleton School that belonged to 'Old Colin McKENZIE', a bachelor. That of course was in the 1940's.
In 1902 daughter Mildred was born and in 1903 son Colin Jr. died at the age of four.
The Census of 1911 recorded the complete family on Lot 7 in Mapleton; Colin (age 45) and Matilda (age 32) with children as Benjamin F.S. (age 11), Ethel Mildred (9), Reginald (6), Archibald (4) and Agnes T (age 1).
In 1912 the Old Mapleton School was built on land donated by the BIRSTON family. All of Colin's children undoubtedly attended. ** MORE ABOUT THE OLD MAPLETON SCHOOL
In 1914 son Reginald died at the age of nine.
World War I
1914
On Aug 4, 1914 Great Britain (Canada on Aug 5) declared war on Germany and Austria-Hungary to uphold treaties with France and Belgium which were under German attack. This marked the beginning of World War I.
Catherine Dies
1915
On July 10, 1915 Mrs. Matilda Catherine McKENZIE died at the young age of 36 (from Vital Stats). Colin's sister, Widow Harriet (nee McKENZIE) SPENCE moved in with Colin to care for his children.
On Dec 1, 1915 eldest son Stanly enlisted for War Service. He had only recently reached the age of 16.

Also in 1915, Colin's brother, Douglas McKENZIE (1882-1970) enlisted.
In the 1916 Census Colin was recorded as a 50 year-old widower; children as Stanley (age16), Mildred (14), Archibald (8) and Thelma (age 6). With them was Harriet SPENCE (age 53).
In 1917 Widow Harriet SPENCE (who was caring for Colin's children) re-married to Dick LEASK (1851-1928) from the Petersfield-Clandeboye area, son of Mary Ann MOAR & John LEASK (1821-1903).
** MORE ABOUT JOHN RICHARD LEASK
In 1918 Colin's brother, Archibald Finley McKENZIE also enlisted.
November 11, 1919, Armistice Day (Remembrance Day) marked the end of the First World War.
In 1920 daughter Mildred married Victor SWAIN in Selkirk, son of Martha WICK and Philip SWAIN (1869-1939) from England.
At some time after the War, son Stanley is said to have married a lady named Meta HERMAN of uncertain origins.
In 1937 son Archibald married Kathrina "Katie" TATARYN in the St Clements Church at Mapleton, daughter of Mary KABO & William (Wasyl) TATARYN (1881-1935) from Galacia (Austria) who immigrated to Saskatchewan in 1903). Witnesses at their wedding were Alex Wilfred McRAE and Helen TATARYN.
Colin McKENZIE Dies
1951
Colin died 1951 in St Boniface Old Folks Home (age 84), buried St Clements, leaving sons Stanley and Archie.
Please post comments & queries at this link: FORUM DISCUSSING the COLIN CAMPBELL McKENZIE FAMILY
========================== Family Details ==========================
Children:
1. Jul 13, 1897 LILIAN McKENZIE (Died in infancy)
2. June 16, 1898 COLIN ERNEST McKENZIE (Died in infancy, age 4)
3. Apr 11, 1901 BENJAMIN FERDINAND STANLEY McKENZIE (m. Meta HERMAN)
4. May 6, 1902 ETHEL MILDRED McKENZIE (m. Victor SWAIN)
5. Aug, 1904 PERCIVAL (REGINALD) McKENZIE (Died age 9)
6. Sep, 1907 ARCHIBALD "ARCHIE" McKENZIE (m. Katherine "Katie" TATARYN)
7. 1910 AGNES THELMA McKENZIE (m. Unknown)