ARCHIBALD "ARCHIE" McKENZIE (1907-1989)
KATHERINE "KATIE" TATARYN (1914-1970)
(Last Updated: October 07, 2013)
Archibald "Archie" McKENZIE was born on Sep 30, 1907 in Mapleton (South of Selkirk, MB), the youngest son of Matilda Catherine BIRSTON and Colin Campbell McKENZIE (1866-1951).
** MORE ABOUT COLIN CAMPBELL McKENZIE
This page will complete the ancestry for Archies's son, Arthur "Art" McKENZIE, who made a donation and is collaborating in its preparation. Art's lineage can be traced back to Angelique MALLOTTE and Roderick McKENZIE (1772-1859) from Scotland who was an early fur trader for both the North West Company and the Hudson's Bay Company.
** MORE ABOUT RODERICK McKENZIE (1772-1859)
In 1915 Archie McKENZIE's mother died when he was just eight years old. He grew up in Mapleton and learned to be a carpenter like his widowed father. He went to the old Mapleton School which was right across the highway from his home. ** MORE ABOUT MAPLETON SCHOOL
Did Archie's children attend the old Mapleton School?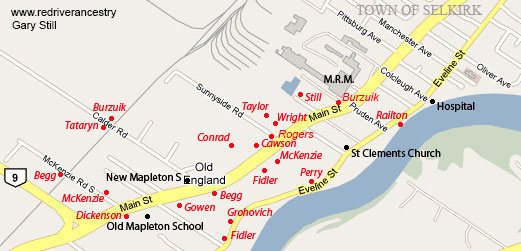 Mapleton Families in the 1950's
Marriage to Kathrina TATARYN
1937
In 1937 son Archie married Kathrina "Katie" TATARYN in the St Clements Church at Mapleton. Katie was born 1914 at Norquay, Saskatchewan, the daughter of Mary KABO & William (Wasyl) TATARYN (1881-1935) from Galacia (Austria) who immigrated to Saskatchewan in 1903). Witnesses at their wedding were Alex Wilfred McRAE and Helen TATARYN.
Was Katie related to Joseph TATARYN whose family lived west of the railroad tracks on Calder Road (also in Mapleton)?
In 1951 Archie's father (Colin) died in the St Boniface Old Folks Home.
Voters List 1968: 270 Burrin Ave, West Kildonan: Archibald McKENZIE, Supervisor, and Mrs Katie McKENZIE. Is this our Archie McKENZIE?
In 1970 Katie died, and in 1889 Archibald McKENZIE died. Both were buried in the St Clements Churchyard at Mapleton.
Comments and queries at this link: FORUM DISCUSSING the ARCHIBALD McKENZIE FAMILY
========================== Family Details ==========================
Children:
1. 1938 ARTHUR MATTHEW"ART" McKENZIE
2. 1940 JUDITH ANNE McKENZIE
3. 1942 JOAN LORRAINE McKENZIE