JOHN RICHARD "JACK" LEASK (1851-1928)
ISABEL HADLEY HAYWARD (1859-1908)
HARRIET (nee McKENZIE) SPENCE (1862-)
(Last Updated: September 13, 2012)
John Richard "Jack" LEASK was born Jan 20, 1851 in Stromness, Orkneys (baptized Feb 29 in Sandwick), eldest son of Mary Ann MOAR & John William LEASK (1821-1903). ** MORE ABOUT JOHN WILLIAM LEASK
In 1866 Jack's father (John) began a second stint as a Labourer with the Hudson's Bay Company (HBC) in the York Factory District.
Canadian Confederation
Métis Rebellion
Manitoba becomes a Province
1867-1870
On July 1, 1867 the British colonies in North America were united under the British North American Act to become the Dominion of Canada.  Sir John A MACDONALD (1815-1891) was appointed as Canada's first Prime Minister. In 1870, after the Métis Rebellion, Manitoba became the fifth Province of Canada.
HBC – York District
1870
In the spring of 1870 Jack (age 19) joined his father (John William) as a Labourer for the HBC in the York Factory District.
In 1873 his father (John) retired from HBC service and soon after his mother (Mary Ann) and his youngest siblings arrived. They settled on a farm just south of the Old St Andrews Church in St Andrews.
Jack had two uncles from the Orkneys who were also HBC employees who settled in Red River. One was Uncle Sam LEASK (1834-1906) who settled not far south of the Old St Andrews Church in 1861. The other was Uncle Tom LEASK (1825-1879) who spent many years in the Mackenzie River District and married an Indian woman named Eliza.
** MORE ABOUT UNCLE THOMAS LEASK
Retired to Red River
1875
In 1875 Jack retired from HBC service and went south to join his father who may have been living in Winnipeg at the time. In 1878 his mother (Mary Ann) died there.
In 1884 Jack's sister Annie married George Thomas SUTHERLAND and in 1886 his brother William Watt LEASK (1858-1929) married Mary Inkster SUTHERLAND (siblings married siblings). Both of these couples settled in the Clandeboye area.
Jack and his father moved to the Clandeboye area where they stayed with his brother William.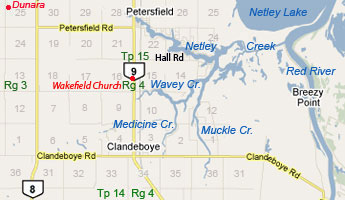 Marriage to Isabella Hadley HAYWARD
1888
On June 16, 1888 Jack married in St Peters to Isabella Hadley HAYWARD, daughter of John Winter HAYWARD. Isabel was born in England; immigrated in 1884. In the Census of 1891 the couple was enumerated in the Clandeboye-Petersfield area; Richard (age 39) and Isabelle (age 31). Later census records indicate that Dick's farm was on 16-15-4-Epm, which is north of Wavey Creek and south of what is now Hall Road (see map above).
Adopted Daughters
1893
In 1893 there was a triple tragedy in the family of Dick's Cousin John LEASK (1862-1893), son of Dick's Uncle Thomas LEASK (1825-1879).  This is better explained at the following link: ** MORE ABOUT the JOHN LEASK TRAGEDIES of 1893
By 1893 Jack was 42 years old; wife Isabel was 34 years old. They had been married for five years, but it seems they were unable to conceive children of their own. They adopted two of the orphaned daughters of John LEASK. These were Eleanor (Nellie) (about six years old) and Eliza (about four years old). Nellie would later refer to her adoptive father as 'Uncle Jack'.
In 1902 the CPR railway line from Winnipeg to Winnipeg Beach was completed. 
In 1903 Jack's father (John William LEASK) died at the age of 81. He was buried at Clandeboye.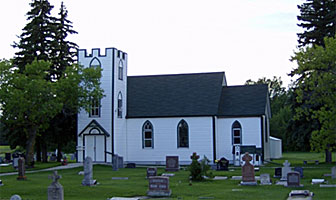 St George's Wakefield Church, built in 1904
In 1904 construction of St George's Wakefield Church was started (midway between the Villages of Clandeboye and Petersfield (see map above), under the direction of the McKENZIE brothers, Findlay, Ferdinand and Douglas. Other construction workers included George Thomas SUTHERLAND (Dick's brother-in-law) and William LEASK (Dick's brother).
On Sep 4, 1904 adopted daughter Lizzie died at the young age of 15. The circumstances of her death are unknown to me.
On Oct 9, 1908 Isabel Hadley LEASK died in Selkirk at the age of 48.
In 1911 a 16 year old Harold Henry HALL (1895-1980) arrived in the area from his homeland in England. He became a hired-hand on the farm of Joseph McDONALD (1859-1932) located a few miles to the west on 7-15-4-Epm. Harold later came to work for Jack and soon fell in love with his adoptive daughter Nellie
World War I
1914
On Aug 4, 1914 Great Britain (Canada on Aug 5) declared war on Germany and Austria-Hungary to uphold treaties with France and Belgium which were under German attack. This marked the beginning of World War I.
On July 29, 1916, adopted daughter Eleanor (Nellie) married Harold Henry HALL in Winnipeg.
Jack marries Harriet (nee McKENZIE) SPENCE
1917
On May 2, 1917 in St Andrews (Clandeboye) John (65 years old now) married 55 year old Widow Harriet (nee McKENZIE) SPENCE, daughter of Harriet FIDLER & Reverend Benjamin McKENZIE (1837-1928). Harriet had been previously married in 1903 to Robert SPENCE who died in 1908 (the same year as Dick's wife died). ** MORE ABOUT REVEREND BENJAMIN McKENZIE
November 11, 1919, Armistice Day (Remembrance Day) marked the end of the First World War.
On Aug 2, 1928 John (Jack) LEASK died in Selkirk at the age of 76.
Please post comments & queries at this link: FORUM DISCUSSING RICHARD LEASK & FAMILY
======================== Family Details ========================
Adopted Children:
1. Apr 11, 1887 ELEANOR FRANCES HELENA LEASK (m. Harold Henry HALL)
** MORE ABOUTY HAROLD HENRY HALL
2. Apr 2, 1889 ELIZABETH "LIZZIE" LEASK (Died age 15)