THOMAS LEASK (1825-1879)
ELIZA (c1845-1886)
(Last Updated: September 06, 2012)
On Nov 15, 1825 Thomas "Tom" LEASK was born in Sandwick (in the Orkneys of Scotland), son of Marjory WOOD & John LEASK (born c1795).
In 1843 Tom's eldest brother, John William LEASK (1821-1903) signed a five year contract to serve with the Hudson's Bay Company (HBC) as a Labourer in the Columbia District (BC). The following year (1844) Tom himself became an HBC Labourer in the Mackenzie River District. ** MORE ABOUT JOHN WILLIAM LEASK
In 1848 brother John returned to the Orkneys where he married Mary Ann MOAR who would giver birth to seven children there.
In 1851 Tom's younger brother Samuel LEASK (1834-906) began his service with the HBC. His first posting was as a Labourer at Norway House (MB). ** MORE ABOUT SAMUEL LEASK
Descendants of all three of the LEASK brothers would become early settlers in Manitoba.
Tom marries an Indian woman named Eliza
1861-1879
Around 1861 Tom married an Indian (or Half-breed) woman named Eliza in the Mackenzie River District (Fort Simpson). Son John was born there about that time.
Around 1862-63, according to an HBC Archives Biography (HBCA), Tom left the service of the HBC to become a farmer in the Mackenzie River District where Eliza gave birth to seven of his children.
Canadian Confederation
Louis RIEL's Red River Rebellion
Creation of the Province of Manitoba
1867-1870
On July 1, 1867 the British colonies in North America were united under the British North American Act to become the Dominion of Canada.  Sir John A MACDONALD (1815-1891) was appointed as Canada's first Prime Minister. William McDOUGALL (1822-1905) became the Minister of Public Works, and he began negotiations to acquire Rupert's Land from the HBC. He sent out surveyors to prepare the way for an expected influx of setters to Red River.On Oct 11, 1869, Louis RIEL (1844-1885) placed his foot on the surveyors' chain to tell them their work was finished! This marked the beginning of another Red River Métis Rebellion.
On July 15,1870 Manitoba became the fifth province of Canada, the Canadian Government having acquired the territory previously governed by the HBC.
Widow Eliza and the LEASK Family in St Andrews
1877
In 1877 a Land Grant was issued to Tom LEASK for property in Manitoba (the grant was signed on July 1, 1877 by John Stoughton DENNIS, Surveyor General, but not registered until Feb 8, 1900).
On May 16, 1879 Thomas LEASK died in his early to mid-fifties, only four months after his last child was born. It is unclear whether Tom died in the Mackenzie District or whether he had retired to Red River before he died. The following land grant is dated Feb 3, 1879 to Eliza LEASK.
Western Land Grants: Document Date: Feb 3, 1879 to Eliza LEASK; N ½ of 23-14-4-Epm St Peters – 240 acres – HB (Half-breed) Allotment. This location is along what is now Highway #9 about 2 ½ miles SE of Clandeboye. If this was indeed Tom's widow Eliza, she certainly did not occupy the lot but instead settled south of the Old St Andrews Church, next to her brothers-in-law, Samuel LEASK (1834-1906) and John William LEASK (1821-1903) who provided  assistance and support to the grieving widow and her family.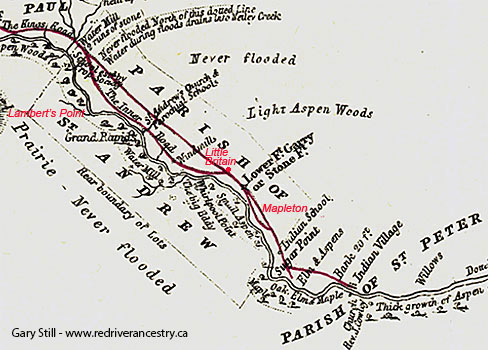 St Andrews Parish in 1857 (from Hind's Map)
In 1880 eldest son John married Mary Ann "Annie" CORBETT, the child of Maria THOMAS who was seduced by the Reverend Griffith Own CORBETT (1823-1909) in 1862. Annie's mother, Maria, was the daughter of Catherine (nee MOORE aka LONGMOOR) LINKLATER and Simon THOMAS (1810-1893). ** MORE ABOUT the CORBETT SCANDAL and SIMON THOMAS
In the Census of 1881 Widow Eliza's household members were recorded as follows. Widow Eliza LEASK, age 38, an Indian, and children Mary (age 10); James (7); George (5); and Maria (age 2). Also her son John (age 19) and his wife Ann (age 17) as well as their two month old baby daughter Margaret. Also in the same household: James SINCLAIR, age 28 (born 1853 in Scotland); his wife Julia, age 23 (born c1858 in NWT, Indigenous) and their children: James SINCLAIR (age 2) and baby Catherine SINCLAIR (2 months).
Widow Eliza LEASK was living with her son John when she died on May 20, 1886 at the age of 41 (from Vital Stats). This presented a desperate situation for young John. He was 25 years old now and had a wife and four very young children of his own, as well as five siblings to care and provide for.
To the rescue came Eliza's brother-in-law, Sam LEASK (deceased Tom's brother) and her nephew William Watt LEASK (1858-1929), son of brother-in-law John William LEASK (1821-1903).
Catherine & Sam LEASK, having no children of their own, took in four of Eliza's orphaned children; William (age 20), Mary (age 15), James (age 12) and the youngest, Jane (age 7).
William Watt LEASK, only recently married to Mary SUTHERLAND and living in the Clandeboye area, took in the other two of Eliza's children, George (age 10) and Minnie (age 8).
Please post comments & queries at this link: FORUM DISCUSSING  the THOMAS LEASK FAMILY
======================== Family Details ========================
Children:
1. 1861 JOHN LEASK (m1. Mary Ann Elizabeth "Annie" CORBETT)
** MORE ABOUT JOHN LEASK
2. WILLIAM LEASK
3. 1871 MARY LEASK
4. Apr 30, 1874 JAMES LEASK (m. Ann STEVENS/ STEPHENSON?)
5. May 1, 1876 GEORGE LEASK (m. Josephine SIGURDSON)
6. 1878 MARIA "MINNIE" LEASK (m. Frank McKAGUE)
7. Jan 27, 1879 JANE LEASK (m. Roland CARR)