SIMON THOMAS (c1810-1888)
CATHERINE "KATE" (nee MOORE aka LONGMOOR) LINKLATER (c1810-1893)
(Last Updated: September 05, 2012)
Simon THOMAS was probably born around 1810 in the Northwest (1815 according to Sprague & Frye). Simon is indicated as an Indian in the census of 1881. His ancestral origins are very difficult to determine. His father was probably born between 1780 and 1800.
There surname THOMAS dates back as far as a John THOMAS (1751-1822), an Englishman who joined the Hudson's Bay Company (HBC) around 1769 and became a Chief Factor  at Moose Factory at the south end of James Bay. Other THOMAS ancestral possibilities, all Englishmen or half-breed men who were HBC employees who married Indian or half-breed women include Governor Thomas THOMAS (1765-1828); Thomas THOMAS (b-c1770); William THOMAS (1780-1818); John THOMAS (1784-1816); and  Charles THOMAS (b-c1793).
The first documented record of Simon THOMAS appears in the information compiled by Sprague & Frye (ID-4679) indicating he was born around 1815 in the North West Territories and that his wife was Catherine LINKLATER born about 1818. Based on circumstances of his life, my own estimate is that Simon and Catherine were more likely both born around 1810.
In 1821 Simon would have been about 11 years old when the HBC and the North West Company (NWC) merged, ending years of bitter rivalry for dominance of the fur trade in Western Canada. After the merger, almost 1,300 employees lost their jobs since the single HBC organization that emerged had no need for most of the voyageurs and retired fur traders. Retired Orkney Scots and Englishmen settled mostly to the north of the Forks, where they established the Parishes of Kildonan, St Johns, St Paul (Middlechurch), St Andrews (Lockport and Little Britain) and St Clements. Simon appears to have been living in St Andrews Parish around that time in the vicinity of the Grand Rapids and the Old St Andrews Church as shown on the map below.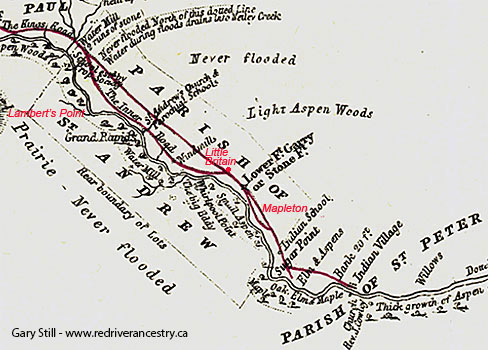 Part of Henry Hind's Map based on his observations of 1857
In 1832 the HBC began to build Lower Ft Garry; the first St. Andrew's (or Lower) Church was opened and dedicated.
In 1834 Reverend William COCKRAN (1798-1865) initiated the building of an Indian school at Sugar Point under the supervision of Joseph COOK (1788-1848), his interpreter and assistant. Members of the PEGUIS Band were encouraged to build houses and learn to farm. 
In 1835 the appearance of hundreds of newcomers led the HBC to make a general survey of land fronting along the Red River, dividing it into long narrow lots, each measuring about 400 feet wide and two miles deep. These lots became the basis of the HBC Land Grants.
Simon marries Catherine (nee MOORE aka LONGMOOR) LINKLATER
1838
Catherine MOORE was born around 1810, the youngest half-breed daughter of an Indian woman and Robert LONGMORE/ MOORE (c1755-c1813), a Scot. Around 1828 Catherine married Andrew LINKLATER (1802-1837) from the Orkneys. Between 1828 and 1834 they had two daughters (Marguerite-Elizabeth and Catherine). In 1837 Andrew LINKLATER died in the Lockport area.
On Nov 6, 1838 Simon THOMAS and Widow Catherine LINKLATER were 'church-wed' at St Andrews, Lockport. Thus the LINKLATER aka (also known as) THOMAS attached to the names of daughters Marguerite-Elizabeth and Catherine.
Around 1847 step-daughter Elizabeth married James FIDLER (1822-1905), son of Nancy HALLETT & Thomas Jonathan FIDLER (1795-1875), their next-door neighbours.
By 1853 they had six children (Sally, Tom, Nancy, Maria, Robert and Catherine).
One of Simon's neighbours, near Lockport (Lot 93) in 1848, was 53 yr old Thomas Jonathan FIDLER (1795-1875).  TJ's oldest son, 26 yr old James FIDLER had taken a fancy to Simon's oldest daughter, 20 yr old Elizabeth-Margaret; James FIDLER Jr. was born that spring.
In 1858 step-daughter Catherine married Samuel LEASK (1834-1906) from the Orkneys.
Daughter Maria and the CORBETT Scandal
1862-63
Around 1862 daughter Maria gave birth to a baby girl named Anne Elizabeth. The father was Reverend Griffith Owen CORBETT (1823-1909).
The Queen v. CORBETT was a criminal proceeding involving Maria THOMAS the 16 year-old Anglo-Cree servant of English Reverend Griffith Owen CORBETT. In 1863, Simon THOMAS, Maria THOMAS' father, commenced criminal proceedings against CORBETT for attempting to subject his daughter to an illegal abortion (Bumstead 1999). Maria THOMAS testified that CORBETT drugged her and raped her in her bed in the CORBETT family's kitchen, as well as on other occasions. She stated that when she became pregnant, CORBETT tried to terminate the pregnancy by subjecting her to two botched abortions and by poisoning her (Smith 1996). Again, the ethnically mixed jury found in favor of the prosecution and the British judge sentenced CORBETT to six months imprisonment with mercy (Bumstead 1999). After the trial, a band of CORBETT's Country born supporters stormed the jail at Upper Fort Garry, and freed him. Company authorities faced with the threat of insurrection among the Country born, allowed CORBETT to remain free (Bumstead 2001).
In 1864 CORBETT returned to England, permanently separating from his family, who remained in the settlement. Daughter Maria died in 1867.
Census 1881:  Lisgar (#185), SD-St Andrews, pg 32, HH-167: Simon THOMAS, Indian, Farmer; age 70; wife Kate, age 67; daughter Kate, age 28. His neighbour in HH-168 appears to be his son, Thomas THOMAS, age 37.
In 1882 (Sprague & Frye; Riverlot Occupancy) Simon THOMAS is indicated as the Patentee for Lot 92 St Clements Parish (Lockport). The Occupant is listed as his son, Thomas THOMAS. Area claimed is 48 acres.
Simon THOMAS died Feb 3, 1888 in St Andrews, age 72

Catherine THOMAS died Oct 24, 1893 in St Clements Parish, age 79
Please post comments & queries at this link: FORUM DISCUSSING FAMILY OF SIMON THOMAS
========================= Family Details =========================
Step-children (Catherine's children by Andrew LINKLATER):
1. 1829 ELIZABETH-MARGARET LINKLATER aka THOMAS (m. James FIDLER)
2. 1834 CATHERINE LINKLATER aka THOMAS (m. Samuel LEASK)
Children of Catherine & Simon THOMAS:
1. c1839 SALLY THOMAS
2. Dec 24, 1845 THOMAS THOMAS (m. Margaret Anne MOORE)
3. c1846 NANCY (ANN) THOMAS
4. c1847 MARIA THOMAS (m. Rev Griffith Owen CORBETT)
5. c1850 ROBERT THOMAS
6. c1853 CATHERINE "KATE" THOMAS