SAMUEL LEASK (1834-1906)
CATHERINE LINKLATER (1834-1917)
(Last Updated: September 05, 2012)
Samuel LEASK was born Jun 24, 1834 in Sandwick (Orkney, Scotland), son of Marjory WOOD & John LEASK (born c1795).
Sam was the youngest and last of the three LEASK brothers from Sandwick who became employees of the Hudson's Bay Company (HBC). His older brothers were John William LEASK (1821-1903) and Thomas LEASK (1825-1879).
** MORE ABOUT JOHN WILLIAM LEASK
** MORE ABOUT THOMAS LEASK
Scotland Census of 1851: Lochend, Sandwick Parish, Orkney County: John LEASK, age 56 (born c1795 in Sandwick), farmer of 2 acres. Son Samuel LEASK, age 21 (born c1830 in Sandwick), Joiner Journeyman.
Samuel's HBC Career
1851-1861
In 1851 Sam began his career with the HBC as a Labourer, first in the Norway House District until 1853 and then to the Lac La Pluie District (Fort Frances, west of Lake Superior) until 1858 where his position became that of a Carpenter and he was moved to the Lower Red River and later the Swan River District where he became a "Freeman" (retired) in 1861. He then became a farmer in St Andrews Parish (Lockport area).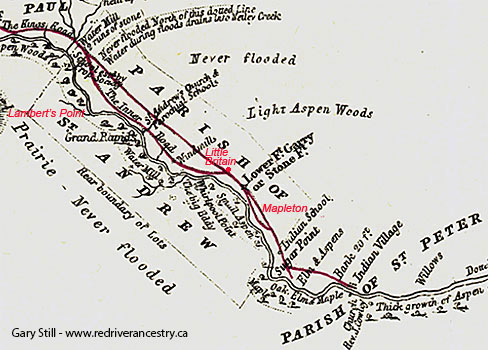 St Andrews Parish from Hind's Map of 1857
Marriage to Catherine LINKLATER aka THOMAS
1865
Around 1865 Sam married Catherine LINKLATER, daughter of Catherine MOORE aka LONGMOOR & Andrew LINKLATER (1802-1837). Catherine's father died in 1837 and her mother remarried to Simon THOMAS (1810-1888) who became her step-father. ** MORE ABOUT SIMON THOMAS
Canadian Confederation
Métis Rebellion
Manitoba becomes a Province
1867-1870
On July 1, 1867 the British colonies in North America were united under the British North American Act to become the Dominion of Canada. Sir John A MACDONALD (1815-1891) was appointed as Canada's first Prime Minister. In 1870, after the Métis Rebellion, Manitoba became the fifth Province of Canada.
In 1875 Catherine (of St Andrews) claimed Half-breed Scrip as the wife of Samuel LEASK.
In 1877-78 Sam received Land Grants for Lots 55 and 222 located midway between Lambert's Point and the Old St Andrews Church. These lots were directly opposite to one another, extending two miles west and two miles east of the Red River.
Sam & Catherine become Guardians of Eliza & Tom LEASK's Children
1879-1886
On May 16, 1879 Sam's brother Tom LEASK died leaving his wife Eliza (Sam's sister-in-law) a widow with seven young children. Sam and Catherine were both about 45 years old at the time of his brother's death, and after 14 years of marriage they had failed to conceive any children of their own. That was about to change dramatically over the next few years.
To begin with, Widow Eliza LEASK moved in with (or next-door to) Sam with her flock of orphaned youngsters (Sam's nephews and nieces). Sam became the guardian of Eliza's four eldest children, John (age 17), William (age 13), Mary (age 8) and James (age 5). Eliza was housed nearby with her three other youngest children, George (age 3), Marie "Minnie" (age one) and Jane (a baby).
Nephew John LEASK (age 17), Eliza's eldest son, soon began a connubial relationship with Annie CORBETT and they were housed separately nearby. By 1881 they had a child of their own and their mother (Eliza) with his three youngest siblings (George, Minnie and baby Jane) moved in with them. ** MORE ABOUT JOHN LEASK
When the Census of 1881 was taken, Sam was recorded as a 46 year old farmer; wife Catherine as age 43. With them was Nephew William LEASK (age 15). Also staying with them was Schoolteacher Samuel Edmund SMALLEY, age 24. In 1883 SMALLEY would marry Caroline COWLEY b-1859, daughter of Archdeacon Abraham COWLEY (1816-1887).
In 1881 Sam's 59 year old widowed father (John William LEASK) was still living in St Andrews with Sam's 22 year old brother William Watt and 12 year old sister Ann.
Western Land Grants: Dated Apr 2, 1884: Samuel LEASK; Lot 55 in St Andrews Parish.
Sister-in-law, Widow Eliza LEASK Dies
1886
On May 20, 1886 sister-in-law, Widow Eliza LEASK, died at the age of 41. The situation became desperate for young Nephew John LEASK. He was 25 years old now and had a wife and four very young children of his own, as well as five siblings to care and provide for.
To the rescue came Sam's recently wed brother and sister-in-law, William Watt LEASK (1858-1929) and his wife, Mary (nee SUTHERLAND) who were now in the Clandeboye area, starting a new home for themselves. They took in two of deceased Eliza's children; George (age 10) and Minnie (age 8).
Sam and Catherine themselves rescued the other three children; Mary (age 15), James (age 12) and the youngest, Jane (age 7). William (age 20) was of course already staying with them.
On Feb 10, 1887 Nephew William LEASK died at the young age of 21 (cause unknown).

I have found no further record of Niece Mary who would have been about 20 years old when her brother William died; nothing in Vital Stats and nothing in the next censuses. She would have been of marriageable age around that time. If anyone has more information, please let us know by way of the Forum of this website.
In the Census of 1891: Samuel LEASK (age 57), Catherine (age 56), nephew James (age 15) and niece Jane (age 12).
Tragedy in the home of Nephew John LEASK
1893
1893 was a year of tragedy in the household of Sam's nephew, John LEASK (1862-1893), son of Eliza (Indian) and Sam's brother Thomas LEASK (1825-1879). John's wife was Annie CORBETT, the child of Maria THOMAS who was seduced by the Reverend Griffith Own CORBETT (1823-1909) in 1862. On Jan 15, 1893 Annie gave birth to a baby boy that died the next day. On Jan 23 Annie herself died at the age of 28. On June 19, 1893 John LEASK died at the age of 36. ** MORE ABOUT the JOHN LEASK TRAGEDIES of 1893
In 1901 Sam LEASK and his wife Catherine were 66 years old. The census that year shows that they were certainly not alone in their old age. With them were Nephew James LEASK (age 26), son of Sam's brother Thomas LEASK (1825-1879); also grand-nephews (children of Nephew John LEASK), Mary (age 19), Margaret (17). Ethel (15) and Jane (age 10).
On Dec 4, 1901 adopted daughter Mary LEASK married William BRASS in Winnipeg, son of Maria ROSS & William BRASS (born c1825 in Sandwick, Orkneys).In 1904 William BRASS died.
On Nov 27, 1905 adopted daughter Marjory LEASK married John Lewis STEVENS (1882-1965), son of Sarah Hannah SMITH & James Allan STEVENS (1851-1885).
On Jan 26, 1906, Samuel LEASK died in St Andrews at the age of 76. The census that year recorded Widow Catherine (age 72) on Lot 55 in St Andrews. With her were nephew James LEASK (age 33) and nieces Ethel LEASK (age 20) and Jennie LEASK (age 15). Also with her as 'lodgers' were Marjory and John L STEVENS (age 24) with their baby, Ethel M STEVENS.
In 1907 adopted daughter Widow Mary (nee LEASK) BRASS re-married to Cuthbert Francis JOHNSTONE (1879-1949), son of Eliza McDONALD & Charles JOHNSTONE (1843-1913).
On Dec 18, 1909 adopted Niece Jennie LEASK married Roland Hill CARR in Winnipeg.
On Sep 6, 1911 adopted daughter Ethel married George LINKLATER, son of Catherine MOORE & Thomas Marwick LINKLATER (1839-1907) from Sandwick, Orkneys.
When the Census of 1911 was taken, Widow Catherine LEASK was recorded as 77 years old. Still with her were adopted nephew James LEASK (age 37) and adopted daughter Jennie LEASK (age 20).
On Sep 11, 1912 Nephew James LEASK married Elizabeth Annie STEPHENSON/ STEVENSON in Winnipeg.
In the Census of 1916, Widow Catherine LEASK (age 82) and adopted daughter Jennie LEASK (age 25) were recorded together on Lot 55 in St Andrews Parish.
On Sep 20, 1917, Catherine LEASK died in St Andrews at the age of 83.
Please post comments & queries at this link: FORUM DISCUSSING the SAMUEL LEASK FAMILY
=========================== Family Details ===========================
Adopted in 1886 (children of Eliza & Tom LEASK):
1. 1866 WILLIAM LEASK (Died age 21)
2. 1871 MARY LEASK
3. Apr 30, 1874 JAMES LEASK
4. Jan 27, 1879 JANE LEASK (m. Roland CARR)   
Adopted in 1893 (children of Annie CORBETT & John LEASK):
1. Feb 29, 1882 MARY LEASK (m1. William BRASS, m2. Cuthbert Francis JOHNSTONE)
2. Dec 27, 1883 MARJORY LEASK (m. John Lee Lewis STEVENS)
3. Sep 8, 1885 ETHEL GERTRUDE LEASK (m. George LINKLATER)
4. Dec 21, 1890 MARIA JANE "JENNIE" LEASK