JOHN WILLIAM LEASK (1820-1903)
MARY ANN MOAR (1822-1878)
(Last Updated: February 05, 2015)
John William LEASK was born Nov 15, 1820 in Sandwick, Orkney, eldest son of Marjorie WOOD & John LEASK (born c1795).
In 1843 John signed a five year contract to serve with the Hudson's Bay Company (HBC) as a Labourer in the Columbia District (BC). The following year (1844) his brother Thomas LEASK (1825-1879) also became an HBC Labourer in the Mackenzie River District. ** MORE ABOUT THOMAS LEASK
In 1850, his contract expired and John returned to his Orkney homeland.
Orkney marriage to Mary Ann MOAR
1851
On Jan 20, 1851 son John Richard "Dick" was born in Stromness and on Feb 25 that year John Sr. married his mother, Mary Ann MOAR, daughter of Jeanette BRASS & George MOAR. Baby John Richard was baptized in Sandwick on Feb 29, 1851.
That same year (1851) his younger brother, 17 year old Samuel LEASK (1834-1906), became an HBC Labourer as well; his first posting was a Norway House at the north end of Lake Winnipeg. ** MORE ABOUT SAMUEL LEASK
Scotland Census 1861: Brea Mird; Parish of Sandwick, Orkney: John LEASK JR; Farming 60 acres; age 39 (born c1822 in Sandwick); wife Marianne, age 39 (born c1822 in Sandwick). Children: John (age 9), Mary (7), Samuel (5), William W.G.W. (age 3). Farm Labourer/ servant: James SPENCE, age 22 (born c1839 in Sandwick). Worsted Stocking Knitter: Janet MOAR, age 72 (born c1789 in Sandwick).; relationship: Ml; V (? This would be his mother-in-law). Dairy Maid: Mary MOAR, age 21 (born c1840 in Sandwick); relationship: Ni; se (? niece).
HBC – York District
1866
In 1866 John was re-engaged by the HBC as a Labourer in the York Factory District. By that time, John had six children, all born in Sandwick: Richard, Mary, Samuel, William, Margaret and Annie. John may not have been aware that his wife was pregnant when he sailed for York. On March 9, 1867, she gave birth in Sandwick to his seventh and last child, George.
Canadian Confederation
Métis Rebellion
Manitoba becomes a Province
1867-1870
On July 1, 1867 the British colonies in North America were united under the British North American Act to become the Dominion of Canada.  Sir John A MACDONALD (1815-1891) was appointed as Canada's first Prime Minister. In 1870, after the Métis Rebellion, Manitoba became the fifth Province of Canada.
In 1870 son Richard joined his father at York Factory as an HBC Labourer.
In the Scotland Census of 1871, wife Mary Ann was recorded in Sandwick as age 49. Her five youngest children were recorded with her at that time as follows: Samuel (age 15), William (15), Margaret (9), George (7) and Ann (age 6). Eldest son Richard had joined his father at York Factory by that time. Daughter Mary is conspicuously absent. It is known that she became the wife of David BOSWELL (1849-1925) from Edinburgh at some time before 1875 and they also immigrated to Canada.
John retires to Red River (Lower Fort Garry)
1873
In 1873 John retired to Red River (south of the Old St Andrews Church) and soon after his wife and their youngest children arrived from Scotland to join him there.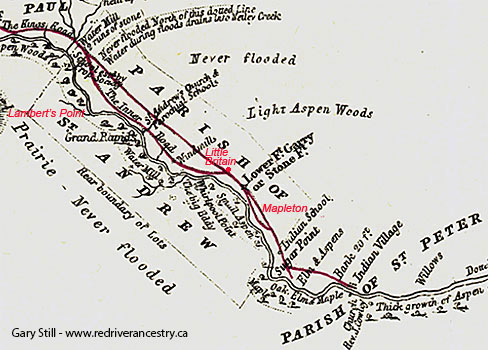 St Andrews Parish from Hind's Map of 1857
Around 1875 daughter Mary married David BOSWELL (1849-1925) from Edinburgh, Scotland. They moved to Winnipeg.
Mary Ann Dies
1878
On Aug 17, 1878 son George died in Winnipeg at a young age, and on Oct 11, 1878 wife Mary Ann died there too.
In 1880 son William arrived from the Orkneys to join his father who was living south of Lower Fort Garry.
Around 1881 daughter Margaret married Robert GOODFELLOW b-1857 from Ontario. They moved to the Fort a la Corne district of Saskatchewan.
The Census of 1881 recorded John as a 59 year old widowed farmer; children with him as Samuel (age 24), William (age 22) and Ann (age 12).
On Dec 4, 1884 daughter Annie married George Thomas SUTHERLAND, son of Margaret INKSTER & William Richard SUTHERLAND (1833-1906).After they married they settled in the Clandeboye area (SE-16-15-4-Epm).
** MORE ABOUT WILLIAM RICHARD SUTHERLAND
In 1886 son William Watt LEASK married his sister-in-law, Mary SUTHERLAND,also a daughter of Margaret INKSTER & Richard SUTHERLAND (1833-1906). After they married they also settled in Clandeboye (3-15-4-Epm) not far from their brothers and sisters-in-law. ** MORE ABOUT WILLIAM RICHARD SUTHERLAND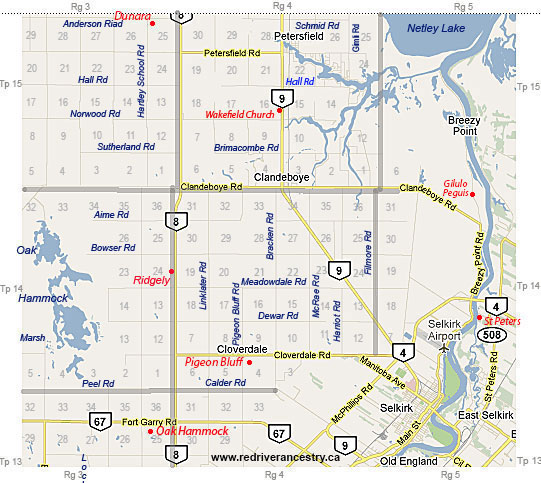 On June 16, 1887 son Richard "Dick" married Isabel Hadley HAYWARD, daughter of John Winter HAYWARD.
In 1888 son Samuel moved to the Prince Albert District of Saskatchewan and married Sarah FOULDS, daughter of Nancy ADAMS & John FOULDS (1830-1903).
John with son William Watt in Clandeboye
1888-1903
Around 1888 John moved to Clandeboye where he lived with or near his son William for the rest of his days.
On July 23, 1903 John LEASK died (age 81) and was buried at Clandeboye.
Please post comments & queries at this link: FORUM DISCUSSING FAMILY of JOHN WILLIAM LEASK
======================== Family Details ========================
Children:
1. Jan 20, 1851 JOHN RICHARD LEASK (m1. Isabel Hadley HAYWARD, m2. Harriet McKENZIE)
** MORE ABOUT JOHN RICHARD LEASK
2. Jan 29, 1854 MARY LEASK (m. David BOSWELL)
3. Dec 28, 1856 SAMUEL LEASK (m. Sarah FOULDS)
4. Mar 26, 1858 WILLIAM WATT LEASK (m. Mary Inkster SUTHERLAND)
5. c1860 MARGARET "MAGGIE" LEASK (m. Robert GOODFELLOW)
6. Sep 16, 1864 ANNIE LEASK (m. George Thomas SUTHERLAND)
7. Mar 9, 1867 GEORGE MOAR LEASK (Died age 11)