JOHN LEASK (1861-1893)
MARY ANN ELIZABETH "ANNIE" CORBETT (1862-1893)
(Last Updated: June 05, 2013)
In 1861 John LEASK was born at Fort Simpson in the Mackenzie River District, the eldest child of Eliza (Indian) and Thomas LEASK (1825-1879) from the Orkneys of Scotland. ** MORE ABOUT THOMAS LEASK
In 1879 John's father died. It is unclear whether he died in the Mackenzie District or whether he had retired to Red River before he died. We do know that Eliza moved to Red River soon after with her seven children including John who was about 17-18 years old at the time. They settled south of the Old St Andrews Church, next to her brothers-in-law (John's uncles), Samuel LEASK (1834-1906) and John William LEASK (1821-1903) who provided assistance and support to the grieving widow and her family. ** MORE ABOUT JOHN WILLIAM LEASK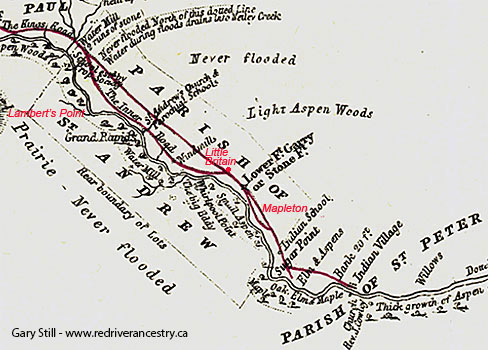 St Andrews Parish in 1857 (from Hind's Map)
Lower Fort Garry was the hub of activity for the Red River region north of Winnipeg.
John & Annie CORBETT
1880
In 1880 John (age 18) began a connubial relationship with Mary Ann "Annie" CORBETT, the child of Maria THOMAS who was seduced by the Reverend Griffith Own CORBETT (1823-1909) in 1862. Annie's mother, Maria, was the daughter of Catherine (nee MOORE aka LONGMOOR) LINKLATER and Simon THOMAS (1810-1893).
** MORE ABOUT the CORBETT SCANDAL and SIMON THOMAS
In 1881 Annie gave birth to their first child, Margaret Ann.
In the Census of 1881 John (age 19), his wife Ann (age 17) and their baby Margaret Ann were enumerated in the same household as his mother, Widow Eliza LEASK (age 38) and his siblings; Mary (age 10), James (7), George (5) and Maria 2. Also in the household is a James SINCLAIR, age 28 (born c1853 in Scotland), his Indigenous wife Julia and their two young children.
On May 20, 1886 John's mother (Eliza) died at the age of 41.
In 1887 daughter Eleanor Frances was born.
In 1888 daughter Margaret Ann died at the age of seven.
In 1889 and 1890-91 respectively, daughters Eliza and Maria Jane were born.
When the 1891 Census was taken at John's household, he was recorded as a 29 year old farmer; wife Annie as age 26; their children as Mary Elizabeth (age 9), Margery (7), Ethel (6), Frances (4), Eliza (2) and Maria (age 4 months). His sister Mary (age 20) was still with them.
On Dec 16, 1890 or 91 daughter Maria Jane was born.
The Year of Tragedy
1893
On Jan 15, 1893 Annie gave birth to a baby boy (John William) who died the next day. On Jan 23 Annie herself died at the age of 28. On June 19, 1893 John LEASK died at the age of 36. It would certainly be interesting to know more about the circumstances of these deaths. If anyone can fill us in on the details, please do so, on the Forum (link provided below).
Six orphaned children in 1893 would have been Mary Elizabeth (age 13), Margery (age 10), Ethel (age 8), Frances (age 6), Eliza (age 4) and Jane (age 2).
Taken in by their Uncle Samuel LEASK were the eldest orphans Mary (age 19), Margaret (17), Ethel (15) and the youngest, Jane (age 10). ** MORE ABOUT SAMUEL LEASK

Both Frances (age 6) and Eliza (age 4) were taken in by Isabel & John Richard "Dick" LEASK (1851-1928) at Clandeboye who had been married for five years and had no children of their own. ** MORE ABOUT RICHARD LEASK
Dick LEASK was the son of John William LEASK (1821-1903) who would have been a cousin of their father. Would that make them his second-cousins?
In 1901 daughter Mary Elizabeth married William BRASS, son of Maria ROSS and William BRASS (born around 1825 in the Orkneys of Scotland, an HBC Clerk). William BRASS died in 1904, and in 1907 Widow Mary BRASS re-married to Cuthbert Francis JOHNSTONE, son of Eliza McDONALD and Charles JOHNSTONE (1843-1913).
** MORE ABOUT CHARLES JOHNSTONE
Please post comments & queries at this link: FORUM DISCUSSING the JOHN LEASK FAMILY
======================== Family Details ========================
Children:
1. 1881 MARGARET ANN LEASK (Died age 7)
2. Feb 29, 1882 MARY ELIZABETH LEASK (m. William BRASS, m2. Cuthbert Francis JOHNSTONE)
3. Dec 27, 1883 MARGARET "MARGERY" WOOD LEASK (m. John Lee Lewis STEVENS)
4. Sep 8, 1885 ETHEL GERTRUDE LEASK (m. George LINKLATER)
5. Apr 11, 1887 FRANCES HELENA (ELEANOR) LEASK (m. Harold Henry HALL)
** MORE ABOUT HAROLD HENRY HALL
6. Apr 2, 1889 ELIZABETH (ELIZA, LIZZIE) LEASK (Died age 15)
7. Dec 16, 1891 MARIA JANE "JENNIE" LEASK
8. Jan 15, 1893 JOHN WILLIAM LEASK (Died at birth)