CHARLES JOHNSTONE (1843-1913)
ELIZABETH "ELIZA" McDONALD (1834-1917)
(Last Updated: June 09, 2013)
Charles JOHNSTONE was born on May 27, 1843 in St Andrews Parish, Red River, son of Half-breed Frances "Fanny" THOMAS and George JOHNSTONE (1797-1873), a retired Hudson's Bay Company (HBC) Sloop Master who was born in the Orkneys of Scotland. **MORE ABOUT GEORGE JOHNSTONE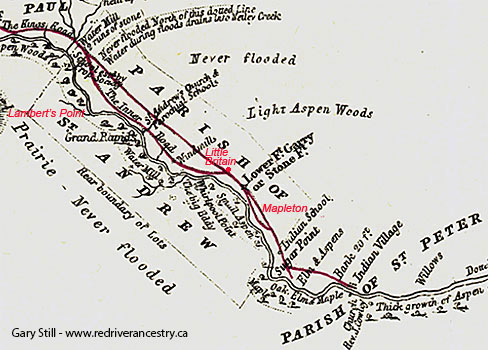 St Andrews Parish from Hind's Map of 1857
Charles grew up just south of the Old St Andrews Church in the vicinity of Lambert's Point as shown on the map above.
Canadian Confederation
Charles marries Elizabeth McDONALD
A Red River Métis Rebellion
Manitoba becomes a Province
1867-1870
On July 1, 1867 the British colonies in North America were united under the British North American Act to become the Dominion of Canada. Sir John A MACDONALD (1815-1891) was appointed as Canada's first Prime Minister. William McDOUGALL (1822-1905) became the Minister of Public Works, and he began negotiations to acquire Rupert's Land from the HBC. Surveyors were sent out to prepare the way for an expected influx of settlers.
It was in 1867, the year of Confederation that Charles married Elizabeth "Eliza" McDONALD, daughter of Half-breed Nancy FERGUSON & Donald McDONALD (1797-1876), an HBC voyageur from Scotland. On Sep 29, 1868 daughter Ann Frances was born.
On Oct 11, 1869, Louis RIEL (1844-1885) placed his foot on the surveyors' chain to tell them their work was finished. This marked the beginning of the historic Red River Métis Rebellion.
On July 15, 1870 the Rebellion was essentially over and Manitoba became the fifth province of Canada, the Canadian Government having acquired the territory previously governed by the HBC.
In 1870 Charles and Eliza were recorded in St Andrews Parish with their daughter Ann (age 3).
On Jul 22, 1875, both Eliza & Charles of St Andrews applied for their Half-breed Scrip.
A Homestead at Oak Hammock
1877
On  Nov 12, 1877 Charles received a Homestead Grant for 100 acres on the NW-25-13-3-Epm (Oak Hammock).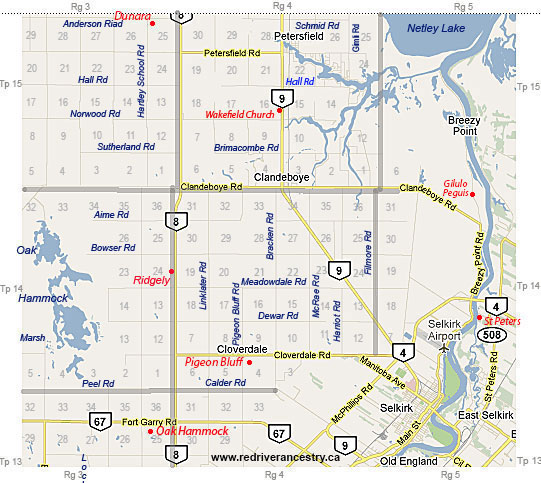 Regarding the history of this area, check this out: GENESIS OF OAK HAMMOCK
Note: The above history refers to the homestead of Adam McDONALD, son of Jane BEAUDRY & Donald "Big Donald" McDONALD (1794-1876). That McDONALD family doesn't seem to have any family connections with Charles' wife Eliza whose father was also named Donald McDONALD.
The 1881 Census of St Andrews Parish: Charles JOHNSTONE, farmer (age 37); wife Eliza (age 45). Children: Ann Frances (age 12), Alex George (7), Elizabeth Catherine (5) and Cuthbert Francis (age 1).
On Apr 1, 1894 the Oak Hammock Post Office was established with Charles JOHNSTONE as the first Postmaster there. He continued as the Postmaster there until he died and was replaced by his son Cuthbert.
In 1901 son Alexander George married Eliza McDONALD, daughter of Mary Ann COOK and Philip McDONALD (1831-1914).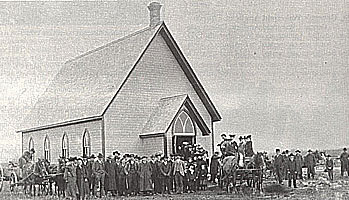 St Matthews Anglican Church, Cloverdale (near Pigeon Bluff), opened 1905
In 1907 son Cuthbert married Mary Isabella Catherine (nee LEASK) BRASS, daughter of Annie CORBETT & John LEASK (1861-1893). ** MORE ABOUT JOHN LEASK
On Dec 29, 1913 Charles JOHNSTONE died, and on Jan 26, 1917 Widow Eliza JOHNSTONE died, both at Oak Hammock. They were both buried in the Old St Andrews Church Cemetery.
In 1918 daughter Ann Frances died un-married.
Please post comments and queries at this link: FORUM DISCUSSING the CHARLES JOHNSTONE FAMILY
=========================== Family Details ===========================
Children:
1. Sep 29, 1868 ANN FRANCES JOHNSTON (Never married)
2. c1870 ROBERT JOHNSTONE (Died in infancy)
3. Nov 26, 1871 FREDERICK CHARLES JOHNSTONE (Died age 2)
4. Aug 30, 1873 ALEXANDER GEORGE JOHNSTONE (m. Eliza McDONALD)
** MORE ABOUT ALEXANDER GEORGE JOHNSTONE
5. Aug 26, 1876 ELIZABETH CATHERINE JOHNSTONE (Died age 10)
6. June 17, 1879 CUTHBERT FRANCIS JOHNSTONE (m. Mary Isabella Catherine (nee LEASK) BRASS)