GEORGE JOHNSTONE aka JOHNSTON (1797-1873)
FRANCES "FANNY" (nee THOMAS) STEWART (1796-1869)
(Last Updated: July 07, 2017)
George JOHNSTONE aka JOHNSTON was born around 1797 in Sandwick, Orkney (Scotland). He was the son of Hugh JOHNSTON (1773-1835). Just before or soon after George was born, his father (Hugh JOHNSTON) sailed to York Factory on Hudson Bay to become an Inland Voyageur with the HBC.
On Dec 17, 1796 George's future wife, Frances "Fanny" THOMAS was born at Moose Factory, the half-breed daughter of a Cree woman named Margaret and John THOMAS (1751-1822), an Englishman.** MORE ABOUT JOHN THOMAS
In 1807 George's father (Hugh) returned home to Scotland after apparently being away for about 11 years.
Around 1813 at Moose Factory, Frances "Fanny" THOMAS married Andrew STEWART (1789-1822), an HBC Accountant from Scotland.
George enters the Service of the Hudson's Bay Company
1817
In 1817 George entered the service of the HBC as a Sailor-Labourer in the Moose District, based at Eastmain. In 1818 his father (Hugh) also returned to HBC service as a Labourer in the same district. No further trace of his father after that date.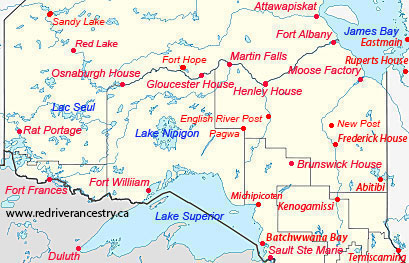 HBC-NWC Union
1821
In 1821 union of the North West Company (NWC) and the Hudson's Bay Company (HBC) occurred, ending years of bitter rivalry for dominance of the fur trade in Western Canada. After the merger, almost 1,300 employees lost their jobs. At the time of the HBC-NWC union, (Sir) George SIMPSON (1786-1860) became the Governor of Rupert's Land.
From 1821 to 1826 George continued as a Sloop Master in the Moose and Rupert's River Districts.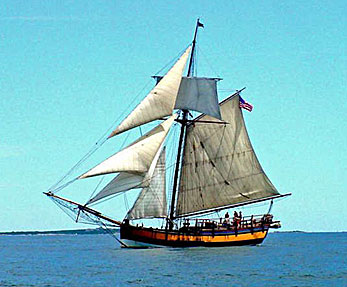 The Sloop that George JOHNSTON served on was probably similar to this one.
A Sloop might have been anything from a single-masted ship to a three-masted ship
with a crew of up to 75. Slim, fast, and extremely seaworthy
In 1822 Fanny's husband, Andrew STEWART died at Osnaburgh House in the Albany District. Fanny was made a 25 year-old widow with two children: Robert STEWART (age 9, away at school in Scotland) and Elizabeth STEWART (age 2).
George Marries Widow Frances "Fanny" (nee THOMAS) STEWART
1827
On March 5, 1827 Widow Frances (nee THOMAS) STEWART married George JOHNSTONE at Moose Factory. The marriage was performed by Alexander CHRISTIE (1792-1872), Magistrate of Rupert's Land, in the presence of Richard GOOD (1780-1850) and William JOHNSTON (1803-1835). Their first child together was Martha, born on Nov 6, 1827.
In 1828-29 George was a Sloop Mate on the ship Union during the North East Expedition, then during 1829-30 a Sloop Master, both in the Southern Shipping Department.
Finally during 1830-31, George was again a Sloop Mate on the ship Beaver during the Ungava Expedition.
George Retires to Red River
1831
In the summer of 1831 George retired to the Red River Settlement Lower Fort Garry area in St Andrews Parish). He was 34 years old now; Fanny was about 35. They had four children now; Elizabeth (about 11 years old), Martha (age 4), Archie (2) and Catherine (about one year old).
In 1833 George's brother, William JOHNSTON, became an HBC voyageur like their father, only to die two years later (1835) by drowning in the Fraser River near Fort George in the Columbia District (BC).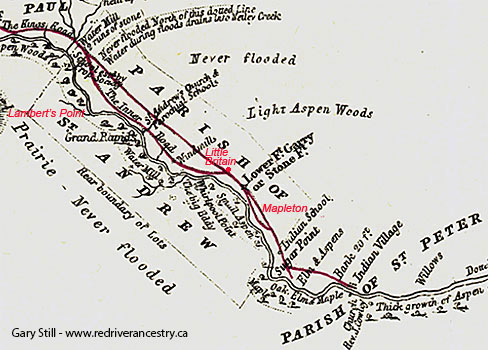 St Andrews Parish from Hind's Map of 1857
An 1835 Map of St Andrews Parish shows a George JOHNSTONE as the owner of Lot 80, just south of the old St Andrews Church.
In 1841 step-daughter Elizabeth (born STEWART) married John MUIR (1810-1875), an HBC Contract Employee from Scotland.
In 1845 daughter Martha died at the age of 17. Daughter Catherine also died that year (age 15).
In 1854 son Archie married Margaret LAMBERT, daughter of Peggy FAVEL & Michel LAMBERT (1792-1875) who lived just to the south of the JOHNSTONE family at Lambert's Point.
Around 1857 daughter Mary married Charles HENDERSON, son of Charlotte YORKSTONE and Peter HENDERSON (1795-1863).
In 1859 son William married Amelia BROWN, daughter of Nancy RICHARD and John BROWN (b-1810).
Around 1862 son George married Catherine MURDOCK, daughter of Marie SINCLAIR & Thomas MURDOCK (b-1799).
Canadian Confederation
A Red River Métis Rebellion
Manitoba becomes a Province
1867-1870
On July 1, 1867 the British colonies in North America were united under the British North American Act to become the Dominion of Canada. Sir John A MACDONALD (1815-1891) was appointed as Canada's first Prime Minister. William McDOUGALL (1822-1905) became the Minister of Public Works, and he began negotiations to acquire Rupert's Land from the HBC. Surveyors were sent out to prepare the way for an expected influx of settlers.
In 1867 son Charles married Elizabeth McDONALD, daughter of Nancy FURGUSON and Donald McDONALD (1797-1876).
On Oct 11, 1869, Louis RIEL (1844-1885) placed his foot on the surveyors' chain to tell them their work was finished. This marked the beginning of a Red River Métis Rebellion.
On Nov 10, 1869 Fanny JOHNSTONE died. She would have been about 73 years old.
Sons Archibald, Charles, and William JOHNSTONE are included in the list of men from St Andrews Parish who mustered to rescue those imprisoned in Upper Ft Garry by Louis RIEL during the winter of 1869-70.
The Rebellion was essentially over when on July 15,1870 Manitoba became the fifth province of Canada, the Canadian Government having acquired the territory previously governed by the HBC.
On July 10, 1873 George JOHNSTONE died (about 76 years old). He was buried next to his wife near the Old Stone Church of St Andrews.
Please post comments and queries at this link: FORUM DISCUSSING the GEORGE JOHNSTONE FAMILY
=========================== Family Details ===========================
Child of Frances THOMAS & Andrew STEWART:
1. 1820 ELIZABETH STEWART (aka JOHNSTONE) (m. John MUIR)
Children  of George JOHNSTONE & Fanny THOMAS:
1. Nov 6, 1827 MARTHA JOHNSTONE (Died age 17)
2. Aug 12, 1829 ARCHIBALD DAVID JOHNSTONE (m. Margaret LAMBERT)
** MORE ABOUT ARCHIBALD DAVID JOHNSTONE
3. May 9, 1831 CATHERINE JOHNSTONE (Died age 15)
4. June 28, 1835 MARY JOHNSTONE (m. Charles HENDERSON)
5. Apr 24, 1836 GEORGE JOHNSTONE JR (m. Catherine MURDOCK aka MURDOCH)
** MORE ABOUT GEORGE JOHNSTONE JR
6. Mar 6, 1837 WILLIAM JOHNSTONE (m. Amelia BROWN)
** MORE ABOUT WILLIAM JOHNSTON
7. Jun 28, 1840 EDWARD JOHNSTONE (Died age 15)
8.  May 27, 1843 CHARLES JOHNSTONE (m. Elizabeth "Eliza" McDONALD)
** MORE ABOUT CHARLES JOHNSTONE
9. 1845 HENRY JOHNSTONE