WILLIAM JOHNSTON (1837-1916)
AMELIA BROWN (1840-1913)

(Last Updated: July 07, 2017)
William JOHNSTON was born Mar 6, 1837 in St Andrews Parish, Red River, the son of Framces (nee THOMAS) STEWART and George JOHNSTONE (1797-1873). Surname spelling variations: JOHNSTONE, JOHNSON
** MORE ABOUT GEORGE JOHNSTONE
Marriage to Amelia BROWN
1859
On Dec 15, 1859 William married Amelia BROWN in St Andrews, the daughter of Nancy RICHARDS and John BROWN (1810-1900).
In 1875 born Amelia and William claimed their Half-breed Scrip as residents of St Clements Parish.
Canadian Confederation
A Red River Rebellion
Manitoba becomes a Province
1867-1870
On July 1, 1867 the British colonies in North America were united under the British North American Act to become the Dominion of Canada.  Sir John A MACDONALD (1815-1891) was appointed as Canada's first Prime Minister. William McDOUGALL (1822-1905) became the Minister of Public Works, and he began negotiations to acquire Rupert's Land from the HBC; surveyors were sent to Red River to prepare the way for an expected influx of settlers.
On Oct 11, 1869, Louis RIEL (1844-1885) placed his foot on the surveyors' chain to tell them their work was finished! This marked the beginning of the historic Red River Métis Rebellion.
On July 15, 1870 the Rebellion ended when RIEL's Provisional Government accepted the terms of the Manitoba Act and Manitoba became the fifth province of Canada.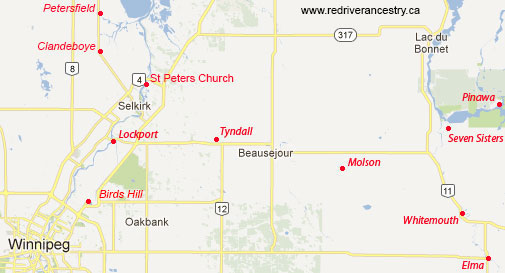 Census of 1870 in St Clements (Lot 53): Wm JOHNSTON, age 35; wife Emilie, age 27. Children: Catherine (age 9) and George (age 2).
Census of 1881 in the Springfield/ Selkirk District: William JOHNSTON, age 45; wife Emilia, age 41. Children: Catherine (age 20), George W (13), Thomas (9), Margaret A (6) and Agnes (age 2).
In 1882 daughter Catherine married Albert KENNEDY in St Andrews (south of Lockport), the son of Jessie McKENZIE and Philip KENNEDY (1818-1873).
Census of 1891 in North Springfield: William JOHNSTON, age 60; wife Amelia, age 51. Children: George (age 23), Thomas (20), Agnes (14) and Elizabeth (age 7).
In Dec 28, 1898 daughter Agnes married Christopher Walter Nelson in Beausejour. He was born 1870 in Denmark; immigrated in 1897.
Census of 1901 in the Brokenhead District: William JOHNSON, age 68; wife is Amelia, age 58. Children: George W, (age 33), Thomas (30) and Frances E J B (age 17).  Also Grandsons, Alfred KENNEDY (age 12), and John W KENNEDY (age 18).
In 1906 son Thomas married Beatrice DEAKIN in Selkirk, the daughter of Ann DAVIES and John DEACON (1844-1934).
Census of 1906 in St Ouens (east of Beausejour): William JOHNSTON, age 76; wife Amelia, age 65. Children: George (age 38) and Elizabeth (age 21).
Census of 1911 in Beausejour: William JOHNSTON (age 81) and his wife Amelia (age 71).
On Mar 10, 1913 Amelia (nee BROWN) JOHNSTON died in Beausejour, age 72.
On Feb 22, 1916 William JOHNSTON died in Beausejour, aged 87.
** Comments and queries at this link: FORUM FOR DISCUSSING THE WILLIAM JOHNSTONE FAMILY
=========================== Family Details ===========================
Children:
1. 1861 CATHERINE JOHNSTONE (m. Albert KENNEDY)
2. 1868 GEORGE W JOHNSTONE
3. May 5, 1871 THOMAS JOHNSTON (m. Beatrice DEAKIN)
4. 1875 MARGARET A JOHNSTONE
5. Jun 20, 1878 AGNES MARY JOHNSTONE (m. Christopher Walter NELSON)
6. May 30, 1884 FRANCES ELIZABETH JANE JOHNSTONE (m. William Francis GATWARD)