GEORGE JOHNSTONE (1836-1898)
CATHERINE MURDOCK aka MURDOCH (1847-1925)
(Last Updated: September 01, 2014)
George JOHNSTONE was born Apr 24, 1836 in St Andrews Parish, son of Fanny THOMAS & George JOHNSTONE SR (1797-1873). ** MORE ABOUT GEORGE JOHNSTONE SR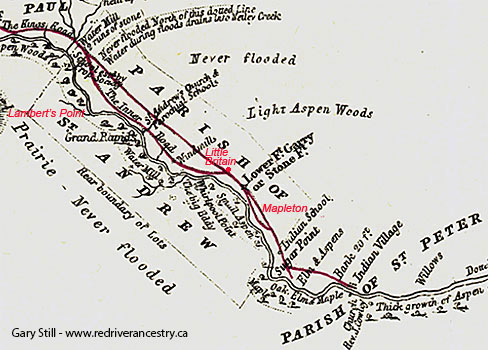 St Andrews Parish from Hind's Map of 1857
Marriage to Catherine MURDOCK
1862
Around 1862 George married Catherine MURDOCK, daughter of Mary SINCLAIR & Thomas MURDOCK of uncertain origins. This MURDOCK family eventually settled in the Fisher River First Nation Reserve.
On Dec 31, 1862 their first child, daughter Nellie Victoria (Ellen, Helen) was born in St Clements Parish.
Canadian Confederation
A Red River Métis Rebellion
Manitoba becomes a Province
1867-1870
On July 1, 1867 the British colonies in North America were united under the British North American Act to become the Dominion of Canada. Sir John A MACDONALD (1815-1891) was appointed as Canada's first Prime Minister. William McDOUGALL (1822-1905) became the Minister of Public Works, and he began negotiations to acquire Rupert's Land from the HBC. Surveyors were sent out to prepare the way for an expected influx of settlers.
On July 15,1870 Manitoba became the fifth province of Canada. The Rebellion was essentially ended and the Canadian Government acquired the territory previously governed by the HBC.
An 1870 map of Lot Occupancies in St Andrews Parish shows George JOHNSTONE on Lot 219 on the east side of the Red River, south of the Old St Andrews Church. He was also included in the census that year with children as Victoria (age 6), Mariann (4), George (3) and Sarah (age 1).
By 1877 both George and Catherine had claimed their Half-breed Scrips.
In the 1881 Census of St Andrews Parish enumerated George JOHNSTONE (age 42), his wife Catherine (age 35) and children as Helen (age 18), Mary Ann (16), Charles (15), Harriet (14), Sarah (12), Catherine and Frances (both age 8), William (3) and baby Edward James. Also living with them is Catherine's brother, James MURDOCH (age 25), a Labourer.
Daughter Mary Ann married a man with the surname STEWART, of unknown origins.
In 1890 daughter Harriet married Joseph Charles ADAMS in Winnipeg, son of Ann Elizabeth BIRD and Joseph ADAMS (1842-1897).  ** MORE ABOUT JOSEPH ADAMS
The George JOHNSTONE Family in Winnipeg
1891-1898
In the 1891 Census George and his family were enumerated in Winnipeg. The family was complete now with the addition of Archibald (age 8) and Eliza (age 5).
In 1892 daughter Frances married John McKAY, son of Mary McDONALD and Neil McKAY (1820-1901) from Scotland.
In 1897 daughter Sarah died in Winnipeg.
On Oct 8, 1898 George JOHNSTONE died in Winnipeg at the age of 61.
In 1893 in Winnipeg, daughter Nellie married Neils Erland JENSEN (1856-1939) from Denmark.
On Oct 8, 1898 George JOHNSTONE died in Winnipeg at the age of 61.
After George died, Widow Catherine moved in with her daughter and son-in-law, Harriet and Joseph ADAMS first at Netley Creek; and by 1906 they were living in Selkirk. Widow Catherine was 65 years old then.
In 1904 youngest daughter Elizabeth married Charles Gilbert SETTEE in Selkirk, son of Lizzie TODD & James SETTEE JR (1836-1914).
On Jan 27, 1925 Widow Catherine JOHNSTONE died in Selkirk. She would have been about 78 years old.
Please post comments and queries at this link: FORUM DISCUSSING the GEORGE JOHNSTONE JR FAMILY
========================== Family Details ==========================
Children:
1. Dec 31, 1862 NELLIE (HELEN) VICTORIA JOHNSTONE (m. Neils Erlend JENSEN)
2. 1866 MARIANN (MARY ANN) JOHNSTONE (m. Unknown STEWART)
3. c1867 CHARLES  GEORGE JOHNSTONE
4. July 24, 1868 HARRIET JOHNSTONE (m. Joseph Charles ADAMS)
** MORE ABOUT JOSEPH CHARLES ADAMS
5. 1869 SARAH JOHNSTONE (Died age 27)
6. 1873 CATHERINE JOHNSTONE
7. 1873 FRANCES JOHNSTONE (m. John McKAY)
8. 1876 MARGARET JANE JOHNSTONE (Died in infancy, age 1)
9. 1878 WILLIAM JOHNSTONE
10. 1880 EDWARD JAMES JOHNSTONE
11. c1882 ARCHIBALD DANIEL JOHNSTONE
12. Apr 28, 1886 ELIZABETH "LIZA" JOHNSTONE (m. Charles Gilbert SETTEE)
** MORE ABOUT CHARLES GILBERT SETTEE