CHARLES GILBERT SETTEE (1867-1944)
ELIZABETH "LIZZIE" JOHNSTONE (1886-1967)
(Last Updated: June 23, 2015)
Charles Gilbert SETTEE (born in Mapleton) was born on Apr 3, 1867 ( baptised on Apr 7, 1867 at St Peters, Dynevor), son of Lizzie TODD & James SETTEE JR (1836-1914). MORE ABOUT JAMES SETTEE JR
In 1877 his mother (Lizzie) died in St Peters when Charles was only 10 yrs old.
On June 15, 1882 the Town of Selkirk was incorporated.
In the 1891 Census, Charles (age 24) was recorded in Selkirk with his widowed Aunt Henrietta (nee SETTEE) McRAE, widow of John McRAE (1851-1885).
In 1893 Charles' father, James SETTEE, re-married to Pricilla FLETT.
In 1902 Charles' grandfather, Reverend James SETTEE, died at Lac du Bonnet (MB).
Marriage to Lizzie JOHNSTONE
1904
On May 11, 1904 Charles married Elizabeth "Lizzie" JOHNSTONE in Selkirk, daughter of Catherine MURDOCH and George JOHNSTONE (1836-1898). ** MORE ABOUT GEORGE JOHNSTONE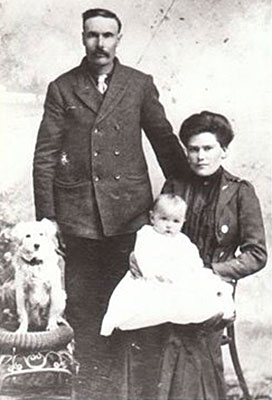 Charles G Settee (Posted by BarbJimHicks)
Surrender of the St Peters Reserve
1907-1911
1907 was the year of that the St Peters Indian Reserve was surrendered to the Crown and most of the native residents moved to present day Peguis Reserve (Fisher River/ Hodgson) by 1909. By 1911 the St Peters Indian Reserve ceased to exist as such, but disputes about land claims on the Reserve would continue well into the next century. The Reserve thereafter continued to be known only as St Peters Parish.
In the 1911 census Charles (age 44) was recorded in St Peters Parish with his wife Lizzie (age 26) and four children: Martha (age 6), Edna (4), Gilbert (3) and Leonard (age 2).
In 1914 Charles' father, James SETTEE, died at Cumberland House in Saskatchewan.
World War I
1914-1919
On Aug 4, 1914 Great Britain (Canada on Aug 5) declared war on Germany and Austria-Hungary to uphold treaties with France and Belgium which were under German attack. This marked the beginning of World War I.
Census of 1916 at Little Jackhead: The handwriting in this census record is very poor and the information is erratic. Fortunately, granddaughter Mary SKYE has attached corrections. It lists Charles SETTEE, fisherman, age 45; wife Annie (Elizabeth), age 40. It also lists four un-named sons (ages 18, 14, 12 and 11) and two un-named daughters (ages 10 and 8).

November 11, 1919, Armistice Day (Remembrance Day) marked the end of the First World War.
Matheson Island
Charles and Elizabeth spent the rest of their lives on Matheson Island.
Census of 1921 on Matheson Island: Again, corrections added by Mary SKYE: Charles SETTEE, fisherman, age 54; wife Elizabeth, age 39. Children: Martha (age 15), Edna (14), Gilbert (12), Leonard (11), Charles (9), Clifford (7), Ruth (5), Mary (3). Also Mother-in-law: Catherine JOHNSTONE, age 74 and Nephew George JOHNSTONE, age 15.
LandGrants:  Undated, Charles Gilbert SETTEE, 32-4-EPM, Lot 18 (Matheson Island)
On Aug 12, 1927 Charles was appointed as the Postmaster of the Matheson Island Post Office.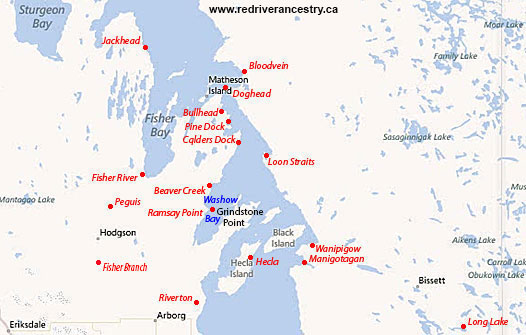 In 1927 eldest daughter Martha married in Selkirk to Walter BENNETT of unknown origins.
In 1929 son Leonard married Julia MONKMAN at Hollow Water (Hole River near Manigotagan), daughter of Margaret SCOTT and Thomas Alexander MONKMAN (1882-1918).
In 1930 daughter Edna married Edward KIRKNESS in the Fisher River Indian Reserve.
In 1932 son Gilbert married Eva Maud PARKER, daughter of Ruth BROADFOOT and Thomas PARKER (1864-1934) from England.
In 1936 widowed son Leonard re-married to Eleanor Ethel DISBROWE, daughter of Caroline BERENS & Frederick DISBROWE (1852-1950). ** MORE ABOUT FREDERICK DISBROWE
On resigned Mar 19, 1938 Charles resigned as Postmaster at the Matheson Island Post Office.
World War II
1939
On Sept 4, 1939 Canada and Britain declared war on Germany, and almost immediately new recruits began pouring into Winnipeg to sign up with the Winnipeg Grenadiers and the Royal Rifles of Canada.
Son Clifford SETTEE enlisted with the Winnipeg Grenadiers (not sure when).
In 1939 daughter Ellen married Hector MONKMAN, son of Rose RAMSAY and William MONKMAN (1879-1958).
Around 1940 son Charles Edward married Grace SUTHERLAND, daughter of Hazel ADAMS and Alexander James SUTHERLAND (1886-1970).
In 1940 Mrs. Elizabeth SETTEE was appointed as Acting Post Master at the Matheson Island Post Office.
In 1940-41 the Winnipeg Grenadiers were together in Jamaica when the Regiment was there as "Y" Force, guarding German Prisoners of War. When the Regiment was recalled to Canada, and made part of "C" Force, Clifford SETTEE went with them to Hong Kong.
The Battle for Hong Kong
1941-1945
Clifford SETTEE was one of about 16 Aboriginal Canadians who became prisoners of war (POW's) during the Battle of Hong Kong.  Nine of these recruits died from wounds or illness suffered at the hands of Japanese soldiers during their imprisonment. Clifford SETTEE was one of the few survivors.
** MORE ABOUT CLIFFORD SETTEE in the BATTLE FOR HONG KONG
On Jan 16, 1941 daughter Ruth married her brother-in-law, Percy MONKMAN, also a child of Thomas MONKMAN.
In April of 1944 Charles Gilbert SETTEE died. He would have been about 77 years old.
On August 14, 1945: Japan surrendered (VJ Day). The Second World War is officially over.
On Sep 13, 1945 the Winnipeg Free Press published an announcement from Ottawa as follows: Defence headquarters yesterday released its third and fourth official lists, one containing the names of 32 officers and 148 other ranks of the Canadian army liberated at Hong Kong, where they were captured by the Japanese Christmas Day, 1941 - - The two lists brought to 351 the number of Canadian prisoners officially known to be safe in Allied hands. The third list, with names of next-of-kin includes: Clifford SETTEE, Pte. - Mrs. Hazel Edna SETTEE (wife), General Delivery, Prince Rupert, B.C.
On June 10, 1946 Mrs Elizabeth SETTEE (now Mrs WELBURN) resigned as the Matheson Island Post Master.
On Jan 1, 1950 (New Year's Day), youngest son Frank married Pauline SCOTT at Christ Church, Selkirk, daughter of Mrs. & Mr. David SCOTT of Pine Dock.
In 1952 son Lawrence married Dorothy CRATE, daughter of Janet Victoria SINCLAIR & Michael CRATE (1907-1992).
According to Eileen, son Clifford married Hazel GILLESPIE of unknown origins who was the mother of his only child, Denise. It is uncertain whether this was before or after the War. In October of 1955 Clifford married a second time to Agnes (nee THOMAS) NANOWIN, daughter of Ellen and Alexander THOMAS (1869-1924). Agnes had been previously married to Stanley NANOWIN (b-1913), an Indian trapper from Traverse Bay at the south end of Lake Winnipeg.
** MORE ABOUT ALEXANDER THOMAS
Eileen: In July of 1961 Elizabeth (nee JOHNSTONE) SETTEE died in Ignace, Ontario (no day can be recalled by family members). She was buried next to the father of her children, Charles SETTEE, on Matheson Island. FYI: Charles and Elizabeth had 67 Acres of land on the Island and set aside Land to be used as a Cemetery. They are both buried there in the land they gave.
Daughter Ruth married her brother-in-law Percy MONKMAN, son of Margaret SCOTT and Thomas MONKMAN (1882-1918).
Daughter Florence married Donald Harris WORTMAN, son of Lillian Gertrude SCHELL and Harris WORTMAN (1890-1956).
Youngest daughter Harriet Mae first married Edward Albert THOMAS, son of Agnes BOULETTE and Albert THOMAS (1890-1972). Her second marriage was to Donald JOHNSON of unknown origins.
Please post comments and queries at this link: FORUM DISCUSSING the CHARLES GILBERT SETTEE FAMILY
======================== Family Details ========================
Children: 
1. Aug 6, 1905 MARTHA VICTORIA SETTEE (m. Walter BENNETT)
2. Feb 10, 1907 EDNA SETTEE (m. Edward KIRKNESS)
3. Jul 10, 1908 GILBERT JAMES ROLAND SETTEE (m. Eva PARKER)
4. Jul 9, 1909 LEONARD GEORGE SETTEE (m1. Julia MONKMAN; m2. Eleanor DISBROWE)           
5. May 16, 1912 CHARLES EDWARD SETTEE (m. Grace SUTHERLAND)
6. Jun 28, 1914 CLIFFORD EDWIN SETTEE (m. Agnes (nee THOMAS), later NANOWIN)
7. Apr 11, 1916 RUTH CATHERINE SETTEE (Percival Harold "Percy" MONKMAN)

8. Jul 2, 1918 MARY ELLEN SETTEE (m. Hector MONKMAN)
9. 1920 FLORENCE ELIZABETH SETTEE (m. Donald Harris WORTMAN)
10. May 1, 1922 LAWRENCE HAROLD SETTEE (m. Dorothy Gladys CRATE)
11. 1925 FRANK DOUGLAS SETTEE (m. Pauline SCOTT)
12. May 17, 1929 HARRIET MAE SETTEE (m1. Edward THOMAS, m2. Donald JOHNSON)