JAMES SETTEE (1836-1914)
MARY ELIZABETH "LIZZIE" (nee TODD) CORRIGAL (1843-1877)
PRISCILLA (DESCHAMBEAULT) FLETT (1880-1963)
(Last Updated: July 01, 2016)
James SETTEE was born about 1836 in the St Peters Indian Settlement, the eldest child of Sarah COOK and Reverend James SETTEE SR (1809-1902). In the HBC Archives Bio of his father, it indicates that James was baptized on Sep 30, 1836. ** MORE ABOUT REVEREND JAMES SETTEE
The SETTEE family travelled extensively during James' formative years while his father was training as a Catechist with the Church Missionary Society (CMS), assisting in missionary work among the Indians of the Lac La Ronge, Swan River and The Pas (Cumberland House) and Qu'Appelle districts of Saskatchewan.
On Christmas Day, 1851, James' father became the Reverend James SETTEE when he was ordained as Deacon at the first such service held in the newly consecrated St Johns Pro-Cathedral.
For many years his father also served at other native missions in the diocese of Rupert's Land, including Mapleton, Netley Creek, Lake Winnipeg, and Nelson River Island.
Marriage to Mary Elizabeth (nee TODD) CORRIGAL
1866
On July 5, 1886 James married (at St Clements, Mapleton) Widow Mary Elizabeth "Lizzie" (nee TODD) CORRIGAL, daughter of Half-breed Isabella DENNETT and Irishman Dr. William TODD (1784-1851) from Ireland.
James first met Lizzie when the SETTEE family was in the Swan River District; her father was the Chief Trader for the Hudson's Bay Company (HBC) at Fort Pelly at the time, James' father of course was doing missionary work in the area. Lizzie was the widow of Joseph CORRIGAL (1839-1862) from Mapleton (a Schoolmaster at St Johns) who died in 1862.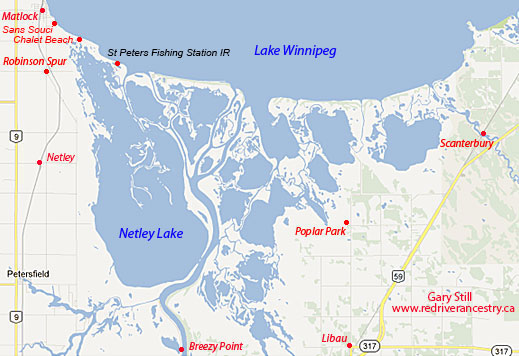 Canadian Confederation
A Red River Rebellion
Manitoba becomes a Province
Signing of Treaty Number One
1867-1871
On July 1, 1867 the British colonies in North America were united under the British North American Act to become the Dominion of Canada.  Sir John A MACDONALD (1815-1891) was appointed as Canada's first Prime Minister.William McDOUGALL (1822-1905) became the Minister of Public Works, and he began negotiations to acquire Rupert's Land from the HBC; surveyors were sent to Red River to prepare the way for an expected influx of settlers.
In 1867, Rev James SETTEE Sr. (his father) returned to Scanterbury and seems to have spent about six yrs between there and Netley Creek.
On Oct 11, 1869, Louis RIEL (1844-1885) placed his foot on the surveyors' chain to tell them their work was finished! This marked the beginning of the historic Red River Métis Rebellion. The Rebellion ended when RIEL's Provisional Government accepted the terms of the Manitoba Act and on July 15,1870 Manitoba became the fifth province of Canada.
In 1871 Chief Henry PRINCE or RED EAGLE (1819-1902) signed Treaty Number One on behalf of the St Peters Indians.
Lizzie Dies
1877
On Oct 28, 1877 Wife Lizzie died in St Peters, Dynevor.
In the 1881 census of St Clements Parish (St Peters), James was recorded as a 44 year old widower; his surviving children as Gilbert Charles (age 13) and Albert James (age 9).
In 1891 son Charles (age 24) was with his Aunt Widow Henriette (nee SETTEE) McRAE in Selkirk.
Marriage to Pricilla FLETT
1893
On June 26, 1893 James married Priscilla FLETT at Cumberland House.
In 1897 son Albert James married Mary Jane Jemima PHILLIPS in Selkirk, daughter of Charlotte LAMBERT and William PHILLIPS (1842-1922) from the Orkneys of Scotland. ** MORE ABOUT WILLIAM PHILLIPS
In 1902 James' father, the Reverend James SETTEE died at Lac du Bonnet, MB.
In 1904 son Charles married Elizabeth JOHNSTONE in Selkirk, daughter of Catherine MURDOCH and George JOHNSTONE (1836-1898).
Surrender of the St Peters Reserve
1907-1911
1907 was the year of that the St Peters Indian Reserve was surrendered to the Crown and most of the native residents moved to present day Peguis Reserve (Fisher River/ Hodgson) by 1909. By 1911 the St Peters Indian Reserve ceased to exist as such, but disputes about land claims on the Reserve would continue well into the next century. The Reserve thereafter continued to be known as St Peters Parish only.
James and his family were still in St Peters when the 1911 census was taken.
In 1911 James' mother, Sarah (nee COOK) SETTEE died at Lac du Bonnet.
The SETTEE Family moves to the Cumberland Indian Reserve
1911-1914
At some time after 1911 and before 1914, the family of James SETTEE Jr. moved from St Peters to the Cumberland Indian Reserve in Saskatchewan (except for sons Charles & Albert).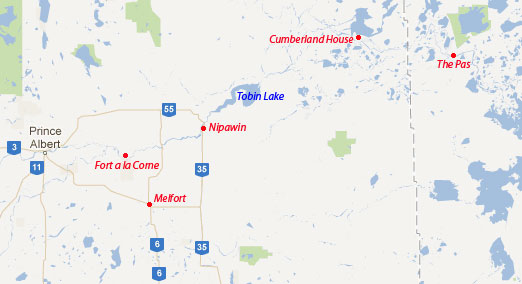 World War I
Death of James SETTEE
1914-1919
On Aug 4, 1914 Great Britain (Canada on Aug 5) declared war on Germany and Austria-Hungary to uphold treaties with France and Belgium which were under German attack. This marked the beginning of World War I.
On Aug 7, 1914 James SETTEE died at Cumberland House, SK. On Oct 29, 1914, son Thomas was born there, two months after James died.
In 1915 son Albert enlisted in the Army at Selkirk, Manitoba.
From the 1916 Census in the Cumberland Indian Reserve: Widow Pricilla SETTEE (age 36) and children as: Louisa (age 20), Henry (18), Emma (16), Elsie (14), Horace (12), John George (7), Thomas (age 2).
In 1916, when son Henry enlisted; next of kin was his mother Pricilla SETTEE of Cumberland House, SK
November 11,1919, Armistice Day (Remembrance Day) marked the end of the First World War.
The Family Moves to Prince Albert
1919
In 1919 Widow Priscilla moved the family to Prince Albert. That same year, daughter Emma married Louis Pierre CADOTTE at The Pas, son of Victoria McKAY and Joseph CADOTTE (b-1973).
World War II
1939-1945
On Sept 4, 1939 Canada and Britain declared war on Germany.
Youngest son Thomas was a soldier in World War II (Regina Rifle Regiment). In 1944 he was injured during the Battle for the City of Caen. This brought an end to his Army career.
On May 7, 1945 Germany surrendered and the War in Europe ended; the next day, May 8, is declared VE Day. On August 14, 1945: Japan surrendered - VJ Day. The Second World War was officially over.
In 1956 son Thomas married Jean WILSON who he had met when training in Scotland.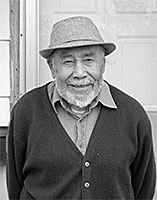 Thomas Naphthali Settee
(From his Memoriam)
In 1963 Priscilla SETTEE died at Prince Albert.
Please post comments and queries at this link: FORUM DISCUSSING theFAMILY of JAMES SETTEE JR
============================== Family Details ==============================
Children by Lizzie TODD:
1. Apr 3, 1867 JOHN EDWARD SETTEE (Died 1876, age 9)
2. Apr 3, 1867 CHARLES GILBERT SETTEE (m. Elizabeth "Lizzie" JOHNSTONE)
** MORE ABOUT CHARLES GILBERT SETTEE
3. Oct 1, 1869 MARY ISABELLA SETTEE (Died in infancy, age 3)
4. May 28, 1872 ALBERT JAMES SETTEE (m. Mary Jane Jemima PHILLIPS)
** MORE ABOUT ALBERT JAMES SETTEE
Children by Priscilla FLETT:
1. 1894 LOUISE SETTEE
2. Sep 6, 1898 HENRY SETTEE
3. 1903 EMMA SETTEE (m. Louis Pierre CADOTTE)
4. 1904 BEATRICE ELSIE SETTEE
5. 1905 ORLANDO (HORACE) SETTEE
6. Jan 21, 1906 MIRAM SETTEE
7. 1908 JOHN GEORGE SETTEE
8. 1914 THOMAS (NAPHTHALI) SETTEE (m. Jean WILSON)