DR WILLIAM TODD (1784-1851)
MARIANNE TRUETTE/ TREATHLEY) (1799-1831)
ISABELLA DENNET (1804-1845)

(Last Updated: July 30, 2016)
William TODD was born 1784 in Dublin, Ireland.
This narrative will focus primarily on the familial relationships of William TODD, as a basis for learning more about his descendants. Because TODD's biographies and details of his travels are so well documented, only a brief timeline will be shown here. Following are some links for more details and further reading:
** WILLIAM TODD in DCBO by William Ray
** WILLIAM TODD in HBC ARCHIVES
Recruited by the Hudson's Bay Company
1816
In 1816 William sailed to York Factory aboard the Prince of Wales as a Surgeon for the Hudson's Bay Company (HBC). He was posted to Cumberland House in the Cumberland District (Saskatchewan).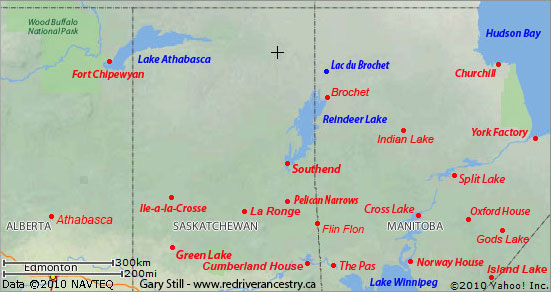 With Colin ROBERTSON at Fort Wedderburn (Fort Chipewyan)
1819-1820
Ray: In the summer of 1819 he (Dr. TODD) volunteered for service with Colin ROBERTSON (1783-1842) in the Athabasca campaign against the North West Company (NWC) who had a post at Fort Chipewyan, and spent the winter at nearby Fort Wedderburn.
In 1820 William sailed home aboard the Eddystone.
Union of the North West Company with the Hudson's Bay Company
Pembina, Red River
William and Marianne TRUETTE/ TREATHLEY
William and Isabella DENNET
1821-1823
In 1821 the union of the North West Company (NWC) and the Hudson's Bay Company (HBC) occurred, ending the years of bitter rivalry for dominance of the fur trade in Western Canada.
It was in 1821 that William TOOD returned to Red River in the company of Lord WEDDERBURN (Andrew COLVILLE 1779-1856) who was bringing Swiss settlers with him, including Marianne TRUETTE/ TREATHLEY, the 17 year old daughter of Catherine and Pierre TRUETTE/ TREATHLEY. Allegedly, William fathered a child with Marianne (Marianne TODD) who was born out of wedlock in December of 1822 and died in infancy.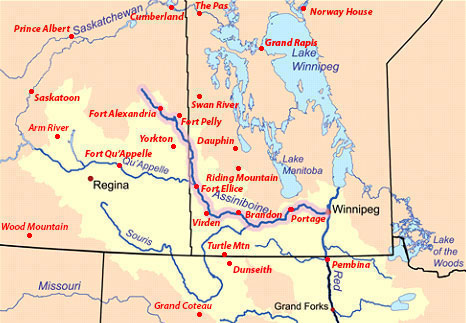 From 1821 to 1823 William was Clerk and Surgeon at Pembina in the Lower Red River District. It was during this period that William married 'a la facon au pays' to Isabella Elizabeth DENNET, the daughter of Sophia BALLENDINE and William DENNET (1780-1864). ** MORE ABOUT WILLIAM DENNET
York Factory District
1823-1827
From 1823 to 1827: William as Surgeon at York Factory, York District.
From 1827-29: William as Surgeon in the Columbia District; then from 1829 to 1832, Surgeon and Chief Trader at Brandon House, in charge of the Upper and Lower Red River Districts.
Chief Trader at Fort Pelly in the Swan River District
1832-1843
From 1832 through to 1843: William was the Chief Trader at Fort Pelly, in charge of the Swan River District.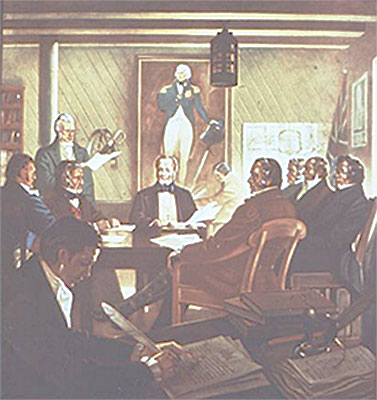 The oil painting is: HBC council meeting at Norway House, June 21, 1836. L. to R. John Charles,
Peter Warren Dease, Allen McDonell, Sir George Simpson, Donald Ross, John Rowand, Richard Grant,
Dr William Todd (this is hanging in a Canadian museum as per Ken Lang)
On Aug 20, 1839 William and Isabella DENNETT were church-wed at St John's Cathedral in Red River by Reverend William COCKRAN (1798-1865).
After a furlough to Europe in 1843-44, William was posted to Fort Severn 1844-45 then back to Fort Pelly from 1845-51.
In 1849 son William Jr. married Sarah Jane JOHNSTONE in St Andrews. ** Uncertain of Sarah's origins – need help.
On Dec 22, 1851 Dr. William TODD diedin St James, MB, age 67.
In 1851 son James married Josephine DESLAURIERS in St Boniface, daughter of Genevieve LACOURSE and Antoine Legault DESLAURIERS (1783-1871).
In 1855 son John married Matilda WILLIAMS in St Johns, daughter of Sally FIDLER and HBC Governor William WILLIAMS (1771-1837) from England. ** MORE ABOUT WILLIAM WILLIAMS in DCBO by Shirlee Anne Smith

In 1856 daughter Mary married William INKSTERat St Johns, son of Mary (nee SINCLAIR) and John INKSTER (1799-1874). ** MORE ABOUT JOHN INKSTER
In 1862 daughter Lizzie married Joseph CORRIGAL (1839-1862) of Mapleton, a Teacher at St Johns. ** So far we do not know the origins of Joseph CORRIGAL. Was he perhaps a son or a grandson of Mary GOODWIN and Jacob CORRIGAL (1775-1844)? ** MORE ABOUT JACOB CORRIGAL
In 1866 daughter Lizzie (widowed), remarried to James SETTEE at St Clements Church in Mapleton, the eldest child of Sarah COOK and Reverend James SETTEE SR (1809-1902). ** MORE ABOUT REVEREND JAMES SETTEE
In 1868 son William Jr. (widowed) remarried to Fanny HOURIE in St Clements Parish, daughter of Jessie DENNET and John HOURIE (1810-1896). ** MORE ABOUT JOHN HOURIE
In 1875 son Donald married Suzanne DURAND dit DUMONT in Bear Hills (Wetaskiwin area), daughter of Marie CHASSEUR Louis DURAND.
Comments and queries at this link: FORUM DISCUSSING THE FAMILY OF DR WILLIAM TODD
============================== Family Details ==============================
Child with Marianne TREATHLEY:  
1. Dec, 1822 MARIANNA TODD (Died in infancy)
Children with Isabelle DENNET: 
1. 1823 WILLIAM TODD (m1. Sarah Jane JOHNSTON, m2. Fanny Anne HOURIE)
2. June 25, 1825 JAMES TODD (m. Josephine DESLAURIERS)
3. c1827 SAMUEL TODD (Died in infancy, 1 month)
4. c1830 ANNE TODD (Died age 13)
5. 1831 ROBERT TODD
6. Nov 24, 1833 JOHN McALLUM TODD (m1. Madeline DUCHARME, m2. Marie ALLARY, m3. Matilda WILLIAMS)
7. 1838 DONALD TODD (m. Suzanne DURAND dit DUMONT)
8. MARGARET TODD
9. July 17, 1839 MARY TODD (m. William INKSTER)
10. Aug 13, 1843 MARY ELIZABETH "LIZZIE" TODD (m1. Joseph CORRIGAL; m2. James SETTEE)